By Lambert Strether of Corrente
As readers know, the current iteration of my garden doesn't require me to study the seed catalogs that, at this time of year, will have arrived in the mail; I have several pounds of wildflower seeds — some for shade, some for pollinators, some for the Maine climate — that I intend to sow on what was once the front lawn, before I turned it into vegetable beds. (I also have some clover to sow at the margins, because besides bees, deer like it, and don't go any further in.) However, I shamefacedly confess to reading the Financial Times "Weekend" edition, in print, thoroughly — so much more informative and above all literate than the Sunday New York Times — where I encountered this article, which begins:
Seed–sowing made me a gardener and every year it keeps me keen and curious. The catalogues need to be searched now as the sowing season is beginning.

Home-sown sweet peas are far better than those bought pre-grown in a tangly box in April and May. Separate colours are available in seed lists but seldom as bedding plants. If you sow your own, . Once again my mainstays will be King Size Navy Blue from Thompson & Morgan and April in Paris from Unwins and other online suppliers. Navy Blue is a truly dark blue with a good scent, plenty of strong flowers with up to five flowers per stem and an exceptionally long season. I was picking Navy Blues in late August last year when other varieties had fizzled out. April in Paris also flowered on into autumn and I renamed it August in Oxford. Its flowers are off-white, tipped with a thin edge of purple blue. They are in segregated bunches indoors and their . I picture them painted by a French Impressionist master, but they arrived too late on the scene.
(Personally, I like masses of color, especially self-seeded masses; I don't like "clever combinations" of color at all, because I prefer my garden to appear artless.) Clearly, however, those "catalogues" evoke a very strong (though stiff upper-lipped) reaction in the author: "keen and curious," indeed. An American writer is somewhat more… carnal, I suppose the word would be. From the Chicago Tribune[1]:
The of the garden catalogs that through the mail slot in January can and lift the soul. For more experienced gardeners, it doesn't even take pictures: adjectives are enough. New! Double! Disease-resistant! Heirloom! Chartreuse!

It can easily to a kind of , in which we order 25 times as many varieties as we have space for.
That's good marketing! (Among other things, perhaps, as we shall see.) And who among us has not succumbed to it?
So pause before you order. Step out back for a breath of bracing fresh air. Take a look at where you'll be doing the actual growing, bare though it may now be. Apply a little methodical thought to the situation and you can bring that down.
Good advice! Let me pause here to insert an image of the cover of Philadelphia's Landreth Seed Company, who brought the first zinnias to the United States in 1798. (I love zinnias.)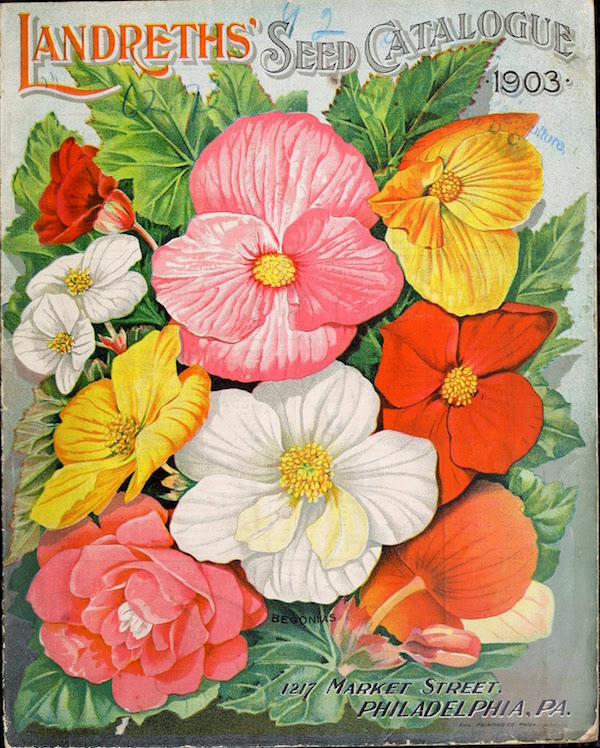 If anything is calcuated to bring on catalog fever, that cover is!
As a sidebar, the business history of the seed catalog is intriguing as well; mail order began with them. The Post Office having been established by the Continental Congress in 1775[2], this from Bloomberg,
Perhaps not surprisingly, the first enterprises to embrace mail order in the modern sense were seedsmen and nurserymen, whose customers were scattered across the U.S. and in its unsettled territories. Small and relatively non-perishable, seeds could be sent almost anywhere.
The Financial Times also has a potted history of subsequent developments:
During the first quarter of the 19th century, Shaker communities became the most trusted American source of seeds and important innovators in consumer-friendly marketing. They guarded the purity of their stock, introduced small labelled packages of seed instead of barrels and cloth bags, and conducted a mail-order business.
And now come those colors:
Escalating investment in mail-order operations coincided with a surge of pictorialism in American publications of all kinds during the last three decades of the century. Illustrated gazettes and magazines generated a new corps of commercial artists and printmakers who turned their talents to advertising.

In seed catalogues, figures of plants became more numerous for the practical purpose of identification as well as commercial allure, occasionally filling a page by 1860. As processes such as chromolithography and electrotyping became more affordable, captivating imagery became an essential element in selling products. Colour made its first appearance in seed catalogues in the 1850s and took hold as a competitive innovation immediately after the civil war during the mid-1860s.
Allure… But where, exactly, does the allure — the "beautiful," the "billow" that "warms the bones," the "delirium" — come from?[3] For one answer, we can turn to Michael Pollan's wonderful Botany of Desire. While planting a potato, Pollan experiences an epiphany:
The ancient relationship between bees and flowers is a classic example of what is known as "coevolution." In a coevolutionary bargain like the one struck by the bee and the apple tree, the two parties act on each other to advance their individual interests but wind up trading favors: food for the bee, transportation for the apple genes. Consciousness needn't enter into it on either side, and the traditional distinction between subject and object is meaningless.

Matters between me and the spud I was planting, I realized, really aren't much different; we, too, are partners in a coevolutionary relationship, as indeed we have been ever since the birth of agriculture[4] more than ten thousand years ago. Like the apple blossom, whose form and scent have been selected by bees over countless generations, the size and taste of the potato have been selected over countless generations by us—by Incas and Irishmen, even by people like me ordering french fries at McDonald's. Bees and humans alike have their criteria for selection: symmetry and sweetness in the case of the bee; heft and nutritional value in the case of the potato-eating human. The fact that one of us has evolved to become intermittently aware of its desires makes no difference whatsoever to the flower or the potato taking part in this arrangement. The flowers and spuds that manage to do this most effectively are the ones that get to be fruitful and multiply.

So the question arose in my mind that day: In fact, both statements are true. I can remember the exact moment that spud seduced me, showing off its knobby charms in the pages of a seed catalog.
Naturally!
I think it was the tasty-sounding "buttery yellow flesh" that did it. This was a trivial, semiconscious event; it never occurred to me that our catalog encounter was of any evolutionary consequence whatsoever. Yet evolution consists of an infinitude of trivial, unconscious events, and in the evolution of the potato my reading of a particular seed catalog on a particular January evening counts as one of them.

That May afternoon, the garden suddenly appeared before me in a whole new light, the manifold delights it offered to the eye and nose and tongue no longer quite so innocent or passive. .
It would certainly be a novel — innovative? disruptive? — version of economic history that imagines the zinnia, the potato, the apple, wildflower mixes, and all the other subjects of the horticultural kingdom driving the invention and implementation of an enormous clamoring metal construct like the four-color printing press. But if Pollan is to be believed, it is so. Certainly, such a version of historical causality is just as sensible and true-to-life — perhaps more so, since it includes a co-evolutionary perspective — than that profferred by the version of economic history taught in the schools, which regards humans as rational actors.
NOTES
[1] The article also includes a really excellent series of checklists, based on the following questions, especiallly useful if you are thinking of gardening for the first time:
Question No. 1: What kind of gardener are you? ('Newbie,' "Been At This Game a While', 'I Love Details and Juggling'… )

Question No. 2: What are your conditions? (Sun, soil, exposure….)

Question No. 3: What kind of garden do you want? (Vegetable, flowers, container, children….)
[2] True fact: Benjamin Franklin, the first Postmaster General, was dismissed from his post as Parliamentary Postmaster in 1775 for abusing his franking privileges!
[3] Looking at the graven image of that lovely apple… Was it the snake who really did the tempting?
[4] Surely the co-evolution of plants and humans began before the invention of agriculture, if the thesis of James Scott's Against the Grain is to be accepted. I don't think that invalidates Pollan's epiphany, however.