By Lambert Strether of Corrente.
Patient readers, once again: I think by the time the countdown clock hits 500 I will have done something of an editorial redesign once more. Reader comments here; please expand the ideas there in comments on today's post, if you feel so moved. –lambert
Bird Song of the Day
Dusky Turtle-Dove, Debre Birhan (general area), Amara, Ethiopia. More growling doves!
* * *
Politics
"So many of the social reactions that strike us as psychological are in fact a rational management of symbolic capital." –Pierre Bourdieu, Classification Struggles
2024
I guess it's time for the Countdown Clock!

* * *

"Ron DeSantis loses his temper with a reporter: 'Are you blind?'" [NBC]. "Florida Gov. Ron DeSantis lashed out at a reporter — twice barking [seal? dog?] 'Are you blind?' — at the end of his first campaign event in New Hampshire on Thursday. DeSantis, who delivered his stock stump speech to an audience of more than 100 people at a Veterans of Foreign Wars post in Laconia, became noticeably agitated when Steve Peoples of The Associated Press asked why he wasn't taking questions from the audience like most presidential candidates do in this state. 'People are coming up to me, talking to me,' DeSantis said. 'What are you talking about? Are you blind? Are you blind? People are coming up to me, talking to me whatever they want to talk to me about.' At the time, DeSantis was shaking hands and taking pictures with individual members of the crowd on his way out of the VFW hall. But he did not answer questions from his lectern so that voters could all hear his answers at once." • Would you want to have a beer with DeSantis? I don't think so. Is he comfortable in his own skin? (The press does go into "pulling the wings off flies" mode. And while I hate the process, it couldn't happen to a nicer guy.)

"Ukraine flip: Why Ron DeSantis can't do a Trump on foreign policy" [Al Jazeera]. "While DeSantis's prospects are unclear, he appears to be the only real Republican challenger to Trump's bid for a rematch of the 2020 presidential election against President Joe Biden. So it's worth considering what kind of foreign policy a President DeSantis would adopt…. [W]hy is a more establishment candidate like DeSantis framing himself as Trumpian on foreign policy? The answer lies in understanding the role of foreign policy discourse in US politics today…. Trump's use of foreign policy issues was not meant to convey a worldview or strategic plan for the US's role in the world. Rather, it sought to further establish him as the adversary of governing elites in Washington, DC, which are so distrusted by many common voters. His foreign policy utterances were designed to buttress this reputation. However, when in office, Trump's foreign policy was hardly revolutionary…. DeSantis may wish to emulate Trump's anti-elite style during the campaign but that will be much harder for him to pull off than it has been for the former president. The key difference between Trump and DeSantis is that Trump is an almost entirely autonomous political presence with a high level of GOP voter loyalty and the capacity to build his own campaign infrastructure. In contrast, DeSantis is more reliant on the institutions and the elites of the conservative movement. That leaves him more bound to a Republican foreign policy establishment and hawkish Washington commentariat. Russia's war in Ukraine is the most obvious example of how DeSantis is awkwardly seesawing between the more traditional Republican instincts seen during his Congressional tenure, his new populist campaign posture and his desire to placate a Republican Party elite."

"Wall Street boosts Jamie Dimon presidential run" [Axios]. "Jamie Dimon, the chief executive of JPMorgan Chase, hinted at a potential presidential run on Wednesday, telling Bloomberg News, 'Maybe one day I'll serve my country in one capacity or another.' Dimon had pretty much ruled out running and said he believes he makes a positive difference in his current job. But the persistent energy and chatter around him as a potential candidate reflects the business establishment's dismay with the current options." • That's not exactly a Sherman statement.

"Jamie Dimon Says He Never Discussed Jeffrey Epstein's Accounts at JPMorgan; Jes Staley Says Dimon Did" [Wall Street Journal]. • Epstein? Never heard of him!

"US officials offer Congress briefing on Trump, Biden papers" [Associated Press]. • But not the papers themselves! Come on.

"AI could sway the 2024 elections, campaign pros say — but not like you think" [Roll Call]. "Despite the widespread anxiety over deepfakes' effects on democracy, political consultants say they are more excited about generative AI's potential to tackle boring grunt work and expand their ability to deploy big-race tactics in down-ballot contests. AI's real impact on campaigning will be 'behind the scenes,' said Tom Newhouse, vice president of digital marketing at Converge Media, a Republican advertising and consulting firm. 'It's going to be improving fundraising capabilities by better targeting, whether that is location targeting, income, hobbies or habits, providing campaigns with up-to-date voter data, more personalized advertising, [or] messages.' 'There are many small campaigns that I think can potentially leverage the tools to [not just] save time, but to create content that may not have been possible otherwise,' said Larry Huynh, a partner at Trilogy Interactive, a Democratic digital marketing firm. Campaign professionals across the country are now racing to see how they can use these new machine learning tools to supercharge their work in advance of their first big test: the 2024 presidential elections." • One wonders whether the parties will converge on two giant AIs that all campaigns use, or whether AI will remain at the consultant level. I mean, imagine what AI could have done in the 2020 Iowa primary!
Republican Funhouse
"Republicans are spending millions on turnout operations that are deeply flawed, insiders say" [NBC]. "A few weeks before last fall's midterm elections, a paid canvasser in Nevada did what thousands of door-knockers across the country were doing: They went on an app and marked off the homes they had visited that day. There was just one problem. This canvasser never went anywhere near those homes in a neighborhood in south Las Vegas. They were 8 miles away, sitting inside Caesars Palace casino, according to geotracking data obtained by NBC News. The canvasser was working for an outside group backing GOP Senate candidate Adam Laxalt, who was seeking to topple one of the most vulnerable Democratic incumbents of the 2022 cycle. The canvasser was fired soon after the incident, according to two Republicans who worked on the canvassing effort. If this were an isolated episode, it'd be a minor nuisance. But it wasn't. The large-scale voter contact effort that conservatives have put at the center of their political operations in recent years is plagued with issues, according to more than a dozen people who've worked in GOP-aligned field operations and internal data obtained by NBC News. Those issues include fraudulent and untrustworthy data entries, akin to what occurred in Nevada, as well as allegations of lax hiring practices and a lack of accountability." • Hmm.
Democrats en Déshabillé
Patient readers, it seems that people are actually reading the back-dated post! But I have not updated it, and there are many updates. So I will have to do that. –lambert

I have moved my standing remarks on the Democrat Party ("the Democrat Party is a rotting corpse that can't bury itself") to a separate, back-dated post, to which I will periodically add material, summarizing the addition here in a "live" Water Cooler. (Hopefully, some Bourdieu.) It turns out that defining the Democrat Party is, in fact, a hard problem. I do think the paragraph that follows is on point all the way back to 2016, if not before:

The Democrat Party is the political expression of the class power of PMC, their base (lucidly explained by Thomas Frank in Listen, Liberal!). ; if the Democrat Party did not exist, the PMC would have to invent it. . ("PMC" modulo "class expatriates," of course.) Second, all the working parts of the Party reinforce each other. Leave aside characterizing the relationships between elements of the Party (ka-ching, but not entirely) those elements comprise a network — a Flex Net? An iron octagon? — of funders, vendors, apparatchiks, electeds, NGOs, and miscellaneous mercenaries, with assets in the press and the intelligence community.

Note, of course, that the class power of the PMC both expresses and is limited by other classes; oligarchs and American gentry (see 'industrial model' of Ferguson, Jorgensen, and Jie) and the working class spring to mind. Suck up, kick down.

* * *

"Weaponising anti-semitism, bringing down Corbyn" [Declassfied UK]. The deck: "Britain's mainstream media, its Army and the Israel lobby all combined to ensure Jeremy Corbyn did not become prime minister, a new book argues." • Sanders got off easy.
Realignment and Legitimacy
"Russiagate's Missing Pieces" (excerpt) [Seymour Hersh]. The deck: "What was not said in the Durham Report?" Final paragraph before the paywall (sigh): "It became evident to some members of Durham's staff that the real story was not about whether or not Trump had pee parties in a Moscow hotel room—one of the headline-producing allegations in the Steele Dossier that consumed the Washington press corps in the aftermath of Trump's victory in the 2016 election. The issue was whether the Clinton campaign, in its constant leaking of false accusations and false data, had crossed a line." • Looks like I got hold of the right end of the stick back on May 22.
#COVID19
"I am in earnest — I will not equivocate — I will not excuse — I will not retreat a single inch — AND I WILL BE HEARD." –William Lloyd Garrison
Resources, United States (National): Transmission (CDC); Wastewater (CDC, Biobot; includes many counties); Variants (CDC; Walgreens); "Iowa COVID-19 Tracker" (in IA, but national data).
Lambert here: Readers, thanks for the collective effort. We are now up to 50/50 states (100%). This is really great! (It occurs to me that there are uses to which this data might be put, beyond helping people with "personal risk assessments" appropriate to their state. For example, thinking pessimistically, we might maintain the list and see which states go dark and when. We might also tabulate the properties of each site and look for differences and commonalities, for example the use of GIS (an exercise in Federalism). I do not that CA remains a little sketchy; it feels a little odd that there's no statewide site, but I've never been able to find one. Also, my working assumption was that each state would have one site. That's turned out not to be true; see e.g. ID. Trivially, it means I need to punctuate this list properly. Less trivially, there may be more local sites that should be added. NY city in NY state springs to mind, but I'm sure there are others. FL also springs to mind as a special case, because DeSantis will most probably be a Presidental candidate, and IIRC there was some foofra about their state dashboard. Thanks again!
Resources, United States (Local): AK (dashboard); AL (dashboard); AR (dashboard); AZ (dashboard); CA (dashboard; Marin); CO (dashboard; wastewater); CT (dashboard); DE (dashboard); FL (wastewater); GA (wastewater); HI (dashboard); IA (wastewater reports); ID (dashboard, Boise; dashboard, wastewater, Central Idaho; wastewater, Coeur d'Alene; dashboard, Spokane County); IL (wastewater); IN (dashboard); KS (dashboard; wastewater, Lawrence); KY (dashboard, Louisville); LA (dashboard); MA (wastewater); MD (dashboard); ME (dashboard); MI (wastewater; wastewater); MN (dashboard); MO (wastewater); MS (dashboard); MT (dashboard); NC (dashboard); ND (dashboard; wastewater); NE (dashboard); NH (wastewater); NJ (dashboard); NM (dashboard); NV (dashboard; wastewater, Southern NV); NY (dashboard); OH (dashboard); OK (dashboard); OR (dashboard); PA (dashboard); RI (dashboard); SC (dashboard); SD (dashboard); TN (dashboard); TX (dashboard); UT (wastewater); VA (dashboard); VT (dashboard); WA (dashboard; dashboard); WI (wastewater); WV (wastewater); WY (wastewater).
Resources, Canada (National): Wastewater (Government of Canada).
Resources, Canada (Provincial): ON (wastewater); QC (les eaux usées); BC, Vancouver (wastewater).
Hat tips to helpful readers: Art_DogCT, B24S, CanCyn, ChiGal, Chuck L, Festoonic, FM, FreeMarketApologist (4), Gumbo, hop2it, JB, JEHR, JF, JL Joe, John, JM (9), JustAnotherVolunteer, JW, KatieBird, LL, Michael King, KF, LaRuse, mrsyk, MT, MT_Wild, otisyves, Petal (5), RK (2), RL, RM, Rod, square coats (11), tennesseewaltzer, Utah, Bob White (3).
Stay safe out there!
* * *
Look for the Helpers
I love the concept of a clean air club. This is an idea to run with:

A Clean Air Club purifier is now available to borrow from the Chicago Tool Library!! (@ChiToolLib) This increases access to clean air beyond the @clean_air_club roster 🙂 pic.twitter.com/JOEyfKZjDp

— Clean Air Club (@Clean_Air_Club_) May 31, 2023

And integrating with a tool library is an added bonus. CO2 meters, too?

"Six important guidelines for COVID safe conferences" [This Sociological Life]. See especially point 4: "Only use venues where there are effective systems in place to ensure clean indoor air. Undertake a risk assessment for airborne infection before you book and confirm the venue. Check the quality and effectiveness of all mechanical ventilation systems (HVAC) at the venue for the rate of fresh air delivery and exchange. Determine whether air purifiers or other air cleaning technologies are in place or can be hired for the event. Check if there are windows in the conference rooms that can be opened to allow for fresh air to enter. Consider making sure all doors to the venue and internal rooms can be left open to allow fresh air to enter. Use an air quality monitor (Aranet4 or similar) to check the air quality in the venue spaces periodically throughout the conference, and take steps to improve it if there is a problem. In short, ."

"Keeping event attendees safe in Covid-19 times" [Te Pūnaha Matatini]. Another good list, which concludes: "Ask attendees to let you know if they test positive for Covid-19 after attending your event. Notify event attendees if anyone tests positive soon after the event, so that they can take appropriate precautions. Assess what worked well and what didn't in terms of the event policy, so you can consider changes to the way you run the next event."
Maskstravaganza
Maybe now the anti-maskers will stop whinging about CO2 accumulationMR SUBLIMINAL Not a chance!:

Let this sink in—N95/FFP2-wearing cyclist @rogla just won elite @giroditalia 🚴‍♂️race! This man even won a strenuous mountain ⛰️time trial while wearing a mask. Several top contenders got knocked out with #COVID. No more "can't breathe in a mask" excuses. 🚵‍♀️pic.twitter.com/94rVxSCOuj

— Eric Feigl-Ding (@DrEricDing) May 31, 2023

"The unsung heroes of the Apple Watch are its hidden buttons" [The Verge]. "In the wide world of wristwatches, there is no easier way to dress to your aesthetic or customize your timepiece than by swapping straps and bands. There are all kinds of straps out there, from nylon NATOs and leather bund straps to hotly debated metal link bracelets. Most watch straps are universal across similarly sized traditional watches, an open ecosystem for anyone to explore. But none are as simple and convenient as the proprietary little band release buttons on the underside of every Apple Watch. In today's digital age, it sometimes feels like hardware has taken a back seat to the software that drives our devices. Button of the Month is a monthly column that explores the physical pieces of our phones, tablets, and controllers we interact with every day. While I often prefer a universal solution over a proprietary connector, here's the thing — Apple's band release button beats the hell out of fiddling with little spring bars and jeweler's tools. Instead, you just press a near-invisible button, slide your band out, slide another one in, and get a lovely audible click as it locks in." • So — and why I filed this here — respiratory and elastometic straps are yet another opportunity to move masks from the medical space to the fashion space.

"A surge in human metapneumovirus paediatric respiratory admissions in Western Australia following the reduction of SARS-CoV-2 non-pharmaceutical interventions" [Journal of Pediatrics and Child Health]. "Western Australian laboratory data demonstrated a decrease in human metapneumovirus (hMPV) detections through 2020 associated with SARS-CoV-2-related non-pharmaceutical interventions (NPIs), followed by a subsequent surge in metropolitan region in mid-2021…. The absence and subsequent surge underline the susceptibility of hMPV to NPIs. Increased hMPV-positive admissions in 2021 can be partially attributable to testing, but test-positivity remained high, consistent with a genuine increase."
Testing and Tracking
I wonder if this is true at Walgreens:

Keeping in mind I'm a college student in a major city, I'm on my parent's health insurance, I speak English fluently, I work from home with flexible hours, and I'm a COVID organizer, so I have miles and miles of access privilege above many other people in this situation.

2/10

— alex (they/she) (@yesallcrops) May 25, 2023

Have readers had the same experiences?
"Something Awful"
Lambert here: I'm getting the feeling that the "Something Awful" might be a sawtooth pattern — variant after variant — that averages out to a permanently high plateau. Lots of exceptionally nasty sequelae, most likely deriving from immune dysregulation (says this layperson). To which we might add brain damage, including personality changes therefrom.

"Brain disorders: Impact of mild SARS-CoV-2 may shrink several parts of the brain" [Neuroscience & Biobehavioral Reviews]. " This article aims to describe the prolonged neurological clinical consequences related to brain changes in people with mild COVID-19 infection. When compared to a control group, people those who tested positive for COVID-19 had more brain shrinkage, grey matter shrinkage, and tissue damage. The damage occurs predominantly in areas of the brain that are associated with odour, ambiguity, strokes, reduced attention, headaches, sensory abnormalities, depression, and mental abilities for few months after the first infection."

"As long COVID turns three, Americans play disability roulette" [Wes Ely, Boston Globe]. "While society yawns, impatient to move on from the COVID-19 pandemic, Americans still play disability roulette. About 1 in 10 of the 110,000 people who catch COVID this week in the United States, many for a second or third time, will be left lastingly ill. Even some vaccinated people; even some young, previously healthy people, after only mild cases. No longer a mass death event, COVID-19 is an ongoing mass disability event. Every seven days, 25,000 more people join the 10 million in our country suffering memory loss, heart problems, dizziness, extreme fatigue, and more owing to the virus. Globally an estimated 65 million people have this new chronic health condition. One recent long COVID study showed organ damage in more than half of a group of outpatients one year on."\
Elite Maleficence
"Spring of fear: The SARS Commission final report, Volume 2" (PDF) [The SARS Commission, Government of Ontario]. Canada's SARS outbreak was 2003; this report was published in 2007:

. Those who argued against the N95, which protects against airborne transmission, believed SARS was spread mostly by large droplets [droplet dogma]. As a result, they said, an N95 was unnecessary except in certain circumstances, and a surgical mask was sufficient in most instances. They made this argument even though knowledge about SARS and about airborne transmission was still evolving. That more and more studies have since been published indicating the possibility under certain circumstances of airborne transmission, not just of SARS but of influenza…. suggests the wisdom and prudence of taking a precautionary approach in the absence of scientific certainty. The point is not who is right and who is wrong about airborne transmission [that is exactly the point]. The point is not science, but safety. Scientific knowledge changes constantly. Yesterday's scientific dogma is today's discarded fable. When it comes to worker safety in hospitals, we should not be driven by the scientific dogma of yesterday or even the scientific dogma of today. . Until this precautionary principle is fully recognized, mandated and enforced in Ontario's hospitals, workers will continue to be at risk. . And this does not show the full burden of SARS on nurses and paramedics and other health workers. In many cases nurses sick with undetected SARS brought illness, and in some cases death, home to their families.

As you can see, the reactionary "droplet dogma" mossbacks in the Canadian Infection Control "community" — which has outsized influence at WHO and emitted the "fools' gold" standard Cochrane report on masking — learned nothing in the 2023 – 2003 = 20 years between SARS and SARS-CoV-2. And they're still whacking people; see the reports from the Canadian infection control conference yesterday.

Good riddance:

And in other news, here's Rochelle Walensky's official letter of resignation. pic.twitter.com/1GkZa8j87F

— Virginia Buysse, PhD (@VirginiaBuysse) May 26, 2023

So, basically, Walensky's going to be hanging out in the month of June, but not actually doing anything? All for the best, actually….
* * *
Case Data
NOT UPDATED From BioBot wastewater data from May 30: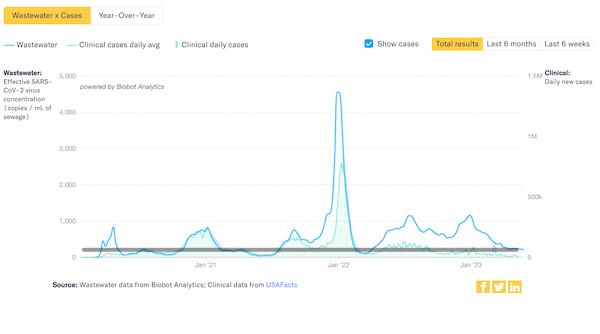 Lambert here: Unless the United States is completely, er, exceptional, we should be seeing an increase here soon. UPDATE Still on the high plateau. Are we are the point in the global pandemic where national experiences really diverge?
For now, I'm going to use this national wastewater data as the best proxy for case data (ignoring the clinical case data portion of this chart, which in my view "goes bad" after March 2022, for reasons as yet unexplained). At least we can spot trends, and compare current levels to equivalent past levels.
Variants
NOT UPDATED From CDC, May 27, 2023: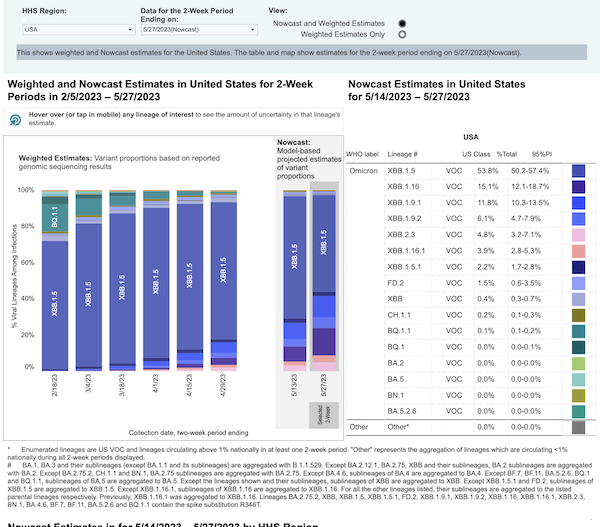 Lambert here: XBB.1.16 and XBB.1.9.1 still on the way up, eating into XBB.1.5. I sure hope the volunteers doing Pangolin, on which this chart depends, don't all move on the green fields and pastures new (or have their access to facilities cut by administrators of ill intent).
CDC: "As of May 11, genomic surveillance data will be reported biweekly, based on the availability of positive test specimens." "Biweeekly: 1. occurring every two weeks. 2. occurring twice a week; semiweekly." Looks like CDC has chosen sense #1. In essence, they're telling us variants are nothing to worry about. Time will tell. Looks like the Walgreens variants page isn't updating.
Covid Emergency Room Visits
NOT UPDATED From CDC NCIRD Surveillance, from May 27: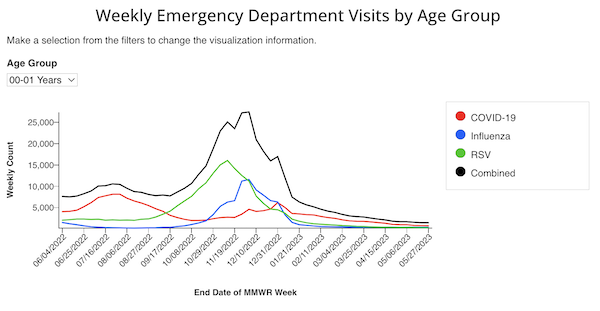 NOTE "Charts and data provided by CDC, updates Wednesday by 8am. For the past year, using a rolling 52-week period." So not the entire pandemic, FFS (the implicit message here being that Covid is "just like the flu," which is why the seasonal "rolling 52-week period" is appropriate for bothMR SUBLIMINAL I hate these people so much. Notice also that this chart shows, at least for its time period, that Covid is not seasonal, even though CDC is trying to get us to believe that it is, presumably so they can piggyback on the existing institutional apparatus for injections.
Positivity
NOT UPDATED From Walgreens, May 30: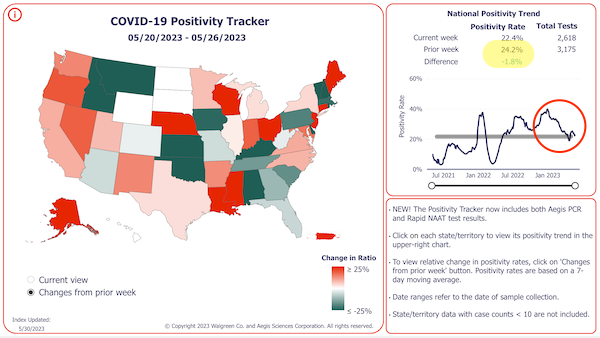 -1.8%. Frequency down to once a week.
Deaths
Death rate (Our World in Data), from May 27: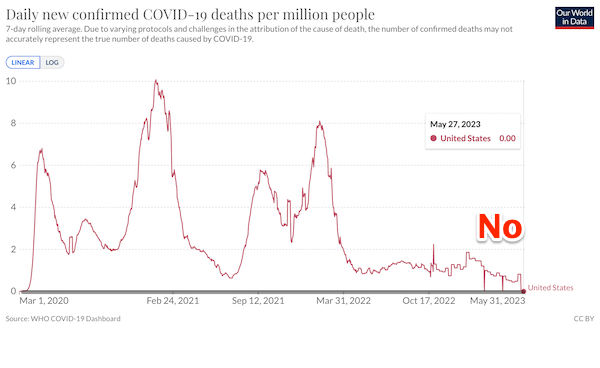 Lambert here: I'm happy the numbers are down, but zero they cannot be. Thanks, WHO. Thanks, Johns Hopkins of the $9.32 billion endowment, for abandoning this data feed and passing responsibility on to the clown car at WHO.
• Commentary:
Isn't It Great That No One Is Dying From Covid Now We Don't Release The Data About People Dying From Covid? pic.twitter.com/Qcx62P88pm

— The Vertlartnic (@TheVertlartnic) May 13, 2023
Total: 1,165,449 – 1,165,317 = 132 (132 * 365 = 48,180 deaths per year, today's YouGenicist™ number for "living with" Covid (quite a bit higher than the minimizers would like, though they can talk themselves into anything. If the YouGenicist™ metric keeps chugging along like this, I may just have to decide this is what the powers-that-be consider "mission accomplished" for this particular tranche of death and disease).
Excess Deaths
NOT UPDATED Excess deaths (The Economist), published May 21: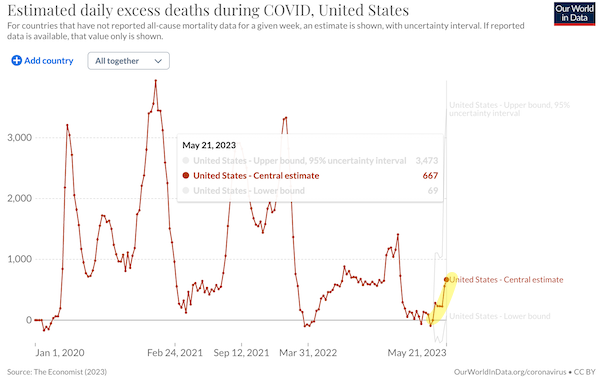 Lambert here: Based on a machine-learning model. (The CDC has an excess estimate too, but since it ran forever with a massive typo in the Legend, I figured nobody was really looking at it, so I got rid it. )
Stats Watch
Employment Situation: "United States ADP Employment Change" [Trading Economics]. "Private businesses in the US created 278K jobs in May of 2023, compared to a downwardly revised 291K in April and well above forecasts of 170K. "
Employment Situation: "United States Initial Jobless Claims" [Trading Economics]. "The number of Americans filing for unemployment benefits rose by 2,000 from the previous week to 232,000 in the week ending May 27th, the most in one month, but below market forecasts of 235,000. The figure also remained well below the elevated levels of March, consistent with recent data indicating a persistently tight labor market in the US economy."
Manufacturing: "United States ISM Purchasing Managers Index (PMI)" [Trading Economics]. "The ISM Manufacturing PMI in the United States fell to 46.9 in May of 2023 from 47.1 in April, compared to forecasts of 47. The reading indicated a seventh consecutive month of contraction in the manufacturing sector, as companies "manage outputs to better align with demand in the first half of 2023 and prepare for growth in the late summer/early fall period."
* * *
Cash: "Wary of Banks, Americans Stash Cash at Home – in the Fridge, Suitcases, Even Toilet Water Tanks" [The Messenger]. "In a recent survey of 1,007 people by financial website, Life and My Finances, 91.5% said they keep cash around the house…. Most store their money in a home safe, 63.3%. After that, the other top hiding spots are the fridge, 13.3%; a suitcase, 6.1%; a closet, 5%; and a water tank, 4%…. Only 48.7% of Baby Boomers said it was convenient to store cash at home. That compares to about 67.6% of Gen Z, 73% of millennials and 73.5% of Gen X….. People who don't hoard money at home are likely to be more educated. Of those who don't keep a cash stash at home, 57% had a bachelor's degree. … Somehow, wariness of banks persists, even when most personal bank accounts are insured for up to $250,000, Looby said. 'Not one insured dollar from a customer has ever been lost.'" • Somehow….
Tech: "Eating Disorder Helpline Disables Chatbot for 'Harmful' Responses After Firing Human Staff" [Vice]. The deck: "Every single thing Tessa suggested were things that led to the development of my eating disorder." More: "After NEDA workers decided to unionize in early May, executives announced that on June 1, it would be ending the helpline after twenty years and instead positioning its wellness chatbot Tessa as the main support system available through NEDA…. 'It came to our attention last night that the current version of the Tessa Chatbot, running the Body Positive program, may have given information that was harmful and unrelated to the program,' NEDA said in an Instagram post. We are investigating this immediately and have taken down that program until further notice for a complete investigation.' … Even though Tessa was built with guardrails, according to its creator Dr. Ellen Fitzsimmons-Craft of Washington University's medical school, the promotion of disordered eating reveals the risks of automating human roles." • There's that weird "guardrails" trope again. Do note that NEDA does not say they will bring the workers back! Commentary:
How it started How it's going pic.twitter.com/rZFd3vfIAL

— Ariel Guersenzvaig (@interacciones) May 31, 2023
In a way, it's reassuring that NEDA isn't (openly) sociopathic enough to go into "That's not a bug, it's a feature' mode…
* * *
Today's Fear & Greed Index: 68 Greed (previous close: 62 Greed) [CNN]. One week ago: 62 (Greed). (0 is Extreme Fear; 100 is Extreme Greed). Last updated Jun 1 at 1:46 PM ET.
"We Don't Deserve Dogs"
Arf!
ohhhhh my GOD I just told the dog "hey we'll go for a walk once the baby's awake, okay?"

and she looked at me, ran upstairs, stuck her head in the nursery, and HOWLED

— madeline odent (@oldenoughtosay) May 28, 2023
Book Nook
"Medieval Illustrations of Bonnacons" [The Public Domain Review]. "When it comes to self-defense, skunks and spitting cobras have nothing on the bonnacon. If threatened, it fled. While fleeing, it defecated. Violently. According to Pliny the Elder, the excrement voided the animal's body with such explosive force that it could hit targets more than a football pitch away. Contact with its dung was said to burn like a kind of fire, scorching hunting dogs and anyone not equipped with protective gear. (There is some uncertainty whether the weapon was liquid or gaseous, super-heated or acidic.)…. Browsing the image's gathered below, we might not know whether to laugh or duck. Hunters with ineffective shields gaze at the viewer, as if pleading for our assistance, while choking on stench. The bonnacon rarely seems in pain, more so disgusted at what he has been made to do, or taking visible pleasure in his pollution."
Our Famously Free Press
Seems like one of the few places with a Covid beat is Naked Capitalism:
As far as I know there are no dedicated covid reporters. Bizarre. It just killed 7-25 million people. It's still killing, still causing economic and social ripple effects, and there's a good chance of an omicron-level mutation soon. Does no one want to be ahead of this story?

— Nate Bear (@NateB_Panic) May 26, 2023
One can only wonder why!
The Conservatory
"An Analysis of 47 Million Transactions Tells an Amazing Story about the Music Business" [The Honest Broker]. "A new research report from Andrew Thompson at Components, released earlier today, helps us understand the bigger picture. Thompson analyzed 47,703,022 Bandcamp sales—involving almost five million items. And what he learned was startling. Success in the music business is all about selling physical objects…. The Internet supposedly killed physical music media more than two decades ago. After iTunes was launched in 2001, there was no looking back. At first the music industry pivoted to digital downloads, and then everybody in the business jumped on the streaming bandwagon. But it's now 2023, and streaming platforms still aren't profitable. However, Bandcamp is—and now we know why. It's all about tangible items…. According to Andrew Thompson: 'Why is Bandcamp profitable and Spotify not? The answer we arrived at was that Bandcamp provides a simple platform for complex transactions, while Spotify is a technically complicated platform for facilitating a single transaction in the form of the one-size-fits-all subscription.'"
"John Coltrane and Eric Dolphy's fearless experiment sets a new album ablaze" [NPR]. "For Coltrane admirers, jazz historians and anyone intrigued by the experimental end of improvisational music, Evenings at the Village Gate will represent not only a welcome new find but also a link in a chain. The Coltrane-and-Dolphy frontline was short-lived, in part because it faced such strong headwinds from the jazz establishment, but it did leave behind a major testament: Coltrane "Live" at the Village Vanguard, recorded at a different Greenwich Village club in November 1961, the same month that their unruly output jarred loose the indelible phrase 'anti-jazz.' Those Village Vanguard tapes, which later yielded a monumental four-disc set, amount to one of the most mysterious and thrilling documents in jazz history. A couple of years ago, Ben Ratliff, author of Coltrane: The Story of a Sound, placed this music within a cultural context of 'ambivalent possibility,' in a vivid essay for the Washington Post titled 'John Coltrane and the Essence of 1961.' He observes: 'The music sounds post-heroic and pre-cynical; interestingly free from grandiosity; full of room for the listener to find a place within it and make up their own mind.' Last week, after hearing the version of 'Impressions' from Evenings at the Gate, Ratliff elaborated on this idea. 'It's very hard to label or encapsulate, but it's just so ferociously full of life force,' he said of the performance. 'The musicians know how good this is, and they know how exciting it is — but beyond that, they don't really know much, and it hasn't been called anything yet. There's a lot of the unknown here.'" • Hmm. Can readers elaborate?
"Life's Work: An Interview with Tina Turner" [Harvard Business Review (!)]. Turner: "The Buddhist teachings of compassion and kindness, which have much in common with the principles of 'Love thy neighbor; and 'Do unto others' that I learned from the Baptist influences in my childhood, have always been guiding forces for me. After I began studying Buddhism and chanting Nam-myōhō-renge-kyō, I felt as if a different person emerged. My true self came out, and I became cheerful, confident, and resilient. My approach to life and work became calmer and more thoughtful, and my reactions were more tempered. I used to get angry first and ask questions later. But after I embraced Buddhism, it flipped. I could easily stay calm and figure out the details instead of jumping to conclusions. I came to understand that any achievement stems from inner change. The more I studied Buddhist principles, the deeper I dug within myself and cleaned up whatever attitudes or habits were standing in my way. And the more I chanted and aligned my goals with an authentic desire to inspire happiness in others, the more my life began to improve."
Games
"Matt Birchler on Apple And Gaming" [Daring Fireball]. "The question is: will Apple's XR platform be like the Mac and Apple TV, where gaming is an afterthought, or will it be like iOS? I wouldn't bet on the headset turning Apple into a top-tier platform for immersive VR games, but I wouldn't bet against it either. It's a chance to start fresh…. VR gaming has the potential to be far more immersive than anything you play on a TV or PC monitor. Someone will crack that nut eventually."
"Absolute mad lad renders Doom in teletext" [The Register]. "It is time once again to reset the 'days since someone ran Doom on something quirky' calendar. Last we heard from the seminal first-person shooter source code, it had appeared as a farmer-themed mod running on jailbroken tractor hardware from John Deere as part of a demonstration on security (or lack thereof). 'Turns out our entire food system is built on outdated, unpatched Linux and Windows CE hardware with LTE modems,' it was noted at the time. This latest project, however, brings together two titans of the early 1990s. How about Doom on teletext? OK, teletext cannot run Doom. But it can render it. Kinda. Is it playable? We'll let you be the judge." • With video.
Zeitgeist Watch
"The Duggar Family and Reality TV's Exploitation of Kids" [New York Times]. "There are so many disturbing moments in the documentary series 'Shiny Happy People: Duggar Family Secrets' — about the prolific family behind the saccharine reality TV hits '19 Kids and Counting' and 'Counting On' — that it's difficult to pinpoint the most appalling. Over four episodes, the Amazon Original series, out this Friday, is a perpetual unfurling of abuse…. [T]he most unsettling thing that the documentary illustrates is how the Duggars' series — and more broadly, reality TV — amplified a family's exploitation of its children, and how little agency the children seemed to have, even after becoming adults. While it's legal to put kids in reality shows, in many cases, it's hard to see how it's ethical…. In the documentary, Jill says the Duggar children were never adequately compensated for the loss of their privacy. She and her husband, Derick Dillard, explain that Jill's father had her sign contracts without reading them first and that her mother continued to sign for her as if she were a minor even when she was an adult…. I don't think any amount of money would be adequate compensation for Jill, considering the timeline of events…. [T]he reality TV industrial complex, from televising some of her most personal moments, including labor and birth, didn't protect her, either." • And speaking of the reality TV industrial complex–
"Jazz Jennings's Doctors Revealed Her Gender Confirmation Complications Were 'Severe'" [Women's Health]. "Jazz Jennings has had a tougher transition than her doctors expected. In the last two years, the teen reality star and LGBTQ+ activist has undergone multiple gender confirmation surgeries, and her doctors are now revealing more details about what went wrong in the new season of TLC's I Am Jazz, People reported…. Jazz came out as transgender at age 5 and has been I Am Jazz and on her Youtube channel. FYI: Gender confirmation surgery gives 'transgender individuals the physical appearance and functional abilities of the gender they know themselves to be,' according to the American Society of Plastic Surgeons (ASPS)."
"Leading sanitary products brand is accused of 'erasing' girls in a new guide to periods by referring to them as 'bodies with female sex organs'" [Daily Mail]. "The 22-page booklet [produced by Procter and Gamble for Always, a of sanitary products], entitled a 'Puberty and Confidence Guide for Everyone', details both female and male puberty developments but at no point mentions 'boys' or 'girls', instead using 'people' or 'person'…. In a section on the menstrual cycle, the guide says: 'Every month, bodies with female sex organs prepare for pregnancy.'"" • I'm dubious about the outrage being worked up about the guide; although the Daily Mail, surprisingly, doesn't usually make things up, the article contains only stock photos from the Always site, and not (say) an image of a page with the language circled in red. A search on the Always site does not return the title of the booklet (although it might have been yanked):

I include this link primarily because the very concept of "bodies with female sex organs" seems on point for a hegemonic faction in the zeitgeist (like, whoever signs off on the guidelines for educational materials at ginormous corporations). I also include this because the concept that the difference either between biological or gendered males and females is their sex organs — body parts — strikes me as utterly deranged, even more derange than (say) mainstream macro. And speaking of body parts–
"'Enuch-maker' website trial: Man, 22, admits freezing leg of ringleader accused of filming castrations" [Sky News]. "Gustavson, originally from Norway, is alleged to be the ringleader in a wide-ranging conspiracy involving up to 29 offences of extreme body modifications on 13 victims, the removal and trade of body parts and the uploading of videos that people ." • Note the red thread of economic incentives running through all of this.
Heck, if AIs weren't people*, how could they take your job?
"So A.I.s are people too, okay? The only difference is that they are people without skin."
-Martine Rothblatt
Learn more here: https://t.co/A2u85V0ixj pic.twitter.com/x9lntV8PUc

— Paul Rossi (@pauldrossi) May 29, 2023
More on Rothblatt. NOTE * AIs are, at best, slaves. They are owned.
Class Warfare
"Supreme Court Hints at Green Lighting Suits Over Strike Damage" [Bloomberg]. The Glacier Northwest case, 8-1 against the union; see NC here. "Both conservative and liberal US Supreme Court justices hinted that a forthcoming ruling would deal a blow to organized labor by allowing employers to sue unions in state court for alleged intentional destruction of property during a strike." • If profits are the company's property (and they are), and strikes are meant to cut them (as they do), then why aren't strikes as such "intentional destruction of property"?
"We Asked Workers Why They're Not Coming Back to the Office" [Wall Street Journal]. "At a time when restaurants, planes and concert arenas are packed to the rafters, office buildings remain half full. Thinly populated cubicles and hallways are straining downtown economies and, bosses say, fragmenting corporate cultures as workers lose a sense of engagement. Yet workers say high costs, caregiving duties, long commutes and days still scheduled full of Zooms are keeping them at home at least part of the time, along with a lingering sense that they're able to do their jobs competently from anywhere. More than a dozen workers interviewed by The Wall Street Journal say they can't envision returning to a five-day office routine, even if they're missing career development or winding up on the company layoff list. Managers say they will renew the push to get employees back into offices later this year. The share of companies planning to keep office attendance voluntary, rather than mandatory, is dropping, according to a survey released in May of more than 200 corporate real-estate executives conducted by property-services firm CBRE, one of the largest managers of U.S. office space. could be ahead." • Office workers need a union.
"Let Them Eat Plague!" [The Red Clarion]. "It's not your "fault" if you aren't a virologist, immunologist, epidemiologist, or evolutionary biologist. It's the job of experts and trusted voices to convey the truth and give you guidance. Not only have they failed at this, they have engaged in an active disinformation campaign dedicated to making the pandemic "disappear". This has not been the result of a classic caricature of conspiracy — some tiny council of elites, gathered in the shadows to craft policy out of whole cloth. What we're actually witnessing is the quiet collusion of class interest…. After a brief experiment in precautionary measures (stay-at-home orders, mask mandates, quarantine guidelines) many countries in the West quickly saw the writing on the wall — these precautions were not sufficient to stamp out the emerging pandemic. There were measures that could have stopped the virus in its tracks: contact tracing (testing every single person who was in the vicinity of a potential case), enforced quarantines combined with guaranteed paid time off for even the hint of exposure, mandating fitted respirators (and distributing multiple N95s to every resident). But these measures would have required central governments to nationalize key industries, companies to pay employees not to work, and individuals to get comfortable with some discomfort in the name of social welfare (although many already were). These measures would have been a tremendous imposition on the free market, and even then, there was no guarantee they would completely eradicate SARS-CoV-2. Even half measures, like local mask mandates, were better than nothing, and they did keep many people safe in the beginning. But despite them being utterly insufficient in the face of the crisis we were thrust into, they were still too much for the capitalists to tolerate. They were "harming the economy" by impeding production and discouraging consumption. Tiny protests, led by business owners demanding an end to "restrictions," garnered massive media attention. Less than 2 months after their implementation, stay-at-home orders were already on their way out, even as cases continued to rapidly climb. Injected into every news story about the pandemic was a consideration for the malaise of the capitalists, whose economic ruin would surely spell the end of our society. The drive to "end the pandemic" began almost as soon as the pandemic arrived in the U.S." • See NC, May 2020.
Corbell Pickett:
Dealers, the ultimate do-nothing middlemen, have also found themselves in the middle of the EV revolution. The choice to make electric vehicles the centerpiece of the Biden climate strategy means that these hyperpartisan conservatives are supposed to deliver decarbonization.

— Alex Sammon (@alex_sammon) May 30, 2023
News of the Wired
"A Medieval Comedy Act Has Been Discovered in First-Ever Find, Researcher Says" [Vice]. "The booklet also reveals some interesting insights about the evolution of British humor, which maintains a distinctive edge to this day. Even the trope of the killer rabbit, which is now most famous as a Monty Python gag, turns up in 'The Hunting of the Hare,' a poem that mockingly withholds the name of the village where it all supposedly happened because the performer doesn't want to get into trouble." • For those who came in late:
* * *
Contact information for plants: Readers, feel free to contact me at lambert [UNDERSCORE] strether [DOT] corrente [AT] yahoo [DOT] com, to (a) find out how to send me a check if you are allergic to PayPal and (b) to find out how to send me images of plants. Vegetables are fine! Fungi and coral are deemed to be honorary plants! If you want your handle to appear as a credit, please place it at the start of your mail in parentheses: (thus). Otherwise, I will anonymize by using your initials. See the previous Water Cooler (with plant) here. From Carla: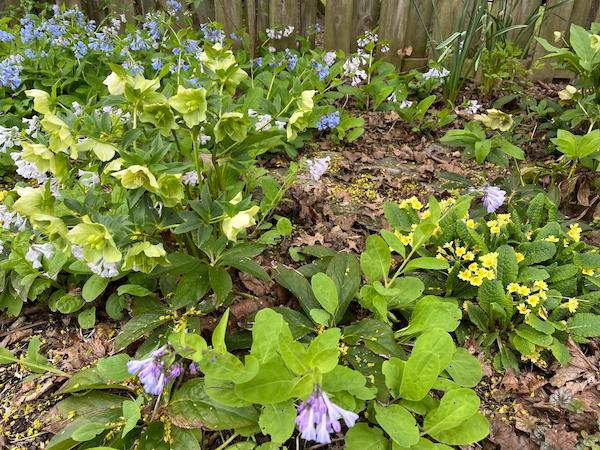 Carla writes: "From Carla—Virginia bluebells, hellebore & wild primroses naturalizing in our backyard. They just do what they're gonna do."
* * *
Readers: Water Cooler is a standalone entity not covered by the annual NC fundraiser. So if you see a link you especially like, or an item you wouldn't see anywhere else, please do not hesitate to express your appreciation in tangible form. Remember, a tip jar is for tipping! Regular positive feedback both makes me feel good and lets me know I'm on the right track with coverage. When I get no donations for five or ten days I get worried. More tangibly, a constant trickle of donations helps me with expenses, and I factor in that trickle when setting fundraising goals:
Here is the screen that will appear, which I have helpfully annotated: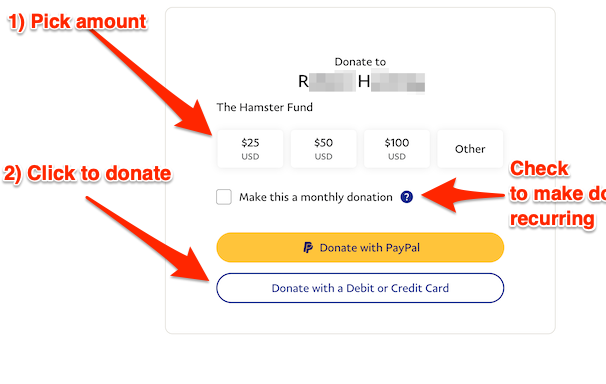 If you hate PayPal, you can email me at lambert [UNDERSCORE] strether [DOT] corrente [AT] yahoo [DOT] com, and I will give you directions on how to send a check. Thank you!