By Lambert Strether of Corrente.
Bird Song of the Day
Asian House-Martin, New Central Cross-Island Highway, Sinyi Township TW-Taiwan (23.4778,120.8357), Nantou County, Taiwan. "Calls from several individuals flying around a colony located in a tunnel along a steep cliff."
* * *
Politics
"So many of the social reactions that strike us as psychological are in fact a rational management of symbolic capital." –Pierre Bourdieu, Classification Struggles
Biden Administration
2024
I guess it's time for the Countdown Clock!

* * *

"Burisma had Hunter Biden help open account with corrupt Malta bank" [New York Post]. "Hunter Biden coordinated with executives at Ukrainian natural gas company Burisma Holdings to open an account at a corrupt Maltese bank, according to emails from the first son's abandoned laptop. Hunter, now 53, passed along income statements, passport information and utility bills in 2016 to Burisma board adviser Vadym Pozharskyi, who used the information to open an account with Satabank…. The information was sent to the owner of an auction house in Malta, Pierre Pillow, who was later charged in December 2020 with laundering "millions of euro," according to the Times of Malta newspaper…. Satabank closed in 2018 after Malta's Financial Intelligence Analysis Unit found "gross deficiencies" in the bank's ability to abide by money laundering and terrorism finance laws." • IIRC, the House Oversight Committee presented a web of nominee accounts funneling really penny ante money into the accounts of various Biden family members, But why? For what? I don't think there's any question that the Biden clan are all as twisty as corkscrews. But where is the bottle? Who is drawing the cork, and who is drinking?

"The Memo: Hunter Biden agreement deals wild card in 2024 race" [The Hill]. "Republicans argue the president's son got a soft deal. Democrats contend that misdemeanor offenses committed by a private citizen — one who was struggling with addiction at the time — should not have their importance exaggerated…. perhaps the most important voice in the medium term came from Capitol Hill. House Oversight Committee Chairman James Comer (R-Ky.) has asserted that his panel's probing of Biden's business dealings will go on. That means the president's son is going to continue to be a political issue for months to come — even as election season heats up."

"The Hunter Biden 'Controlled Demolition' is Complete" [Jonathan Turley]. "About a year ago, I wrote a column describing what I saw as evidence of a "controlled demolition" in progress in the Hunter Biden scandal. The media and political establishment had reached the point where they could no longer bury the influence peddling scandal by claiming that Hunter's laptop was Russian disinformation. That worked for defusing the scandal in 2020, but now another election was fast approaching, which called for a 'controlled demolition' to protect political and media figures from any public backlash. I wrote: 'Like those buildings dropped between other structures, it takes precision and, most importantly, cooperation to pull off. Specifically, this controlled demolition will require the perfect timing of the media, Democratic politicians, and most importantly, the Justice Department.' The key was to get Hunter to plead to a couple of minor offenses with little or no jail time. The White House and the media could then declare the scandal over and insist that there is nothing more to discuss…. Attorney General Merrick Garland took the most important step in pulling off the controlled demolition by steadfastly refusing to appoint a special counsel. … The second key is the charge. In buildings, you have to use just enough explosives to take out supports to collapse the structure in on itself. In scandals, it comes down to the criminal charges. You need an assortment of minor charges to suggest equal justice without anything large enough to cause collateral damage to others. It also has to be minor enough to get Hunter to take one for the team…. The problem for those seeking to drop this scandal in a confined fashion is that the House GOP is now investigating the influence-peddling scandal…. The House will push ahead, but the media has already imposed another blackout on coverage…. Just a couple of muffled thuds, a puff of smoke and an empty space."

* * *

"Biden world once rolled their eyes at Gavin Newsom. Now, they love the guy." [Politico]. "During Biden's three-day swing through the Bay Area, the California governor forcefully embraced his new role: a top Biden surrogate. The trip came days after Newsom took that defense directly into what many Democrats consider the beating heart of enemy territory — over an hourlong interview with Fox News' Sean Hannity…. Campaigns want surrogates 'to be doing both supportive, affirmative messages around the record and agenda. You also want them to take the fight to the other party,' said a Biden adviser of their emerging stable of influential surrogates, speaking freely on the condition of anonymity. On Newsom directly, the adviser said: 'Our view is he's been doing a good job on both.' While it's customary for governors to line up behind their party's president, Newsom has gone to even greater lengths in recent months to demonstrate his fealty and offer up his services to help for 2024." • Well, hopefully Newsome knows when to stick the shiv in. More in sorrow than in anger, of course.

"Federal Employee Unions Endorse Biden for Reelection" [Government Executive]. "A pair of federal employee unions, including the largest in the country, on Friday announced that they are endorsing President Biden for reelection next year. The American Federation of Government Employees and the National Air Traffic Controllers Association both announced their unions' respective decisions Friday, in conjunction with their parent labor federation, the AFL-CIO, ahead of a union rally at which Biden is scheduled to appear Saturday in Philadelphia. In a statement, AFGE National President Everett Kelley said the union conducted multiple polls of its membership, as well as a telephonic town hall with more than 20,000 members. Following those steps, AFGE's national executive council voted unanimously to endorse Biden again. 'During his first term, ,' Kelley said. 'The results of our endorsement process show that he is the overwhelming choice of AFGE members. It's not hard to see why.'" • Just ask the railroad workers!

"RFK JR On Rising: FULL INTERVIEW" (video) [Briahna Joy Gray and Robby Soave, The Rising].

"Cornel West's 'leftist' presidential bid has right-wing DNA" [MSNBC]. • West went on Joe Rogan and Russel Brand.
Republican Funhouse
"A new wedge divides House GOP: Quick Biden impeachment" [Politico]. "The rush to impeachment votes comes after first-term Rep. Anna Paulina Luna (R-Fla.) found success on her second try at forcing the House to censure Rep. Adam Schiff (D-Calif.) for his lead role in investigating former President Donald Trump's ties to Russia. Luna is expected to prevail against Schiff on Wednesday using what's called a "privileged resolution," one that requires a speedy floor vote. And Luna's maneuver appears to have inspired her fellow conservatives to go much further against their favorite Democratic target. Rep. Lauren Boebert (R-Colo.), another House Freedom Caucus firebrand, is pushing forward with her own privileged resolution that would impeach Biden. At least two other Freedom Caucus members, Reps. Marjorie Taylor Greene (R-Ga.) and Andy Ogles (R-Tenn.), told POLITICO they are pursuing separate impeachment resolutions." • It would have been helpful had Politico explained the reasons to impeach Biden.

"H.Res.503 – Impeaching Joseph R. Biden, Jr., President of the United States, for high crimes and misdemeanors" [Congress.gov]. Sponsor: Rep. Boebert, Lauren [R-CO-3]. Article I, abuse of power: "Using the powers of his high office, President Biden has knowingly presided over an executive branch that has continuously, overtly, and consistently violated Federal immigration law by pursuing an aggressive, open-borders agenda by purposefully and knowingly releasing more than 2,000,000 illegal aliens into the interior of the United States without the intention or ability to ensure that they appear in immigration court to face asylum or deportation proceedings." Article I, dereliction of duty: "Neglecting the powers of his high office, President Biden has abandoned his duties to ensure that the laws are faithfully executed and upheld, by presiding over an executive branch that has continually, overtly, and consistently refused to enforce the Nation's immigration laws and secure the southern border." • Strikes me as grandstanding.
Democrats en Déshabillé
Patient readers, it seems that people are actually reading the back-dated post! But I have not updated it, and there are many updates. So I will have to do that. –lambert

I have moved my standing remarks on the Democrat Party ("the Democrat Party is a rotting corpse that can't bury itself") to a separate, back-dated post, to which I will periodically add material, summarizing the addition here in a "live" Water Cooler. (Hopefully, some Bourdieu.) It turns out that defining the Democrat Party is, in fact, a hard problem. I do think the paragraph that follows is on point all the way back to 2016, if not before:

The Democrat Party is the political expression of the class power of PMC, their base (lucidly explained by Thomas Frank in Listen, Liberal!). ; if the Democrat Party did not exist, the PMC would have to invent it. . ("PMC" modulo "class expatriates," of course.) Second, all the working parts of the Party reinforce each other. Leave aside characterizing the relationships between elements of the Party (ka-ching, but not entirely) those elements comprise a network — a Flex Net? An iron octagon? — of funders, vendors, apparatchiks, electeds, NGOs, and miscellaneous mercenaries, with assets in the press and the intelligence community.

Note, of course, that the class power of the PMC both expresses and is limited by other classes; oligarchs and American gentry (see 'industrial model' of Ferguson, Jorgensen, and Jie) and the working class spring to mind. Suck up, kick down.

* * *

Ouch:

MSNBC democrats are like "I'm not like the average Rogan listener. I actually read books" and then crack open a book called something like "The Trumpening: Why 50% of the Country is so Stupid"

— Silenced on Site (@77_steeze) June 20, 2023
#COVID19
"I am in earnest — I will not equivocate — I will not excuse — I will not retreat a single inch — AND I WILL BE HEARD." –William Lloyd Garrison
Resources, United States (National): Transmission (CDC); Wastewater (CDC, Biobot; includes many counties); Variants (CDC; Walgreens); "Iowa COVID-19 Tracker" (in IA, but national data).
Lambert here: Readers, thanks for the collective effort.
Resources, United States (Local): AK (dashboard); AL (dashboard); AR (dashboard); AZ (dashboard); CA (dashboard; Marin); CO (dashboard; wastewater); CT (dashboard); DE (dashboard); FL (wastewater); GA (wastewater); HI (dashboard); IA (wastewater reports); ID (dashboard, Boise; dashboard, wastewater, Central Idaho; wastewater, Coeur d'Alene; dashboard, Spokane County); IL (wastewater); IN (dashboard); KS (dashboard; wastewater, Lawrence); KY (dashboard, Louisville); LA (dashboard); MA (wastewater); MD (dashboard); ME (dashboard); MI (wastewater; wastewater); MN (dashboard); MO (wastewater); MS (dashboard); MT (dashboard); NC (dashboard); ND (dashboard; wastewater); NE (dashboard); NH (wastewater); NJ (dashboard); NM (dashboard); NV (dashboard; wastewater, Southern NV); NY (dashboard); OH (dashboard); OK (dashboard); OR (dashboard); PA (dashboard); RI (dashboard); SC (dashboard); SD (dashboard); TN (dashboard); TX (dashboard); UT (wastewater); VA (dashboard); VT (dashboard); WA (dashboard; dashboard); WI (wastewater); WV (wastewater); WY (wastewater).
Resources, Canada (National): Wastewater (Government of Canada).
Resources, Canada (Provincial): ON (wastewater); QC (les eaux usées); BC, Vancouver (wastewater).
Hat tips to helpful readers: Art_DogCT, B24S, CanCyn, ChiGal, Chuck L, Festoonic, FM, FreeMarketApologist (4), Gumbo, hop2it, JB, JEHR, JF, JL Joe, John, JM (9), JustAnotherVolunteer, JW, KatieBird, LL, Michael King, KF, LaRuse, mrsyk, MT, MT_Wild, otisyves, Petal (5), RK (2), RL, RM, Rod, square coats (11), tennesseewaltzer, Utah, Bob White (3).
Stay safe out there!
* * *
Look for the Helpers
I think having masks ready to give away to people is a good idea:

While we were protesting to keep masks in healthcare, this bus driver stopped the bus, opened the doors, and then asked us: "can I get one of those masks?"

Yes you can! Here is an N95 mask! 😷❤️#ProtectWorkers #MasksInPublicTransit pic.twitter.com/l78e3jyHt5

— Joaquín Beltrán (@joaquinlife) June 17, 2023

Of course, that would require actually approaching strangers, so perhaps not ideal for me…
Maskstravaganza
It's tough to avoid moralizing:

Masks are truly the greatest litmus test – I just made two new friends on the streetcar because we were all wearing one. Like it's literally all you need to know about someone at this point, they will be guaranteed cool and smart and kind! So at least there's that.

— danita (@danitasteinberg) June 10, 2023
Covid is Airborne
"Application of HEPA filter devices for air cleaning in healthcare spaces: guidance and standards" [NHS England]. "Ventilation* is an important line of defence for infection control in the healthcare environment. Its design and operation are described in Health Technical Memorandum (HTM-03-01). The current focus on ventilation has highlighted areas of high risk due to poorly performing and inadequate ventilation in hospitals and other healthcare settings. This may be due to change of room use, age, condition of air handling plant, lack of maintenance, challenges with effective use of natural ventilation or other. It is therefore important to bring these facilities up to the minimum specification of current standards, particularly recognising the challenges of COVID-19 and other infections… This guidance has been written as an interim specification to set the basic standard required for HEPA filter devices to be utilised in healthcare and patient-related settings…. . However, the emergence of SARS-CoV-2 as a highly contagious virus has demanded new and innovative solutions to safeguard patients, staff and visitors. Health Technical Memorandum 03-01 Specialised Ventilation for Healthcare Premises (HTM-03-01) is a robust standard for ventilation of higher risk clinical spaces based on high air change rates using outdoor air to continually flush indoor spaces." • This is, of course, the UK's NHS, and not CDC or any other agency concerned with what we laughingly call our "public health." Not that there was any fanfare:

Oh wow. This is great.
Thank you @Darvaish37 for flagging this one.
Quietly, oh so quietly, NHS England produces detailed guidance about how to clean the air in hospitals and how it can help reduce airborne transmission of pathogens. 😮https://t.co/D2levYbm7e

— tern (@1goodtern) June 14, 2023

CO2 meters to check out from the library:

72 Holds on 13 of these at one Hamilton Public Library branch.

People want to breathe fresh air.https://t.co/LFoJLGw9X7

— Joe Oliver (@joeolivermd) June 17, 2023

CO2 meters "work," but sometimes calculation is needed:

Case 1
A: Full classroom, 27 ppl, 200 litres per second (lps) of outdoor air, 1 infectious person, CO2 = 1100 ppm
B: Same classroom, 1 infectious person, 10 fewer people, CO2 = 840 ppm

They are equal risk, even with 1100 vs. 840 ppm. They have 200 lps for 1 infectious person.

— Joey Fox (@joeyfox85) June 18, 2023

Hospital Infection control has actually regressed:

Some timely advice from Florence Nightingale for all in IPAC and those with an obligation to keep patients in hospitals safe from preventable infectious diseases…⬇️

"KEEP THE AIR HE BREATHES AS PURE AS THE EXTERNAL AIR"

"….without which all the rest you can do for him is as… https://t.co/0DvsoCIuBe pic.twitter.com/7iCenAqMeT

— John Johnston (@JOHNJOHNSTONED) June 20, 2023
Scientific Communication
"Scientists on Twitter head for the exit" [Axios]. "While Twitter was a key source for information during the pandemic — and some scientists have argued the importance of remaining there as a counterbalance to growing misinformation and anti-science rhetoric — others say it's time to head for the doors…. In comments to Axios as well as online, scientists and medical researchers have said they're increasingly finding it difficult to find relevant information on Twitter. A recent study found Twitter's new algorithms are amplifying anger more since Musk took over the platform." • A precipitating factor being the Rogan/RFK v. Hotez beef–

"Do scientists debate? Not like that they don't" [Skull in the Stars]. "A few days ago we had anti-vaccine crank and poison pill presidential candidate Robert F. Kennedy Jr. show up on Joe Rogan's equally cranky podcast to talk about how vaccines are killing us all, or something. This led Professor Peter Hotez, an actual scientist and professor who works on vaccines, to call out the show for spreading misinformation. Proving that we live in the dumbest of all possible timelines, Joe Rogan was angered by this, and more or less demanded that Hotez appear on his show to 'debate' RFKj about vaccines, offering him $100k to do so and badgering him about it. This, in turn, led to antivaxxers showing up at Hotez's home to yell at him and demand he "debate" on Rogan's show….. Let's start with a little history. If you think about the origins of debating, you probably think of ancient Greece, which is indeed where the Western world's debating begins. But pretty much as soon as debating was a thing, there were people who abused it: the Sophists…. The Sophists highlight the problem with public debates: they are easily gamed with lies, rhetorical skill, and clever wordplay…. A live debate is also extremely limited because the participants do not have time to do research to respond to an opponent's comment. … It is also worth noting that debating is a skill. This is why high schools and colleges have debate clubs: to teach students to more effectively debate in public. A professional debater can "win" a debate with an unskilled debater, regardless of the facts, simply by having a more polished and eloquent presentation…. All of this is to say: scientists have long-established ways of sorting out good science from bad science, and public debates are not one of them. Public debates are easily gamed by bad actors who have made a living off of gaming such forums."

OTOH, this from Naomi Wu is worth reading in full:

Is there any US-based sci-comm influencer that COVID-Aware researchers will line up behind and support the way anti-maskers and anti-vaxers support Joe Rogan and similar individuals? No.

Any huge podcasting names or 1m+ YouTubers still masking? No, because more anti-maskers… https://t.co/hRRgw9Nck1

— Naomi Wu 机械妖姬 (@RealSexyCyborg) June 19, 2023

I do think Wu is unaware that "scientists" fall into two categories: sophists like Oster, Wachter. and the Brownnose Institute cohort were given all the infuence any eugencist shill could possibly want. Genuine scientists like Corsi or Jose-Luis Jimenez were very effective at scientific communication among scientists, but were not granted the same influence in "the media"; Wu seems to have this weirdly egalitarian idea that "influence" — social capital — is, well, meritocratic. I think Hotez would get sliced and diced on Rogan, simply because public debate is not his metier, and that would be bad. I would have looked to the left for a public debater who can defend a scientific approach to Covid, but there is no left, so that's out.
Sequelae
"Smell and Taste Loss Associated with COVID-19 Infection" [The Laryngoscope]. "In 2021, 35.8 million or 14% of the adult population (95% CI 13.5–14.7%; mean age, 43.9 years; 53.8% female) had been diagnosed with COVID-19. Among those, 60.5% (58.6–62.5%) and 58.2% (56.2–60.1%) reported accompanying losses in smell or taste, respectively; there was a significant association between overall COVID-19 symptom severity and smell (p < 0.001) and taste disturbance (p < 0.001). Following infection, 72.2% (69.9–74.3%), 24.1% (22.2–26.2%), and 3.7% (3.0–4.6%) of the patients experienced complete, partial, and no smell recovery, respectively. Recovery rates for gustatory function paralleled olfaction, with 76.8% (74.6–78.9%), 20.6% (18.7–22.7%), and 2.6 (1.9–3.4%) reporting complete, partial, and no recovery of taste, respectively."
Prevention
Adjusting one's protocol to match "community levels" or whatever makes no sense at all:

I don't know how many times we have to keep saying this but the answer appears to be at least a shitload more times:

If you implement a safety feature AND IT WORKS, you cannot then cite the lack of safety critical events TO JUSTIFY REMOVING THAT FUCKING SAFETY FEATURE OHMYGOD.

— Flying Lady Doctor Says | تقول الطبيبة | 🇮🇶 (@LadyDoctorSays) June 21, 2023
"Something Awful"
Lambert here: I'm getting the feeling that the "Something Awful" might be a sawtooth pattern — variant after variant — that averages out to a permanently high plateau. Lots of exceptionally nasty sequelae, most likely deriving from immune dysregulation (says this layperson). To which we might add brain damage, including personality changes therefrom.

* * *
Elite Maleficence
The manipulation of public opinion on covid has been intense & successful. Most ppl I know believe 3-6 of these. They're all lies 🧵

1. Lockdowns weakened immune systems
2. Like a cold/flu
3. Kids don't spread it
4. It's seasonal
5. Masks don't work
6. No one dies of covid now

— Nate Bear (@NateB_Panic) June 15, 2023

I wish I had the horsepower to track down the first usages of all these claims; unfortunately, Google being what it is, it would take something like Lexis-Nexis to do the searches. But you see the scale and scope of the campaign; it's very impressive. (Missing, I think, is "mild.")

Another data source choked off:

Lol, guess what, HHS just this week is cut down on tracking hospitalizations too https://t.co/fkJhfif4i5

— midnucas #FueraLUMA 🇵🇷 (@midnucas) June 17, 2023
* * *
Case Data
From BioBot wastewater data from June 20: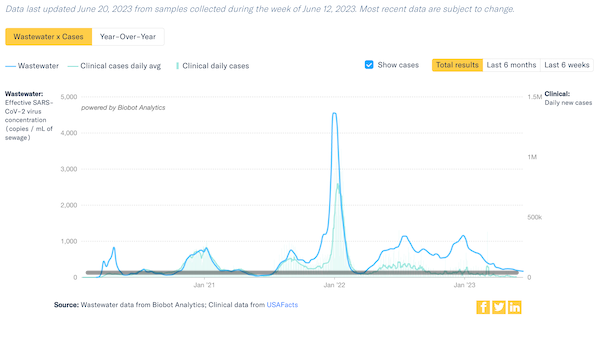 For now, I'm going to use this national wastewater data as the best proxy for case data (ignoring the clinical case data portion of this chart, which in my view "goes bad" after March 2022, for reasons as yet unexplained). At least we can spot trends, and compare current levels to equivalent past levels.
Variants
NOT UPDATED From CDC, June 10: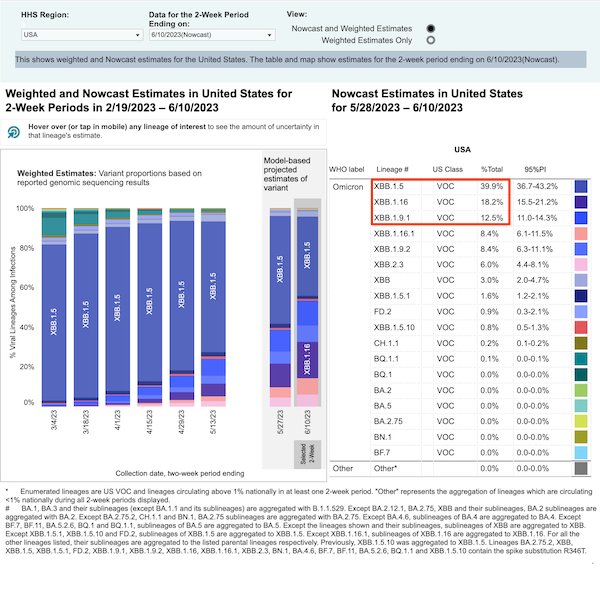 Lambert here: Looks to like XBB.1.16 and now XBB.1.16 are outcompeting XBB.1.9, but XBB.1.5 has really staying power. I sure hope the volunteers doing Pangolin, on which this chart depends, don't all move on the green fields and pastures new (or have their access to facilities cut by administrators of ill intent).
CDC: "As of May 11, genomic surveillance data will be reported biweekly, based on the availability of positive test specimens." "Biweeekly: 1. occurring every two weeks. 2. occurring twice a week; semiweekly." Looks like CDC has chosen sense #1. In essence, they're telling us variants are nothing to worry about. Time will tell. Looks like the Walgreens variants page isn't updating.
Covid Emergency Room Visits
From CDC NCIRD Surveillance, from June 17: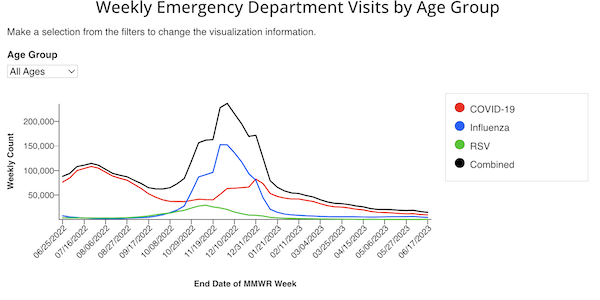 NOTE "Charts and data provided by CDC, updates Wednesday by 8am. For the past year, using a rolling 52-week period." So not the entire pandemic, FFS (the implicit message here being that Covid is "just like the flu," which is why the seasonal "rolling 52-week period" is appropriate for bothMR SUBLIMINAL I hate these people so much. Notice also that this chart shows, at least for its time period, that Covid is not seasonal, even though CDC is trying to get us to believe that it is, presumably so they can piggyback on the existing institutional apparatus for injections.
Positivity
NOT UPDATED From Walgreens, June 19: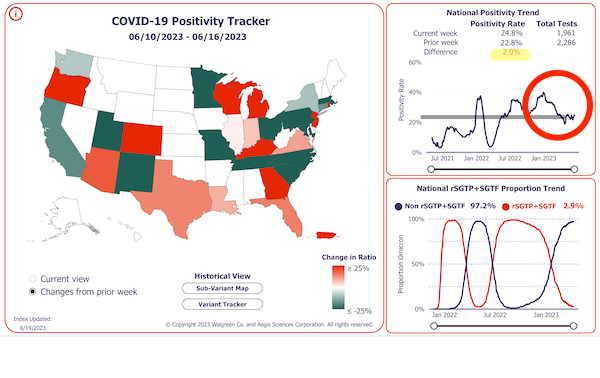 2.0%. Still chugging along, though the absolute numbers are still very small relative to June 2022, say.
Deaths
NOT UPDATED Death rate (Our World in Data), from June 14: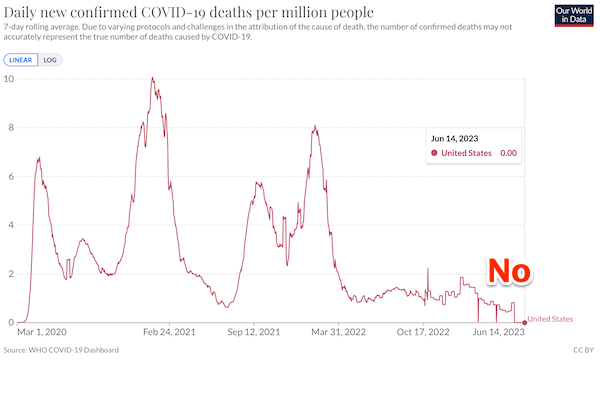 Lambert here: Theatre of the absurd. I can believe that deaths are low; I cannot believe they are zero, and I cannot even believe that all doctors signing death certificates have agreed to make it so. Looks to me like some administrative minimizer at WHO put the worst intern in charge of the project. And thanks, Johns Hopkins of the $9.32 billion endowment, for abandoning this data feed and passing responsibility on to the clown car at WHO.
Total: 1,167,387 – 1,167,381/del> = 6 (6 * 365 = 2,190 deaths per year, today's YouGenicist™ number for "living with" Covid (quite a bit higher than the minimizers would like, though they can talk themselves into anything. If the YouGenicist™ metric keeps chugging along like this, I may just have to decide this is what the powers-that-be consider "mission accomplished" for this particular tranche of death and disease).
Excess Deaths
NOT UPDATED Excess deaths (The Economist), published June 20: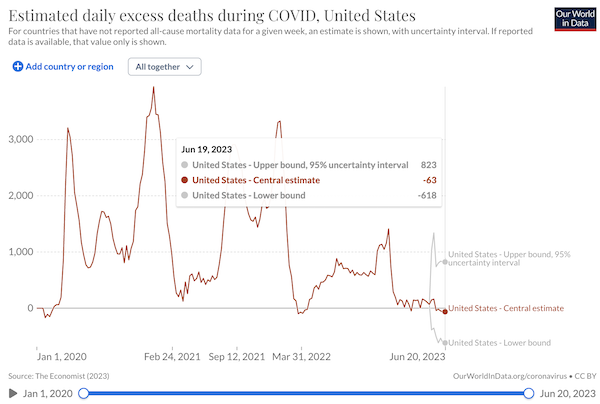 Lambert here: Still some encouragement! Not sure why this was updated so rapidly. The little blip upward?
Lambert here: Based on a machine-learning model. (The CDC has an excess estimate too, but since it ran forever with a massive typo in the Legend, I figured nobody was really looking at it, so I got rid it. )
Stats Watch
There are no official statistics of interest today.
* * *
Marketing: "Influencers Don't Have to Be Human to Be Believable" [Wall Street Journal]. "For the emotional endorsement, participants found the human influencer to be more credible. Participants who were told the influencer was human also had a more positive view of the brand than those who were told the influencer was virtual. For the more factual endorsement, however, there was no statistically significant difference between the two groups when it came to influencer credibility or brand perception."
Tech: "Exclusive: Twitter to focus on video, commerce in business revamp" [Reuters]. "Twitter plans to focus on video, creator and commerce partnerships to revitalize the social media company's business beyond digital advertising, according to an investor presentation by owner Elon Musk and new Chief Executive Linda Yaccarino that was reviewed by Reuters. Yaccarino, who started as CEO on June 5, told Twitter investors on Thursday that the company is in early conversations with political and entertainment figures, payments services and news and media publishers on potential partnerships, said a source familiar with the matter, who spoke on condition of anonymity to discuss a private investor call."
Energy: "Washington State could soon be key player in sustainable jet fuel industry" [KIRO (PS)]. "Imagine Making jet fuel out of the air, or using Hydrogen to fly a plane. It's the future of aviation and Washington State could soon be a key player in the effort to make fuel sustainable. The whole topic is being discussed at the Paris Air Show where Boeing is working to secure contracts, and Governor Jay Inslee is working to secure business for the state. Inslee led a 100-member delegation to the show and tried to showcase Washington as a place for investment in the sustainable fuels sector. A company called 'Twelve' says it can make jet fuel out of abundant carbon dioxide. We know CO2 is in the atmosphere and frankly is a pollutant that some scientists believe is harming the environment."
* * *
Today's Fear & Greed Index: 79 Extreme Greed (previous close: 79 Extreme Greed) [CNN]. One week ago: 80 (Extreme Greed). (0 is Extreme Fear; 100 is Extreme Greed). Last updated Jun 21 at 1:18 PM ET.
Healthcare
"'You're not God': Doctors and patient families say HCA hospitals push hospice care" [NBC News]. "As an industry leader, HCA's practices are followed closely by competitors. But HCA's profits come at a cost to patients and workers, some of its doctors and employees contend. They have cited severe understaffing and insufficient investment in facilities as having caused harm to patients. Now, new criticisms are arising related to HCA's palliative and end-of-life care for patients, according to some physicians and nurses who have worked in its facilities. They say HCA officials press staff to persuade families of ailing patients to initiate such care, as Salas says she experienced with her daughter. Although this can harm patients by withdrawing lifesaving treatments, the push can benefit HCA two ways, the doctors and nurses said, and an internal hospital document confirms. It reduces in-hospital mortality rates, a closely watched quality measure, and can free up a hospital bed more quickly for HCA, potentially generating more insurance reimbursements from a new patient. This article is based on interviews with six nurses and 27 doctors who currently practice at 16 HCA hospitals in seven states or did so previously. All said their HCA hospitals pushed palliative and end-of-life care in pursuit of better performance metrics." • Rules 1 and 2 of neoliberalism, expressed very directly.
Zeitgeist Watch
"Back to Titanic Part 1" (interview) [Stockton Rush, CBS]. Rush is CEO of OceanGate, the submersible's owner. From 2022, still germane:
[RUSH:] You know, there's a limit. You know, . I mean, if you just want to be safe, don't get out of bed. Don't get in your car. Don't do anything. At some point, you're going to take some risk, and it really is a risk/reward question. I think I can do this just as safely by breaking the rules.
So, perform your "personal risk assessment." Don't live in fear. Lead your life.
"OceanGate was warned of potential for 'catastrophic' problems with submersible mission" [Boston Globe]. "Leaders in the submersible craft industry were so worried about what they called the 'experimental' approach of OceanGate, the company whose craft has gone missing, that they wrote a letter in 2018 warning of possible 'catastrophic' problems with the submersible's development and its planned mission to tour the Titanic wreckage. The letter, obtained by The New York Times, was sent to OceanGate's CEO, Stockton Rush, by the Manned Underwater Vehicles committee of the Marine Technology Society, a 60-year-old trade group that aims to promote ocean technology and educate the public about it. The signatories — more than three dozen people, including oceanographers, submersible company executives and deep-sea explorers — warned that they had 'unanimous concern' about OceanGate's development of the Titan submersible, the same craft that is now missing in the North Atlantic with five people on board."
Class Warfare
About the labor market:
This week, I replaced the ignition coils and spark plugs on my vehicle. Runs like a top now.

Now, I am looking for a seized Volvo Penta so that I can learn how to rebuild an engine

— Anthony J Leonardi, MBBS, PhD (@fitterhappierAJ) June 21, 2023
I wonder if anybody's FOIAing CDC…
"A restaurant must pay workers $140,000 after allegedly hiring a fake priest to extract confessions of workers' 'sins'" [CNN]. "The US Department of Labor said an employee testified that owner Che Garibaldi, who operates two locations of Taqueria Garibaldi in northern California, hired a fake priest to hear confessions during work hours and 'get the sins out,' including asking them if they had been late for work, stolen money from the restaurant or had 'bad intentions' toward their employer."
I've been saying this for years:
"Be suspicious of all those who employ the term 'we' or 'us' without your permission. This is a form of surreptitious conscription […] Always ask who this 'we' is; as often as not, it's an attempt to smuggle tribalism through customs." pic.twitter.com/I381eLQnfK

— Christopher Hitchens (@Hitch_Slapping) June 17, 2023
The test of independent invention!
News of the Wired
"Customer Ratings Have Become Meaningless. 'People Hand Out 5 Stars Like It's Candy.'" [Wall Street Journal]. "Confusion over what constitutes 5-star behavior for certain services, combined with the guilt of potentially hurting someone's livelihood, has people defaulting to perfect scores. Ratings padding is particularly rampant for services involving personal interactions…. Drivers are similarly generous. The average Uber passenger in the U.S. is a 4.9 out of 5, Uber said. Uber riders in New York have the lowest average across the country—4.8—while passengers in Virginia's Hampton Roads have the highest average of 4.97."
* * *
Contact information for plants: Readers, feel free to contact me at lambert [UNDERSCORE] strether [DOT] corrente [AT] yahoo [DOT] com, to (a) find out how to send me a check if you are allergic to PayPal and (b) to find out how to send me images of plants. Vegetables are fine! Fungi and coral are deemed to be honorary plants! If you want your handle to appear as a credit, please place it at the start of your mail in parentheses: (thus). Otherwise, I will anonymize by using your initials. See the previous Water Cooler (with plant) here. From Carla: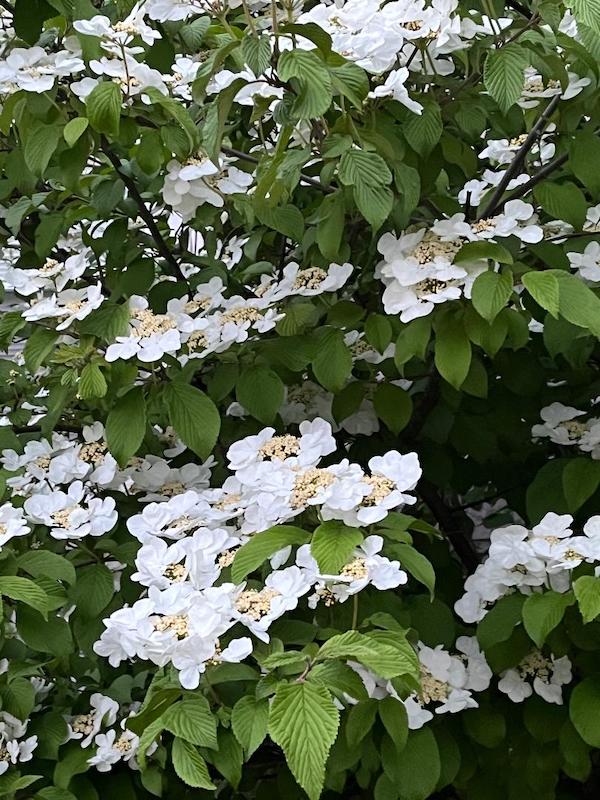 Carla writes: "My favorite viburnum: May blossoms, followed by copious bright red berries in summer, crowned with rich red leaves in autumn. In winter, birds explore the bare branches for any remaining berries. I see the whole show from the window over my kitchen sink. So glad I planted it 20 years ago!"
* * *
Readers: Water Cooler is a standalone entity not covered by the annual NC fundraiser. So if you see a link you especially like, or an item you wouldn't see anywhere else, please do not hesitate to express your appreciation in tangible form. Remember, a tip jar is for tipping! Regular positive feedback both makes me feel good and lets me know I'm on the right track with coverage. When I get no donations for five or ten days I get worried. More tangibly, a constant trickle of donations helps me with expenses, and I factor in that trickle when setting fundraising goals:
Here is the screen that will appear, which I have helpfully annotated: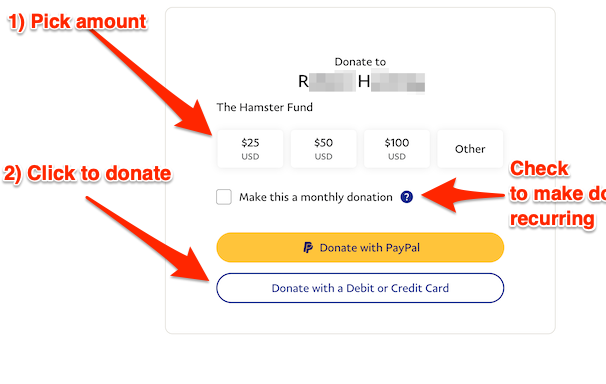 If you hate PayPal, you can email me at lambert [UNDERSCORE] strether [DOT] corrente [AT] yahoo [DOT] com, and I will give you directions on how to send a check. Thank you!