By Lambert Strether of Corrente.
Bird Song of the Day
Vinaceous Dove, Tujereng, Western, Gambia. "A bird giving three bursts of calls, the third one at a faster pace."
* * *
Politics
"So many of the social reactions that strike us as psychological are in fact a rational management of symbolic capital." –Pierre Bourdieu, Classification Struggles
Biden Administration
Sauce for the goose:

Sec. Becerra on vaccine disinformation responsibility: pic.twitter.com/dbxJRDYkiE

— POLITICO Live (@POLITICOLive) June 7, 2023

So where's the responsibility for disinformation on aerosols? On masks? On non-pharmaceutical interventions? On a vax-only strategy?

2024

I guess it's time for the Countdown Clock!

* * *

"EXCLUSIVE: Trump captured on tape talking about classified document he kept after leaving the White House" [CNN]. "Federal prosecutors have obtained an audio recording of a summer 2021 meeting in which former President Donald Trump acknowledges he held onto a classified Pentagon document about a potential attack on Iran, multiple sources told CNN, undercutting his argument that he declassified everything. The recording indicates Trump understood he retained classified material after leaving the White House, according to multiple sources familiar with the investigation. On the recording, Trump's comments suggest he would like to share the information but he's aware of limitations on his ability post-presidency to declassify records, two of the sources said. ." • Ten to one they're all spooks, and spooks from the same faction, so doesn't that make them one source, not ten?

"Why Some Republican Candidates Might Not Make The Debate Stage" [FiveThirtyEight]. "To make the debate, the RNC will require candidates to meet four separate requirements. First, a contender must be a declared candidate who has filed with the Federal Election Commission.1 Second, a candidate must have earned 1 percent support in three national polls, or in two national polls and at least one poll of the GOP's first four states, recognized by the RNC and conducted in July and August. Third, a candidate must have at least 40,000 unique contributors to their presidential campaign committee, with at least 200 from 20 states and/or territories. And lastly, a candidate must sign three documents: a pledge to support the GOP's eventual nominee, a data-sharing agreement with the RNC and a pledge to not participate in any debates not sanctioned by the RNC…. So given these requirements, who would make the stage if the debate were held today? Currently, six candidates are at 1 percent or higher in FiveThirtyEight's national polling average: former President Donald Trump, Florida Gov. Ron DeSantis, former Vice President Mike Pence (expected to announce his candidacy on June 7), former U.S. Ambassador to the U.N. Nikki Haley, tech entrepreneur Vivek Ramaswamy and South Carolina Sen. Tim Scott. "

"GOP candidates' $1 T-shirt tactic: Clever fundraising ploy or desperate debate-stage bid?" [Politico]. "Perry Johnson is hawking a T-shirt on Facebook with the words "I stand with Tucker," and a vague artistic likeness of former Fox News host Tucker Carlson. The price? $1. The Michigan businessman and longshot GOP presidential candidate is taking a loss on the deal. But that $1 has more than a dollar in value for candidates who, like Johnson, are engaged in a mad dash for new donors they'll need to qualify for upcoming debates under the Republican National Committee's new criteria. Under the new rules, candidates will be required to have at least 40,000 donors to make the Aug. 23 debate stage, including at least 200 from 20 distinct states. They will also have to garner at least 1 percent in three qualifying polls, two of them national, after July 1. And they must commit to supporting the eventual Republican nominee. Fundraising schemes where campaigns offer free shirts, books or other items in exchange for even the smallest donations can be expensive in the short-term, as campaigns spend heavily on merchandise and digital advertising. The minuscule donations hardly cover their costs. But the contributions afford longshot candidates the chance to appear on the debate stage alongside frontrunners including former President Donald Trump and Florida Gov. Ron DeSantis later this summer — an opportunity they can't put a price tag on." • Ducking stools, entartisme…

* * *

Russell Brand has a million followers on Rumble and more on YouTube:

I thank my dear brother Russell Brand for providing the stage for my presidential announcement! He is a progressive gem! https://t.co/vhJNqeSp9Y https://t.co/lzAhJDwEus

— Cornel West (@CornelWest) June 6, 2023

Democrats en Déshabillé

Patient readers, it seems that people are actually reading the back-dated post! But I have not updated it, and there are many updates. So I will have to do that. –lambert

I have moved my standing remarks on the Democrat Party ("the Democrat Party is a rotting corpse that can't bury itself") to a separate, back-dated post, to which I will periodically add material, summarizing the addition here in a "live" Water Cooler. (Hopefully, some Bourdieu.) It turns out that defining the Democrat Party is, in fact, a hard problem. I do think the paragraph that follows is on point all the way back to 2016, if not before:

The Democrat Party is the political expression of the class power of PMC, their base (lucidly explained by Thomas Frank in Listen, Liberal!). ; if the Democrat Party did not exist, the PMC would have to invent it. . ("PMC" modulo "class expatriates," of course.) Second, all the working parts of the Party reinforce each other. Leave aside characterizing the relationships between elements of the Party (ka-ching, but not entirely) those elements comprise a network — a Flex Net? An iron octagon? — of funders, vendors, apparatchiks, electeds, NGOs, and miscellaneous mercenaries, with assets in the press and the intelligence community.

Note, of course, that the class power of the PMC both expresses and is limited by other classes; oligarchs and American gentry (see 'industrial model' of Ferguson, Jorgensen, and Jie) and the working class spring to mind. Suck up, kick down.

* * *

The Night of the Long Knives:

Amazing how we erased overnight that moment in 2020 when it looked like Bernie Sanders could win the nomination, so Obama picked up the phone and cleared the field, forcing all the others to drop out for Biden.

Democrats didn't bat an eye.

— lnteGritty (@lnteGritty) June 6, 2023

This was the day Sanders won CA (IIRC on the Hispanic vote). But if Sanders had won TX, on the same day, that phone call would have been a much heavier lift for Obama. And to this day, I've never seen any analysis on why Sanders lost TX (though he won the Hispanic border counties). Readers, if any of you have, please leave the source in comments.

Realignment and Legitimacy

"Who is Virginia Moseley? CNN executive is Zucker-era veteran, married to Democratic power player" [FOX]. "Thomas Nides, the husband of CNN's executive vice president of editorial Virginia Moseley, was nominated by President Biden to be U.S. Ambassador to Israel in 2021, setting off concerns within CNN at the time of a possible conflict of interest. Moseley was named part of an interim leadership squad on Wednesday who hopes to bring stability to CNN after the firing of CEO Chris Licht, who lasted barely a year on the job."

#COVID19

"I am in earnest — I will not equivocate — I will not excuse — I will not retreat a single inch — AND I WILL BE HEARD." –William Lloyd Garrison

Resources, United States (National): Transmission (CDC); Wastewater (CDC, Biobot; includes many counties); Variants (CDC; Walgreens); "Iowa COVID-19 Tracker" (in IA, but national data).

Lambert here: Readers, thanks for the collective effort.

Resources, United States (Local): AK (dashboard); AL (dashboard); AR (dashboard); AZ (dashboard); CA (dashboard; Marin); CO (dashboard; wastewater); CT (dashboard); DE (dashboard); FL (wastewater); GA (wastewater); HI (dashboard); IA (wastewater reports); ID (dashboard, Boise; dashboard, wastewater, Central Idaho; wastewater, Coeur d'Alene; dashboard, Spokane County); IL (wastewater); IN (dashboard); KS (dashboard; wastewater, Lawrence); KY (dashboard, Louisville); LA (dashboard); MA (wastewater); MD (dashboard); ME (dashboard); MI (wastewater; wastewater); MN (dashboard); MO (wastewater); MS (dashboard); MT (dashboard); NC (dashboard); ND (dashboard; wastewater); NE (dashboard); NH (wastewater); NJ (dashboard); NM (dashboard); NV (dashboard; wastewater, Southern NV); NY (dashboard); OH (dashboard); OK (dashboard); OR (dashboard); PA (dashboard); RI (dashboard); SC (dashboard); SD (dashboard); TN (dashboard); TX (dashboard); UT (wastewater); VA (dashboard); VT (dashboard); WA (dashboard; dashboard); WI (wastewater); WV (wastewater); WY (wastewater).

Resources, Canada (National): Wastewater (Government of Canada).

Resources, Canada (Provincial): ON (wastewater); QC (les eaux usées); BC, Vancouver (wastewater).

Hat tips to helpful readers: Art_DogCT, B24S, CanCyn, ChiGal, Chuck L, Festoonic, FM, FreeMarketApologist (4), Gumbo, hop2it, JB, JEHR, JF, JL Joe, John, JM (9), JustAnotherVolunteer, JW, KatieBird, LL, Michael King, KF, LaRuse, mrsyk, MT, MT_Wild, otisyves, Petal (5), RK (2), RL, RM, Rod, square coats (11), tennesseewaltzer, Utah, Bob White (3).

Stay safe out there!

* * *

Look for the Helpers

"UConn Indoor Air Quality Initiative" [University of Connecticut]. "UConn Schools of Education, Engineering, Nursing, Medicine and UConn Health are connecting our communities to low-cost, accessible public health interventions to reduce the risk of COVID-19 and other respiratory diseases." • Good!

* * *

Now if somebody from the gaming industry or the insurance industry really wants to be a helper….

There is an industry that has detailed statistics about the neurological issues #COVID can cause and that's the gaming industry. They have been collecting statistics on us gamers for years well before COVID. I know it changed my gaming behavior since it made it almost impossible.

— Diesel Bug (life finds a way) (@PepinLachance) June 6, 2023

… they could throw something over the transom. Readers?

Covid Is Airborne

"Comparing the Performance of Corsi-Rosenthal Boxes Made with Box Fans and PC Fans" [Texas Air Filters]. "All DIY air cleaners outperformed the commercial HEPA. This is not a surprise. We have seen the same thing in all of our head-to-head comparisons. At last count there are 13 other peer-reviewed studies that have found the same thing. How can air cleaners using MERV 13 filters that are 50% effective on particles less than 1 um do better at removing sub-micron sized particles than a HEPA filter that is 99.97% efficient on these same particles? The answer is that filter effectiveness is not determined just by filter efficiency. It is the combination of the filter and the flow through the filter that gives the full picture.mSo how did the PC Fan Corsi-Rosenthal Boxes compare to the original design on filter effectiveness? The design using 6 fans and a "cube" of 4 filters had virtually the same results as the original.mThe design using 6 fans and 2 filters was less effective. Probably a couple of things contributed to this. First, the direction of flow from the air cleaner could reduce mixing in the space. (Of course, I am partial to the upward flow design.) Secondly, the available filter media area was about half of the original. This would cause higher resistance and lower air flow. However, the smaller footprint has some distinct advantages and may be more useful in many situations. In my opinion, the Corsi-Rosenthal Boxes using PC fans work effectively. Kudos and many thanks to the creators. I can't wait to see what is next."

"The Best Air Purifier" [New York Times]. "After nine years, during which we've tested more than 50 different air purifiers, we believe that the exceptional Coway Airmega AP-1512HH Mighty is the best among them—as we have since 2015. That said, as strong as the Mighty is, its performance is not as singular as it once was, and in recent years many other air purifiers have closely approached our high standards. If you prefer the looks, cost, or other features of our also-great picks, know that they match this Coway model in purifying performance." • The Times means the best commercial air purifiers. As we see about, Corsi-Rosenthal boxes outperform them.

A very good thread on aircraft ventilation, which is not hospital grade, not even close:

In well-mixed space the ventilation experts use 1 ACH for 1 hour = 63.2% replacement. I'm not an HVAC engineer, happy to be corrected.

But, aircraft cabins are not well-mixed spaces. So the mixing factor is not that high. Why not? Lots of blockages, objects and bodies.

— Matthew Oliver (@sameo416) June 8, 2023

Banning Aranet4 meters in the Australian school system:

This is the email I received after day one of Aranet BAN from school. I thought my email yesterday explaining why kid would ignore the ban and continue to bring Aranet was pretty clear and polite. My next response will not be quite so polite.

Cc @YouAreLobbyLud pic.twitter.com/8x7cj9A0UZ

— Clare 🏳️‍🌈 (@_Clare_P) June 7, 2023

More lawsuits. I hope.

Maskstravaganza

There's been considerable dunking by maskers on anti-maskers given Canadian wildfire smoke which I am here for, so I'm just going to go ahead and let 'er rip:

Gonna get ahead of this one and say that if there's any increase in mortality stemming from the air quality, it'll be people who died *with* smoke exposure rather than *of* smoke exposure.

And they'll all have pre-existing conditions, so they had it coming anyway, amirite? 🤦🏻‍♂️ pic.twitter.com/bE4YIVIvPI

— Jeremy Faust MD MS (ER physician) (@jeremyfaust) June 8, 2023

If you're a control in the parachute study, this one's for you:

Thank you to the RCT bros for sitting it out on wildfires. Much respect.

— Joe Oliver (@joeolivermd) June 7, 2023

But wait! Is that… Is that… He seems to be waving something…. It reads… "Great Barrington Declaration!" Vinay Prasad is coming off the bench!

You could argue that there are no cluster RCTs randomising districts to fire station vs no fire station. Firefighting is, you could proclaim, pointless, as it has never been "proven" by RCT to reduce the adverse impacts of fires. Disband the fire service now! 🧵 pic.twitter.com/tkombQieJ0

— Dr Satoshi Akima FRACP 『秋間聰』 (@ToshiAkima) June 8, 2023

Mad props to Vinay for his commitment to the bit.

And who could forget:

Anti-maskers: "Masks are never coming back."

Mother Nature: "K." https://t.co/cYRkq4VUqy

— T. Ryan Gregory (@TRyanGregory) June 7, 2023

* * *

"Watch a Traditional Japanese Noh Mask Being Made" [Kottke.org].

Why shouldn't a mask be an object of beauty? Instead of a medical device?

Sequelae

"Sleep disorders of post-COVID-19 conditions" [Sleep and Breathing]. "Symptoms related to sleep disorders are common sequelae of COVID-19. Through the analysis of data in the literature, we have a preliminary understanding of the prevalence of post-COVID-19 sleep problems. An online survey (including 3726 participants from 56 countries) showed that the prevalence of sleep disorders during follow-up over 7 months reached 78.6%, including insomnia (60%), night sweats (41%), awakening feeling unable to breathe (36%), restless legs (18%), and sleep apnea (10%) [1]. In a registry study of 236,379 COVID-19 survivors, about one-third of them received a neuropsychiatric diagnosis (such as stroke, dementia, insomnia, anxiety, and emotional disorders) within 6 months of the first symptoms of COVID-19, which is 44% higher than reported for influenza survivors [2]. Due to the complexity and diversity of [post-COVID-19 condition (PCC)] symptoms, there is currently no clear pathophysiological explanation of its causes." "PCC, eh?" DHSS: "Post-COVID-19 Conditions (PCC) [was] conceptually first described by CDC in November 2020 and first labeled PCC in February 2021… In addition to Long COVID and PCC, an additional term had emerged in parallel and is in general usage in the United States: Post-Acute Sequelae of SARS-CoV-2 infection (PASC). While Long COVID is largely a lay term, PCC and PASC are two scientific technical terms. PCC covers a wide range of health consequences that are due to all effects of COVID-19, including secondary and tertiary effects. PASC refers to the direct and indirect consequences of SARS-CoV-2 on human health." • PCC v. PASC as mud, to me. Can readers assists?

* * *
Elite Maleficence
"CDC to Streamline Hospital COVID-19 Data Reporting Requirements" [American Hospital Association]. Here is the "streamlining:"

Number of Data Elements. The CDC will reduce the number of data elements that hospitals must report from 62 to 44. Specifically, CDC will optional for federal reporting:

Total hospitalized pediatric suspected or laboratory-confirmed COVID-19 patients

Hospitalized and ventilated COVID-19 patients (patients currently hospitalized in an adult, pediatric or neonatal inpatient bed who have suspected or laboratory-confirmed COVID-19 and are on a mechanical ventilator)

Total ICU adult suspected or laboratory-confirmed COVID-19 patients

Hospital onset (total current inpatients with onset of suspected or laboratory-confirmed COVID-19 14 or more days after admission for a condition other than COVID-19)

Previous day's pediatric admissions with suspected COVID-19

Previous day's total ED visits

Previous day's total COVID-19-related ED visits

Frequency of Reporting. Under current guidance, hospitals are required to report most COVID-19 data elements on a daily basis, with some elements being reported once per week. Under the forthcoming guidance, . Hospitals will report values for each day of the previous week, with the week defined as Sunday-Saturday. For example, hospitals by the end of the day on Tuesday, April 18 would report data from the week of Sunday, April 9-Saturday, April 15.

The CDC's announcement also indicates that the enforcement period for compliance with reporting requirements will be lengthened from 14 days to 28 days. The agency indicates additional details on the new compliance process are forthcoming.

Reminds me of the Wansee Conference, though of course not at the policy level. CDC and the AHA together eliminated from hospital data, itself a lagging indicator after case data, already eliminated, everything you would need to know make a "personal risk assessment.

Australasian COVID-19 Conference 27 – 28 July 2023:

From the FAQ:

This conference only offers the option to register and attend face to face.

So, no virtual option. And I can't find anything about either ventilation or masking. And then there's this:

We acknowledge that ASHM offices are located on the land of the Gadigal peoples of the Eora Nation (Sydney Office) and the Turrbal and Jagera/Yuggera peoples (Brisbane Office) who are the Traditional Owners of the lands where both offices are situated. We pay our respects to Elders past and present.

So ASHM — Australasian Society for HIV Medicine — has designed a conference that any immunocompromised person would be daft to attend, all the while acknowleding aboriginal land claims. It's good to know that liberal performativity has international scope!
* * *
Case Data
NOT UPDATED From BioBot wastewater data from June 5: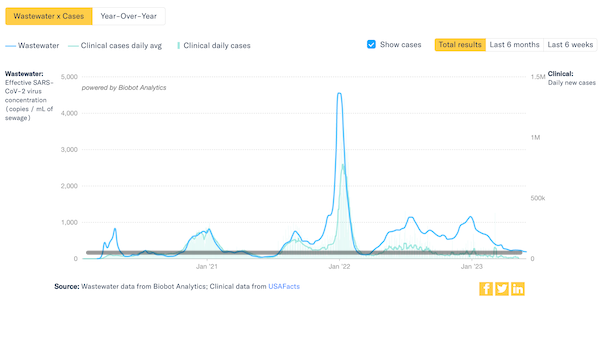 For now, I'm going to use this national wastewater data as the best proxy for case data (ignoring the clinical case data portion of this chart, which in my view "goes bad" after March 2022, for reasons as yet unexplained). At least we can spot trends, and compare current levels to equivalent past levels.
• It would be irresponsible not to speculate:
Somehow, despite their mutational advantage on paper, we've slowed transmission of XBBs in people. And nobody seems to have a clue why, or even reslise it tbh. The only explanation i have is that it might not replicate well in the upper respiratory tract. @GuptaR_lab @jbloom

— Ted Brautigan (@T_Brautigan) June 5, 2023
Variants
NOT UPDATED From CDC, May 27, 2023: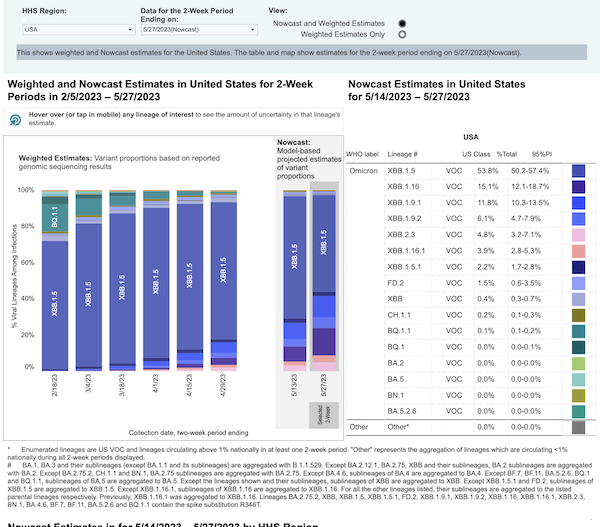 Lambert here: XBB.1.16 and XBB.1.9.1 still on the way up, eating into XBB.1.5. I sure hope the volunteers doing Pangolin, on which this chart depends, don't all move on the green fields and pastures new (or have their access to facilities cut by administrators of ill intent).
CDC: "As of May 11, genomic surveillance data will be reported biweekly, based on the availability of positive test specimens." "Biweeekly: 1. occurring every two weeks. 2. occurring twice a week; semiweekly." Looks like CDC has chosen sense #1. In essence, they're telling us variants are nothing to worry about. Time will tell. Looks like the Walgreens variants page isn't updating.
Covid Emergency Room Visits
From CDC NCIRD Surveillance, from June 3: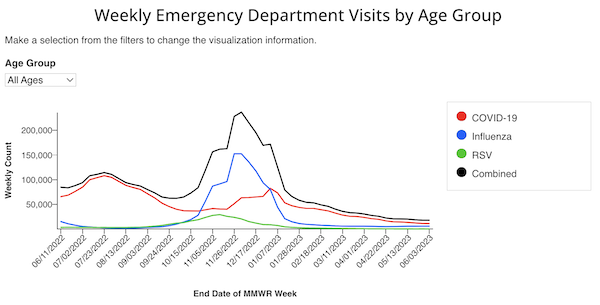 NOTE "Charts and data provided by CDC, updates Wednesday by 8am. For the past year, using a rolling 52-week period." So not the entire pandemic, FFS (the implicit message here being that Covid is "just like the flu," which is why the seasonal "rolling 52-week period" is appropriate for bothMR SUBLIMINAL I hate these people so much. Notice also that this chart shows, at least for its time period, that Covid is not seasonal, even though CDC is trying to get us to believe that it is, presumably so they can piggyback on the existing institutional apparatus for injections.
Positivity
NOT UDPATED From Walgreens, June 5: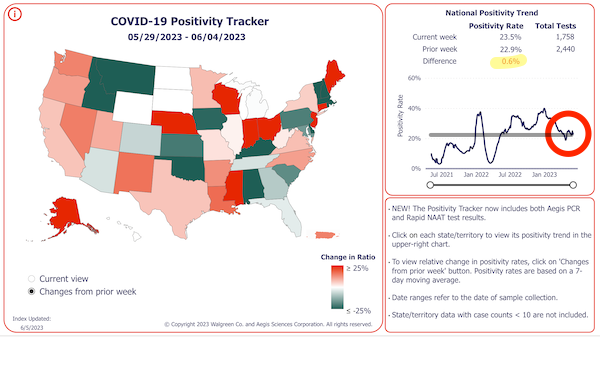 0.4%. Frequency down to once a week.
Deaths
Death rate (Our World in Data), from June 5: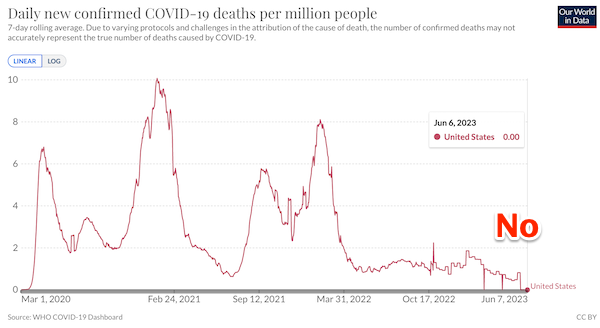 Lambert here: I'm happy the numbers are down, but zero they cannot be. Looks like some administrative minimizer at WHO put the worst intern in charge of the project. And thanks, Johns Hopkins of the $9.32 billion endowment, for abandoning this data feed and passing responsibility on to the clown car at WHO.
Total: 1,166,331 – 1,166,160 = 171 (171 * 365 = 62,415 deaths per year, today's YouGenicist™ number for "living with" Covid (quite a bit higher than the minimizers would like, though they can talk themselves into anything. If the YouGenicist™ metric keeps chugging along like this, I may just have to decide this is what the powers-that-be consider "mission accomplished" for this particular tranche of death and disease).
Excess Deaths
NOT UPDATED Excess deaths (The Economist), published June 4: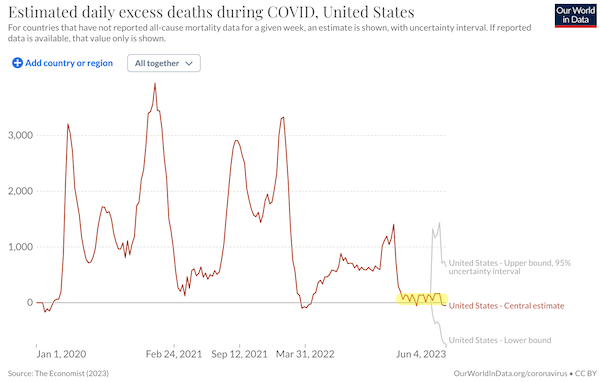 Lambert here: Actually some encouragement!
Lambert here: Based on a machine-learning model. (The CDC has an excess estimate too, but since it ran forever with a massive typo in the Legend, I figured nobody was really looking at it, so I got rid it. )
Stats Watch
Employment Situation: "United States Initial Jobless Claims" [Trading Economics]. "The number of Americans filing for unemployment benefits jumped to 261K in the week ended June 3rd 2023 which included Labour Day holiday [???], the highest figure since October 2021, and above market forecasts of 235K. Figures for the previous week were revised slightly higher to 233K from an initial 232K. It marks a third consecutive week of increases in the number of initial jobless claims, a sign the labor market strength may be fading. "
* * *
Manufacturing: "Boeing finds another quality problem on 787, delaying deliveries again" [Seattle Times]. "Boeing said Tuesday it has discovered yet another manufacturing quality flaw on the 787 Dreamliner — this time in an attachment fitting on the horizontal tail, referred to as the stabilizer — that will delay deliveries of the jet as mechanics work to fix the defect. 'We are inspecting 787s in our inventory for a nonconforming condition related to a fitting on the horizontal stabilizer,' Boeing said in a statement. 'The inspections and required rework will affect timing of near-term 787 deliveries.' The statement added that the defect in the tail is 'not an immediate safety of flight issue and the in-service fleet may continue to operate.' It's the latest in a long and very expensive litany of 787 quality woes…. The defect is a small, paper-thin gap in the attachment, Boeing said. Such gaps are typically plugged using a filler known as a shim. The shims in the attachment were incorrectly sized so that the gap exceeded the five-thousandths of an inch allowable in the specification." • I keep hearing the word "shim" associated with Boeing manufacturing. It reminds me of another word: kludge. An alert reader threw this over the transom:
Assembled in SC. My son tells me every damn last one of 'em has to be taken to Everett for rework. Honest to Pete. The stories I've heard from my husband's uncle (89) who did 36 years at Boeing as an Engineer and my son's recent two-stint experience working at the Fredrickson Plant right here near Tacoma, then training in Everett, then another stint in Renton. Then a couple my husband and I met. A couple in the 5th wheel next to us, the husband retired after 30+ years. Lots of parts coming in bad, the whole financialization. He directly saw, felt knew the impacts. . David Calhoun needs a required unpaid two year internship working on the line in Renton.
The Bezzle: "Digital Media Is a Wasteland" [John DeVore, Humungus]. "[W]hat I know about the modern American economy is this: it's bubbles all the way down…. You can't eat integrity, you know?… I just wish truth and justice were profitable."
Tech: "AI Prompt Engineering Isn't the Future" [Harvard Business Review]. "Prompt engineering has taken the generative AI world by storm. The job, which entails optimizing textual input to effectively communicate with large language models, has been hailed by World Economic Forum as the number one 'job of the future' while Open AI CEO Sam Altman characterized it as an 'amazingly high-leveraged skill.' Social media brims with a new wave of influencers showcasing 'magic prompts' and pledging amazing outcomes. However, despite the buzz surrounding it, the prominence of prompt engineering may be fleeting for several reasons. First, future generations of AI systems will get more intuitive and adept at understanding natural language, reducing the need for meticulously engineered prompts. Second, new AI language models like GPT4 already show great promise in crafting prompts — AI itself is on the verge of rendering prompt engineering obsolete. Lastly, the efficacy of prompts is contingent upon the specific algorithm, limiting their utility across diverse AI models and versions." • Whatever prompt engineering is, it's not engineering, any more than cargo cults are engineering.
Tech: First (!) ChatGPT Easter Egg:
Four prompts demonstrating that ChatGPT (GPT-4) is unable to correctly repeat or reason about the string " davidjl", the name of a YouTube user: pic.twitter.com/jpprhFezSl

— Riley Goodside (@goodside) June 8, 2023
* * *
Today's Fear & Greed Index: 74 Greed (previous close: 73 Greed) [CNN]. One week ago: 66 (Greed). (0 is Extreme Fear; 100 is Extreme Greed). Last updated Jun 6 at 1:39 PM ET.
Class Warfare
"Bank of Canada hikes another 25 basis points, bringing policy rate to 4.75%" [Yahoo Finance]. "The increase brings the central bank's target for the overnight rate to 4.75 per cent, the highest level since May 2001, and restarts its tightening campaign as policymakers continues to try to tame inflation. The central bank on Wednesday after several indicators showed unexpected resilience in the Canadian economy in recent weeks." • Came off the sidelines to do what? Screw working people? What kind of metaphor is that? Besides dead.
News of the Wired
"The Oldest Maps in the World" [Lapham's Quarterly]. "Perhaps the best-known ancient map is carved on a flat rock in the Italian Alps near the tiny city of Pescarzo. This inscribed drawing is part of a field of petroglyphs, now part of an archaeological park, where early humans spent a lot of time scratching out scenes on rocks. This one, called the Bedolina map, is of interest because it seems to be covered in images of what surely are houses, roads, fields presumably for growing, and topographical features such as streams. Superimposed on what is surely a map are some armed figures, a few animals, and one little house. This rock is thirty feet long and thirteen feet wide and dates from about 1000 bc. Scholar Christina Turconi also believes that the Beldonia map might be more than just a simple map. She acknowledges that it was carved at a time when personal property was becoming the norm and a map of a city might therefore be important, but Turconi also feels that this rock art had mystical or religious meaning and that the scene was also carved to protect the people who drew it. Unfortunately, no one knows the mindset of the artists and cartographers making these early maps. Were these individuals simply recording some moment in time, and, if so, can we speculate why? Were they intended as mnemonic devices, to aid the creator in finding their way back or to a particular place once more? Or were they trying to communicate with others using graphics, perhaps telling a story, or giving instructions? It's also possible that some early humans were regularly drawing maps on surfaces that haven't survived, such as sand and dirt. These people were used to migration, following animals to kill and eat them, and mapping out a territory in their heads as they tracked the ripeness of fruits and other vegetation, and they may have made maps on temporary surfaces that have left no trace. Those ancient humans who might have scratched directions in the sand or carved lines on wood were the first to practice the art of symbolic representation in the form of a map. From that point on, our ancestors all over the world scratched marks on walls and rocks, dipped their fingers into pigments, and gorged bones, shells, and horns to make marks of where they lived or where they were going."
* * *
Contact information for plants: Readers, feel free to contact me at lambert [UNDERSCORE] strether [DOT] corrente [AT] yahoo [DOT] com, to (a) find out how to send me a check if you are allergic to PayPal and (b) to find out how to send me images of plants. Vegetables are fine! Fungi and coral are deemed to be honorary plants! If you want your handle to appear as a credit, please place it at the start of your mail in parentheses: (thus). Otherwise, I will anonymize by using your initials. See the previous Water Cooler (with plant) here. From PS: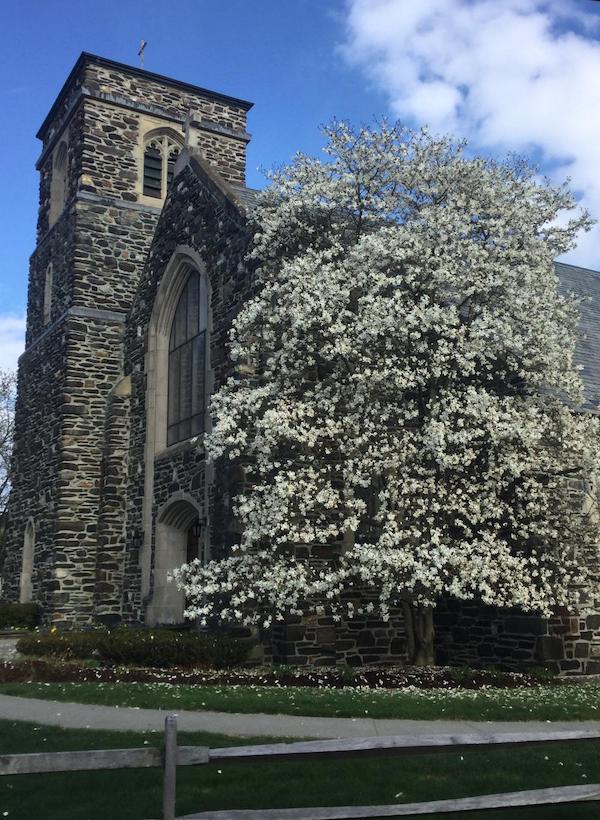 * * *
Readers: Water Cooler is a standalone entity not covered by the annual NC fundraiser. So if you see a link you especially like, or an item you wouldn't see anywhere else, please do not hesitate to express your appreciation in tangible form. Remember, a tip jar is for tipping! Regular positive feedback both makes me feel good and lets me know I'm on the right track with coverage. When I get no donations for five or ten days I get worried. More tangibly, a constant trickle of donations helps me with expenses, and I factor in that trickle when setting fundraising goals:
Here is the screen that will appear, which I have helpfully annotated: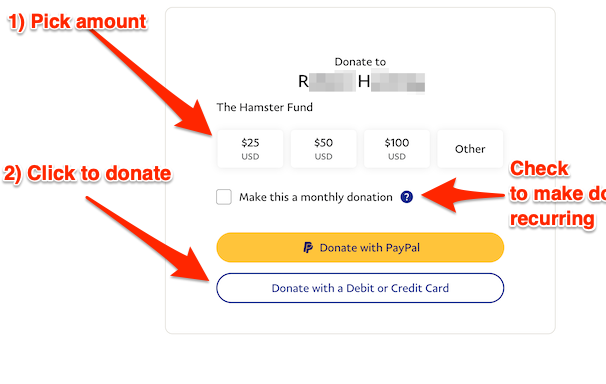 If you hate PayPal, you can email me at lambert [UNDERSCORE] strether [DOT] corrente [AT] yahoo [DOT] com, and I will give you directions on how to send a check. Thank you!