By Lambert Strether of Corrente.
Bird Song of the Day
Eastern Whip-poor-will, Corner of Turney Ranch Road and Odessa Roads, Michigan, United States. "Antrostomus vociferus" Not kidding!
* * *
Politics
"So many of the social reactions that strike us as psychological are in fact a rational management of symbolic capital." –Pierre Bourdieu, Classification Struggles
Biden Administration
"Biden's next student debt relief plan will target 'borrowers who need it the most,' Kvaal says" [Politico]. • [slaps forehead] Why didn't I think of that?

Public health cuts:

this appropriations bill contains some of the most drastic cuts to funding that have been seen within the last 20 years. this bill specifically targets HIV, STI, and viral hepatitis programs across the country and would reduce the CDC's annual budget by 18%.

— king of the hill i'll die on (@kenniwakwaritaa) July 18, 2023

"Mend it, don't end it…."
2024
Time for the Countdown Clock!

* * *

"Trump says he's received a target letter from special counsel Jack Smith's Jan. 6 investigators" [Politico]. "While the specific crimes that Trump may be charged with are not clear, Smith's team has been eyeing potential obstruction charges related to Trump's actions in the days leading up to Jan. 6 and on that day itself — including pressuring his vice president, Mike Pence, to unilaterally block the certification of Joe Biden's electoral victory. Investigators have also examined Trump's consideration of a plan to seize voting machines from the states, his campaign of false claims that the election was stolen and his role in advancing a plan to assemble bogus slates of presidential electors to stoke a conflict ahead of Jan. 6." • Commentary:

Trump confirms he's target of Jack Smith's Jan 6 criminal investigation, demands his appearance before DC grand jury.

Hate to say I told you so… pic.twitter.com/ZZVzshWc1R

— Julie Kelly 🇺🇸 (@julie_kelly2) July 18, 2023

The thing is, if you look at the lawfare case-by-case, Trump — adding the usual Trumpian puffery discount — isn't wrong. These guys have form: They're losers. O f course, Jack Smith could be different, and if so, well, the door to higher office lie open to him, as well as the book deals, etc., as grateful Blue MAGA types shower him with honors….

"Trump says 2024 running mate could be one of his primary opponents" [Miami Herald]. "Trump on Fox News's 'Sunday Morning Futures' singled out entrepreneur Vivek Ramaswamy and Sen. Tim Scott (R-S.C.) for praise, though he did not specify whom he would consider as a running mate. 'I think Vivek has done a very good job, frankly. I think some others have done a good job,' Trump said. Asked by host Maria Bartiromo if his running mate could be among those in the 2024 field, Trump replied, 'possibly.' 'You have some good people on the stage actually. I think you have some very talented people,' Trump said. 'I've been impressed by some of them. Some of them I'm very friendly with, actually.' 'I think you have good potential Cabinet members, too,' Trump added."

"Wall Street execs make first bets against Donald Trump in 2024" [NBC]. "A wave of executives in the finance sector made early donations to Donald Trump's primary opponents in the second quarter, as many on Wall Street look for an alternative to the former president to lead the Republican Party in 2024. New Federal Election Commission filings show that dozens of Wall Street executives donated the legal maximum of either $3,300 for the primary or $6,600 for the entire election cycle to many of the Republican candidates polling below Trump in the primary, according to a joint analysis of the latest disclosures by NBC News and CNBC. Trump's chief rival, Florida Gov. Ron DeSantis, and other candidates regularly registering in the national polling averages — business owner Vivek Ramaswamy, former Vice President Mike Pence, former U.S. ambassador to the United Nations Nikki Haley and Sen. Tim Scott of South Carolina — all saw contributions from leaders in finance starting April 1 through June 30." • Say no more! Say no more!

* * *

"Playbook: DeSantis in disarray?" [Politico]. "When you're running for office, there are a few words and phrases you never want to see up top in news articles about your campaign … 1. 'SOLVENCY'… 2. 'SHEDDING STAFF' and 'CASH CRUNCH'… 3. 'SKEPTICISM' and 'PRIVATE CONCERNS' and 'INSULARITY'…. At the start of the year, the average national GOP primary poll had Trump at 43% and DeSantis close behind at 37%, according to FiveThirtyEight. Compare that to today: Trump averages just under 50%, while DeSantis has sunk to 21%. Since DeSantis announced his campaign on May 24, he has gained just 0.4 percentage points in the national polling average." • The short-bodied, elevator-shoed DeSantis has the warmth of a lizard and the charm of a chiseling small-town auto dealer. That doesn't play well on the national stage.

"Ron DeSantis fires roughly a dozen staffers in a campaign shake-up" [NBC News]. "Ron DeSantis' presidential campaign has fired roughly a dozen staffers — and more dismissals are expected in the coming weeks as he shakes up his big-money political operations after less than two months on the campaign trail. A source familiar with the firings described those who were let go as mid-level staffers across several departments whose departures were related to cutting costs. The exits come after the departures of David Abrams and Tucker Obenshain, veterans of DeSantis' political orbit, which were first reported by Politico. Sources involved with the DeSantis campaign say there is an internal assessment among some that it hired too many staffers too early and that despite having brought in $20 million during its first six weeks, it was becoming clear that costs needed to be brought down. Some in DeSantis' political orbit lay the early blame at the feet of campaign manager Generra Peck, who also led DeSantis' 2022 midterm re-election bid and is in the hot seat right now. 'She should be,' a DeSantis donor said." • Now the donors want to run the campaign. Never a good sign.

"Door-knocker complaints show risks of DeSantis super PAC strategy" [WaPo]. "Unlike traditional presidential field organizing — which is run by an official campaign and driven largely by volunteers — the Never Back Down effort is staffed with an army of paid workers, many of whom have responded to advertisements that offer positions for $20 to $22 an hour. Trained in Iowa during an eight-day class, some come out of the system with polished pitches, as true believers. Others are just there for a job." • Some amusing incidents…

* * *

"Biden announces his 2024 campaign headquarters" [Politico]. "President Joe Biden will make his longtime residence of Wilmington, Del., the headquarters of his 2024 campaign, he announced Tuesday. 'My family's values, my eternal optimism and my unwavering belief in the American middle class as our nation's backbone comes from my home — from Delaware,' Biden said in a statement. 'That's why there is no better place for our reelection campaign to have its headquarters.' It's a departure from Biden's choice of Philadelphia for his 2020 campaign headquarters. But because of the pandemic, Biden helmed a significant portion of that run from Wilmington as well." • They're already wrapping Biden in tissue paper. Not a good sign.

"The Bidens' Influence Peddling Timeline" [House Committee on Oversight]. • Without commenting on "10 held by H for the big guy?" the substance, this timeline is a tremendous technical advance on so many previous Republican yarn diagrams. A sample:

The timeline is, however, missing two critical features. The first is search: I would like to be able to find all the places were "Burisma," say, occurs. The second is authentication. All the text boxes should have links to where the information comes from. The timeline also has an "Important Date" rubric. There should be a list of them. Still, an advance (and in great contrast to the incredibly sloppy Democrat assault on TrumpMR SUBLIMINAL They think it's great, of course. So much homework!).

"Meet the 2024 presidential candidates" [Axios]. • Handy chart:

I think you've got to put Newsome and Pritzker in there as potentials.

"Winners and losers from the second fundraising quarter" [The Hill]. "President Biden's fundraising numbers are more than double that of former President Trump and any other candidate, giving him a majorly successful second quarter and first few months of his reelection bid. Biden's reelection campaign raised $72 million in the second quarter, an impressive total for a candidate whose polls have shown voters do not want him to run for reelection. The campaign said Biden also has $77 million in cash on hand, which it said was the most 'amassed by a Democrat at any comparable point in history.' 'Doubts have swirled around Biden's candidacy since before he jumped into race, with his favorability rating mostly staying in the low 40s and concerns about his age and mental acuity. But his fundraising numbers might be telling a different story among voters. The campaign said nearly 400,000 donors made 670,000 donations across all entities, including the Democratic National Committee and joint fundraising committees. It said 30 percent of all donors did donate to Biden's campaign in 2020."

* * *

"Could a third-party candidate actually derail Biden?" [Vox]. "Democratic West Virginia Sen. Joe Manchin didn't rule out the possibility of running as a third-party presidential candidate in 2024 at an event hosted by the centrist group No Labels in New Hampshire Monday. He said he was there 'to make sure the American people have an option,' but also that chatter about a possible 'unity' ticket with him and former Utah Gov. Jon Huntsman, a Republican, was premature. And he promised he would not run as a 'spoiler': 'If I get in a race, I'm going to win,' he said. But it's hard to see how any possible run with No Labels — a bipartisan group that once dubbed former President Donald Trump a "problem solver" and that criticized the committee investigating the January 6, 2021 insurrection — would amount to a serious candidacy."

And speaking of Delaware:

Simply registering Green will get Cornel West on the ballot in Delaware. https://t.co/w7XrhVFFUW

— Dr. Jill Stein🌻 (@DrJillStein) July 17, 2023
Democrats en Déshabillé
Patient readers, it seems that people are actually reading the back-dated post! But I have not updated it, and there are many updates. So I will have to do that. –lambert

I have moved my standing remarks on the Democrat Party ("the Democrat Party is a rotting corpse that can't bury itself") to a separate, back-dated post, to which I will periodically add material, summarizing the addition here in a "live" Water Cooler. (Hopefully, some Bourdieu.) It turns out that defining the Democrat Party is, in fact, a hard problem. I do think the paragraph that follows is on point all the way back to 2016, if not before:

The Democrat Party is the political expression of the class power of PMC, their base (lucidly explained by Thomas Frank in Listen, Liberal!). ; if the Democrat Party did not exist, the PMC would have to invent it. . ("PMC" modulo "class expatriates," of course.) Second, all the working parts of the Party reinforce each other. Leave aside characterizing the relationships between elements of the Party (ka-ching, but not entirely) those elements comprise a network — a Flex Net? An iron octagon? — of funders, vendors, apparatchiks, electeds, NGOs, and miscellaneous mercenaries, with assets in the press and the intelligence community.

Note, of course, that the class power of the PMC both expresses and is limited by other classes; oligarchs and American gentry (see 'industrial model' of Ferguson, Jorgensen, and Jie) and the working class spring to mind. Suck up, kick down.

* * *
Realignment and Legitimacy
"The new secession" [The New Criterion]. "[L]evels of trust in government today are still broadly low by historical standards. These attitudes are mirrored in various ways in the day-to-day decisions made by American citizens: 1. The number of Americans leaving the country to live elsewhere has more than doubled over the past few decades, from four million in 1999 to nine million in 2023…. 2. Millions of American families have abandoned the public schools in recent decades, owing to a perceived decline in standards or the politicization of the school curricula…. 3. Americans are abandoning the workforce in unprecedented numbers. The labor force participation rate in the United States has declined from 67.2 percent in the year 2000 to around 62 percent today, a decline of eight to nine million workers in a workforce of 165 million. … 4. Gun ownership has surged… 5. The most alarming trend: Young Americans are no longer volunteering to serve in the military to the extent they did just a few years ago." • Most alarming? No cannon fodder for losing wars fought for profit! Nevertheless….
#COVID19
"I am in earnest — I will not equivocate — I will not excuse — I will not retreat a single inch — AND I WILL BE HEARD." –William Lloyd Garrison
Resources, United States (National): Transmission (CDC); Wastewater (CDC, Biobot; includes many counties; Wastewater Scan, includes drilldown by zip); Variants (CDC; Walgreens); "Iowa COVID-19 Tracker" (in IA, but national data). "Infection Control, Emergency Management, Safety, and General Thoughts" (especially on hospitalization by city).
Lambert here: Readers, thanks for the collective effort. To update any entry, do feel free to contact me at the address given with the plants. Please put "COVID" in the subject line. Thank you!
Resources, United States (Local): AK (dashboard); AL (dashboard); AR (dashboard); AZ (dashboard); CA (dashboard; Marin, dashboard; Stanford, wastewater; Oakland, wastewater); CO (dashboard; wastewater); CT (dashboard); DE (dashboard); FL (wastewater); GA (wastewater); HI (dashboard); IA (wastewater reports); ID (dashboard, Boise; dashboard, wastewater, Central Idaho; wastewater, Coeur d'Alene; dashboard, Spokane County); IL (wastewater); IN (dashboard); KS (dashboard; wastewater, Lawrence); KY (dashboard, Louisville); LA (dashboard); MA (wastewater); MD (dashboard); ME (dashboard); MI (wastewater; wastewater); MN (dashboard); MO (wastewater); MS (dashboard); MT (dashboard); NC (dashboard); ND (dashboard; wastewater); NE (dashboard); NH (wastewater); NJ (dashboard); NM (dashboard); NV (dashboard; wastewater, Southern NV); NY (dashboard); OH (dashboard); OK (dashboard); OR (dashboard); PA (dashboard); RI (dashboard); SC (dashboard); SD (dashboard); TN (dashboard); TX (dashboard); UT (wastewater); VA (dashboard); VT (dashboard); WA (dashboard; dashboard); WI (wastewater); WV (wastewater); WY (wastewater).
Resources, Canada (National): Wastewater (Government of Canada).
Resources, Canada (Provincial): ON (wastewater); QC (les eaux usées); BC, Vancouver (wastewater).
Hat tips to helpful readers: anon (2), Art_DogCT, B24S, CanCyn, ChiGal, Chuck L, Festoonic, FM, FreeMarketApologist (4), Gumbo, hop2it, JB, JEHR, JF, JL Joe, John, JM (10), JustAnotherVolunteer, JW, KatieBird, LL, Michael King, KF, LaRuse, mrsyk, MT, MT_Wild, otisyves, Petal (6), RK (2), RL, RM, Rod, square coats (11), tennesseewaltzer, Utah, Bob White (3).
Stay safe out there!
* * *
Look for the Helpers
From a delivery worker:

David Leonhard and all his ilk need to work on their selection bias. And:

Big lesson – selflessness will bring our species forward. Adapting our behaviours in an airborne pandemic will ensure we can socialise and not feel trapped in our respective isolated environments.

— Steve T (@noxygen) July 17, 2023
Maskstravaganza
"That's how air works":

"If your mask works, why should I have to wear one?"
Because YOUR mask would trap 95 percent of YOUR germs, and MY mask would trap 95 percent of MY germs plus what's left of your germs. That's how air works, and no amount of juvenile reasoning is going to change that.

— Jessica Wildfire (@JessicaLexicus) July 15, 2023

As I wrote: "Breathing is a social relation."
Covid is Airborne
New standards for toilet flushing:

A toilet flush 🚽 takes 15 seconds. Groundbreaking new standards from ASHRAE 🏠 and CDC 🦠 in May, 2023 take several minutes to hours ⏰ to clear the air of airborne contaminants just as gross 🤮 if not as deadly ☠️ . Still big differences between CDC and ASHRAE though.

(1/13) pic.twitter.com/D5hh2uKgcN

— Devabhaktuni "Sri" Srikrishna (@sri_srikrishna) July 14, 2023
Censorship and Propaganda
"A Positive Covid Milestone" [David Leonhardt, New York Times]. "The United States has reached a milestone in the long struggle against Covid: The total number of Americans dying each day — from any cause — is no longer historically abnormal…. But the excess-deaths milestone suggests that it's true now: The pandemic is finally over." • Well, a few responses. I'm not an excess deaths maven, so please weigh in:

1) " Increase in infected people before summer vacation Rapid increase in Kyushu and Okinawa, Mr. Omi "Possibility to spread to Honshu": Tokyo Shimbun TOKYO Web" [Japan Posts]. "The number of people infected with the new coronavirus continues to rise nationwide. Even in Tokyo, the number of cases has been increasing little by little since May, when the classification under the Infectious Diseases Law was shifted to Category 5. It is believed that the background is lax infection control measures and a weakened immune system. The number of infected people is increasing rapidly in Okinawa and Kyushu, and it has been pointed out that the sudden spread of infection may spread to Honshu before summer vacation." • Given ubiquitous air travel, if Covid isn't over in Japan, it's not over in the United States.

2) Leonhardt assumes the CDC excess deaths baseline is legit. But — and I know this will surprise you — it's not:

For those asking "did they change the baseline for excess deaths?"

TL;DR: in March, the CDC started extrapolating *expected* death rates for 2020, then used the extrapolated 2020 death rates to generate expected death rates in 2021, etc for 2022, 2023. pic.twitter.com/bfbFosiEtZ

— OmegaMom Is So Damned Tired – She/her/hers (@OmegaMom_) July 17, 2023

3) Excess death numbers are not behaving as they should if Leonhardt's thesis is true:

False. If the pandemic was truly over, excess deaths would run significantly below historical averages for quite a while, reflecting all the people who didn't die because they already died prematurely of covid.

Many people are still dying.

Also…

— Blake Murdoch (@BlakeMMurdoch) July 17, 2023

4) Death is not the only metric, given neurological and vascular damage, plus Long Covid (q.v.) On the bright side, Leonhardt has already begun to mimize Long Covid!

5) Wastewater is ticking up.
Testing and Tracking
Note the Aranet 4's new design (at left):

The @SmartAirFilters qingping pro arrived from @BSTHealth! Pictured here alongside its buddy @AranetIoT from @CO2RadicalAus 🤩
Going to put it up at the preschool and keep going with the education on the importance of good IAQ! pic.twitter.com/hBrLfxXC58

— Plum Jam 💙 (@plumskyjam) July 17, 2023

The percentage of rebreathed air is the key metric, and now it is visible.

"Real-time environmental surveillance of SARS-CoV-2 aerosols" [Nature]. "Real-time surveillance of airborne SARS-CoV-2 virus is a technological gap that has eluded the scientific community since the beginning of the COVID-19 pandemic. Offline air sampling techniques for SARS-CoV-2 detection suffer from longer turnaround times and require skilled labor. Here, we present a proof-of-concept pathogen Air Quality (pAQ) monitor for real-time (5 min time resolution) direct detection of SARS-CoV-2 aerosols. The system synergistically integrates a high flow (~1000 lpm) wet cyclone air sampler and a nanobody-based ultrasensitive micro-immunoelectrode biosensor. The wet cyclone showed comparable or better virus sampling performance than commercially available samplers. Laboratory experiments demonstrate a device sensitivity of 77–83% and a limit of detection of 7-35 viral RNA copies/m3 of air. Our pAQ monitor is suited for point-of-need surveillance of SARS-CoV-2 variants in indoor environments and can be adapted for multiplexed detection of other respiratory pathogens of interest. Widespread adoption of such technology could assist public health officials with implementing rapid disease control measures." • Lol. Who wants to do that? (In a serious country, developing this technology would have been part of the Biden Administration's Operation Warp Speed II.

"Opteev's ViraWarn Shows Near 100% Efficacy at Instantly Detecting COVID-19 in the Air" (press release) [Opteev Technologies, Inc.] "Baltimore-based Opteev Technologies, Inc. on Thursday in a joint release with a National Institutes of Health (NIH) supported laboratory said the final analysis of its COVID-19 detection device, ViraWarn, showed near 100% efficacy at instantly detecting COVID-19 in the air. Lab data provided by the NIH-supported laboratory supports Opteev's ViraWarn device can instantly detect COVID-19 as well as Omicron and all COVID-19 variants. Opteev's CTO and Co-Founder, Dr. Biplab Pal, said, "The data from the NIH lab supports all of our own internal findings. ViraWarn will be a game-changer in the fight against the COVID-19 pandemic." • Big if true. However, this press release is from Dec. 30, 2021. Now we get these tweets:

The World's First COVID-19 Detector
for Personal Spaces https://t.co/GZQQsSq7sh

— laurie allee (@laurieallee) July 11, 2023

Allee is an account I follow. But what's been going on in the interim? More:

Just based on what some of the other folks who've been digging into this have been finding. Not much in the way of solid test info, documentation, etc. I'm going to look into it when I get time, but right now, today, I wouldn't buy it w/out some solid info.

— Michael R. Hicks, Author and Dissenter (@Michael59503746) July 12, 2023
"Something Awful"
Lambert here: I'm getting the feeling that the "Something Awful" might be a sawtooth pattern — variant after variant — that averages out to a permanently high plateau. Lots of exceptionally nasty sequelae, most likely deriving from immune dysregulation (says this layperson). To which we might add brain damage, including personality changes therefrom.

* * *
Origins Debate
"Everything is like Wuhan":

i believe that the authors of the proximal origins paper felt that a natural origin for COVID was likely, but also that a combination of social expediency and political influence pushed them to assert it with more confidence than available data warranted

— Michael Eisen (@mbeisen) July 12, 2023
* * *
Case Data
From BioBot wastewater data, July 17: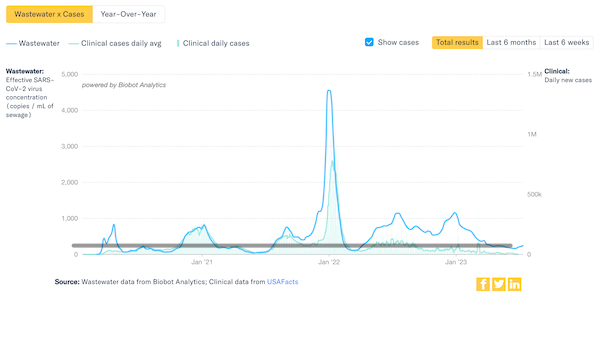 Lambert here: A distinct upward trend. Not seeing the upward slope of doubling behavior, but we are now — just scan the chart backward — at a level above every previous valley.
Regional data: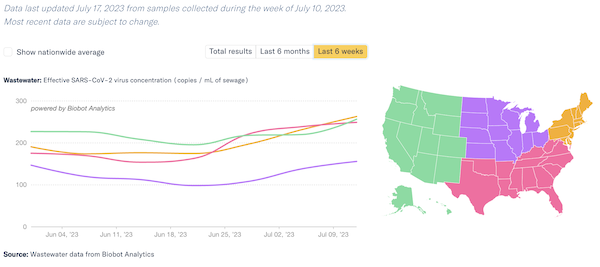 Interestingly, the upswing begins before July 4, which neither accelerates nor retards it.
Regional variant data:

Whatever the cause of the uptick in the Northeast, it's not EG.5 (the orange pie slice), which seems evenly distributed.
Variants
NOT UPDATED From CDC, July 8: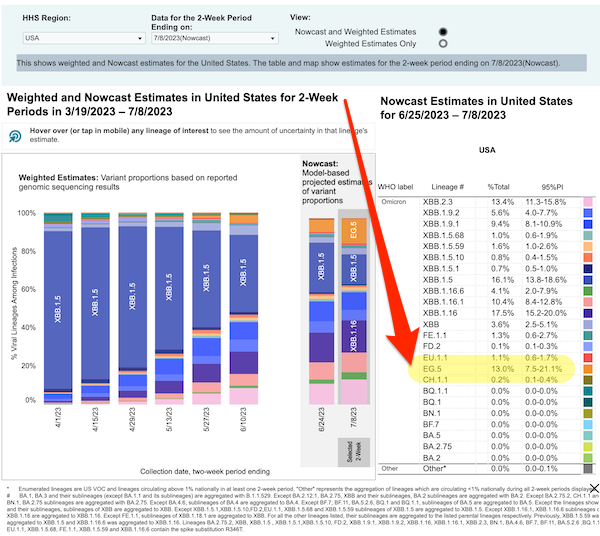 Lambert here: EG.5 moving like a bat out of hell, showing unactionable nature (uselessness) of these CDC two-week-lag charts (here, and in positivity, too). They're not even performative!
From CDC, June 24: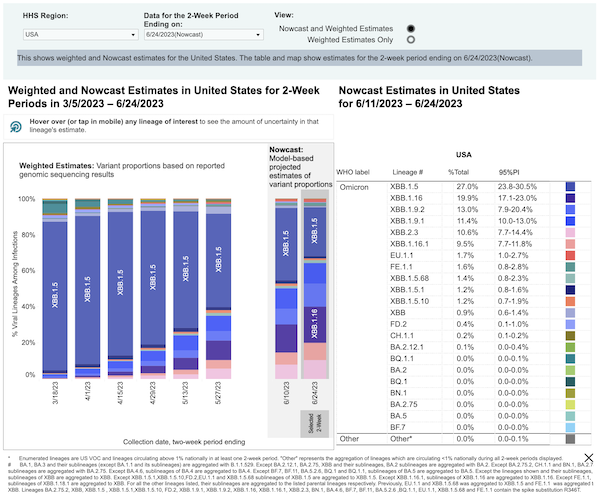 Lambert here: Not sure what to make of this. I'm used to seeing a new variant take down the previously dominant variant. Here it looks like we have a "tag team," all working together to cut XBB.1.5 down to size. I sure hope the volunteers doing Pangolin, on which this chart depends, don't all move on the green fields and pastures new (or have their access to facilities cut by administrators of ill intent).
CDC: "As of May 11, genomic surveillance data will be reported biweekly, based on the availability of positive test specimens." "Biweeekly: 1. occurring every two weeks. 2. occurring twice a week; semiweekly." Looks like CDC has chosen sense #1. In essence, they're telling us variants are nothing to worry about. Time will tell.
Covid Emergency Room Visits
NOT UPDATED From CDC NCIRD Surveillance, July 8: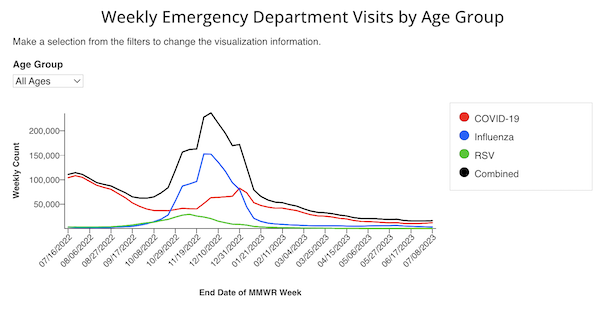 NOTE "Charts and data provided by CDC, updates Wednesday by 8am. For the past year, using a rolling 52-week period." So not the entire pandemic, FFS (the implicit message here being that Covid is "just like the flu," which is why the seasonal "rolling 52-week period" is appropriate for bothMR SUBLIMINAL I hate these people so much. Notice also that this chart shows, at least for its time period, that Covid is not seasonal, even though CDC is trying to get us to believe that it is, presumably so they can piggyback on the existing institutional apparatus for injections.
Positivity
From Walgreens, July 17: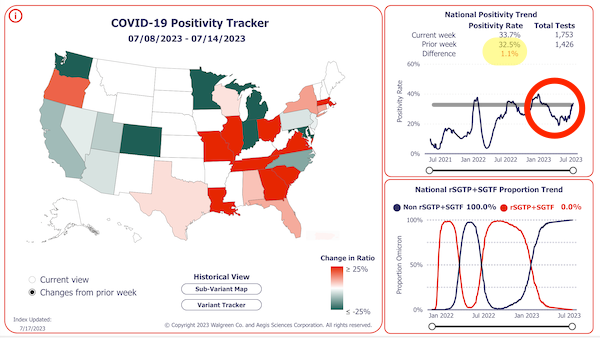 1.1%. Going up, though the absolute numbers are still very small relative to June 2022, say. Interestingly, these do not correlate with the regional figures for wastewater. (It would be interesting to survey this population generally; these are people who, despite a tsunami of official propaganda and enormous peer pressure, went and got tested anyhow.)
NOT UPDATED From CDC, June 26: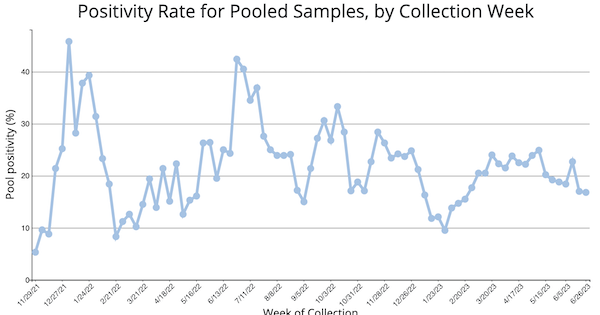 Lambert here: This is the CDC's "Traveler-Based Genomic Surveillance" data. They say "maps," but I don't see one….
Deaths
NOT UPDATED Iowa COVID-19 Tracker, July 12: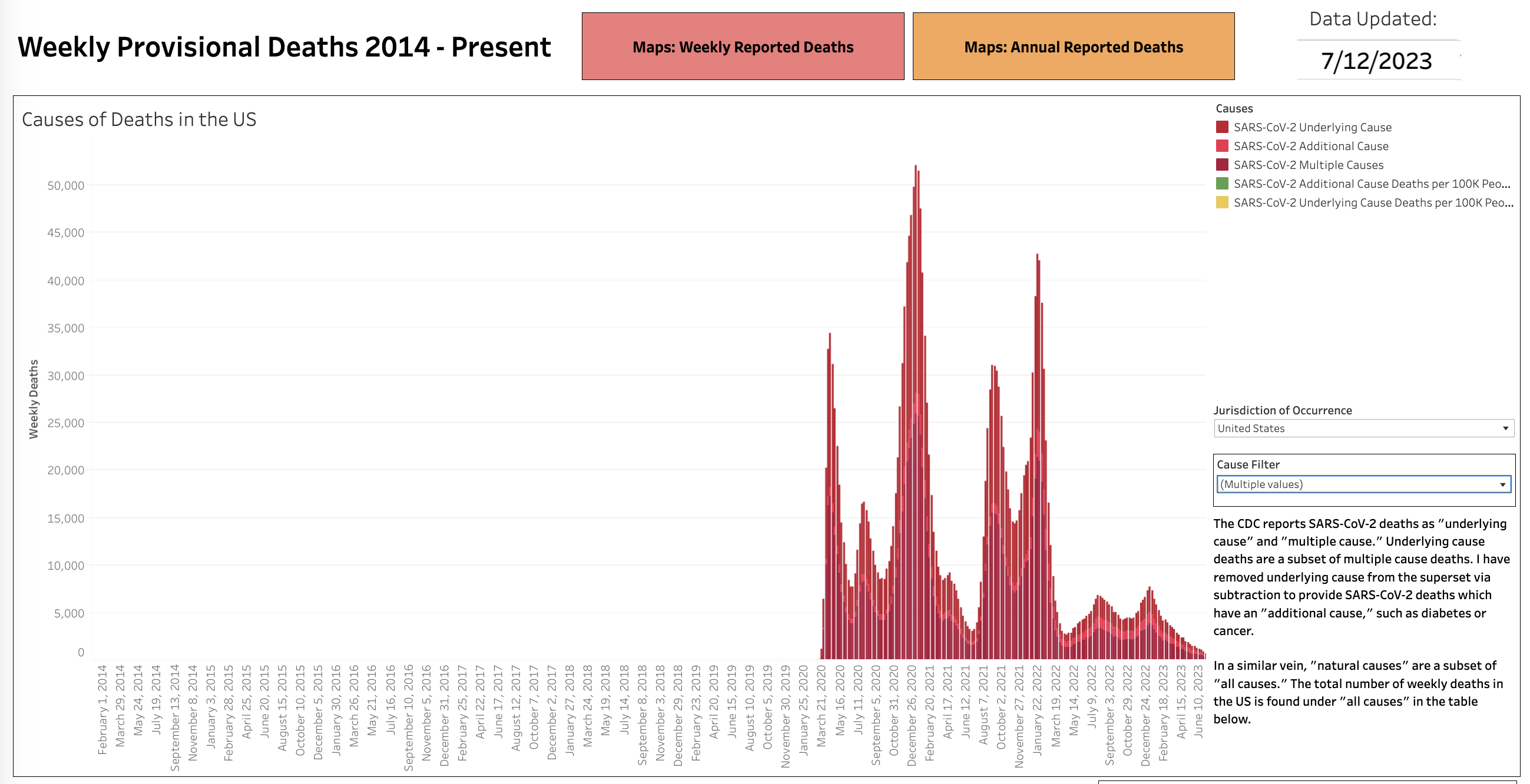 Lambert here: The WHO data is worthless, so I replaced it with the Iowa Covid Data Tracker. Their method: "These data have been sourced, via the API from the CDC: https://data.cdc.gov/NCHS/Conditions-Contributing-to-COVID-19-Deaths-by-Stat/hk9y-quqm. This visualization updates on Wednesday evenings. Data are provisional and are adjusted weekly by the CDC." I can't seem to get a pop-up that shows a total of the three causes (top right). Readers?
Total: 1,168,914 – 1,168,6101,168,414 = 304 (304 * 365 = 110,960 deaths per year, today's YouGenicist™ number for "living with" Covid (quite a bit higher than the minimizers would like, though they can talk themselves into anything. If the YouGenicist™ metric keeps chugging along like this, I may just have to decide this is what the powers-that-be consider "mission accomplished" for this particular tranche of death and disease).
• "COVID-19: Catch up quick" [Your Local Epidemiologist]. "The COVID-19 Modeling Hub— eight academic teams across the U.S.— just released projections for the next two years: hospitalizations and deaths will likely stay within last year's range. Unfortunately, this means we should expect to lose 55,000 (optimistic model)- 450,000 Americans (pessimistic model) due to COVID-19." And: "COVID-19 is increasing; don't be surprised to hear more people getting infected around you. I already am. , but that time may come this fall." • This is that nutty PMC paradigm about "changing behavior" (doing homework). That sociopathic goofball Bob Wachter — the dude who chivvied his wife into attending the superspreading conference from which she developed Long Covid — does the same thing with his 25-step algorithm. Just develop a strong protocol and stick to it, my advice. Why? Because the PMC morons, while simultaneously pushing a practice and ethic of personal responsibility, also destroyed all our data flow. The fastest data has a week's lag, and most have two. If Covid is taking off, you will change your behavior too late.
Excess Deaths
The Economist, July 18: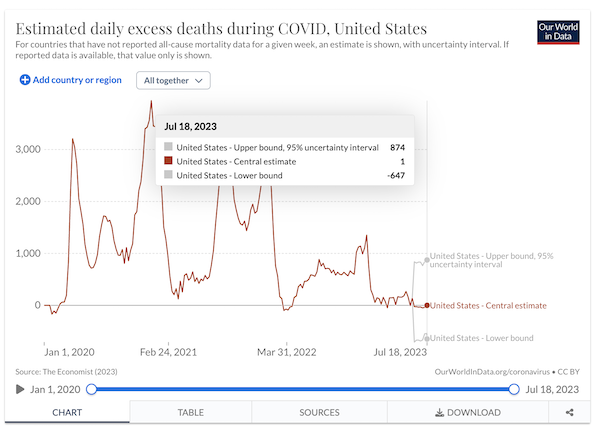 Lambert here: This is now being updated daily. Odd. Based on a machine-learning model. (The CDC has an excess estimate too, but since it ran forever with a massive typo in the Legend, I figured nobody was really looking at it, so I got rid it. )
Stats Watch
Manufacturing: "United States Manufacturing Production" [Trading Economics]. "Manufacturing Production in the United States decreased 0.3% year-on-year in June of 2023, marking a fourth consecutive month of falls in factory output."
Manufacturing: "United States Industrial Production" [Trading Economics]. "Industrial Production in the United States decreased 0.4% year-on-year in June of 2023, the first annual decline since February of 2021, and following a flat reading in May."
Retail: "United States Retail Sales YoY" [Trading Economics]. "Retail Sales in the United States increased 1.5% year-on-year in June of 2023."
Capacity: "United States Capacity Utilization" [Trading Economics]. "Capacity utilization in the US fell for a second month to 78.9% in June of 2023, the lowest so far this year, compared to 79.4% in May and below forecasts of 79.5%. The rate now stands 0.8 percentage point below its long-run average."
* * *
Tech: "The 'Threads' App Is Filled with Deceptive Dark Design Patterns – We Spotted More than Ten" [Yanko Design]. "The Threads app almost immediately displayed a whole bunch of dark patterns with its user interface. We spotted at least 11 of them, and we're sure there are a lot more to come. Here are some highly evident dark tricks the Threads app is using to ensure you stay on the platform as long as you possibly can… and supply Meta with even more data than before." Zuck doesn't know any other way to do business. Here's one: "10. The above is reinforced by the fact that Threads doesn't have a desktop website either. Even though its competitor Twitter does, and even though Instagram does too, Threads can ONLY be accessed by installing an app, and logging in. That's how Meta coerces you into installing an app that you then can't remove… and an app that then constantly gathers data on you." • Ick. Avoid.
Tech: "Robots.txt is not the answer: Proposing a new meta tag for LLM/AI" [Search Engine Land]. "While Google is opening up the discussion on giving credit and adhering to copyright [mighty big of 'em] when training large language models (LLMs) for generative AI products, their focus is on the robots.txt file." This is an idiotic idea for many reasons, the most obvious one being: "Blocking Googlebot or Bingbot for their generative AI products also blocks any potential visibility in their respective search results. This is an unacceptable situation where the publisher is forced to make a choice between 'all or nothing.'" • Their idea: Use Creative Commons licensing.
* * *
Today's Fear & Greed Index: 82 Extreme Greed (previous close: 78 Extreme Greed) [CNN]. One week ago: 79 (Extreme Greed). (0 is Extreme Fear; 100 is Extreme Greed). Last updated Jul 18 at 1:37 PM ET.
Rapture Index: Closes up one on Date Settings. "There is a growing interest in the rapture occurring on one of the Jewish fall feasts" [Rapture Ready]. Record High, October 10, 2016: 189. Current: 183. (Remember that bringing on the Rapture is good.) NOTE on #42 Plagues: "The coronavirus pandemic has maxed out this category." More honest than most!
Healthcare
"Medicine is plagued by untrustworthy clinical trials. How many studies are faked or flawed?" [Nature]. "But faked or unreliable RCTs are a particularly dangerous threat. They not only are about medical interventions, but also can be laundered into respectability by being included in meta-analyses and systematic reviews, which thoroughly comb the literature to assess evidence for clinical treatments. Medical guidelines often cite such assessments, and physicians look to them when deciding how to treat patients." • Dr. John Conly, is that you?
The Gallery
Shot:
Claude Monet
Rouen Cathedral pic.twitter.com/trRGfn9GYv

— PubHist (@Pub_Hist) September 8, 2022
Chaser:
Childe Hassam – Lower Manhattan (Broad Street and Wall Street) pic.twitter.com/ZIKzBYvvL1

— Impressionists (@impression_ists) July 14, 2023
Guillotine Watch
David Sedaris is the PMC exemplar:
From David Sedaris, this is what privilege looks like. Perfectly manifested here. As long as I feel I'm okay, to hell with everyone else. pic.twitter.com/OkwLpYnmUz

— Zatara the Magician (@zatara2010) July 15, 2023
"I still browse the dailies, skipping over the stories about Covid, since I am done with that as well." From August 2021, with Biden's Omicron surge yet to come.
Class Warfare
Classy:
Quick shoutout to the good people at @UniversalPics for trimming the trees that gave our picket line shade right before a 90+ degree week. pic.twitter.com/aZvvPYQ23i

— Chris Stephens (@ChrisStephensMD) July 17, 2023
News of the Wired
"Encountering the Infuriating, Overwhelming and Unwanted Smart Tech in My Hotel Room" [New York Times]. "Sonifi Solutions, Inc., which works with global brands such as Hyatt and Marriott, generates unique QR codes for guests on their in-room television — to activate, you scan with your phone camera, as you would a web-based restaurant menu, which takes you to an app or website. Then with their phones, guests control their TVs and lighting, connect with the concierge (by chat), order in-room dining or make a spa appointment. The 'personalization' piece of the platform extends to the television, which based on guest behavior and information gleaned from a loyalty program, can be set to a yoga class for a fitness enthusiast or ESPN for a football fan." • All data that will totally be sold, probably in time for your next stay, or even your next night in the room. What the heck is the point of a personalized hotel room? The whole point of a hotel room is to be depersonalized!
* * *
Contact information for plants: Readers, feel free to contact me at lambert [UNDERSCORE] strether [DOT] corrente [AT] yahoo [DOT] com, to (a) find out how to send me a check if you are allergic to PayPal and (b) to find out how to send me images of plants. Vegetables are fine! Fungi and coral are deemed to be honorary plants! If you want your handle to appear as a credit, please place it at the start of your mail in parentheses: (thus). Otherwise, I will anonymize by using your initials. See the previous Water Cooler (with plant) here. From NM: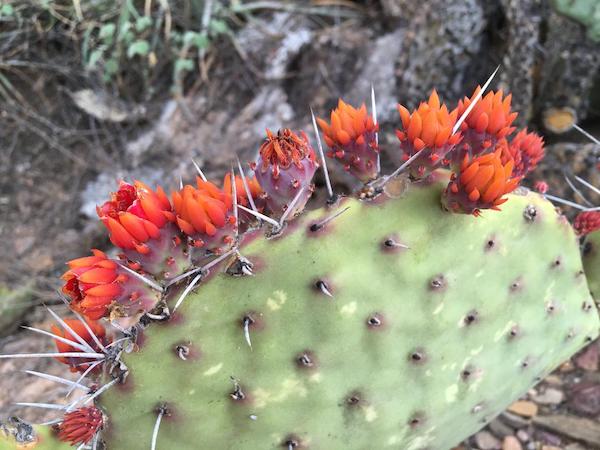 NM writes: "Opuntia stenopetala in Queretaro, Mexico."
* * *
Readers: Water Cooler is a standalone entity not covered by the annual NC fundraiser. So if you see a link you especially like, or an item you wouldn't see anywhere else, please do not hesitate to express your appreciation in tangible form. Remember, a tip jar is for tipping! Regular positive feedback both makes me feel good and lets me know I'm on the right track with coverage. When I get no donations for five or ten days I get worried. More tangibly, a constant trickle of donations helps me with expenses, and I factor in that trickle when setting fundraising goals:
Here is the screen that will appear, which I have helpfully annotated: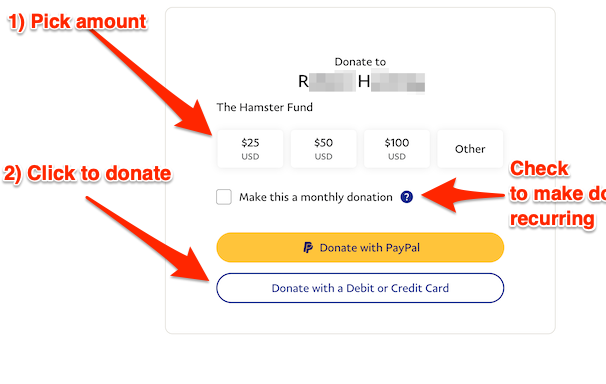 If you hate PayPal, you can email me at lambert [UNDERSCORE] strether [DOT] corrente [AT] yahoo [DOT] com, and I will give you directions on how to send a check. Thank you!