By Lambert Strether of Corrente.
Patient readers, some orts and scraps on Covid, of which there was a plethora of news over the weekend, will be coming. Also, my "f" key seems not to be repairable without taking it in to an Apple Store, so in the meantime I installed Karabiner, which is a lot more slick than the version I first tried several years ago, and mapped F3 to "f." So now I can abandon my list of lower- and uppercase "f"'s, and a whole bunch of "f words," like "Foreign Affairs" and "Class Warfare" that I was cumbersomely copying and pasting from the list into my posts. –lambert
Bird Song of the Day
Eurasian Nightjar, Swallow Moss, Staffordshire, England, United Kingdom. "Dawn song; Non-vocal; Song." Lots going on here, including a cuckoo!
* * *
Politics
"So many of the social reactions that strike us as psychological are in fact a rational management of symbolic capital." –Pierre Bourdieu, Classification Struggles
Capitol Seizure
Biden Administration
"Top AI companies agree to work together toward transparency and safety, White House says " [NBC]. "Seven leading artificial intelligence companies have agreed to a handful of industry best practices, a first step toward more meaningful regulation, the White House announced Thursday. The companies — Amazon, Anthropic, Google, Inflection, Meta, Microsoft and OpenAI — have agreed to the principles that include security, transparency with the public and testing of their products internally before debuting them to the public…. The seven companies have each agreed to hire independent experts [ka-ching] to probe their systems for vulnerabilities and to share information they discover with each other, governments and researchers, a White House official said on Wednesday. They also agreed to develop so-called "watermarking" mechanisms to help users identify when content they see or hear is generated by AI. The commitments are voluntary and are not binding." • Dudes, come on.
Our Famously Free Press
"Tucker Carlson lets Andrew Tate rant about how society wants 'the woman in charge and the man with no backbone'" [Daily Mail]. "Carlson traveled to Romania to interview Tate, a British-American former MMA fighter turned reality TV star, who has now carved out a career spouting misogynistic commandments and teaching men to be 'real men'. The former Fox News host – who on June 6 launched his show on Twitter – allowed Tate, 36, to rant unchallenged about a woman's place in society. Tate, who is currently under arrest in Romania, awaiting trial, said that he had heard the story of a man who allowed his porn star wife to have sex with another man, a male porn star. Tate said: 'This is what the matrix wants from you as a man. 'They want the woman in charge, and the man below with no backbone. 'Because if the woman is in charge, they can emotionally affect her. 'They can scare her. 'You can scare a woman easier than you can scare a man. 'A real man is hard to scare.'" • Gad. Worth a trip to Romania? Really? (I should have linked to this last week, but there was a lot going on….)

"CNN Town Halls Do Democracy No Favors" [FAIR]. "After its embarrassing town hall with Donald Trump, which helped precipitate the downfall of chair and CEO Chris Licht (FAIR.org, 6/8/23), CNN has doubled down on the format—at least for Republican candidates. Since Trump's May 10 appearance, the network has featured GOP candidates Nikki Haley (6/4/23), Mike Pence (6/7/23) and Chris Christie (6/12/23), with more promised. Curiously, however, no offers to Democratic or third party candidates have been announced, which prompts the question: What purpose do these town halls serve?… But the problem goes beyond Trump. Trump's challengers have all broken with the former president to some degree, though few will risk alienating his followers by forcefully denouncing his lies. Still, they represent a slightly more reality-based GOP than Trump, such that their town hall appearances might be expected to meet the extremely low bar of not being as filled with disinformation as Trump's. Yet CNN's own factchecks of its subsequent GOP town halls showed Haley, Pence and Christie were permitted numerous falsehoods without real-time challenge by their journalist hosts." • "[P]ermitted numerous falsehoods." Ukraine, RussiaGate, the Twitter Files… I fail to be impressed by this pearl-clutching, even from FAIR, which I like.
2024
Time for the Countdown Clock!

* * *

"Five questions around Trump's looming indictment" [The Hill]. What will the charges be? If Trump is charged, is it a 'speaking' indictment? How does the timing of a trial fit in with the 2024 campaign? Will Biden and the Democrats gloat if Trump is indicted? What will the impact be on the 2024 election?

"Donald Trump Is Running to Stay Out of Prison. Say It, Democrats!" [Michael Tomasky, The New Republic]. "As in a cheap tapestry that unravels if you pull on one thread, everything here is connected. For example: Part of Trump's plan to destroy democracy is no doubt to figure out a way to make himself president for life. Did you notice Trump's praise for Xi Jinping last week in his sit-down with Sean Hannity? 'Think of President Xi. Central casting, brilliant guy. You know, when I say he's brilliant, everyone says, 'Oh that's terrible.' Well, he runs 1.4 billion people with an iron fist. Smart, brilliant, everything perfect.' …. What are the advantages of being president for life? Free housing, free travel, endless opportunities to grift your gullible followers, all the Thousand Island dressing you could dream of. But the biggest perk of all? No one can throw your corrupt ass in jail…. In sum: The time to get Trump is now….. The law will do what the law does. But in terms of politics, the Democrats have to keep all this front and center and just repeat over and over again that Trump has four places he might be living two years hence: Mar-a-Lago, the White House, a federal prison, or (a bit of a long shot, but not impossible) a Russian dacha along the Black Sea just south of lovely Gelendzhik. He's running for president to stay out of the slammer. That's about as lofty as this gangster's historical aspirations get." • I'm so old I remember when Michael Tomasky didn't froth at the mouth…

"DeSantis camp briefs donors, pledges to 'Let Ron be Ron'" [Politico]. • See, there's your problem.

* * *

"Hunter Biden put then-VP dad Joe on the phone with business associates at least 2 dozen times, ex-partner Devon Archer to testify" [New York Post]. "Hunter Biden would dial in his father, then-Vice President Joe Biden, on speakerphone into meetings with his overseas business partners, according to testimony expected before Congress this week from Devon Archer, the first son's former best friend. Archer, 48, who is facing jail for his role in a $60 million bond fraud, is scheduled to testify to the House Oversight Committee about meetings he witnessed that were attended by Joe Biden either in person or via speakerphone when Hunter would call his father and introduce him to foreign business partners or prospective investors. 'We are looking forward very much to hearing from Devon Archer about all the times he has witnessed Joe Biden meeting with Hunter Biden's overseas business partners when he was vice president, including on speakerphone,' said Rep. James Comer (R-Ky.), the committee chairman. One such meeting was in Dubai late in the evening of Friday, Dec. 4, 2015, after a board meeting of the Ukrainian energy company Burisma, which was paying Hunter $83,000 a month as a director. Archer, who also was a director, is expected to testify that, after dinner with the Burisma board at the Burj Al Arab Hotel, he and Hunter traveled six miles north to the Four Seasons Resort Dubai at Jumeirah Beach to have a drink with one of Hunter's friends. While they were sitting outside at the bar, Vadym Pozharskyi, a senior Burisma executive, phoned to ask where they were because Burisma's owner, Mykola Zlochevsky, needed to speak to Hunter urgently. Soon afterward, the two Ukrainians joined Hunter and Archer at the Four Seasons bar and Pozharskyi asked Hunter: '' At the time it was early afternoon Friday in Washington, DC. Hunter then called his father, put him on speaker, placed the phone on the table, and introduced the Ukrainians to Joe Biden by name as 'Nikolai and Vadym.'" • Just a father who loves his son….

* * *

"Vivek Ramaswamy, rising in the polls, talks pardoning Trump, ending the FBI, more" [USA Today]. "Biotech entrepreneur Vivek Ramaswamy is doing all he can to take a bite out of Donald Trump's base in his pursuit of the 2024 Republican presidential nomination. The Cincinnati-area native, 37, has pledged that, if elected, he would pardon the former president if Trump were found guilty of federal crimes. He has proposed raising the legal voting age to 25 unless you pass a citizenship test or serve in the U.S. armed forces. Just this week he released a Supreme Court nominee list that included conservative lawmakers such as Sens. Ted Cruz of Texas and Mike Lee of Utah. Ramaswamy's pitch that he will be Trump 2.0 appears to be working, according to national polls. An Echelon Insights survey in June found 49% of GOP respondents said they favored Trump, followed by Florida Gov. Ron DeSantis at 16% and Ramaswamy at 10%. That is well ahead of better-known candidates such as former Vice President Mike Pence."

* * *

"The Left's Elections 'Fortification' in 2024" [The American Conservative]. • I disagree with almost every detail here, but it seems clear to me that both "early voting" and mail-in ballots encourage voting based on party loyalty, as opposed to voting for policies, candidates, or how candidates perform in campaigns, since those all evolve in the course of a campaign, even in the last weeks of a campaign. Party loyalty isn't something we should be reinforcing.
Democrats en Déshabillé
Patient readers, it seems that people are actually reading the back-dated post! But I have not updated it, and there are many updates. So I will have to do that. –lambert

I have moved my standing remarks on the Democrat Party ("the Democrat Party is a rotting corpse that can't bury itself") to a separate, back-dated post, to which I will periodically add material, summarizing the addition here in a "live" Water Cooler. (Hopefully, some Bourdieu.) It turns out that defining the Democrat Party is, in fact, a hard problem. I do think the paragraph that follows is on point all the way back to 2016, if not before:

The Democrat Party is the political expression of the class power of PMC, their base (lucidly explained by Thomas Frank in Listen, Liberal!). ; if the Democrat Party did not exist, the PMC would have to invent it. . ("PMC" modulo "class expatriates," of course.) Second, all the working parts of the Party reinforce each other. Leave aside characterizing the relationships between elements of the Party (ka-ching, but not entirely) those elements comprise a network — a Flex Net? An iron octagon? — of funders, vendors, apparatchiks, electeds, NGOs, and miscellaneous mercenaries, with assets in the press and the intelligence community.

Note, of course, that the class power of the PMC both expresses and is limited by other classes; oligarchs and American gentry (see 'industrial model' of Ferguson, Jorgensen, and Jie) and the working class spring to mind. Suck up, kick down.

* * *

I continue to be amazed and appalled by this. Not even Sanders!

As someone who I thought shared the same values, seeing the lack of concern since Biden took office and the increasing erasure of the death toll from how the period is recalled feels bizarre and creepy. This is the community that should care, and it should be blatantly obvious.

— wsbgnl (@wsbgnl) July 21, 2023

The "progressive policy community" can't even get it together to do something performative!

Perhaps they're waiting for a cue from Biden. If so, they'll be waiting a long time:

In case you were wondering, Biden has only mentioned Long Covid *twice* since he has taken office. https://t.co/rcwzxgTEJS

— Dr. Lucky Tran (@luckytran) July 21, 2023
Realignment and Legitimacy
"How School Board Meetings Became Flashpoints for Anger and Chaos Across the Country" [Pro Publica]. "Time and again over the last two years, parents and protesters have derailed school board meetings across the country. Once considered tame, even boring, the meetings have become polarized battlegrounds over COVID-19 safety measures, LGBTQ+ student rights, 'obscene' library books and attempts to teach children about systemic racism in America… ProPublica identified nearly 90 incidents in 30 states going back to the spring of 2021…. Despite those losses, there were seismic political shifts on a number of school boards, aided in part by the passions stirred in the chaotic meetings. Across the country, slates of conservative candidates were able to gain momentum by appealing to some of the parents who'd packed the meetings. Many of the candidates were endorsed by national groups including the 1776 Super PAC, which supports candidates who back a 'patriotic' curriculum, and Moms for Liberty, a Florida-based nonprofit that has made book-banning its rallying cry. The candidates often promised parents more control over what topics could be taught in the classroom, what books could be checked out of the library and what rights LGBTQ+ students could be granted. And the candidates' successes — in places like Berkeley County, South Carolina, Wayne Township, New Jersey, and Sarasota County, Florida — politically and ideologically transformed those school boards.

"Anarchism and Its Misunderstanders" [Margaret Killjoy, Birds Before the Storm]. "Anarchism is capable of presenting answers to questions about supply chains and manufacturing, but those answers are also not, quite, what anarchism is. Anarchism is not a set of answers. It's a set of tools with which to find answers. The answer to 'how would anarchist society handle the following,' is 'we will organize in such a way that those who are most capable of answering that question will be able to get together and answer it.' I don't mean this as a vague platitude, I mean it concretely. When workers control a factory, for example, rather than the stockholders, efficiency is increased, pay is increased, working conditions improve, and hours are shorter. In an anarchist society, the people who know how to make and distribute medicine will be able to meet and discuss how to produce better medicine more efficiently, and there would not be the monetary barrier between a patient and her meds, nor the national barrier between a researcher and her peers. When we say 'we don't know what an anarchist society would be like because we are not yet in one,' we are not being vague or evasive. We are saying that societies ought to be constructed by the people in them. Anarchism is a set of tools and principles with which to construct societies that value freedom and cooperation. We actually do have examples of what those societies can look like, but where we are at now, and where we will be in the future, is not revolutionary Catalonia, Ukraine during the Russian Civil War, or Korean Manchuria. We should not expect to reach the same answers as they did, even if we apply similar problem-solving methods to our problems."

"Leading Anti-ESG Lobbyists Represent Firearms and Fossil Fuel Industries" [Exposed by CMD]. "Representatives from the firearms industry and free-market think tanks are criss-crossing the country advocating for legislation that severely curtails—and often outright prohibits—state governments from considering environmental, social, and governance (ESG) factors when making decisions about investments and contracts. The bills in question tend to be lifted directly from model bills developed by pro-corporate, fossil fuel-backed think tanks and range from setting restrictions on state contracting and pension management to protecting the fossil fuel industry from divestment. A handful of landmark bills passed in 2021—such as an anti-boycott bill in Texas that favors fossil fuel companies—set the precedent for subsequent legislation. The three most active individual lobbyists behind these efforts represent the firearms trade, a climate-denialist think tank, and a right-wing free-market group, according to the Center for Media and Democracy's analysis of lobbying reports collected by researcher Connor Gibson… Nephi Cole, director of government relations at the National Shooting Sports Foundation (NSSF), has proven to be the most active anti-ESG lobbyist in 2023, testifying on six bills in five state houses…. Bette Grande, the state government relations manager at the climate-denialist Heartland Institute, is the lobbyist with the most states and most bills under her belt since 2021, having testified in eight state houses on 11 different anti-ESG bills… Eric Bledsoe, a visiting fellow at the Opportunity Solutions Project (OSP), the advocacy arm of the Florida-based Foundation for Government Accountability (FGA), has been another leading anti-ESG lobbyist, appearing in five states to testify in favor of five bills this legislative session." • Ugh.
#COVID19
"I am in earnest — I will not equivocate — I will not excuse — I will not retreat a single inch — AND I WILL BE HEARD." –William Lloyd Garrison
Resources, United States (National): Transmission (CDC); Wastewater (CDC, Biobot; includes many counties; Wastewater Scan, includes drilldown by zip); Variants (CDC; Walgreens); "Iowa COVID-19 Tracker" (in IA, but national data). "Infection Control, Emergency Management, Safety, and General Thoughts" (especially on hospitalization by city).
Lambert here: Readers, thanks for the collective effort. To update any entry, do feel free to contact me at the address given with the plants. Please put "COVID" in the subject line. Thank you!
Resources, United States (Local): AK (dashboard); AL (dashboard); AR (dashboard); AZ (dashboard); CA (dashboard; Marin, dashboard; Stanford, wastewater; Oakland, wastewater); CO (dashboard; wastewater); CT (dashboard); DE (dashboard); FL (wastewater); GA (wastewater); HI (dashboard); IA (wastewater reports); ID (dashboard, Boise; dashboard, wastewater, Central Idaho; wastewater, Coeur d'Alene; dashboard, Spokane County); IL (wastewater); IN (dashboard); KS (dashboard; wastewater, Lawrence); KY (dashboard, Louisville); LA (dashboard); MA (wastewater); MD (dashboard); ME (dashboard); MI (wastewater; wastewater); MN (dashboard); MO (wastewater); MS (dashboard); MT (dashboard); NC (dashboard); ND (dashboard; wastewater); NE (dashboard); NH (wastewater); NJ (dashboard); NM (dashboard); NV (dashboard; wastewater, Southern NV); NY (dashboard); OH (dashboard); OK (dashboard); OR (dashboard); PA (dashboard); RI (dashboard); SC (dashboard); SD (dashboard); TN (dashboard); TX (dashboard); UT (wastewater); VA (dashboard); VT (dashboard); WA (dashboard; dashboard); WI (wastewater); WV (wastewater); WY (wastewater).
Resources, Canada (National): Wastewater (Government of Canada).
Resources, Canada (Provincial): ON (wastewater); QC (les eaux usées); BC, Vancouver (wastewater).
Hat tips to helpful readers: anon (2), Art_DogCT, B24S, CanCyn, ChiGal, Chuck L, Festoonic, FM, FreeMarketApologist (4), Gumbo, hop2it, JB, JEHR, JF, JL Joe, John, JM (10), JustAnotherVolunteer, JW, KatieBird, LL, Michael King, KF, LaRuse, mrsyk, MT, MT_Wild, otisyves, Petal (6), RK (2), RL, RM, Rod, square coats (11), tennesseewaltzer, Utah, Bob White (3).
Stay safe out there!
* * *
Look for the Helpers
The end of the beginning?

From an account not known for its sunny optimism. Of course, it would be nice if all this were reported….

Tell me America's not a great country:

I saw my first Corsi–Rosenthal Box in the wild at @TheBeguiling today!
👏 pic.twitter.com/64Jd12375W

— Richelle Forsey (@ayndroid) July 18, 2023
Maskstravaganza
A useful approach?

"Covid is over."
"So I've heard."
"So why you wearing a mask?"
"Tuberculosis."
(Long pause, steps back): "Well you shouldn't be in public exposing others."
"My mask protects you. Besides, tuberculosis is only a Biosafety Level-3 airborne pathogen, just like covid."
(Blank stare)

— 🐀 (@Guiness_Pig) July 23, 2023

Let's hope "tuberculosis" keeps being a joke…

"Readers: Do you agree with businesses that require masks?" [Boston Globe]. • Take that, MGH ghouls:

I encourage readers to vote in this poll. There's a text box to explain your reasoning, and the Globe says they might publish it (thought they want your contact information, that means it's like a letter to the editor, which is a good thing).
Covid is Airborne
"Indoor air surveillance and factors associated with respiratory pathogen detection in community settings in Belgium" [Nature]. From March, still gemane. "We tested 341 indoor air samples from 21 community settings in Belgium for 29 respiratory pathogens using qPCR. On average, 3.9 pathogens were positive per sample and 85.3% of samples tested positive for at least one. Pathogen detection and concentration varied significantly by pathogen, month, and age group in generalised linear (mixed) models and generalised estimating equations. . " • So CO2 — breathing shared air — is a good proxy.
Immune System Dysregulation?
"Rise in cancer among younger people worries and puzzles doctors" [Boston Globe]. • 'Tis a mystery! Another mystery:

As Covid-19 Cases Rose, So Did Deaths.
No One Knows Why. pic.twitter.com/Snp0aPNnIe

— The Vertlartnic (@TheVertlartnic) July 23, 2023
Censorship and Propaganda
From the Newspaper of Record:

"Fact Sheet" my sweet Aunt Fanny:

And from the rest of the "Fact Sheet":

President announced that Major General (ret) Paul Friedrichs will serve as the inaugural Director of [Office of Pandemic Preparedness and Response Policy] and Principal Advisor on Pandemic Preparedness and Response as of August 7, 2023. Maj. Gen. (ret) Friedrichs' unparalleled experience makes him the right person to lead this office. He is currently Special Assistant to the President and Senior Director for Global Health Security and Biodefense at the National Security Council (NSC). Maj. Gen. (ret) Friedrichs previously served as Joint Staff Surgeon at the Pentagon, where he coordinated all issues related to health services, provided medical advice to the Chairman of the Joint Chiefs of Staff and served as medical adviser to the Department of Defense (DoD) Covid-19 Task Force.

Not a word on non-pharmaceutical interventions like ventilation or masks; nor will Friedrichs, being an M.D. and not an engineer or scientist, have any knowledge of those topics nor inclination to seek it.
Sequelae
"Long COVID Persists as a Mass Disabling Event" [MedPage Today]. "The latest CDC data on long COVID in U.S. adults and an alarming World Health Organization (WHO) statementopens in a new tab or window about its long-term impact underscore the pandemic's lingering and debilitating effects. Like the satirical film "Don't Look Upopens in a new tab or window," in which scientists couldn't focus media or politicians on the climate crisis, most Americans are content to avert their eyes from the long COVID crisis. Meanwhile, the millions now missing from public life because of it have no choice but to stare down the gamut of its sweeping sequelae…. [T]he average person loses 21% of their health while living with long COVID — equivalent to traumatic brain injury…. The proverbial tying of the bow on the pandemic's end exemplifies our culture's discomfort with disability — its ubiquity, ordinariness, and unpredictability. It is easier to take the victory lap, and then quietly acknowledge those still trying to exist with the disability."
Treatment
"Prevalence and Clinical Correlates of COVID-19 Outbreak Among Health Care Workers in a Tertiary Level Hospital in Delhi" (PDF) [American Journal of Infectious Diseases]. From 2021, still germane. "There was a statistically significant difference between the various groups in terms of distribution of prophylactic hydroxychloroquine intake (X 2 = 17.159, p = <0.001). 18.4% of the participants in the COVID negative group had taken a full course (7 weeks or more) of hydroxychloroquine prophylaxis as opposed to 6.4% in the COVID positive group an analysis of those who had taken full course as compared to those who had taken either incomplete course or had not taken at all." • I'm going through a lot of mask studies for another HICPAC takedown, and ran across this one. I recall discussion of HQ in India, so I'm glad to get this on the record.
"Something Awful"
Lambert here: I'm getting the feeling that the "Something Awful" might be a sawtooth pattern — variant after variant — that averages out to a permanently high plateau. Lots of exceptionally nasty sequelae, most likely deriving from immune dysregulation (says this layperson). To which we might add brain damage, including personality changes therefrom.

* * *
Elite Maleficence
A letter to HICPAC from National Nurses United:

Please sign and share the NNU petition to have aerosol transmission recognized: https://t.co/JfW6iEyEzr

— NB citizen Covid Updates #COVIDisAirborne (@nb_covid_info) July 14, 2023
* * *
Case Data
From BioBot wastewater data, July 20: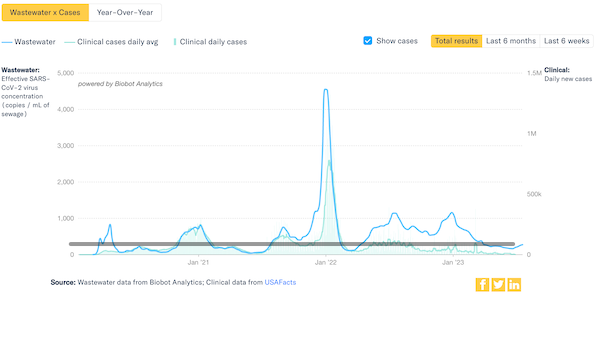 Lambert here: As before, a distinct upward trend. Not seeing the upward slope of doubling behavior, but we are now — just scan the chart backward — at a level above every previous valley.
Regional data: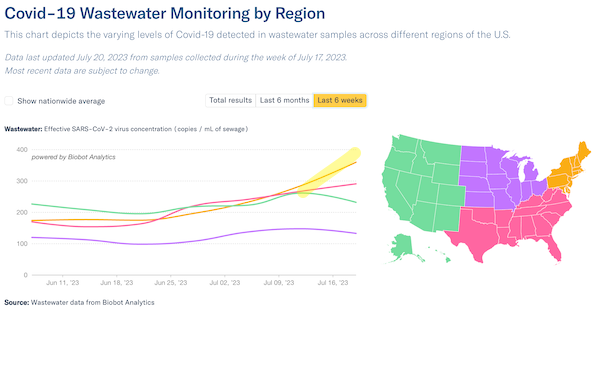 Interestingly, the upswing begins before July 4, which neither accelerates nor retards it.
Regional variant data: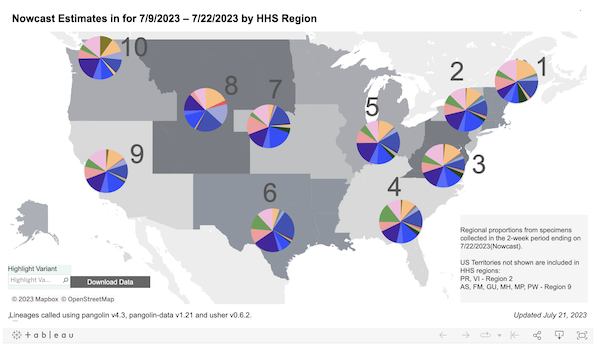 Whatever the cause of the uptick in the Northeast, it's not EG.5 (the orange pie slice), which seems evenly distributed.
Variants
From CDC, July 22: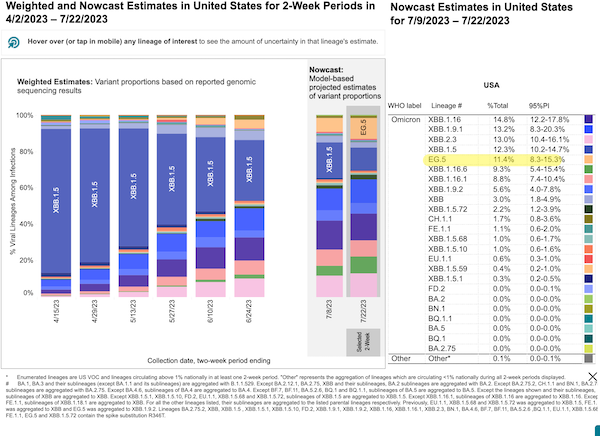 Lambert here: EG.5 still on the leaderboard, but getting crowded out (?) by all those XBB's.
From CDC, July 8: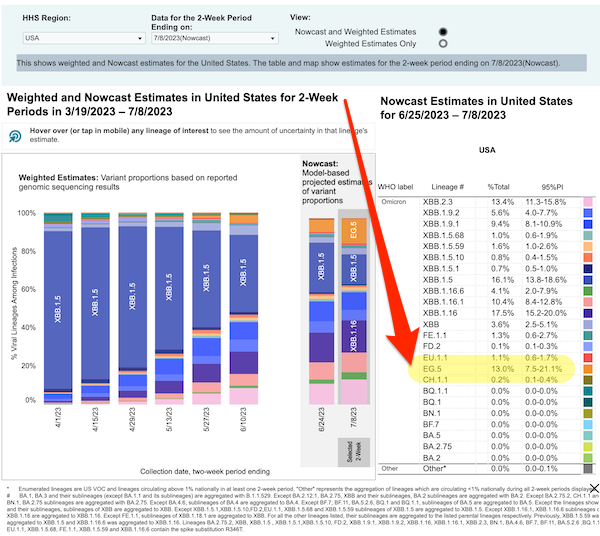 Lambert here: Not sure what to make of this. I'm used to seeing a new variant take down the previously dominant variant. Here it looks like we have a "tag team," all working together to cut XBB.1.5 down to size. I sure hope the volunteers doing Pangolin, on which this chart depends, don't all move on the green fields and pastures new (or have their access to facilities cut by administrators of ill intent).
CDC: "As of May 11, genomic surveillance data will be reported biweekly, based on the availability of positive test specimens." "Biweeekly: 1. occurring every two weeks. 2. occurring twice a week; semiweekly." Looks like CDC has chosen sense #1. In essence, they're telling us variants are nothing to worry about. Time will tell.
Covid Emergency Room Visits
NOT UPDATED From CDC NCIRD Surveillance, July 15: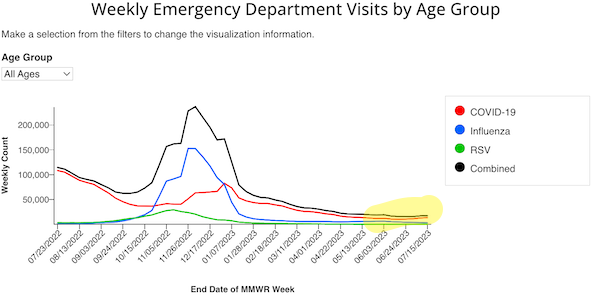 Lambert here: Notice the slight increase.
NOTE "Charts and data provided by CDC, updates Wednesday by 8am. For the past year, using a rolling 52-week period." So not the entire pandemic, FFS (the implicit message here being that Covid is "just like the flu," which is why the seasonal "rolling 52-week period" is appropriate for bothMR SUBLIMINAL I hate these people so much. Notice also that this chart shows, at least for its time period, that Covid is not seasonal, even though CDC is trying to get us to believe that it is, presumably so they can piggyback on the existing institutional apparatus for injections.
Positivity
NOT UPDATED From Walgreens, July 17: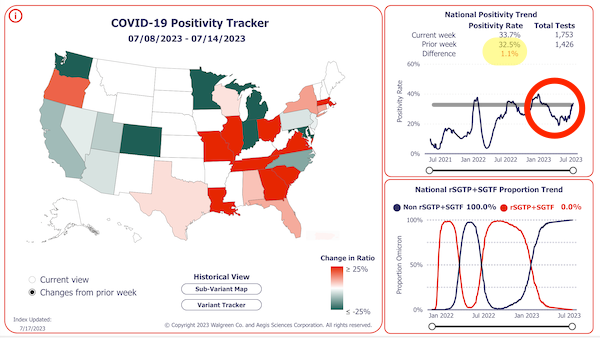 1.1%. Going up, though the absolute numbers are still very small relative to June 2022, say. Interestingly, these do not correlate with the regional figures for wastewater. (It would be interesting to survey this population generally; these are people who, despite a tsunami of official propaganda and enormous peer pressure, went and got tested anyhow.)
NOT UPDATED From CDC, June 26: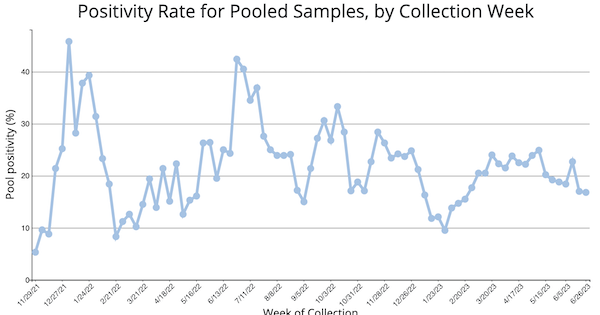 Lambert here: This is the CDC's "Traveler-Based Genomic Surveillance" data. They say "maps," but I don't see one….
Deaths
Iowa COVID-19 Tracker, July 19: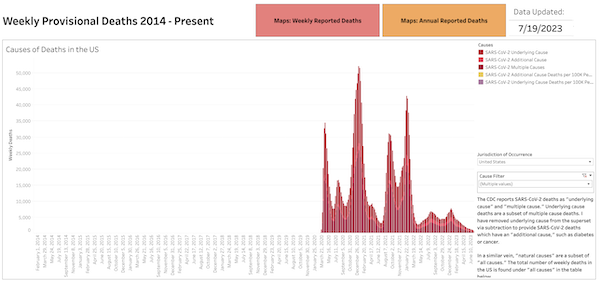 Lambert here: The WHO data is worthless, so I replaced it with the Iowa Covid Data Tracker. Their method: "These data have been sourced, via the API from the CDC: https://data.cdc.gov/NCHS/Conditions-Contributing-to-COVID-19-Deaths-by-Stat/hk9y-quqm. This visualization updates on Wednesday evenings. Data are provisional and are adjusted weekly by the CDC." I can't seem to get a pop-up that shows a total of the three causes (top right). Readers?
Total: 1,169,351 – 1,169,139 = 212 (212 * 365 = 77,380 deaths per year, today's YouGenicist™ number for "living with" Covid (quite a bit higher than the minimizers would like, though they can talk themselves into anything. If the YouGenicist™ metric keeps chugging along like this, I may just have to decide this is what the powers-that-be consider "mission accomplished" for this particular tranche of death and disease).
Excess Deaths
The Economist, July 23: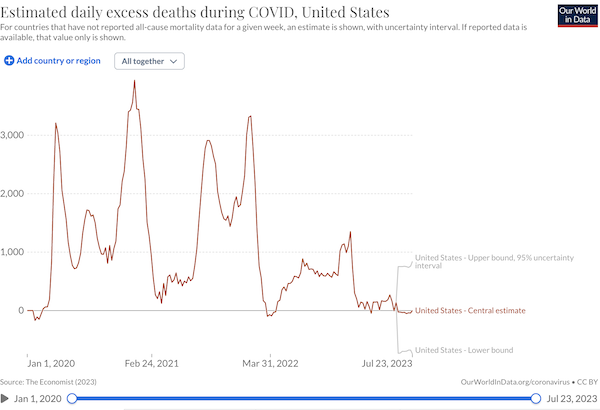 Lambert here: This is now being updated daily. Odd. Based on a machine-learning model. (The CDC has an excess estimate too, but since it ran forever with a massive typo in the Legend, I figured nobody was really looking at it, so I got rid it. )
Stats Watch
There are no official statistics of note today.
* * *
The Bezzle: "Some Binance.US Crypto Trading Was a Mirage, the SEC Alleges" [Wall Street Journal]. "When crypto company Binance launched its U.S. exchange in 2019, almost $70,000 of bitcoin changed hands in the first hour. But the demand didn't come from external traders. 'That was ourself, I think,' Binance Chief Executive Changpeng Zhao said in an internal message viewed by The Wall Street Journal. Just how much crypto trading volume is due to actual trades versus exchanges and coin promoters shuffling assets among themselves is an issue for regulators and investors trying to gauge the depth of these markets. The issue revolves around what is known as 'wash trading.' This practice involves someone trading an asset with themselves or an affiliate. The result is that there isn't economic substance to the trades, which can inflate both prices and trading volume. The U.S. outlawed wash trading for stocks and bonds nearly a century ago. Now, concerns about wash trading in crypto markets have mounted, especially since trading volumes have become a crucial marketing point for crypto exchanges to draw customers into an opaque market." • No doubt the crypto bros thought "wash trading" was "innovative."
The Bezzle: "Bitcoin falls sharply ahead of Fed meeting and as investors weigh Binance concerns" [CNBC]. "The price of bitcoin fell sharply and suddenly to start the week as investors awaited a major Federal Reserve policy decision and digested concerns around Binance…. Binance is the largest crypto exchange in the world. It was sued by the Securities and Exchange Commission last month and is at the center of a Department of Justice investigation that's likely to end with a consent decree or settlement, CNBC previously reported. Federal prosecutors have been weighing anti-money laundering violations and sanctions evasion charges, allegations that would make it difficult for Binance or founder Zhao to continue to get licenses to operate."
Tech: "Twitter logo: Elon Musk's 'X' rebrand met with problems for hours after launch" [Washington Examiner]. "Twitter rebranded to x.com on Monday, but the transformation of the social media website was not without its hiccups…. Several users reported x.com redirecting to a GoDaddy landing page for websites instead of Twitter, despite the logo changing to the new black 'X' from the blue Twitter bird at midnight…. As of 8 a.m. EDT on Monday, x.com is redirecting to Twitter with the new logo, but the platform remains unchanged other than changes to the brand's imagery. Twitter owner Elon Musk announced the logo for Twitter would be changing in a tweet on Sunday, with a video of the new logo and a message saying that the platform would 'bid adieu to the Twitter brand.' 'And soon we shall bid adieu to the Twitter brand and, gradually, all the birds,' Musk tweeted…. In discussing the rebranded 'X' on Sunday, Twitter CEO Linda Yaccarino said the rebranded social media platform would go further in 'transforming the global town square.' 'It's an exceptionally rare thing — in life or in business — that you get a second chance to make another big impression. Twitter made one massive impression and changed the way we communicate. Now, X will go further, transforming the global town square,' Yaccarino tweeted." • The "X" reminds me of "Axe" deodorant. Commentary:
I said this elsewhere but Musk Era Twitter falters in new ways bc Twitter isn't primarily about posting dominance and clout for most people, it's about *reading* and sometimes reacting or posting small things or DMs. Whereas Musk thinks it's about winning teh internet today sir

— The Plot To Blow Up The Sun (@bombsfall) July 23, 2023
Certainly true for me. The Instagram types must find that very disconcerting, if indeed Threads expects them to read.
* * *
Today's Fear & Greed Index: 83 Extreme Greed (previous close: 81 Extreme Greed) [CNN]. One week ago: 80 (Extreme Greed). (0 is Extreme Fear; 100 is Extreme Greed). Last updated Jul 24 at 1:11 PM ET.
Rapture Index: Closes unchanged [Rapture Ready]. Record High, October 10, 2016: 189. Current: 183. (Remember that bringing on the Rapture is good.) NOTE on #42 Plagues: "The coronavirus pandemic has maxed out this category." More honest than most!
The Conservatory
One for Mark Ames:
Soviet Russian Punk compilation cassette with letter from a Russian kid who sent the copy to 2 Americans in 1993; brief sound example in comments — one of the most amazing things I've ever gotten my hands on pic.twitter.com/nJEtYtL7qw

— Bodega Pop (@BodegaPop) July 22, 2023
The Screening Room
"It's a 'Barbie' World, But Only as a Fantasy. In 'Real' Life, Patriarchy Rules" [The Wire]. India: "One of the most disingenuous things about the film is the involvement of Mattel – which, while at one level can be perceived as a company introspecting about its capitalist history – could also be seen as a company trying to leverage its "self-awareness" for image purposes." Spoilers: "The duo reach Los Angeles, California, which is also which is the headquarters of Mattel, the company manufacturing Barbie and Ken. It's in this section of the film when it scores its highest. Both Barbie and Ken are coming to realise that the real world might be just a little different from what they'd imagined. Gerwig keeps the tone light even as both Barbie and Ken try to navigate the absolute opposite notions of the genders in the real world. Over here, men run things. Teenage girls hate dolls for setting unachievable standards for appearances. Barbie breaks down on learning that the world treats her with disrespect because of her gender, while Ken seems to be enjoying all the new-found attention he gets for the way he looks (and also his gender). Gosling is a hoot as someone who can't control his joy after 'discovering' patriarchy, realising the real world values him. Gosling is completely believable as he sells his big, doofus smile reaching the conclusion that it's he who deserves to be at the centre of Barbieland, soon to be renamed 'Kendom'. Robbie is earnest as the most perfect-looking person to have ever existed, striving to be more than her looks."
I remember movie theatre carpets!
Have to share this spectacular cinema carpet — 12yo thought it looked like abstract Mickey ears pic.twitter.com/DpxopjbqJX

— Alexandra Lange (@LangeAlexandra) July 21, 2023
And yes, they were just as wild as this.
Zeitgeist Watch
"Fans are encouraging others online to have better etiquette at concerts" [NBC]. "Ginger Sherry is familiar with mosh pits. As an avid concertgoer, she knows that sometimes party fouls — like spilling beer on someone — will happen. But at shows these days, Sherry, 25, has noticed what appears to be a vibe shift among fellow concertgoers. She's seen things like excessive pushing outside of the pit, which can lead to crowd crushes, and people in crowds throwing things. 'I feel like there's a lot of new people post-Covid, and I feel like, in general, people just don't know concert etiquette anymore,' Sherry said. Across social media, Sherry and others have increasingly been sharing anecdotes about their latest experiences at some of their favorite artists' shows. Some have said they've witnessed rude interactions between fans or been shamed by other concertgoers for behaviors like screaming lyrics or dancing. Others said they feel that the concert environment can feel competitive, with fans forgoing social norms."
Class Warfare
"Hollywood Is on Strike Against High-Tech Exploitation" [Jacobin]. "While the [AMPTP] called its AI counterproposal 'unprecedented,' SAG-AFTRA's national executive director and chief negotiator Duncan Crabtree-Ireland characterized the studios' offer as unacceptable. 'In this 'groundbreaking' AI proposal that they gave us yesterday, they proposed that our background performers should be able to be scanned, get one day's pay, and their companies should own that scan, their image, their likeness, and should be able to use it for the rest of eternity on any project they want, with no consent and no compensation,' said Crabtree-Ireland at a press conference on Friday, July 15, announcing that the union's board of directors had voted unanimously to call a strike. 'If you think that's a groundbreaking proposal, I suggest you think again.'" • Well, it is groundbreaking, rather in the way that digging a grave is groundbreaking.
News of the Wired
Fun stuff:
Very satisfying watching this car be broken down. pic.twitter.com/a7DhPMMCpQ

— Fascinating (@fasc1nate) July 23, 2023
* * *
Contact information for plants: Readers, feel free to contact me at lambert [UNDERSCORE] strether [DOT] corrente [AT] yahoo [DOT] com, to (a) find out how to send me a check if you are allergic to PayPal and (b) to find out how to send me images of plants. Vegetables are fine! Fungi and coral are deemed to be honorary plants! If you want your handle to appear as a credit, please place it at the start of your mail in parentheses: (thus). Otherwise, I will anonymize by using your initials. See the previous Water Cooler (with plant) here. From MT jefe: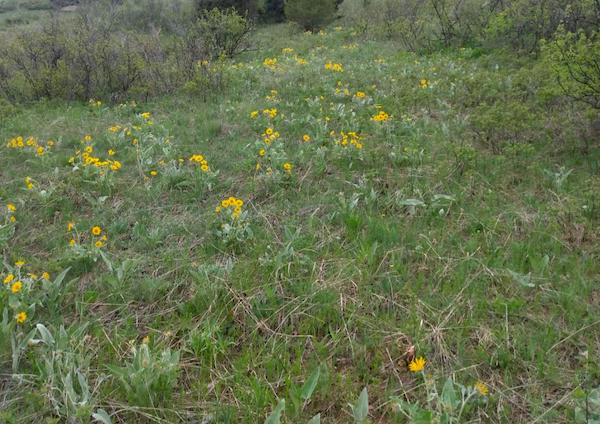 MT jefe writes: "Arrowroot… SW MT."
* * *
Readers: Water Cooler is a standalone entity not covered by the annual NC fundraiser. So if you see a link you especially like, or an item you wouldn't see anywhere else, please do not hesitate to express your appreciation in tangible form. Remember, a tip jar is for tipping! Regular positive feedback both makes me feel good and lets me know I'm on the right track with coverage. When I get no donations for five or ten days I get worried. More tangibly, a constant trickle of donations helps me with expenses, and I factor in that trickle when setting fundraising goals:
Here is the screen that will appear, which I have helpfully annotated: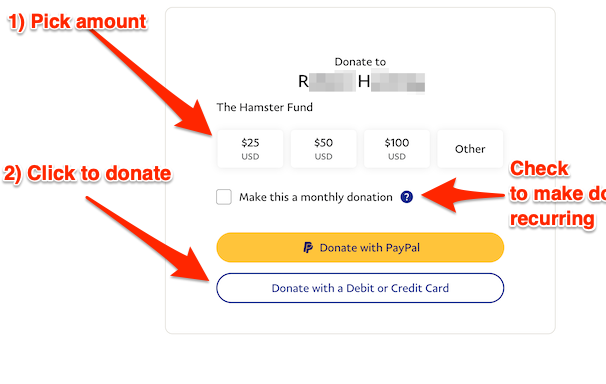 If you hate PayPal, you can email me at lambert [UNDERSCORE] strether [DOT] corrente [AT] yahoo [DOT] com, and I will give you directions on how to send a check. Thank you!