Patient readers, sorry for the slight delay. VPN problems! –lambert
Where do deep-sea creatures live? Where they won't dissolve Science
Endangered birds experience 'virgin birth,' a first for the species National Geographic
U.S. durable goods orders climb 4.7% led by Boeing contracts MarketWatch
GDP grew at a 2.4% pace in the second quarter, topping expectations despite recession calls CNBC. Commentary:
About 0.4pp of Q2's 2.4% real GDP growth came from construction of manufacturing structures such as factories. The last time factory construction contributed so much to quarterly growth was 1981 Q1. https://t.co/m6EJAOIRSd

— Ernie Tedeschi (@ernietedeschi) July 27, 2023
Climate
PM Update: Excessive heat warning Friday for heat index around 110 degrees https://t.co/HPRz2zyuFp

— Capital Weather Gang (@capitalweather) July 27, 2023
#COVID19
China?
Chinese anti-corruption investigators target top PLA Rocket Force generals, sources say South China Morning Post

LONG VIEW: China's Meat Consumption Has Plateaued China Charts
First Invincible-Class Submarine Arrives In Singapore Naval News
The Star-Spangled Kangaroo Caitlin Johnstone
Africa
How the coup in Niger could expand the reach of Islamic extremism, and Wagner, in West Africa AP. "More than 1,000 U.S. service personnel are in Niger." Oh.
Syraqistan
Biden Is Weighing a Big Middle East Deal Thomas Friedman, NYT

Israeli Spy Agencies at Crossroads in Political Crisis Spy Talk
Dear Old Blighty
Thames Water to datacenters: Cut water use or we will The Register
New Not-So-Cold War
* * *

* * *
Biden Administration
Senate negotiators advance all 12 funding bills for first time in years The Hill
Spook Country
The US Press, Spooks & the Church Committee Consortium News
Mapping Public Reports of Unidentified Aerial Phenomena Across America RAND
2024
Two Buyers of Hunter Biden's Art Have Been Unmasked, Despite Attempts to Keep Their Names Secret ArtNet:

"Hunter Biden's art career is back in the headlines. It turns out one of his collectors is a Democratic donor—a Los Angeles philanthropist and real estate investor named Elizabeth Hirsh Naftali who gave $13,414 to President Joe Biden's 2020 campaign and was later named to his Commission for the Preservation of America's Heritage Abroad…. The other known Hunter Biden collector is Kevin Morris, a Los Angeles lawyer who has also helped the artist financially, lending him some $2 million to pay off his taxes. (Biden pleaded guilty in June to two tax misdemeanors.)

Leave it to Hunter — dear Hunter! — to invent the most obvious payola scheme imaginable.

Donald Trump accused of asking staffer to delete camera footage in classified documents case Chicago Tribune. A superseding indictment.
Supply Chain
Corporate governance in shipping: Who's been naughty or nice? Freight Waves
The Bezzle
Almost every big streaming service is getting more expensive Axios. Enshittification proceeds apace.

Tesla's Shadowy 'Diversion Team' Buried Hundreds of Range Complaints Every Week, Report Says Gizmodo
Digital Watch
Automakers Try To Bullshit Their Way Past 'Right To Repair' Standoff In Massachusetts TechDirt

Inside Adobe, some staff worry their AI tech will kill graphic designer jobs and undermine the company's business model: 'Is this what we want?' Insider. Management: "But what about quarterly results and our bonuses?"

Code Kept Secret for Years Reveals Its Flaw—a Backdoor Wired
Healthcare
These New Alzheimer's Drugs Are a Travesty The Nation
Imperial Collapse Watch
Why America's Largest Tool Company Couldn't Make a Wrench in America WSJ (Glen).

Has the Pentagon Learned from the F-35 Debacle? POGO. From June, still germane. I'm so old I remember when "You start coding, I'll go find out what the requirements are" was a joke, not standard operating procedure.

How to Roman Republic 101, Part I: SPQR A Collection of Unmigated Pedantry. Part II.
Class Warfare
* * *

* * *
Are You a Lucid Dreamer? Scientific American
Have We Gotten Dark Matter All Wrong? Nautilus
The big idea: Why the laws of physics will never explain the universe Guardian. The deck: "We should think of the cosmos as more like an animal than a machine."
Antidote du jour (via):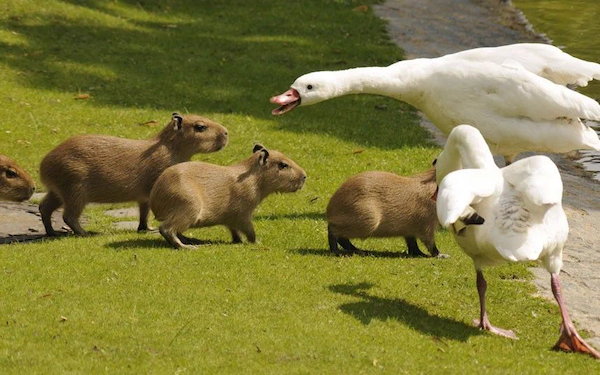 Bonus antidote:
Friendly Geese Enjoying the Harmonica in Taiwanpic.twitter.com/6XyuK5vjpg

— Epoch Animal Lovers (@EP_AnimalLovers) July 27, 2023
See yesterday's Links and Antidote du Jour here.