By Lambert Strether of Corrente.
Bird Song of the Day
Eastern Meadowlark, Clark MO Family Farm, Clark, Missouri, United States. This is short, but I think I hear a creaking tree branch!
* * *
Look for the Helpers
"Vermont's dairy industry saved majority of milk supply during catastrophic storm" [VT Digger (JF)]. "E.B. Flory's voice broke several times on Friday describing how exceptional dedication in different parts of the dairy supply chain kept milk losses to a minimum this week…. 'It's been all hands on deck with many different sectors trying to get this done,' Flory said. Haulers were incredibly dedicated, creatively trying to get to farms in whatever way possible, she said. 'They had their own crises at home, you know. Their basements were flooded, and they were on the road getting the milk,' Flory said.  And it wasn't just drivers. In the Northeast Kingdom, agency milk inspector Eric Perkins decided he would help them, going ahead in his car to the next farm to scout the best route to avoid backups and turnarounds. That initiative was so successful that the state's other inspectors adopted the practice in the other corners of the state. ;He stepped up and did something really innovative that we've never done before, and it really worked,' Flory said." • Worth thinking about for other… catastrophes (Rebecca Solnit's A Paradise Built in Hell is really good on this).
Politics
"So many of the social reactions that strike us as psychological are in fact a rational management of symbolic capital." –Pierre Bourdieu, Classification Struggles
Abortion
"Voters in Ohio reject GOP-backed proposal that would have made it tougher to protect abortion rights" [Associated Press]. "Ohio voters resoundingly rejected a Republican-backed measure that would have made it more difficult to change the state's constitution, setting up a fall campaign that will become the nation's latest referendum on abortion rights since the U.S. Supreme Court overturned nationwide protections last year. The defeat of Issue 1 on Tuesday keeps in place a simple majority threshold for passing future constitutional amendments, rather than the 60% supermajority that was proposed. Its supporters said the higher bar would protect the state's foundational document from outside interest groups." • 
2024
Time for the Countdown Clock!

* * *

"Trump says he won't sign the loyalty pledge required for first GOP debate" [NBC]. "During a Newsmax interview, Trump said that he took issue with a particular clause of the pledge that says the candidate will support the eventual GOP nominee. 'I wouldn't sign the pledge,' Trump told host Eric Bolling. 'They want you to sign a pledge, but I can name three or four people that I wouldn't support for president. So right there there's a problem.' Trump declined to name the candidates he wouldn't support, but criticized both former Arkansas Gov. Asa Hutchinson and former New Jersey Gov. Chris Christie whom he said would both 'ask me nasty questions.' The two former governors have been sharp critics of Trump, the GOP front runner in the polls." • A party that requires loyalty oaths. Hmm.

"Trump Plays Hamlet Ahead of the Republican Primary Debate" [Karl Rove (!), Wall Street Journal]. "To debate, or not to debate, that is the question. Donald Trump is asking, like the prince of Denmark, 'Whether 'tis nobler in the mind to suffer / The slings and arrows of outrageous fortune' by declining to attend the Aug. 23 GOP presidential primary debate in Milwaukee or to show up to ""take arms against a sea of troubles / And by opposing end them.""… If I were a betting man, I'd say Mr. Trump shows up. He simply must be the center of attention. But no one knows now, probably including Mr. Trump. He may decide at the literal last hour." • Here's the entire soliloqy; I'm not sure Rove read all the way through. I don't see "thus conscience does make cowards of us all" as being top of mind for Trump… 

"After Trump Interview, Newsmax Host Reads Disclaimer Acknowledging 2020 Election Results as 'Legal and Final'" [The Messenger]. • This reminds me (hear me out) of Napoleon's Old Guard at the Battle of Waterloo: " Amazingly, Napoleon's immortals were thrown back in the 11th hour and, for the first time ever, fled the field. "'The Guard is retreating,' ordinary French soldiers cried at the unbelievable spectacle. 'Every man for himself!'" I cannot bring John Keegan's The Face of Battle to hand, but in anatomizing Waterloo, he makes the point that when troops break, they break from the rear. That is, "the sharp end of the spear" is not the place to watch. Look at the troops in the rear, not yet committed to battle. Not Trump loyalists at the tip; those not engaged, or only weekly engaged.

"Trump's Legal Team Is Enmeshed in a Tangle of Possible Conflicts" [New York Times]. "The legal team that Mr. Trump has assembled to represent him in the twin prosecutions by the special counsel, Jack Smith, is marked by a tangled web of potential conflicts and overlapping interests — so much so that Mr. Smith's office has started asking questions. While it is not uncommon for lawyers in complex matters — like large mob cases or financial inquiries — to wear many hats or to play competing roles, the Gordian knot of intertwined imperatives in the Trump investigations is particularly intricate and insular. Some of the lawyers involved in the cases are representing both charged defendants and uncharged witnesses. At least one could eventually become a defendant, and another could end up as a witness in one case and Mr. Trump's defender in a different one. All of that sits atop another thorny fact: Many of the lawyers are being paid by Save America PAC, Mr. Trump's political action committee, which has itself been under government scrutiny for months. Some of the witnesses those lawyers represent work for the Trump Organization, Mr. Trump's company, but their legal defense has not been arranged by the company, but rather by Mr. Trump's own legal team, a person with knowledge of the matter said." • FlexNet Lawfare™? I mean, it's not as if Smith, et al., are not also "a tangled web of potential conflicts and overlapping interests." That goes for everyone and everybody in the Beltway!

* * *

"Another Campaign Shake-up Not a Good Sign for DeSantis'" [Ed Kilgore, New York Magazine]. "it's not great news for the Florida governor that he's just undertaken the third round of major staffing changes in his campaign in less than a month…. Like [outgoing campaign manager Generra Peck], [his new campaign manager, James Uthmeier] is a 30-something with zero experience in national political campaigns." • Plus they already worked for DeSantis, so no new blood.

* * *

"Tim Scott: It's 'ridiculous' to talk about climate over border emergency" [The Hill]. "During an interview on 'Fox & Friends,' Scott, who is running for the GOP presidential nomination, was asked about President Biden's recent interview with The Weather Channel, in which the president said that 'effectively speaking,' [whatever that means] he already declared a national emergency concerning climate change.  Fox News's Brian Kilmeade [serving up a softball] asked Scott why he believed Biden, who did the interview from the Grand Canyon where he had established a new national monument, did not instead do the interview near the southern border. Scott visited the southern border at Yuma, Ariz., last week. Calling it 'a dereliction of duty,"" Scott [deftly fielded the question and] continued, 'Let's be clear about it. President Biden has failed this nation, especially in declaring the actual emergency, which is an emergency at our border. Fentanyl has killed 70,000 Americans; he should reinstate Title 42 for a health emergency called fentanyl. It's killing Americans.'" • Red meat is bad for the climate.

* * *

"Dollars to Dining: Bank records show proximity of Joe Biden meetings to son's foreign payments" [Just the News]. "In the weeks before she dined with Joe Biden at a swanky Washington D.C. restaurant in April 2014, Russian oligarch Yelena Baturina deposited $3.5 million into a bank account tied to Hunter Biden's businesses and also committed to invest in a New York City real estate project with Biden's partners, bank records collected by Congress and emails among the younger Biden's business partners show. 'Any news on this?' Hunter Biden emailed his partner Devon Archer on April 13, 2014, seeking an update on a real estate deal in the Chelsea neighborhood of New York City….. Archer, who recently testified to Congress, wrote back the future presidential son that the Russian businesswoman and wife of former Moscow Mayor Yury Luzhkov was committed to the project. "Seller is flaking. Asked for 90 days. We made a $41mm offer. Yelena confirmed green light to fund deposit,"" he replied. The emails and bank records make clear that Hunter Biden's ability to provide foreign suitors access to his father, then the vice president, particularly came at times when deals were pending. The pattern, according to evidence made public Wednesday by the House Oversight Committee, was unmistakable. 'It's a huge concern,' House Oversight Committee Chairman James Comer told the Just the News, No Noise television show Wednesday night. '. With these payments, Joe Biden was always within range.' 'Every single person that wired the Bidens tens of millions of dollars from around the world had some type of communication with Joe Biden. Joe Biden is the brand. That's what Devon Archer testified under oath. Joe Biden is the brand, and his family was selling the brand,' Comer added. The pattern seen in the Baturina anecdote was repeated for other foreign clients in Kazakhstan and Ukraine as well, the committee stated." •  Explains the timeline presentation, quite an improvement over yarn diagrams.

"GOP memo argues direct payments to President Biden not needed to show corruption" [The Hill]. • They are correct; see Zephyr Teachout at NC here.

"Does Ukraine Have Kompromat on Joe Biden?" [Max Abrahms, Newsweek]. "And what was this kompromat that Russia had over Trump, per our august media institutions? Putin apparently had sex tapes of Trump with prostitutes peeing on him. It seems so ridiculous that anyone—let alone our most august media institutions—believed this in hindsight. We now know that the pee tape stemmed from Hillary Clinton's campaign. But the kompromat conspiracy theory was essential for the [lying yet undicted] Democrats' narrative that Russia possessed boundless influence over the president…. It's a much more reasonable question about Joe Biden than it ever was when posed as a certainty about Trump. After all, Hunter Biden was paid many millions of dollars by the shady Ukrainian energy firm Burisma, despite having no qualifications for the job that anyone could point to beyond being the son of the Vice President at the time—which proved fortunate when his father fired the general prosecutor of Ukraine, Viktor Shokin, who had begun an investigation into the Burisma-Hunter gravy train." • I'm afraid a lost the trail with Shokin. I need a timeline!

* * *

"Pritzker's Truth Police: How the Illinois Governor Made the Case Against the Trump Indictment" [Jonathan Turley]. "Recently, a federal judge correctly ruled that a new Illinois law targeting pro-life centers is 'painfully and blatantly a violation of the First Amendment.'  The Deceptive Practices of Limited Services Pregnancy Centers Act would have allowed the state to crackdown on centers for what it considers 'deceptive tactics' to influence pregnant women to have their babies.. The most concerning statement came from Pritzker himself. In a CNN interview… Pritzker declared that the law is 'just like the case against President Trump. .' … In 2012, in the United States v. Alvarez decision, the Supreme Court held 6-3 that it is unconstitutional to criminalize lies in a case involving a politician who lied about military decorations. Notably, the Court's warning about criminalizing false or misleading speech fits the Illinois law and Pritzker to a tee. The Court said that such laws 'would give government a broad censorial power unprecedented in this Court's cases or in our constitutional tradition. The mere potential for the exercise of that power casts a chill, a chill the First Amendment cannot permit if free speech, thought, and discourse are to remain a foundation of our freedom.'" • One might view this as a signal from Pritzker to the Censorship Industrial Complex that he is fully on board.

"'Like a boxing match': Ron DeSantis and Gavin Newsom embrace 'risk' in surprise debate" [NBC]. "As political strategists on both sides of the aisle told NBC News, DeSantis' acceptance was not coming from a place of strength; he agreed to the challenge as his poll numbers have been trailing off and he seeks to reset his campaign. What's more, the one-on-one showdown carries considerable risk for the Florida governor, these strategists said, should he stumble or falter in the setting. With Newsom not running for president, DeSantis is taking time to confront an opponent who isn't actually an opponent for 2024.  But some strategists said this still is a risk worth taking for DeSantis, in no small part because of the interest a California vs. Florida contest could draw in prime time."
Democrats en Déshabillé
Patient readers, it seems that people are actually reading the back-dated post! But I have not updated it, and there are many updates. So I will have to do that. –lambert

I have moved my standing remarks on the Democrat Party ("the Democrat Party is a rotting corpse that can't bury itself") to a separate, back-dated post, to which I will periodically add material, summarizing the addition here in a "live" Water Cooler. (Hopefully, some Bourdieu.) It turns out that defining the Democrat Party is, in fact, a hard problem. I do think the paragraph that follows is on point all the way back to 2016, if not before:

The Democrat Party is the political expression of the class power of PMC, their base (lucidly explained by Thomas Frank in Listen, Liberal!). ; if the Democrat Party did not exist, the PMC would have to invent it. . ("PMC" modulo "class expatriates," of course.) Second, all the working parts of the Party reinforce each other. Leave aside characterizing the relationships between elements of the Party (ka-ching, but not entirely) those elements comprise a network — a Flex Net? An iron octagon? — of funders, vendors, apparatchiks, electeds, NGOs, and miscellaneous mercenaries, with assets in the press and the intelligence community.

Note, of course, that the class power of the PMC both expresses and is limited by other classes; oligarchs and American gentry (see 'industrial model' of Ferguson, Jorgensen, and Jie) and the working class spring to mind. Suck up, kick down.

* * *

"It Is Quite Likely That Some Of Our Faves Will Be Implicated" [Eschaton]. "I actually don't think much of interest will come out of the campaign finance portion of the SBF prosecution, but it is *possible* and some people might be nervous."

"The Secret Hand Behind the Women Who Stood by Cuomo? His Sister" [New York Times]. "The menacing posts began cropping up on Twitter last September just hours after a former aide to Gov. Andrew M. Cuomo of New York sued him over sexual harassment claims. The tweets attacked the aide, Charlotte Bennett, in starkly personal terms. 'Your life will be dissected like a frog in a HS science class,' read one of the most threatening, which also featured a photo of Ms. Bennett dancing at a bar in lingerie. The post was part of a thread written by Anna Vavare, a leader of a small but devoted group of mostly older women who banded together online to defend Mr. Cuomo from a cascade of sexual misconduct claims that led to his resignation in August 2021. But it turns out, her tweets had secretly been ordered up by someone even closer to the former governor's cause: Madeline Cuomo, his sister…. Far from an isolated episode, the unvarnished exchange is part of a trove of more than 4,000 text messages, emails and voice memos between leaders of the group and Ms. Cuomo shared with The Times this summer." Nice people. Also sad: 'She didn't want to be my girlfriend — she was using us.'"

"AIPAC steps up efforts to oust anti-Israel lawmakers" [Jewish Insider]. "In recent months, AIPAC has stepped up its recruitment efforts to challenge Democratic incumbents who have clashed with the pro-Israel establishment, pushing the activist left into a defensive crouch as it prepares for a potentially bruising primary cycle. The bipartisan pro-Israel group has been actively courting a slate of House candidates to oppose marquee members of the 'Squad,' including Reps. Jamaal Bowman (D-NY) and Ilhan Omar (D-MN), according to multiple sources familiar with AIPAC's outreach who spoke with Jewish Insider on Tuesday. The recruitment efforts have come amid a surprise shake-up at a leading progressive group, Justice Democrats, which laid off nearly half of its staff last month. The embattled group has claimed a few major victories over pro-Israel Democrats in previous primaries, but has otherwise struggled to raise money after an expensive election cycle in which several progressive candidates were defeated by establishment Democrats. While AIPAC quietly opposed Omar last cycle by contributing $350,000 to a separate group created to boost a top Democratic primary challenger, its latest efforts point to a new and potentially more expansive direction for the group, whose affiliated super PAC, launched in late 2021, has largely engaged in open-seat races rather than challenging incumbents." • Election meddling, surely.

"Both expelled members of 'Tennessee Three' win back their state House seats" [Associated Press]. "Tennessee Reps. Justin Pearson and Justin Jones, who became Democratic heroes as members of the 'Tennessee Three,' reclaimed their legislative seats Thursday after they were expelled for involvement in a gun control protest on the House floor. The young Black lawmakers were reinstated by local officials after being booted from the GOP-dominated Statehouse, but only on an interim basis. They advanced Thursday through a special election to fully reclaim their positions." • At Federal level, could such a protest have been constructed as "influencing… an official proceeding"? I'm guessing yes, depending.

"NYC shutters public health library that was critical resource during COVID due to budget cuts" [New York Daily News]. "The William Hallock Park Memorial Public Health Library, located in Long Island City, Queens, has for decades provided department epidemiologists and the public with access to peer-reviewed medical journals, databases, books and other research materials, on site and electronically as well as via loans. The library is named after renowned bacteriologist William Hallock Park, who was credited with creating vaccines to treat and prevent diphtheria in the early 1900s. But the department informed staff this summer that it is shuttering the library due to cost-saving directives ordered by Mayor Adams earlier in the year." • Cop-loving Democrats… 
Realignment and Legitimacy
"The Senile State" [Michael Lind, Tablet]. "The problem of gerontocracy is easy to exaggerate, however, because Biden and Trump are not typical of recent presidents. At their inaugurations, Obama was 47, George W. Bush 54, and Bill Clinton 46. And the U.S. House of Representatives is getting younger. While the median age in today's Senate is higher than ever at 55.3 years, the median age of members of the current 118th Congress is 57.9 years, down from the 117th's median of 58.9. Moreover, elderly presidents, senators, and members of the House do not have elderly staffs. In the current Congress, the average age of Senate staffers is 33 and the average age of House staffers is 32. Elderly Supreme Court justices have clerks just out of law school to do research and draft opinions. Much of the actual work of government in Washington in every branch is done by men and women between their 20s and their 60s…. Successful politicians simply do not have as much time to read widely and consider alternate viewpoints as they did when they were college students or young activists. The day-to-day work of campaigning and governing takes up most of their time and energy, and there is little time to reflect on whether they should modify their basic assumptions—something few people do in any walk of life. The problem, then, is that in the normal course of politics those whose political worldview froze when they were 26 or 30 finally ascend to a significant position of power only at the age of 50 or 60 or 70. Now that they are in a position to actually influence policy, they naturally tend to try to carry out a program that they were committed to in their youth, despite the fact that rapid technological or economic or social change may have already rendered many of their assumptions obsolete…. Like any interpretation of politics, generational analysis can be taken too far [no kidding]. My purpose here is to emphasize the mismatch of policies suited for one era by a politician who comes to power a generation later." • One funeral at a time… 

"Bananamerica: Unity Index Hits 29-Month Low Amid Biden's Lawfare Turmoil" [TIPP Insights]. "In keeping with its innovative tradition, TechnoMetrica developed the Unity Index, a barometer of the country's unity based on the question: In general, would you say the United States is Very United, Somewhat United, Somewhat Divided, or Very Divided? It is the only objective measure that tracks unity in the United States." • Handy chart:

I think unity is kinda like sincerity: If you fake it, you've got it made!
#COVID19
"I am in earnest — I will not equivocate — I will not excuse — I will not retreat a single inch — AND I WILL BE HEARD." –William Lloyd Garrison
Resources, United States (National): Transmission (CDC); Wastewater (CDC, Biobot; includes many counties; Wastewater Scan, includes drilldown by zip); Variants (CDC; Walgreens); "Iowa COVID-19 Tracker" (in IA, but national data). "Infection Control, Emergency Management, Safety, and General Thoughts" (especially on hospitalization by city).
Lambert here: Readers, thanks for the collective effort. To update any entry, do feel free to contact me at the address given with the plants. Please put "COVID" in the subject line. Thank you!
Resources, United States (Local): AK (dashboard); AL (dashboard); AR (dashboard); AZ (dashboard); CA (dashboard; Marin, dashboard; Stanford, wastewater; Oakland, wastewater); CO (dashboard; wastewater); CT (dashboard); DE (dashboard); FL (wastewater); GA (wastewater); HI (dashboard); IA (wastewater reports); ID (dashboard, Boise; dashboard, wastewater, Central Idaho; wastewater, Coeur d'Alene; dashboard, Spokane County); IL (wastewater); IN (dashboard); KS (dashboard; wastewater, Lawrence); KY (dashboard, Louisville); LA (dashboard); MA (wastewater); MD (dashboard); ME (dashboard); MI (wastewater; wastewater); MN (dashboard); MO (wastewater); MS (dashboard); MT (dashboard); NC (dashboard); ND (dashboard; wastewater); NE (dashboard); NH (wastewater); NJ (dashboard); NM (dashboard); NV (dashboard; wastewater, Southern NV); NY (dashboard); OH (dashboard); OK (dashboard); OR (dashboard); PA (dashboard); RI (dashboard); SC (dashboard); SD (dashboard); TN (dashboard); TX (dashboard); UT (wastewater); VA (dashboard); VT (dashboard); WA (dashboard; dashboard); WI (wastewater); WV (wastewater); WY (wastewater).
Resources, Canada (National): Wastewater (Government of Canada).
Resources, Canada (Provincial): ON (wastewater); QC (les eaux usées); BC, Vancouver (wastewater).
Hat tips to helpful readers: anon (2), Art_DogCT, B24S, CanCyn, ChiGal, Chuck L, Festoonic, FM, FreeMarketApologist (4), Gumbo, hop2it, JB, JEHR, JF, JL Joe, John, JM (10), JustAnotherVolunteer, JW, KatieBird, LL, Michael King, KF, LaRuse, mrsyk, MT, MT_Wild, otisyves, Petal (6), RK (2), RL, RM, Rod, square coats (11), tennesseewaltzer, Utah, Bob White (3). 
Stay safe out there!
* * *
Maskstravaganza
"Real Madrid Players Train in Futuristic Masks Ahead of New Season" [Sports Brief]:

I would like to see something a little more fashion forward; then again, this is Real Madrid, so perhaps we are seeing fashion forward defined.

A fanfest gets it right, and CDC's "disease detectives" got it wrong. Go figure:

I will say my Flomask was not only comfortable to wear all day at fanfest but even as someone immunocompromised I came away from fanfest + travel with no covid or even conflu.

Not sponsored but those masks kinda slap for how cheap they are lol.

— Cinna (@CinnaVici) August 8, 2023

Alert reader JF (also) writes:

I recently found a dentist with strict COVID protections in place.  This was my favorite line from their website:

N95 & ASTM Level 3 Masks

The beautiful smiles of our clinical team – dentists, hygienists, and assistants – will be protected behind double-masking at all times.

I did a search. Hot damn. Several places, so some dentists are reading the same sources:

Encouraging!
Celebrity Watch
"Nickelback's Chad Kroeger Pauses Show and Says His Throat Feels 'Absolutely Destroyed': 'I Can't Do This' [People]. • Why? 'Tis a mystery! 

Meanwhile, another celebrity, Andy Slavitt:

I honestly wish this was satire but I can't even write this stuff anymore. He starts talking at 1:36.

This is textbook dysphonia, likely covid. This sound indicates his vocal folds are not adducting well. While talking about how Covid isn't surging is a problem. W/ Covid voice https://t.co/wFEJiqBhA7

— ✨Kristennnn🎶💫 (@singingsox) August 9, 2023

I listened through the cringey ads, and yes, Slavitt's voice sounds "absolutely destroyed." Whatever could it be? (He's interviewing Mandy Cohen, who is far too downy a bird to give him a quote like Rochelle Walensky's "scarlet letter." Poor Rochelle, in over her head from the beginning.
Testing and Tracking
"Why tracking COVID reinfections has waned even as more people became sick" [ABC]. "'There's been a real desire by everyone to return to a state of normal and so as long as we are heavily tracking and reporting COVID numbers, things are not feeling normal,' Dr. Ashley Drews, Houston Methodist medical director of infection prevention and control, told ABC News." • Oh. For some definition of "real," for some definition of "everyone," and for some definition of "normal" (and "feeling," if it comes to that).
Sequelae
"Long covid has derailed my life. Make no mistake: It could yours, too" [WaPo]. "I've watched in horror as our public institutions have turned their back on containment. The virus is still very much with us, but the Centers for Disease Control and Prevention has stopped reporting on cases. States have shut down testing. Corporations, rather than improving ventilation in their buildings, have pushed for shield laws indemnifying them against lawsuits. Despite the crystal-clear science on the damage covid-19 does to our bodies, medical settings have dropped mask requirements, so patients now gamble their health to receive care. Those of us who are high-risk or immunocompromised, or who just don't want to roll the dice on death and misery, have not only been left behind — we're being actively mocked and pathologized. I've personally been ridiculed, heckled and coughed on for wearing my N95. Acquaintances who were understanding in the beginning are now irritated, even offended. One demanded: How long are you going to do this? As if trying to avoid covid was an attack on her, rather than an attempt to keep myself from sliding further into an abyss that threatens to swallow my family. The United States has always been a terrible place to be sick and disabled. Ableism is baked into our myths of bootstrapping and self-reliance, in which health is virtue and illness is degeneracy. It is long past time for a bedrock shift, for all of us." • An absolute moral collapse, at a civilizational level.
"Something Awful"
Lambert here: I'm getting the feeling that the "Something Awful" might be a sawtooth pattern — variant after variant — that averages out to a permanently high plateau. Lots of exceptionally nasty sequelae, most likely deriving from immune dysregulation (says this layperson). To which we might add brain damage, including personality changes therefrom.

* * *
Elite Maleficence
Where are the lawsuits:

Took grandma to a vascular doctor today who didn't wear a mask and sneezed in the room with us, we both wore N95s.

Me: Are you planning to wear a mask since cases are increasing?

Doc: I don't like wearing masks.

Me: COVID causes vascular issues.

Doc: Yes, it does.

Me: 🤦🏻‍♂️

— Joaquín Beltrán (@joaquinlife) August 10, 2023
* * *
Case Data
NOT UPDATED From BioBot wastewater data, August 7: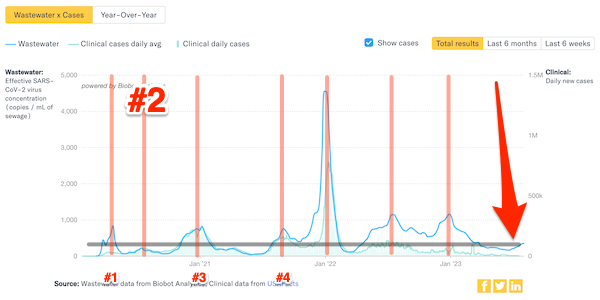 Lambert here: We have now surpassed the second peak (#2), of the previous Covid pandemic infection peaks. I would like to congratulate the Biden administration and the public health establishment, the CDC especially, for this enormous and unprecedented achievement. And a tip of the ol' Water Cooler hat to the Great Barrington goons, whose policies have been followed so assiduously! I wonder which of the previous peaks (#1, #3, or #4) we'll surpass next. A curious fact: All of Biden's peaks are all higher than Trump's peaks. Shows you what public health can do when it's firing on all eight cylinders! Musical interlude.
Regional data: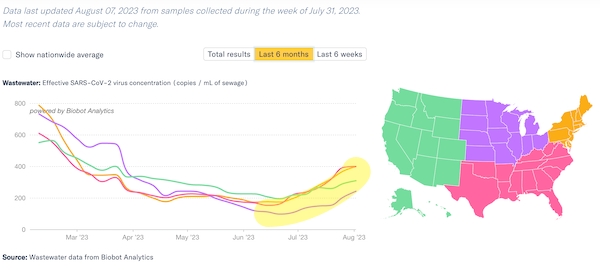 Interestingly, the upswing begins before July 4, which neither accelerates nor retards it.
Regional variant data: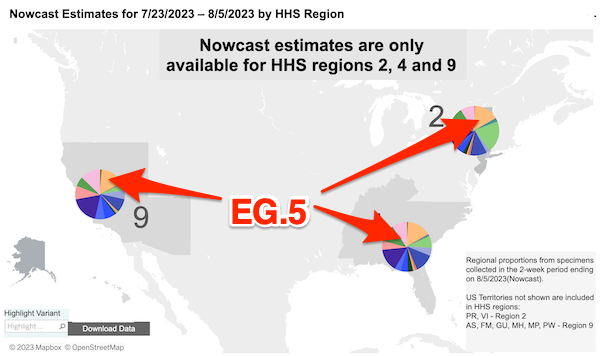 EG.5 (the orange pie slice) still seems evenly distributed.
Variants
NOT UPDATED From CDC, August 5: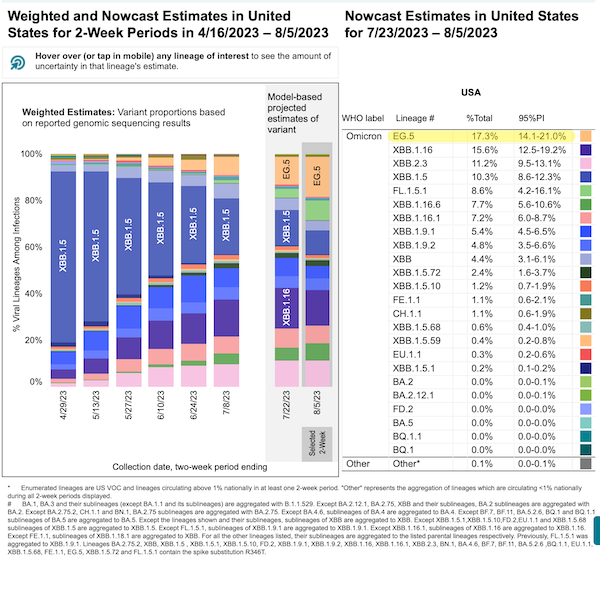 From CDC, July 22: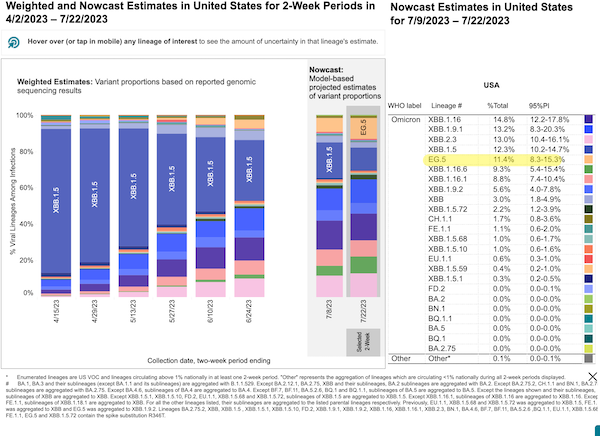 Lambert here: Not sure what to make of this. I'm used to seeing a new variant take down the previously dominant variant. Here it looks like we have a "tag team," all working together to cut XBB.1.5 down to size. I sure hope the volunteers doing Pangolin, on which this chart depends, don't all move on the green fields and pastures new (or have their access to facilities cut by administrators of ill intent).
CDC: "As of May 11, genomic surveillance data will be reported biweekly, based on the availability of positive test specimens." "Biweeekly: 1. occurring every two weeks. 2. occurring twice a week; semiweekly." Looks like CDC has chosen sense #1. In essence, they're telling us variants are nothing to worry about. Time will tell.
Covid Emergency Room Visits
From CDC NCIRD Surveillance, August 5: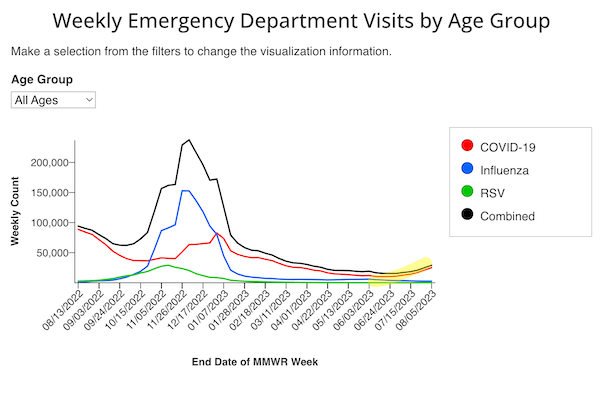 Lambert here: Increase is even more distinct. (The black line is "combined", but it is easy to see that Covid, the red line, is driving everything.)
NOTE "Charts and data provided by CDC, updates Wednesday by 8am. For the past year, using a rolling 52-week period." So not the entire pandemic, FFS (the implicit message here being that Covid is "just like the flu," which is why the seasonal "rolling 52-week period" is appropriate for bothMR SUBLIMINAL I hate these people so much. Notice also that this chart shows, at least for its time period, that Covid is not seasonal, even though CDC is trying to get us to believe that it is, presumably so they can piggyback on the existing institutional apparatus for injections.
Positivity
NOT UPDATED From Walgreens, August 7: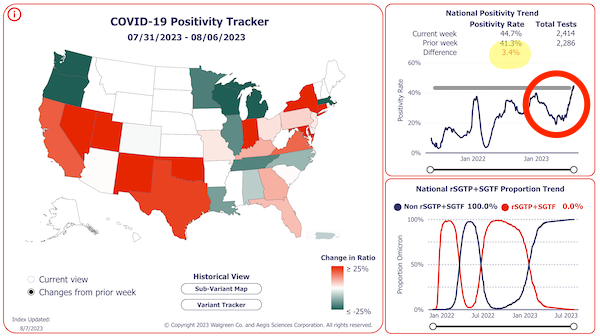 3.4%. Interestingly, people are citing to this, too, as well as Biobot. Vertical-ish, though the absolute numbers are still very small relative to June 2022, say. Interestingly, these do not correlate with the regional figures for wastewater. (It would be interesting to survey this population generally; these are people who, despite a tsunami of official propaganda and enormous peer pressure, went and got tested anyhow.)
NOT UPDATED From CDC, July 17: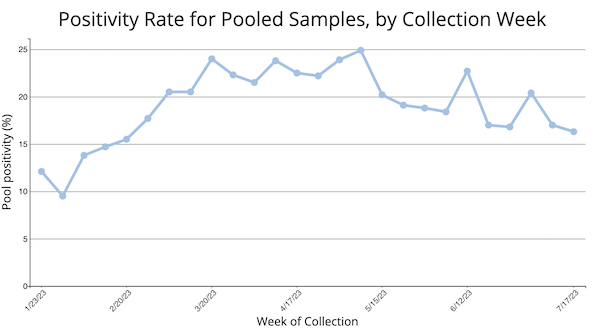 Lambert here: This is the CDC's "Traveler-Based Genomic Surveillance" data. They say "maps," but I don't see one…. 
Deaths
Iowa COVID-19 Tracker, August 9: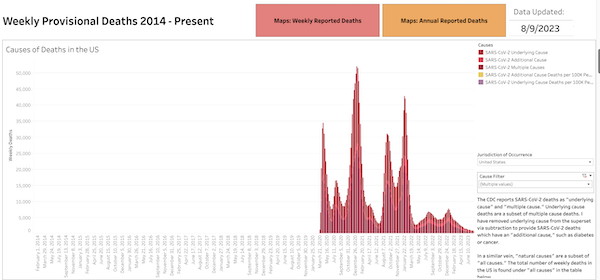 Lambert here: The WHO data is worthless, so I replaced it with the Iowa Covid Data Tracker. Their method: "These data have been sourced, via the API from the CDC: https://data.cdc.gov/NCHS/Conditions-Contributing-to-COVID-19-Deaths-by-Stat/hk9y-quqm. This visualization updates on Wednesday evenings. Data are provisional and are adjusted weekly by the CDC." I can't seem to get a pop-up that shows a total of the three causes (top right). Readers?
Total: 1,170,864 – 1,170,792 = 72 (72 * 365 = 26,280 deaths per year, today's YouGenicist™ number for "living with" Covid (quite a bit higher than the minimizers would like, though they can talk themselves into anything. If the YouGenicist™ metric keeps chugging along like this, I may just have to decide this is what the powers-that-be consider "mission accomplished" for this particular tranche of death and disease). 
• I knew I was right not to use CDC charts:
The CDC hasn't updated deaths in two months, and there's a 6-month backlog. Why?

As schools reopen, we will be actively prevented from hearing about the imminent threats to our collective survival, as politics & the economy come first. We're all in danger. https://t.co/CyP1AvoCdO

— Laura Miers (@LauraMiers) August 9, 2023
Excess Deaths
NOT UPDATED The Economist, August 6: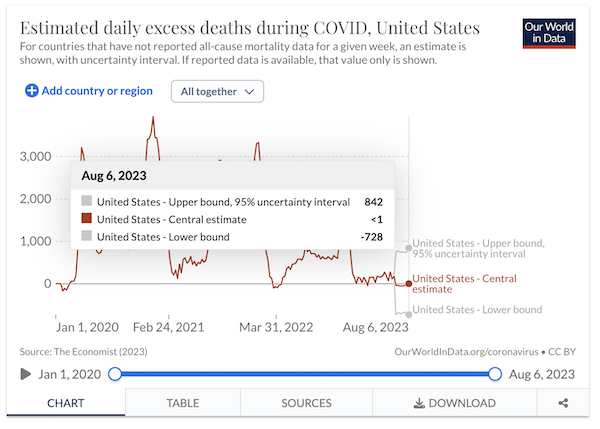 Lambert here:  No longer updated daily. Odd when it was, odd when it stopped. Based on a machine-learning model. (The CDC has an excess estimate too, but since it ran forever with a massive typo in the Legend, I figured nobody was really looking at it, so I got rid it. )
Stats Watch
Employment Situation: "United States Initial Jobless Claims" [Trading Economics]. "The number of Americans filing for unemployment benefits jumped by 21,000 from the prior week to 248,000 on the week ending August 5th, the highest in one month, sharply above expectations of 230,000. Despite remaining at a historically low level, the figure suggested that the US labor market is starting to soften from stubbornly tight levels since the start of the year, loosely aligning with recent bets that the Federal Reserve may refrain from tightening monetary policy further this year."=
Inflation: "United States Inflation Rate" [Trading Economics]. "Annual inflation rate in the US accelerated to 3.2% in July 2023 from 3% in June, but below forecasts of 3.3%. It marks a halt in the 12 consecutive months of declines, due to base effects."
* * *
The Bezzle: "WeWork Taps Directors With Bankruptcy Chops After Board Resignations" [Wall Street Journal]. "WeWork reshuffled its board after the resignation of three directors who disagreed with its governance and strategy, replacing them with corporate bankruptcy experts as it cast doubt on its ability to survive turmoil in the office-building market." • Oh.
Tech: "Amazon Prime Air loses two key operations leaders, as drone delivery struggles continue" [CNBC]. "Amazon has lost two executives key to the company's drone delivery operations, the latest setback for an aspirational program that's required hefty investment but has experienced scant success…. The departures come at a critical juncture for Prime Air, which has struggled to transition into a fully operational service since Amazon founder Jeff Bezos predicted in 2013 that within five years Amazon would deliver by drone packages weighing 5 pounds or less to customers' doorsteps… But problems for Prime Air predated the economic downturn. The drone unit has been hamstrung by regulatory restrictions that limit where deliveries can be made…. There's also been a string of crashes." • That's a damn shame.
* * *
Today's Fear & Greed Index: 64 Greed (previous close: 67 Greed) [CNN]. One week ago: 74 (Greed). (0 is Extreme Fear; 100 is Extreme Greed). Last updated Aug 10 at 1:43 PM ET.
Our Famously Free Press
"All the News the CIA Sees Fit to Print" [David Talbot, The Kennedy Beacon]. "John Kiriakou looked up from his desk at CIA headquarters and was stunned to see The Washington Post investigative reporter, Bob Woodward, walking through the secure area without an agency escort. On another occasion, Kiriakou—who rose at the CIA to become executive assistant to the deputy in charge of operations, the spy agency's dark activities—saw CNN host Wolf Blitzer wandering unattended through the same area, despite the CIA's ban on communicating with the media." • As I urged: 
Clearly, we have moved very far from the form of Constitutional government envisioned by the Framers. Here is Madison on the particularities of office in Federalist 51:

But the great security against a gradual concentration of the several powers in the same department, consists in giving to those who administer each department the necessary constitutional means and personal motives to resist encroachments of the others. The provision for defense must in this, as in all other cases, be made commensurate to the danger of attack. Ambition must be made to counteract ambition. . It may be a reflection on human nature, that such devices should be necessary to control the abuses of government. But what is government itself, but the greatest of all reflections on human nature? If men were angels, no government would be necessary. If angels were to govern men, neither external nor internal controls on government would be necessary. In framing a government which is to be administered by men over men, the great difficulty lies in this: you must first enable the government to control the governed; and in the next place oblige it to control itself.

(By ""place,"" Madison means sense 9, ""a job, post, or office,"" with ""persons in high places"" being the usage example.) For example, it should be not merely wrong, but not in any FBI agent's interest to be censoring domestic communications on Twitter; but clearly that's not happening. With the particularities of office dissolved, everybody can be on the same ""team,"" everybody can follow the same ""leaders,"" regardless of the ""department"" they belong to (""the absolute fusion of state, corporate, and civil society organizations""). Under Fuherprinzip, every place becomes the same place.
Clearly, then, Woodward, Blitzer, and the spooks all see themselves as being in the same "place," not different "places." They are all on the same team; all the "departments" are merged into one… Blob. RFK's substack, BTW.
Guillotine Watch
"The Gradations of @ssholery: A Jerks Week Explainer" [The Ringer]. • In principle I'm all for classification schemes. But "Billionaire" seems to be missing.
Class Warfare
"What Tech Workers Want to Do Next: AI and Cloud Computing" [Morning Consult]. "In a year of massive unrest for tech workers, the nearly quarter-million layoffs in the industry and the rapid growth of the artificial intelligence sector are coloring tech workers' professional priorities and interests. A new Morning Consult survey of hundreds of workers in technical roles — including software engineers, software product managers, data scientists, IT specialists and others — reveals the areas in which these individuals say they want to work, and what they're seeking in their next employer. Specifically, many are looking for job security and opportunities in AI or cloud computing." • Clouds of bullshit….
News of the Wired
News you can use:
Any time Amazon mark my delivery as "given to owner" when they leave it outside, I report it as lost and get a refund while keeping the item

— Fesshole 🧻 (@fesshole) August 4, 2023
Not that I recommend this, of course.
On the chestnut tree:
Mountain people called chestnut "the best wood God ever growed." They ate its fruit, raw, boiled, and baked. As furniture chestnut could be rubbed to shine like a coon's eye in a full moon. Their straight grained trunks became sturdy cabins and long lived rail fences. Shingles… pic.twitter.com/G1GffHMWBj

— Thomas Reis (@peakaustria) August 8, 2023
For more on chestnuts, see NC here.
* * *
Contact information for plants: Readers, feel free to contact me at lambert [UNDERSCORE] strether [DOT] corrente [AT] yahoo [DOT] com, to (a) find out how to send me a check if you are allergic to PayPal and (b) to find out how to send me images of plants. Vegetables are fine! Fungi and coral are deemed to be honorary plants! If you want your handle to appear as a credit, please place it at the start of your mail in parentheses: (thus). Otherwise, I will anonymize by using your initials. See the previous Water Cooler (with plant) here. From Into_The_Abyss: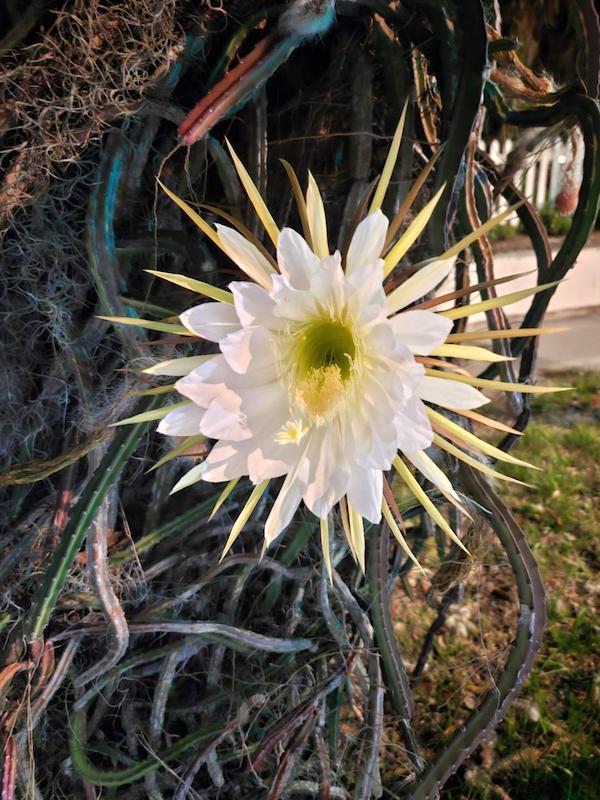 Into_The_Abyss writes: "A nice surprise while cycling the other night, only see it bloom once a year."
* * *
Readers: Water Cooler is a standalone entity not covered by the annual NC fundraiser. So if you see a link you especially like, or an item you wouldn't see anywhere else, please do not hesitate to express your appreciation in tangible form. Remember, a tip jar is for tipping! Regular positive feedback both makes me feel good and lets me know I'm on the right track with coverage. When I get no donations for five or ten days I get worried. More tangibly, a constant trickle of donations helps me with expenses, and I factor in that trickle when setting fundraising goals:
Here is the screen that will appear, which I have helpfully annotated: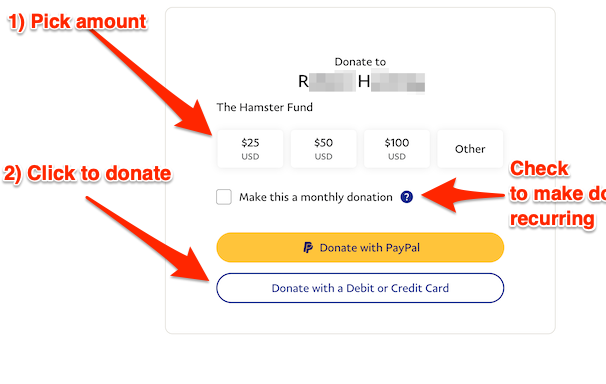 If you hate PayPal, you can email me at lambert [UNDERSCORE] strether [DOT] corrente [AT] yahoo [DOT] com, and I will give you directions on how to send a check. Thank you!