By Lambert Strether of Corrente.
Patient readers, no orts and scraps today. This is a complicated RL week for me… –lambert
Bird Song of the Day
Striated Wren-Babbler, Rajah Sikatuna National Park, Bohol, Philippines. "A pair whistling a duet. Elevation: 380 m. Date added to IBC: June 22, 2016."
* * *
Look for the Helpers
"After Maui's deadly fires, one doctor hits the road to help those in need" [NPR (Reify99)]. 
KIHEI, Hawaii — Doctor Reza Danesh is known around Maui as just Dr. Rez.

He spent two decades in emergency medicine — a dozen on Maui. A few years ago, Dr. Rez opened a storefront clinic and outfitted a van as a mobile office.

His clinic is called MODO which stands for Mobile Doctor. The specialty – urgent care. He makes house calls and offers free medical care through his nonprofit MODO for the People. He and a volunteer load up the van with food and water to give away in addition to the free medical care.

"I designed this little Ford Sprinter myself. Ambulances are set to see multiple people so it doesn't seem homey. This thing just feels like home. I have a Persian rug even."But at the shelter Dr. Rez gets a very different reception than the one he was expecting.

"I wanna find out, who are you guys? What are you doing?," asked volunteer manager Vesta Sung. She's helping at this shelter and says the Red Cross has taken over and is clamping down… Frustrated, yes. But not deterred. He tries again the next day. And he'll try again tomorrow. Because Dr. Reza Danesh makes house calls to wherever his patients need him.
The Red Cross can't even interface with local NGOs?
Politics
"So many of the social reactions that strike us as psychological are in fact a rational management of symbolic capital." –Pierre Bourdieu, Classification Struggles
The Constitutional Order
Two households, both alike in dignity,
In fair Verona, where we lay our scene,
From ancient grudge break to new mutiny,
Where civil blood makes civil hands unclean. –William Shakespeare, Romeo and Juliet

Shakespeare says the two households are "alike" in dignity, but he doesn't say how much dignity they actually have. If Verona's households are like our parties, the answer is "not much."

* * *

"The Sweep and Force of Section Three" [William Baude and Michael Stokes Paulsen, University of Pennsylvania Law Review]. I highly recommend this piece (and the ensuing discussion at NC, starting here). As a former English major and a fan of close reading, I'm not averse to "originalism," of which Baude and Paulsen provide a magisterial example, in the sense that understanding the law as a text must begin with understanding the plain, public meaning of the words used when the text was written. That's how I read Shakespeare, or Joyce, so why not the Constitution? Just as long as understanding doesn't end there! In any case, I'm working through it. One thing I notice is that there do seem to have been rather a lot of rebellions and insurrections, not just the Civil War. To me, this is parallel to one lesson I drew from Mike Duncan's Revolutions podcast (episode 1): There are rather a lot of revolutions, too. Alert reader Pensions Guy summarizes Baude and Paulsen as follows:]

The authors go through an exhaustive textual and originalism analysis of Section Three, and their Federalist Society leanings do not deter them from reaching their conclusion that officials in every State who are charged with determining candidate qualifications should conclude that Donald Trump is disqualified from being on ballots because of the oath he took on Inauguration Day 2017 and subsequently violated through his role in the insurrection that took place on January 6, 2021.

Taking "insurrection" as read (I need to do more reading), more on my continuing coverage of Section Three.

Some have urged that invoking Section Three violates due process. This is how Baude and Paulsen addressed the issue in their paper (I apologize for the inconsistently sized screen dumps).

And:

FWIW!

* * *

"The disqualification of Donald Trump and other legal urban legends" [Jonathan Turley, The Hill]. Turley weighs in. Finally. The key question: "Despite the extensive research of Baude and Paulsen, their analysis ends where it began: Was January 6 an insurrection or rebellion? I have previously addressed the constitutional basis for this claim. It is, in my view, wildly out of sync with the purpose of the amendment, which followed an actual rebellion, the Civil War. Democrats have previously sought to block certification of Republican presidents and Democratic lawyers have challenged elections, including on totally unsupported claims of machines flipping the results. If we are to suddenly convert the 14th Amendment into a running barrier to those who seek to challenge election results, then we have to establish a bright line to distinguish such cases…. despite formal articles of the second impeachment and years of experts insisting that Trump was guilty of incitement and insurrection, Special Counsel Jack Smith notably did not charge him with any such crime. The reason is obvious. The evidence and constitutional standards would not have supported a charge of incitement or insurrection. Yet these experts still believe that Trump can be barred from office without any such charge even being brought, let alone a conviction." • One could argue (indeed, Baude and Paulsen, above, do) that election officials can make their own determination of what an "insurrection" is, and whether Trump engaged in one, irrespective of what the Courts determine. I suppose it's true that a Blue State's Secretary of State (say) could do what Jack Smith was not willing to do, though it seems odd (except, I suppose, when one considers the donations, the book deals, etc.). I raise again the issue that the election officials will want cover, and that the Censorship Industrial Complex will be only too willing to give it to them. Which is, needless to say, very dangerous.

"The Constitution Prohibits Trump From Ever Being President Again" [Michael Luttig and Laurence H. Tribe, The Atlantic]. Larry! How is the "incomparable" Louise Mensch doing? More: "Having thought long and deeply about the text, history, and purpose of the Fourteenth Amendment's disqualification clause for much of our professional careers, . The disqualification clause operates independently of any such criminal proceedings and, indeed, also independently of impeachment proceedings and of congressional legislation. The clause was designed to operate directly and immediately upon those who betray their oaths to the Constitution, whether by taking up arms to overturn our government or by waging war on our government by attempting to overturn a presidential election through a bloodless coup." • So, Jack Smith and Fani Willis actually have weak cases? (Tribe and Luttig's language is amusingly orotund. Really rolls off the tongue.)

"Legal scholars increasingly raise constitutional argument that Trump should be barred from presidency" [CNN]. I don't know about "increasingly." Disqualifying Trump has been in the works for some time; the "insurrection" was adopted instantly, right after the dude with the furry hat and the buffalo horns proclaimed a provisional government. Oh, wait…  (One does wonder whether the "insurrection" framing was gamed out.) Anyhow: "Previously, advocacy groups used the 14th Amendment to contest the ability of Republican members of Congress Marjorie Taylor Green and Madison Cawthorn to be ballot candidates in 2022 because of their vocal support of the Capitol rioters ["rioters," note well]. But judges decided neither could be disqualified. However, one convicted Capitol rioter, Couy Griffin, was removed by a judge from an elected county office in New Mexico." • Taking the legal theorizing out for a test drive….
Biden Administration
2024
Time for the Countdown Clock!

* * *

"Trump says he won't attend first GOP presidential debate" [The Hill]. "Former President Trump confirmed Sunday that he will not attend the first Republican presidential debate next week and left open the possibility that he would skip future primary debates, citing his sizable lead in national polls as a primary reason. In a post on Truth Social, Trump cited a CBS News poll released earlier Sunday that showed him leading the next closest candidate by 46 percentage points. ', with Energy Independence, Strong Borders & Military, Biggest EVER Tax & Regulation Cuts, No Inflation, Strongest Economy in History, & much more,' Trump wrote. 'I WILL THEREFORE NOT BE DOING THE DEBATES!'"

* * *

"Editorial: Gov. DeSantis starts changing his tune on Disney. Trump made him do it" [Miami Herald]. "DeSantis, in a Monday interview with CNBC amid a struggling presidential campaign, suggested that he and his allies had 'basically moved on' from his fight with Disney, a battle against the Mouse that, up until now, he's been shouting about from the mountaintops. 'They're suing the state of Florida. They're going to lose that lawsuit. . . . . So what I would say is, drop the lawsuit,' he said, adding that Florida is a 'great place to do business.' Just a few short months ago, in May, the governor was still calling Disney 'a multibillion-dollar company that sexualizes children.'" • Oh well. Turns out "anti-wokeness" wasn't the royal road to the White House after all. Alas, DeSantis can't pivot to populism, either. Walt Disney World's governing district is a corporate fiefdom in a country where everything is a corporate fiefdom of one sort or another. I'd guess what works in the fever swamp of the Florida Republican Party doesn't play well on the national stage.

* * *

"Hunter Biden's lawyers threatened to put president on the stand: report" [New York Post]. "Hunter's lawyer, Chris Clark, wrote a letter to prosecutors last October after news leaked that federal agents had enough evidence to charge the first son with illegally buying a firearm while still using crack cocaine. Clark said that if the Justice Department charged Hunter, the defense would be forced to put the commander in chief on the witness stand. 'President Biden now unquestionably would be a fact witness for the defense in any criminal trial,' Clark wrote in a 32-page letter obtained by Politico…. In exchanges in the months prior, Clark and his team often told prosecutors during private negotiations that they were worried about the intense political atmosphere surrounding the case, according to Politico." • Which they then go on to muscle the prosecutor with? For a simple story about a father who loves his son?

"Pseudonym Joe: How Biden used personal email to share some government business with son Hunter" [JustTheNews]. "In late November 2014 — before the rest of the world knew that American Martin O'Connor was about to be released from detention in Turkey — the U.S. embassy in Istanbul sent an email to the State Department that was then forwarded to senior advisers to then-Vice President Joe Biden, the Obama White House point man for many foreign policy crises…. State Department officials forwarded the information to the vice president's office, where Biden aide Colin Kahl (now President Biden's Undersecretrary of Defense for Policy) sent it to the private email account robinware456@gmail.com. It wasn't just any private account. It was one of three pseudonym accounts used by Joe Biden. Soon after the then-vice president would forward the information to his globetrotting son Hunter Biden with the subject line 'Fwd: Mr. O'Connor Being Released from Detention today…. Comer's inquiry was prompted by an email quietly released in January as part of the Obama presidential archives. In it, a White House staffer writes Joe Biden on a personal pseudonym email account named Robert L. Peters about a planned call with then-Ukrainian President Petro Poroshenko. The staffer copied Hunter Biden's email address at Rosemont Seneca Partners. At the time, Hunter Biden served on the board of a Ukrainian gas company called Burisma Holdings that was deemed to be corrupt by the Obama-Biden State Department. 'Boss–8:45am prep for 9am phone call with Pres Poroshenko. Then we're off to Rhode Island for infrastructure event and then Wilmington for UDel commencement,' the staffer wrote the then-vice president. 'Nate will have your draft remarks delivered later tonight or with your press clips in the morning.'" • Hmm. 

* * *
Republican Funhouse
"The Rise of the Young, Liberal, Nonwhite Republican?" [Eric Levitz, New York Magazine]. "In a new analysis of survey data, the New York Times maps the contours of the contemporary Republican electorate. Some of its findings give conservatives cause for concern. The new GOP coalition has considerable internal ideological tensions. The party now derives 12 percent of its support from a group that the paper dubs "blue-collar populists": a mostly northern, socially moderate, economically populist contingent whose attachment to Republican politics derives primarily from their rightwing views on race and immigration, and personal affection for Donald Trump. In the Electoral College, this constituency punches above its weight, as it is disproportionately concentrated in the Rust Belt's battlegrounds. A majority of this group supports abortion rights and same-sex marriage. This aversion to bible-thumping moralism helped tie a segment of these voters to the Democratic Party before Trump's emergence. To the extent that the Supreme Court's overturning of Roe v. Wade increases the salience of reproductive rights, and Trump's eventual exit from GOP politics weakens blue-collar populists' emotional identification with the party, Republicans could lose ground with them. Indeed, in last year's midterm elections, Democrats performed better in heavily blue-collar Midwest states like Michigan and Pennsylvania than they did nationally. But the New York Times-Siena College poll also gives Democrats some cause for anxiety. The survey suggests that nonwhite, working-class Americans are starting to vote more like their light-skinned peers. In 2020, nonwhite, non-college-educated voters backed Joe Biden over Trump by a 48-point margin. Today, this group backs by Biden by merely 16 points, according to the survey. This erosion in the Democrats' support among nonwhite voters leaves Biden and Trump tied at 43 percent nationally." • Maybe it's not a good thing to owe six hundred bucks to "nonwhite voters"?
Democrats en Déshabillé
Patient readers, it seems that people are actually reading the back-dated post! But I have not updated it, and there are many updates. So I will have to do that. –lambert

I have moved my standing remarks on the Democrat Party ("the Democrat Party is a rotting corpse that can't bury itself") to a separate, back-dated post, to which I will periodically add material, summarizing the addition here in a "live" Water Cooler. (Hopefully, some Bourdieu.) It turns out that defining the Democrat Party is, in fact, a hard problem. I do think the paragraph that follows is on point all the way back to 2016, if not before:

The Democrat Party is the political expression of the class power of PMC, their base (lucidly explained by Thomas Frank in Listen, Liberal!). ; if the Democrat Party did not exist, the PMC would have to invent it. . ("PMC" modulo "class expatriates," of course.) Second, all the working parts of the Party reinforce each other. Leave aside characterizing the relationships between elements of the Party (ka-ching, but not entirely) those elements comprise a network — a Flex Net? An iron octagon? — of funders, vendors, apparatchiks, electeds, NGOs, and miscellaneous mercenaries, with assets in the press and the intelligence community.

Note, of course, that the class power of the PMC both expresses and is limited by other classes; oligarchs and American gentry (see 'industrial model' of Ferguson, Jorgensen, and Jie) and the working class spring to mind. Suck up, kick down.

* * *

"An Insurance Policy for Democrats" [Ruy Teixeira, The Liberal Patriot]. "States of Change simulations show that, all else equal, a strong white working class surge in 2024 would deliver the election to the GOP. Even a small one could potentially do the trick. In an all-else-equal context, I estimate just a one-point increase in Republican support among the white working class and a concomitant one-point decrease in Democratic support (for a 2-point margin swing) would deliver Arizona, Georgia and Wisconsin (and the election) to the Republicans. Make it a 2-point increase in GOP support and you can throw in Pennsylvania too. So an insurance policy to prevent such a swing is in order. The problem: these are very unhappy voters." Says the consultant whose practice did more than any other to enable Democrats to abandon them. Be that as it may, Teixeria is a pro: "When you look at the actual population of voters and how racial resentment was distributed in 2016, as Grimmer and Marble did, it turns out that the racial resentment explanation simply does not fit what really happened in terms of voter shifts. A rigorous accounting of vote shifts toward Trump shows instead that they were primarily among whites, especially low education whites, with moderate views on race and immigration, not whites with high levels of racial resentment. In fact, Trump actually netted fewer votes among whites with high levels of racial resentment than Mitt Romney did in 2012… So much for the racial resentment explanation of Trump's victory. Not only is racial resentment a misnamed variable that does not mean what people think it means, it literally cannot account for the actual shifts that occurred in the 2016 election…. Such understanding was nowhere to be found, however, in Democratic ranks. The racism-and-xenophobia interpretation quickly became dominant, partly because it was in many ways simply a continuation of the approach Clinton had taken during her campaign and that most Democrats accepted. Indeed, it became so dominant that simply to question the interpretation reliably opened the questioner to accusations that he or she did not take the problem of racism seriously enough. We are still living in that world…. Democrats desperately need that insurance policy for 2024 and getting rid of these attitudes toward 40 percent of the electorate (much more in key states!) should be part of it. Think of it as a down payment on the 'de-Brahminization' of the Democratic Party." • I think the Democrats are about as likely to take this well-meant advice as MSNBC is likely to give Thomas Frank his own show.

"Circulation of former Cuomo aide's deposition sets off firestorm" [Syracuse.com (Bob)]. " Aides to former Gov. Andrew M. Cuomo have been circulating a transcript of a deposition last month of Ana Liss-Jackson, who was one of 11 women listed in a searing 2021 state attorney general's report that accused the former governor of engaging in a pattern of sexual harassment and inappropriate workplace conduct…. Liss-Jackson noted that she had never accused Cuomo of sexual harassment but that she later believed his conduct, which included calling her 'sweetheart,' kissing her hand, touching her back and asking about her boyfriend, had been improper. 'I don't believe that the governor, to be clear, sexually harassed me,' Liss-Jackson said last month. 'It was on the heels of the 'MeToo' movement and there was a cultural shift around what was, and was not — what is and what is not — appropriate conduct in the workplace.' Liss-Jackson said her intention in speaking to reporters two years ago was to help buttress the more serious allegations being leveled against Cuomo by other women. But she also implied that the way her story was reported in the Wall Street Journal and Gothamist had not been what she hoped to convey. She did not say those stories were inaccurate, only that they 'didn't fully, accurately characterize what I was trying to get across' and that in some news reports her comments were 'taken out of context.'" • Yes, what brought Cuomo down was #MeToo — remember them? — and not slaughtering thousands of elders in nursing homes. It's a funny old world.

"Sen. Dianne Feinstein claims 'financial elder abuse' in lawsuit over husband's estate" [NBC]. "Sen. Dianne Feinstein, D-Calif., is suing the trustees of a fund set up by her late husband, accusing them of committing 'financial elder abuse' by refusing to pay the millions of dollars she's due. The suit was filed in San Francisco Superior Court last week by Feinstein's daughter, Katherine Feinstein, who was given 'a limited durable power of attorney' over her mother's affairs in July.
Realignment and Legitimacy
#COVID19
"I am in earnest — I will not equivocate — I will not excuse — I will not retreat a single inch — AND I WILL BE HEARD." –William Lloyd Garrison
Resources, United States (National): Transmission (CDC); Wastewater (CDC, Biobot; includes many counties; Wastewater Scan, includes drilldown by zip); Variants (CDC; Walgreens); "Iowa COVID-19 Tracker" (in IA, but national data). "Infection Control, Emergency Management, Safety, and General Thoughts" (especially on hospitalization by city).
Lambert here: Readers, thanks for the collective effort. To update any entry, do feel free to contact me at the address given with the plants. Please put "COVID" in the subject line. Thank you!
Resources, United States (Local): AK (dashboard); AL (dashboard); AR (dashboard); AZ (dashboard); CA (dashboard; Marin, dashboard; Stanford, wastewater; Oakland, wastewater); CO (dashboard; wastewater); CT (dashboard); DE (dashboard); FL (wastewater); GA (wastewater); HI (dashboard); IA (wastewater reports); ID (dashboard, Boise; dashboard, wastewater, Central Idaho; wastewater, Coeur d'Alene; dashboard, Spokane County); IL (wastewater); IN (dashboard); KS (dashboard; wastewater, Lawrence); KY (dashboard, Louisville); LA (dashboard); MA (wastewater); MD (dashboard); ME (dashboard); MI (wastewater; wastewater); MN (dashboard); MO (wastewater); MS (dashboard); MT (dashboard); NC (dashboard); ND (dashboard; wastewater); NE (dashboard); NH (wastewater); NJ (dashboard); NM (dashboard); NV (dashboard; wastewater, Southern NV); NY (dashboard); OH (dashboard); OK (dashboard); OR (dashboard); PA (dashboard); RI (dashboard); SC (dashboard); SD (dashboard); TN (dashboard); TX (dashboard); UT (wastewater); VA (dashboard); VT (dashboard); WA (dashboard; dashboard); WI (wastewater); WV (wastewater); WY (wastewater).
Resources, Canada (National): Wastewater (Government of Canada).
Resources, Canada (Provincial): ON (wastewater); QC (les eaux usées); BC, Vancouver (wastewater).
Hat tips to helpful readers: anon (2), Art_DogCT, B24S, CanCyn, ChiGal, Chuck L, Festoonic, FM, FreeMarketApologist (4), Gumbo, hop2it, JB, JEHR, JF, JL Joe, John, JM (10), JustAnotherVolunteer, JW, KatieBird, LL, Michael King, KF, LaRuse, mrsyk, MT, MT_Wild, otisyves, Petal (6), RK (2), RL, RM, Rod, square coats (11), tennesseewaltzer, Utah, Bob White (3). 
Stay safe out there!
* * *
Elite Maleficence
"The CDC Works to Overhaul Lab Operations After Covid Test Flop" [KFF Health News]. "An independent panel of laboratory researchers, public health and policy experts, and doctors say the CDC's flawed diagnostic test was one of the 'most consequential' of the agency's pandemic missteps because it stymied national efforts to contain covid-19 as the disease spread. They blame the test's shortcomings on a series of problems rooted in how the CDC operated its laboratories: a lack of unified leadership for the labs developing the test; insufficient planning and quality control systems for producing tests for novel pathogens; and ineffective governance that sometimes placed clinical laboratory decisions in the hands of 'non-laboratory experts' without diagnostic testing expertise. The CDC says it's working to address its liabilities, using the findings of that advisory committee as a guide. It's a big job — one further complicated by new leadership at the agency, constrained resources, and continued antagonism and threatened budget cuts from members of Congress." • Still waiting for that report on CDC's own superspreading event…..
* * *
Case Data
NOT UPDATED From BioBot wastewater data, August 17: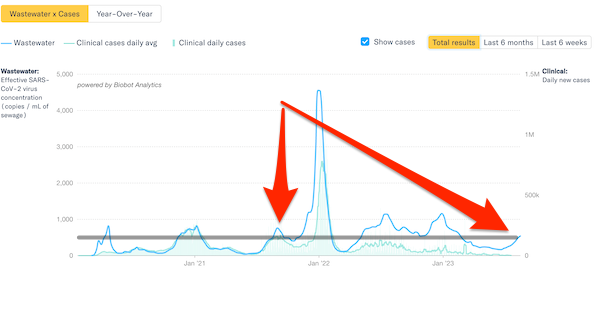 Lambert here: Happy memories of tape-watching days! Closing in on a Trump-era surge level; Biden's, of course, are higher. It will be interesting to see what happens when schools open up. I would like to congratulate the Biden administration and the public health establishment, the CDC especially, for this enormous and unprecedented achievement. And a tip of the ol' Water Cooler hat to the Great Barrington goons, whose policies have been followed so assiduously! A curious fact: All of Biden's peaks are higher than Trump's peaks. Shows you what public health can do when it's firing on all eight cylinders! Musical interlude. NOTE I'm not happy that Biobot can't update this data more frequently. 
Regional data: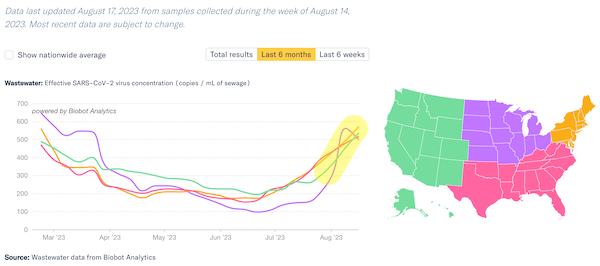 Backward revisions. Interestingly, the upswing begins before July 4, which neither accelerates nor retards it.
Regional variant data, August 19: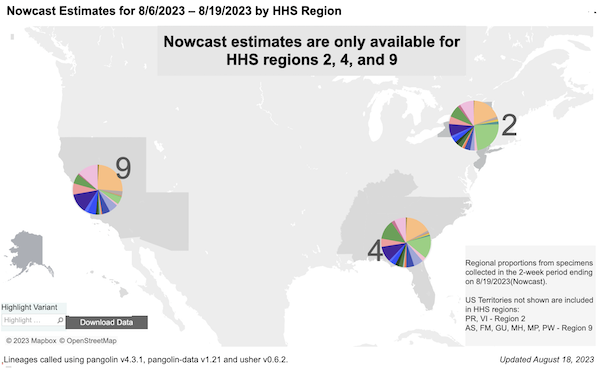 EG.5 (the orange pie slice) still seems evenly distributed. Sadly, the Midwest data is not available, so we can't infer anything about the Midwest surge and any variant(s), one way or the other. 
Variants
NOT UPDATED From CDC, August 19: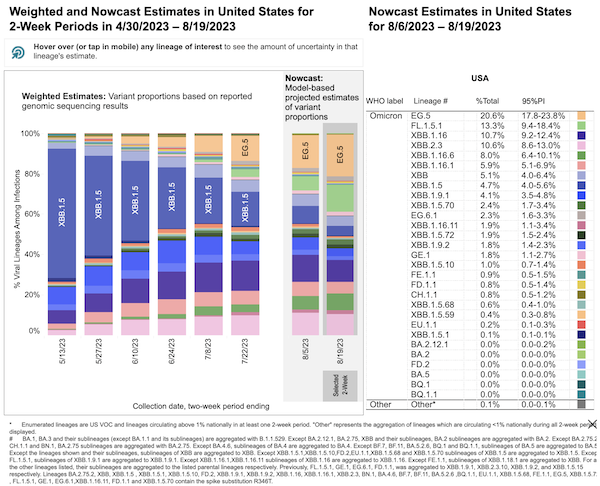 Lambert here: Top of the leaderboard: EG.5 ("Eris"). I'm not highlighting the BA.2's because the interactive version shows that these BA.2's been hanging around at a low level for months.
From CDC, August 5: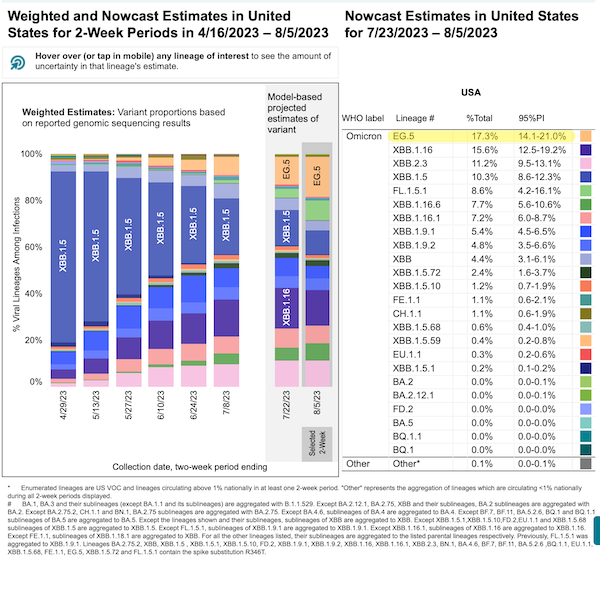 Lambert here: Not sure what to make of this. I'm used to seeing a new variant take down the previously dominant variant. Here it looks like we have a "tag team," all working together to cut XBB.1.5 down to size. I sure hope the volunteers doing Pangolin, on which this chart depends, don't all move on the green fields and pastures new (or have their access to facilities cut by administrators of ill intent).
CDC: "As of May 11, genomic surveillance data will be reported biweekly, based on the availability of positive test specimens." "Biweeekly: 1. occurring every two weeks. 2. occurring twice a week; semiweekly." Looks like CDC has chosen sense #1. In essence, they're telling us variants are nothing to worry about. Time will tell.
Covid Emergency Room Visits
NOT UPDATED From CDC NCIRD Surveillance, August 12: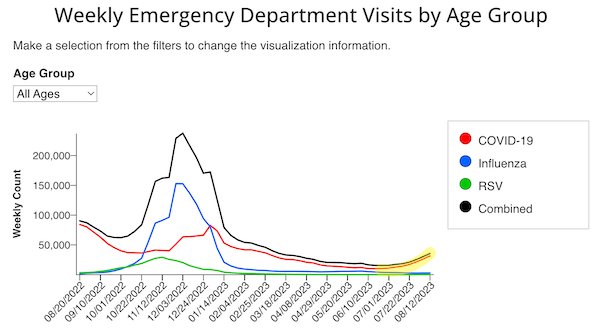 Lambert here: Increase is even more distinct. (The black line is "combined", but it is easy to see that Covid, the red line, is driving everything.)
NOTE "Charts and data provided by CDC, updates Wednesday by 8am. For the past year, using a rolling 52-week period." So not the entire pandemic, FFS (the implicit message here being that Covid is "just like the flu," which is why the seasonal "rolling 52-week period" is appropriate for bothMR SUBLIMINAL I hate these people so much. Notice also that this chart shows, at least for its time period, that Covid is not seasonal, even though CDC is trying to get us to believe that it is, presumably so they can piggyback on the existing institutional apparatus for injections.
Hospitalization
I hate this metric because the lag makes it deceptive. Nevertheless, here's bellwether New York City, data as of August 18: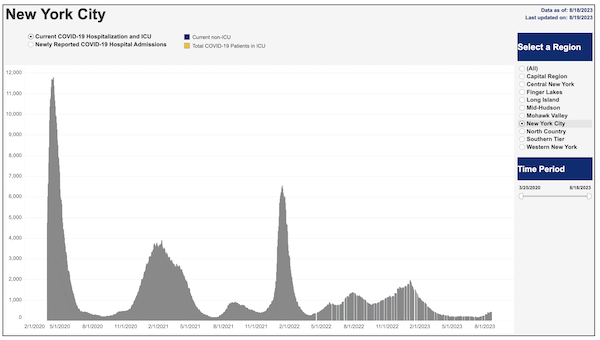 Could be worse, and doubtless will be. But how much worse?
Positivity
Walgreens sh*ts the bed, August 21: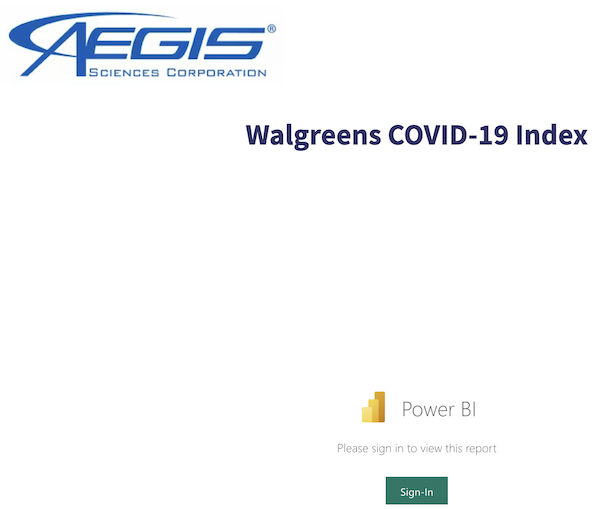 First login screen: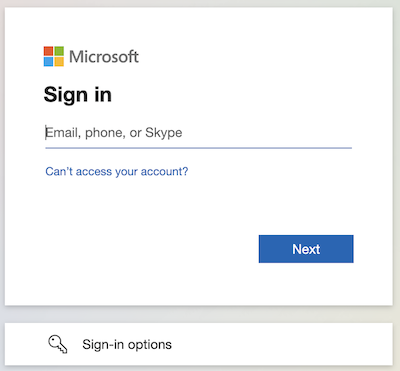 Second login screen: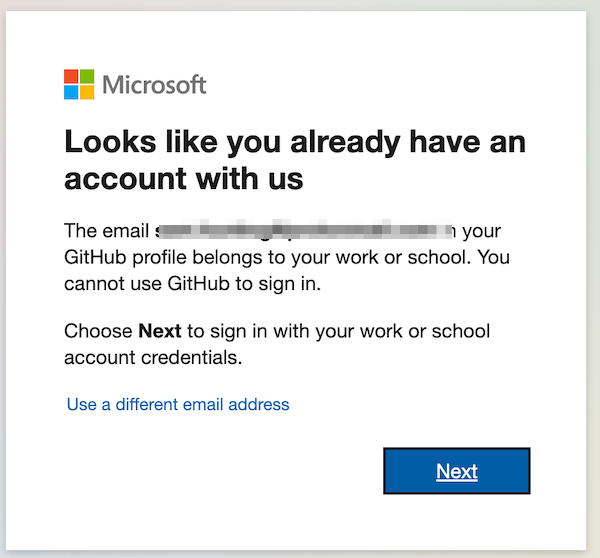 Now I need Github account to get Covid positivity data? How does this make any sense? Musical interlude.
NOT UPDATED From CDC, July 31: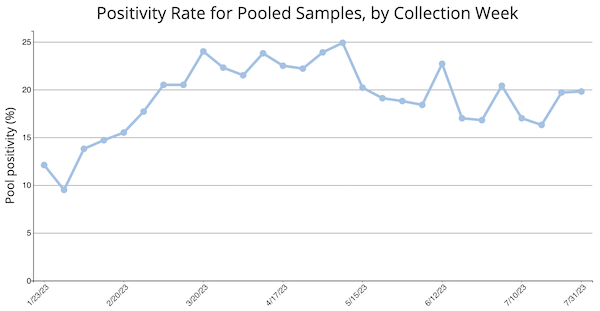 Lambert here: This is the CDC's "Traveler-Based Genomic Surveillance" data.
Deaths
NOT UPDATED Iowa COVID-19 Tracker, August 9: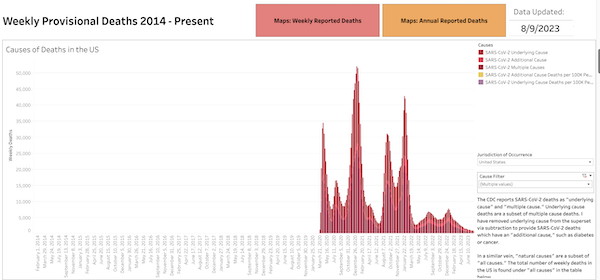 Lambert here: The WHO data is worthless, so I replaced it with the Iowa Covid Data Tracker. Their method: "These data have been sourced, via the API from the CDC: https://data.cdc.gov/NCHS/Conditions-Contributing-to-COVID-19-Deaths-by-Stat/hk9y-quqm. This visualization updates on Wednesday evenings. Data are provisional and are adjusted weekly by the CDC." I can't seem to get a pop-up that shows a total of the three causes (top right). Readers?
Total: 1,172,458 – 1,172,433 = 25 (25 * 365 = 9,125 deaths per year, today's YouGenicist™ number for "living with" Covid (quite a bit higher than the minimizers would like, though they can talk themselves into anything. If the YouGenicist™ metric keeps chugging along like this, I may just have to decide this is what the powers-that-be consider "mission accomplished" for this particular tranche of death and disease). 
Excess Deaths
The Economist, August 18: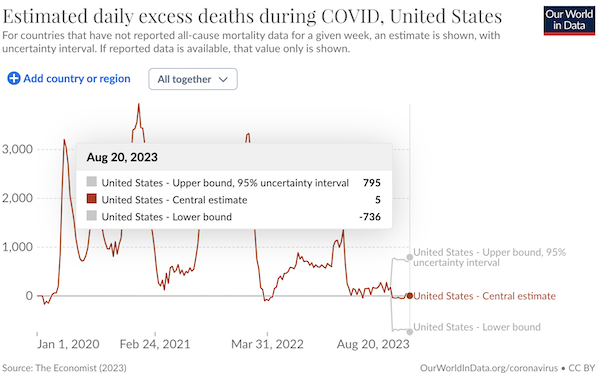 Lambert here:  Back to almost dailiy. Odd when it is, odd when it stops. Based on a machine-learning model. (The CDC has an excess estimate too, but since it ran forever with a massive typo in the Legend, I figured nobody was really looking at it, so I got rid it. )
Stats Watch
There are no official statistics of interest today.
* * *
* * *
Today's Fear & Greed Index: 45 Fear (previous close: 69 Greed) [CNN]. One week ago: 63 (Greed). (0 is Extreme Fear; 100 is Extreme Greed). Last updated Aug 21 at 12:31 PM ET. Mr. Market is still chewing his hands.
Rapture Index: Closes up one on Date Settings. "There is a growing interest in the rapture occurring on one of the Jewish fall feasts" [Rapture Ready]. Record High, October 10, 2016: 189. Current: 185. (Remember that bringing on the Rapture is good.) Oh, swell. Bibi gives Big Z some nukes, hilarity ensues. NOTE on #42 Plagues: "The coronavirus pandemic has maxed out this category." More honest than most! 
Class Warfare
"Health care CEOs hauled in $4 billion last year as inflation pinched workers, analysis shows" [STAT]. "The health care industry didn't just provide a safe haven for jittery stock investors in 2022, a year defined by inflation and higher interest rates. It also provided a stable stream of wealth for top executives, who collectively pocketed billions of dollars in what was otherwise a rough patch for the economy. By almost every measure, 2022 was a bad year for the stock market. But health care stocks fell significantly less than other companies as the amount of care received and prescriptions filled returned closer to pre-pandemic norms. As a result, the CEOs of more than 300 publicly traded health care companies combined to make $4 billion in 2022, according to a STAT analysis of financial filings. That amount of money could buy Costco memberships for more than 66 million people, and it's equivalent to the entire economic output of Sierra Leone. That CEO haul was down 11% from the $4.5 billion recorded in 2021. But the sizable paydays highlight how every niche of health care — from Covid-19 vaccines and obscure technology to orthopedic implants and providing coverage to the nation's poor — continued to supply its leaders with substantial sums of money even as more people struggled to afford food, housing, and, yes, health care. 'No matter how you slice it, the people at the top — the CEOs of these companies — are making enormous gains every year compared to ordinary Americans,' said John McDonough, a health policy professor at Harvard who has studied health care for nearly four decades. 'This is the bitter fruit that we [who?] reap from telling the health care industry to act more like a business.'" • One reaps grain, not fruit. What the heck are they doing at Harvard these days? And who's "we"? Always a question that answers itself, once asked.
News of the Wired
Periodically, advice columnist Ann Landers would run a letter that was the 1950s – 1960s equivalent of clickbait: The question of which way toilet paper should be hung: Over the top of the roll, or not? Passionate discussion ensued. So herewith:
I've been lied to my whole life and I'm tired of it pic.twitter.com/2S5Xdog4Tp

— Today Years Old (@todayyearsoldig) August 21, 2023
Although perhaps the message isn't only about garbage bags?
* * *
Contact information for plants: Readers, feel free to contact me at lambert [UNDERSCORE] strether [DOT] corrente [AT] yahoo [DOT] com, to (a) find out how to send me a check if you are allergic to PayPal and (b) to find out how to send me images of plants. Vegetables are fine! Fungi and coral are deemed to be honorary plants! If you want your handle to appear as a credit, please place it at the start of your mail in parentheses: (thus). Otherwise, I will anonymize by using your initials. See the previous Water Cooler (with plant) here. From RM: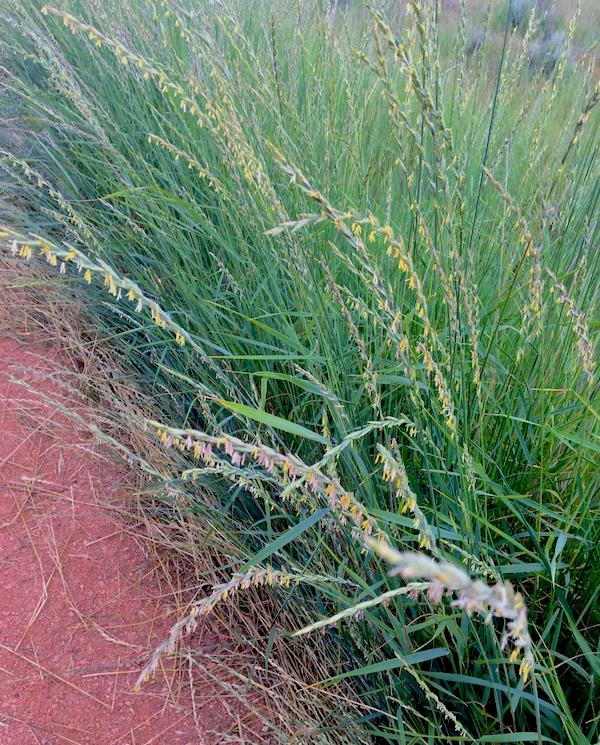 RM writes: "I was doing ok with all the trees and flowers in bloom, but WOW, when the grasses kicked off, my eyes just about shut down." I put up the Cezanne and the Van Gogh the other day because they reminded me of RM.
* * *
Readers: Water Cooler is a standalone entity not covered by the annual NC fundraiser. So if you see a link you especially like, or an item you wouldn't see anywhere else, please do not hesitate to express your appreciation in tangible form. Remember, a tip jar is for tipping! Regular positive feedback both makes me feel good and lets me know I'm on the right track with coverage. When I get no donations for five or ten days I get worried. More tangibly, a constant trickle of donations helps me with expenses, and I factor in that trickle when setting fundraising goals:
Here is the screen that will appear, which I have helpfully annotated: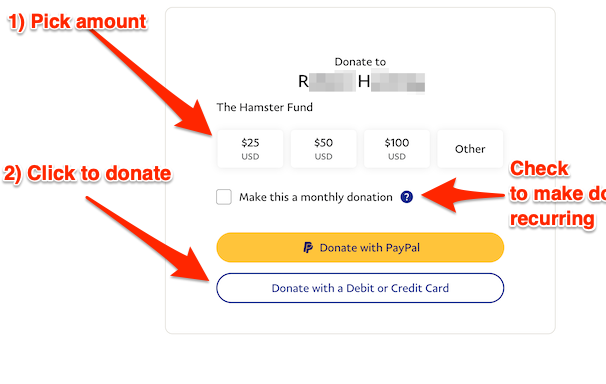 If you hate PayPal, you can email me at lambert [UNDERSCORE] strether [DOT] corrente [AT] yahoo [DOT] com, and I will give you directions on how to send a check. Thank you!