An underground network of wildlife lovers are illegally 'beaver bombing' local rivers The Cool Down (David L)
'Bird killing machines': New Zealand cools on cats to protect native wildlife Guardian (Kevin W)
Scientists Witnessed The Birth Of A New Accent In Antarctica IFLScience (Dr. Kevin)
Artists have forgotten how to draw Unherd (Kevin W)
Meditation: The Joy Trap The Taoist (David L)
#COVID-19
According to a new study, people who endured even mild cases of COVID are at heightened risk two years later of two dozen medical conditions including lung problems, fatigue, diabetes and certain other health problems typical of Long COVID. https://t.co/8znWa5ygbc

— Dr. Lucky Tran (@luckytran) August 21, 2023

Some seniors infected with Omicron variants were more susceptible to reinfection, not less: McMaster study Toronto Star (guurst)

3) UPDATE—Walgreen's #COVID database just went back up this afternoon after public outcry! Hooray. https://t.co/3YcamqKL52

— Eric Feigl-Ding (@DrEricDing) August 21, 2023

— T. Ryan Gregory (@TRyanGregory) August 21, 2023
Climate/Environment
China?
Evil, Scary China Refuses To Passively Let Us Encircle It Caitlin Johnstone (Kevin W)
Niger
BREAKING: A Russian plane has landed in Niger capital, Niamey, carrying hundreds of Wagner fighters it allegedly picked up from Syria. Wagner has recruited thousands of veterans of the Syrian civil war, mostly men who fought on behalf of the Syrian government and defeated ISIS,… pic.twitter.com/jvuYCtz7Y3

— J. C. Okechukwu (@jcokechukwu) August 20, 2023

Rumors of War in West Africa Wayward Rabbler (Kevin W)
European Disunion
Germany's new whistleblower law 'risks return to Stasi era' Telegraph (Li)
New Not-So-Cold War
Ep. 18 Into the abyss: Colonel Douglas Macgregor tells us why the Ukraine war must end now. pic.twitter.com/a3bGLvJC4s

— Tucker Carlson (@TuckerCarlson) August 21, 2023

Between Profits and Principles: Money, Morality, and the Russia-Ukraine War Modern Diplomacy (Micael T)

WARRIOR UPDATE 36 WITH SCOTT RITTER – NATO AND UKRAINE SPAR OVER TERRITORIAL CONCESSIONS Garland Nixon. Important section starting at 20:40 with how drones are revolutionizing war.

Official Suggests Ukraine Is Not Tracking Where It's Using US Cluster Bombs Antiwar.com (Kevin W)

Ukrainian drone destroys Russian supersonic bomber BBC (furzy)

Ukraine Introduces 3D-Printed Anti-Mine Boots Defense Post (Kevin W))

Putin, Pushkin and the decline of the Russian empire Financial Times (Kevin W)
Syraqistan
Saudi border guards killed hundreds of Ethiopian migrants according to HRW France24

I have long rejected claims that Israel is an apartheid state. Now I believe that is where it is heading Guardian (Dr. Kevin)

A Palestinian is shot in the head as he walks away from soldiers. Why is the IDF even in Beita? To stop demos against the usurping of Palestinian land by the nearby outpost

As Israelis we can't protest for democracy while ignoring the dictatorship we uphold beyond the green line https://t.co/YtrWjZ4Pby

— Breaking the Silence (@BtSIsrael) August 21, 2023
Big Brother is Watching You Watch
X Blue users will need to send selfie, data to Israeli software company Al Jazeera (Kevin W)
Imperial Collapse Watch
Trump
Trump probably can't move his Georgia case to federal court Washington Post (furzy)

The Flaw in Trump's Georgia Indictment The Messenger (Li)

Top Trump advisor Stephen Miller unveils tough anti-migrant tactics of a second administration: From land and sea military deployments to building more border walls and buoys along the Rio Grande – and even denying entry to Marxists Daily Mail
Biden
George Bush was mauled for merely flying over New Orleans as citizens drowned during Katrina.

Ted Cruz was mocked in a week-long news cycle for leaving Texas during its electricity crisis.

Not only hasn't Biden visited Maui, but twice vacationed and has barely spoken on it. https://t.co/t3BJ0DhKUe

— Glenn Greenwald (@ggreenwald) August 21, 2023

Biden says "Jill and I have a little sense of what it's like to lose a home" and then tells the story of when lightning struck his house in 2004 and says "I almost lost my '67 corvette and my cat."

According to a report from the time, the lighting strike caused "a small fire… pic.twitter.com/V8IBfoZuEW

— Greg Price (@greg_price11) August 22, 2023

Democrats aren't laughing about the Hunter Biden debacle anymore New York Post
2024
'I can't get into people's heads': Kamala Harris tries to reshape her public image ahead of 2024 Politico. Userfriendly: "Fucking clueless. You can tell how badly they want to blame everyone hating Kamala on racism and sexism ,but know it will fall flat so only hint at it." Moi: If Kamala got into my head, I would need a lobotomy.
Hardline conservatives dial up pressure on McCarthy amid shutdown threat The Hill
Our No Longer Free Press
Tracking Orwellian Change: The Aristocratic Takeover of "Transparency" Matt Taibbi. Also featured in Water Cooler yesterday, but important not to miss.
Internet of Shit
hahaha we live in hell gravis again (Paul R). Important.

No app, no entry: How the digital world is failing the non tech-savvy Guardian (Kevin W)
AI
Revolutionary Mathematics: Artificial Intelligence, Statistics, and the Logic of Capitalism theAnalysis.news

Google AI predicts floods four days early in South America and Africa New Scientist (Dr. Kevin)
Wells Fargo defeats shareholder lawsuit over fake job interviews Yahoo! Finance (Kevin W)
Doctors Must Pay for Privilege of Getting Paid Newser (Dr. Kevin)
New York and California each lost $ 1 TRILLION after major financial firms moved to Texas and Florida Daily Mail (Kevin W)
The Bezzle
Tech's broken promises: Streaming is now just as expensive and confusing as cable. Ubers cost as much as taxis. And the cloud is no longer cheap. Business Insider (Paul R). And you are surprised? We warned you about Uber and the cloud.
Class Warfare
Antidote du jour (embarrassingly having languished in my inbox). Upstater:
My son Matt and I were in Bonaire recently for 10 days of snorkeling and sun. Matt has an underwater camera and snapped this coral with 2 sea urchins and a pair of eyes peering out at him from the center of the coral! We think its a baby puffer fish, but maybe a reef expert can comment?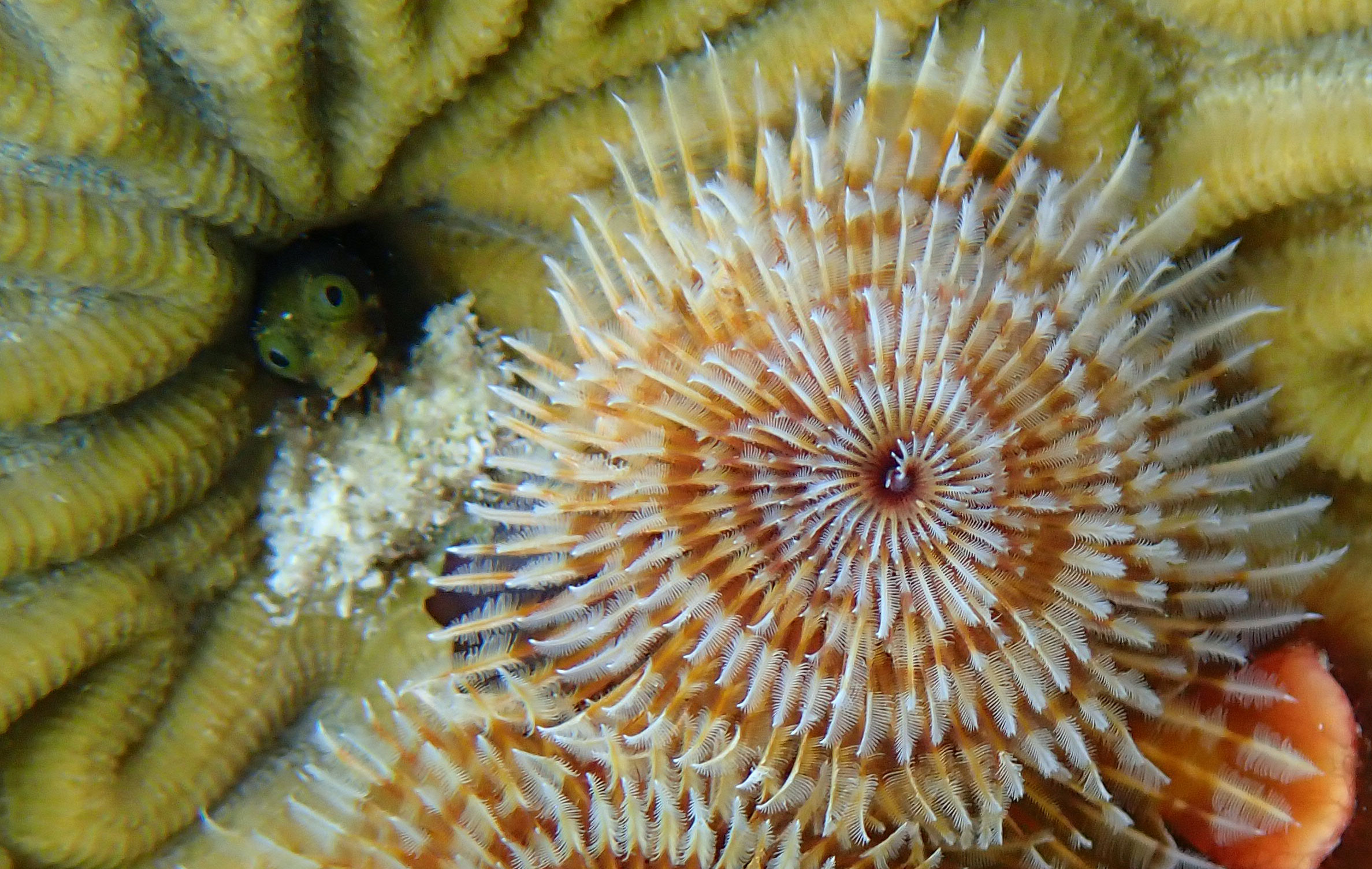 And a bonus:
I stayed in the mountains for a week. Poor cow hurt its leg. Swiss ambulance to the rescue 💪. pic.twitter.com/cnN4bwH9jJ

— Severin Alex Bühler 🇨🇭 (@SeverinAlexB) August 19, 2023
See yesterday's Links and Antidote du Jour here.