By Lambert Strether of Corrente.
Bird Song of the Day
Mexican Whip-poor-will, Tucson; Mt. Lemmon; General Hitchcock Campground, Arizona, United States. "Two-hundred and one examples of the "Whip-poor-will" Call of BNA or, more appropriately, the song of C. v. arizonae (based on range). Quality unchanged (1 – this appears to be the BEST example we have of song for this subspecies)." Another incredibly long whip-poor-will where the old-school birder (1991) counted the calls!
* * *
Politics
"So many of the social reactions that strike us as psychological are in fact a rational management of symbolic capital." –Pierre Bourdieu, Classification Struggles
The Constitutional Order
Democrat framing, coming up:

BREAKING NEWS: Jim Jordan has been disqualified from running for Congress in 2024 due to a violation of Section 3 of the Fourteenth Amendment.

This Constitutional provision states that no person who previously took an oath as a U.S. officer and engaged in insurrection or… pic.twitter.com/xDDZpW0dZM

— Tamie Wilson for US Congress (OH-4) (@TamieUSCongress) August 28, 2023

No, Jordan hasn't been disqualified. This is a fundraising pitch. Expect more if it works out.

"The Fourteenth Amendment Fantasy" [David Frum, The Atlantic]. "[Eminent jurists] argue that language in the Fourteenth Amendment, adopted after the Civil War, should debar the coup-plotting ex-president from appearing on a ballot for any office ever again. Their learning is undisputed. Their conclusions are another story. The project to disqualify Trump from running for president is misguided and dangerous. It won't work. If it somehow could work, it would create problems worse even than Americans already face. In an ideal world, Trump's fellow Republicans would handle this matter by repudiating his crimes and rejecting his candidacy for their presidential nomination. Failing that—and it certainly seems as if that hope is failing—opponents of Trump must dig deep and beat him at the polls one more time. There is no cheat code to win this game." • I hate to find myself in agreement with Frum, but needs must. Regardless of what the text of the Constitution states, giving election officials of one party to power to remove candidates from the other party from the ballot line based on a judgement call is a change to the Constitutional order (albeit an unwritten portion of that order). The "eminent jurists" have pointed to the Rubicon and said, "Yep! Let's cross it. What could go wrong?"

"The Constitutional Case for Barring Trump from the Presidency" (interview) [J. Michael Luttig, The New Yorker]. Luttig explains the "self-executing" aspect of the Fourteenth Amendment, giving the example of the age requirement. The Constitution requires that a President be 35 years old. Therefore, election officals must stirke their name from the ballot. But: "here is vastly more judgment entailed in determining whether, for instance, the former President engaged in an insurrection or rebellion than in determining whether a candidate was thirty-five years old. That doesn't relieve the obligated election official from making that determination. The process for placing individuals on the ballot varies from state to state. But, under our reading of the Fourteenth Amendment, an individual election official could make that decision himself or herself. As a practical matter, is that likely to occur? It would depend, I think, on the office of the election official. If it were the secretary of state who was charged with placing individuals on the ballot, then I believe that decision by the duly appointed state official would suffice. But, in all events, whoever makes the qualification or the disqualification decision and whether they make it, that decision will be immediately challenged, probably by the former President himself. And that challenge would go directly into court—either state or federal—and it would eventually make its way to the Supreme Court of the United States." • However, the point of entry is a disqualification by an election official at the state level. Suits by individuals are frivolous.

The start of a beautiful friendship:

This perfect explication by @judgeluttig is my understanding as well. It's important to keep in mind as litigation around Section 3 disqualification of Donald Trump and others gets underway in the coming days and weeks. Watch this space. https://t.co/kkNbCbiQ7F

— Laurence Tribe 🇺🇦 ⚖️ (@tribelaw) August 31, 2023

* * *

"The Sweep and Force of Section Three" [William Baude and Michael Stokes Paulsen, University of Pennsylvania Law Review]. I highly recommend this piece (and the ensuing discussion at NC, starting here). As a former English major and a fan of close reading, I'm not averse to "originalism," of which Baude and Paulsen provide a magisterial example, in the sense that understanding the law as a text must begin with understanding the plain, public meaning of the words used when the text was written. That's how I read Shakespeare, or Joyce, so why not the Constitution? Just as long as understanding doesn't end there! In any case, I'm working through it. One thing I notice is that there do seem to have been rather a lot of rebellions and insurrections, not just the Civil War. To me, this is parallel to one lesson I drew from Mike Duncan's Revolutions podcast (episode 1): There are rather a lot of revolutions, too. Alert reader Pensions Guy summarizes Baude and Paulsen as follows:]

The authors go through an exhaustive textual and originalism analysis of Section Three, and their Federalist Society leanings do not deter them from reaching their conclusion that officials in every State who are charged with determining candidate qualifications should conclude that Donald Trump is disqualified from being on ballots because of the oath he took on Inauguration Day 2017 and subsequently violated through his role in the insurrection that took place on January 6, 2021.

Taking "insurrection" as read (I need to do more reading), more on my continuing coverage of Section Three.
Capitol Seizure
"Proud Boys who led march to Capitol get two of the lengthiest sentences since Jan. 6 attack" [Politico]. A "march"? Not an insurrection? Or a coup? The whole article is sloppy like this, and doesn't even give the statute under which they were convicted. However, this caught my eye: "'It's almost seductive in how tangible a future act like this could be,' the prosecutor added. '" • This is interesting, because isn't the real issue "We're going to use force to achieve our political ends"? (Note the use of "force" as opposed to "violence." Is a picket line "force"? How about loud chanting into a megaphone? Etc.) If so, then, why the additional verbiage of "It just takes slick propaganda and an environment where you encourage people to basically say, 'It's us against them'"? Are we then to outlaw "divisiveness"? Mandate "unity"? Will we say that if the propaganda is "slick" enough, the appeal to "force" doesn't need to be explicit? No doubt we can ask the Censorship Industrial Complex to answer these questions. See under "Spook Country." 
2024
Time for the Countdown Clock!

* * *

"The final battle":

Damn this is good

Trump posts new campaign video on Truth

""This is the final battle…We will demolish the Deep State…and rid America of these villains once and for all""

YES

— DC_Draino (@DC_Draino) August 3, 2023

I missed this in early August. Interesting that Trump plans to cast out the fascists, communists, and Marxists. What is he, a centrist? Then again, he's also going to cast out the warmongers and the deep state. He's gonna be a busy man! (This is also interesting in that it shows one way Trump can make use of footage from his trials; the implicit message is "This is why I'm here" (and, for some fraction of the electorate, "I'm here for you." It's a good ad; remarkbly, Trump can still hire skilled people.) 

* * *

* * *

"Why Nikki Haley Scares the Biden Campaign" [Walter Shapiro, The New Republic]. "But Haley—for all her flaws and ideological contortions—serves as a potent reminder that Biden and the Democrats could be vulnerable to a Republican nominee who is not a conspiracy-minded authoritarian with social views lifted from The Handmaid's Tale. While Trump, Ron DeSantis, and Vivek Ramaswamy eagerly take right-wing positions that are easy to pillory, Haley is much harder to pigeonhole. There are four notable issues where she has taken politically shrewd positions that could flummox Democrats." Abortion ("trying to take abortion off the table for the 2024 election"), climate (blame China and India), national debt (blame both parties), and Ukraine (not "wobbly"). More: "If the Republicans were a rational political party, they would quickly grasp that Haley's policy positions, as well as her persona as an Indian American woman, make her probably the strongest candidate against Biden." • I'd love to see a Haley/Harris debate. Harris could recast herself as the Indian… she once cast herself as!

* * *

"Cornel West defends third-party presidential bid" [NBC News]. "Asked why he's running for the Green Party nomination instead of challenging Biden in the Democratic Party primary, West said that 'neither party is speaking to the pressing needs of poor and working people.' So the two-party system itself is becoming in an impediment for the flowering of American democracy,' he said. 'We've got too many fellow citizens, 63%, living paycheck-to-paycheck. … I must say that it's hard to view oneself as a spoiler when there is increasing rot in the system with two parties connected to big money, Wall Street, Silicon Valley and militarism abroad.'" Here's the video:

The announcer is very friendly to West (who, one must admit, is quite a charmer).

"Third-party 'spoiler' candidate Cornel West says Democratic Party is 'beyond redemption'" [FOX]. ""I think deep down in his heart he knows that the Democratic Party has no fundamental intention of speaking to the needs of poor people and working people," he continued. "They are dominated by their corporate wing, they're dominated by the militarists when it comes to foreign policy. He and [Rep. Alexandria Ocasio-Cortez] and the others are going to be, in a certain sense, window dressing." • This announceris also friendly, but posts the following:

Quite a tap dance on his taxes, oppo though it be.

"Brother Bernie":

I am glad to respond to Brother Bernie's critique of my campaign on The Rising. @RisingTheHill https://t.co/IEcl4wOHBx

— Cornel West (@CornelWest) August 31, 2023
Spook Country
"Background to 'Assessing Russian Activities and Intentions in Recent US Elections"": The Analytic Process and Cyber Incident Attribution" [Office of the Director of National Intelligence and Office of the Director of National Intelligence National Council*]. From 2017. • Just awful. C'mon, ODNI and ODNIC, let's beat it together:

(A Russian influence meme, in case you haven't guessed.) NOTE * I swear these are two separate institutions! They both have their seals on the cover of the document (indicated to me that they're overstaffed, though no doubt name-plate contractors are doing very well for themselves.)

"Statement by Secretary Jeh Johnson on the Designation of Election Infrastructure as a Critical Infrastructure Subsector" [United States Department of Homeland Security]. Also from 2017. "Now more than ever, it is important that we offer our assistance to state and local election officials in the cybersecurity of their systems. Election infrastructure is vital to our national interests, and cyber attacks on this country are becoming more sophisticated, and bad cyber actors – ranging from nation states, cyber criminals and hacktivists – are becoming more sophisticated and dangerous." • Of course, with handmarked paper ballots, hand-counted in public, there's no cybersecurity issue at all, since there's no "cyber" to begin with. Can't have that.

Commentary by Mike Benz on the above two documents:

The ""Other"" January 6

How the CIA and DHS threw a 1-2 punch on January 6, 2017 to kick in the door for spooks to start censoring US elections pic.twitter.com/QrvYsMz22X

— Mike Benz (@MikeBenzCyber) August 23, 2023

One could view the organs of state security as having constructed several lines of defense against the "wrong" decision at the ballot in 2024: (1) counting the votes (and maintaining the voter rolls), per Jeh Johnson; (2) constraining the ballot lines, per ODNI and ODNIC (see, e.g., Hunter Thompson's laptop). In addition, (3) a new line of defense is being constructed to constrain the ballot line with election officials, under the Fourteenth Amendment theory. 
Democrats en Déshabillé
Patient readers, it seems that people are actually reading the back-dated post! But I have not updated it, and there are many updates. So I will have to do that. –lambert

I have moved my standing remarks on the Democrat Party ("the Democrat Party is a rotting corpse that can't bury itself") to a separate, back-dated post, to which I will periodically add material, summarizing the addition here in a "live" Water Cooler. (Hopefully, some Bourdieu.) It turns out that defining the Democrat Party is, in fact, a hard problem. I do think the paragraph that follows is on point all the way back to 2016, if not before:

The Democrat Party is the political expression of the class power of PMC, their base (lucidly explained by Thomas Frank in Listen, Liberal!). ; if the Democrat Party did not exist, the PMC would have to invent it. . ("PMC" modulo "class expatriates," of course.) Second, all the working parts of the Party reinforce each other. Leave aside characterizing the relationships between elements of the Party (ka-ching, but not entirely) those elements comprise a network — a Flex Net? An iron octagon? — of funders, vendors, apparatchiks, electeds, NGOs, and miscellaneous mercenaries, with assets in the press and the intelligence community.

Note, of course, that the class power of the PMC both expresses and is limited by other classes; oligarchs and American gentry (see 'industrial model' of Ferguson, Jorgensen, and Jie) and the working class spring to mind. Suck up, kick down.

* * *
#COVID19
"I am in earnest — I will not equivocate — I will not excuse — I will not retreat a single inch — AND I WILL BE HEARD." –William Lloyd Garrison
Resources, United States (National): Transmission (CDC); Wastewater (CDC, Biobot; includes many counties; Wastewater Scan, includes drilldown by zip); Variants (CDC; Walgreens); "Iowa COVID-19 Tracker" (in IA, but national data). "Infection Control, Emergency Management, Safety, and General Thoughts" (especially on hospitalization by city).
Lambert here: Readers, thanks for the collective effort. To update any entry, do feel free to contact me at the address given with the plants. Please put "COVID" in the subject line. Thank you!
Resources, United States (Local): AK (dashboard); AL (dashboard); AR (dashboard); AZ (dashboard); CA (dashboard; Marin, dashboard; Stanford, wastewater; Oakland, wastewater); CO (dashboard; wastewater); CT (dashboard); DE (dashboard); FL (wastewater); GA (wastewater); HI (dashboard); IA (wastewater reports); ID (dashboard, Boise; dashboard, wastewater, Central Idaho; wastewater, Coeur d'Alene; dashboard, Spokane County); IL (wastewater); IN (dashboard); KS (dashboard; wastewater, Lawrence); KY (dashboard, Louisville); LA (dashboard); MA (wastewater); MD (dashboard); ME (dashboard); MI (wastewater; wastewater); MN (dashboard); MO (wastewater); MS (dashboard); MT (dashboard); NC (dashboard); ND (dashboard; wastewater); NE (dashboard); NH (wastewater); NJ (dashboard); NM (dashboard); NV (dashboard; wastewater, Southern NV); NY (dashboard); OH (dashboard); OK (dashboard); OR (dashboard); PA (dashboard); RI (dashboard); SC (dashboard); SD (dashboard); TN (dashboard); TX (dashboard); UT (wastewater); VA (dashboard); VT (dashboard); WA (dashboard; dashboard); WI (wastewater); WV (wastewater); WY (wastewater).
Resources, Canada (National): Wastewater (Government of Canada).
Resources, Canada (Provincial): ON (wastewater); QC (les eaux usées); BC, Vancouver (wastewater).
Hat tips to helpful readers: anon (2), Art_DogCT, B24S, CanCyn, ChiGal, Chuck L, Festoonic, FM, FreeMarketApologist (4), Gumbo, hop2it, JB, JEHR, JF, JL Joe, John, JM (10), JustAnotherVolunteer, JW, KatieBird, LL, Michael King, KF, LaRuse, mrsyk, MT, MT_Wild, otisyves, Petal (6), RK (2), RL, RM, Rod, square coats (11), tennesseewaltzer, Utah, Bob White (3). 
Stay safe out there!
* * *
Maskstravaganza
"Mask Mandates Have Kept One Cancer Center Free From COVID-19. Others Have Lifted Masking Requirements Despite Patient Concerns" [Cancer Therapy Advisor].  "City of Hope in Duarte, California, has maintained masking requirements, and this has prevented hospital-acquired COVID-19 there entirely, according to Vijay Trisal, MD, chief medical officer at City of Hope. 'Our policies enabled us to achieve zero nosocomial infections, zero outbreaks,' Dr Trisal said. 'In a cancer hospital, that is critically important. We have no imminent plans to change our current policies.'" • Despite CDC's best efforts to kill his patients!
Covid is Airborne
Readers, I'm repeating this because of my plea for a PDF. Thank you!

"Public Health is a Job for Engineers" (abtract) [Mechanical Engineering]. The deck: "Physicians Can Cure Diseases, but Mechanical Engineers Build Defenses To Ward Off Pathogens Defore They Infect." The Abstract: "Instead of waiting to fight diseases inside the human body, engineering can establish lines of defense further out by either intercepting and neutralizing the pathogens before they reach humans or diluting them so much that they can't build up an infective load.
Transmission
"Covid-19 spread during Middlebury Bread Loaf conference" [VT Digger]. "Despite those efforts, she started feeling very sick on Friday as the conference was ending, becoming one of 28 participants who organizers said had reported a positive Covid test. 'I tried to do everything as an individual that I could do to protect myself,' [Laura] Mauldin said in an interview Monday, adding that it was her first bout with Covid-19. '.' The conference's current Covid-19 policies mirror those of its affiliate, Middlebury College, which starts orientation for new students next week. Both entities say they follow guidance from the U.S. Centers for Disease Control and Prevention and rely on individuals to manage their own testing and to voluntarily mask and isolate themselves when symptoms appear." • Covid is, of course, asymptomatic, so CDC's eugenicist policies are working as designed, at least for Middlebury, Meanwhile, IIRC Bob Wachter chivvied his wife into attending a writer's conference, and he tagged along. They both got Covid, and she got Long Covid. So there is absolutely no excuse for the organizers. But PMC gotta PMC. From alert reader Amateur Socialist:

Covid anecdata from rural VT:  Outbreak at writer's conference stirs controversy when organizers continue events on schedule.  https://thevpo.org/2023/08/28/youd-think-maybe-a-writers-conference-would-put-writers-first/#more-15684

If it's in Middlebury VT it's everywhere.

Events are "on schedule" alright. Right down the cr*pper.
* * *
Case Data
NOT UPDATED From BioBot wastewater data, August 31: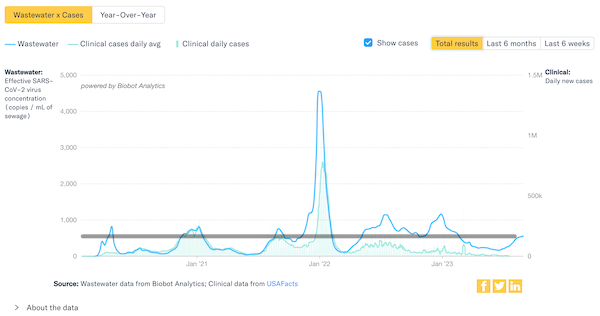 Lambert here: Happy memories of tape-watching days! Resuming our upward climb, at a slower pace.
Regional data. As we can see, the national flattening was due to the Midwest downward swoop: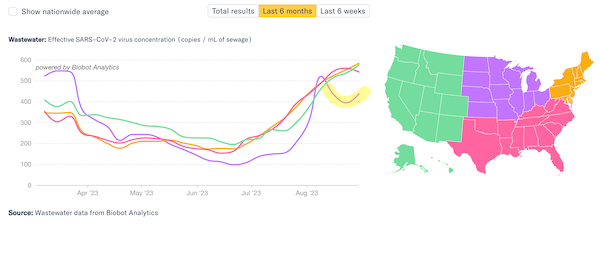 Yesterday's Water Cooler was full of charts that showed why I was dubious about the Midwest downward swoop, which now seems to be reversing itself, I don't know whether due to the data, backward revisions, or what.
Variants                 
From CDC, September 2: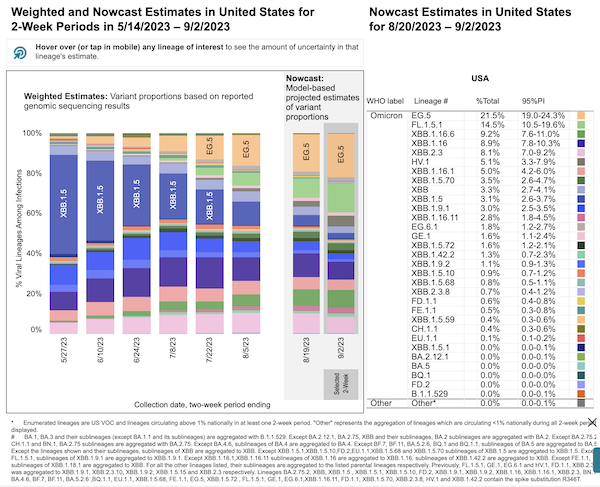 Lambert here: Top of the leaderboard: EG.5 ("Eris"). No BA.2.86 here, not even in the note, but see below at Positivity.
From CDC, August 19: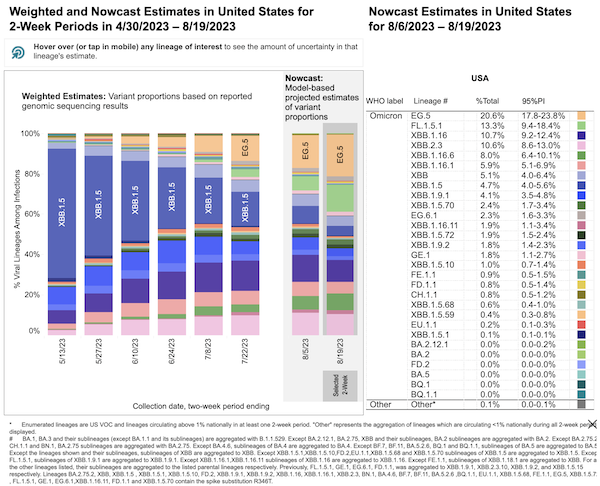 Lambert here: Not sure what to make of this. I'm used to seeing a new variant take down the previously dominant variant. Here it looks like we have a "tag team," all working together to cut XBB.1.5 down to size. I sure hope the volunteers doing Pangolin, on which this chart depends, don't all move on the green fields and pastures new (or have their access to facilities cut by administrators of ill intent).
CDC: "As of May 11, genomic surveillance data will be reported biweekly, based on the availability of positive test specimens." "Biweeekly: 1. occurring every two weeks. 2. occurring twice a week; semiweekly." Looks like CDC has chosen sense #1. In essence, they're telling us variants are nothing to worry about. Time will tell.
Covid Emergency Room Visits
NOT UPDATED From CDC NCIRD Surveillance, August 26: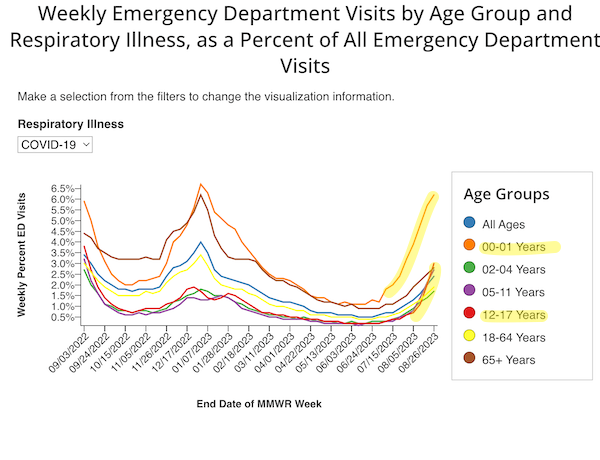 Lambert here: I changed this ER chart to a Covid-only chart broken down by age. Note the highlighting.
NOTE "Charts and data provided by CDC, updates Wednesday by 8am. For the past year, using a rolling 52-week period." So not the entire pandemic, FFS (the implicit message here being that Covid is "just like the flu," which is why the seasonal "rolling 52-week period" is appropriate for bothMR SUBLIMINAL I hate these people so much. Notice also that this chart shows, at least for its time period, that Covid is not seasonal, even though CDC is trying to get us to believe that it is, presumably so they can piggyback on the existing institutional apparatus for injections.
Hospitalization
NOT UPDATED Bellwether New York City, data as of August 31: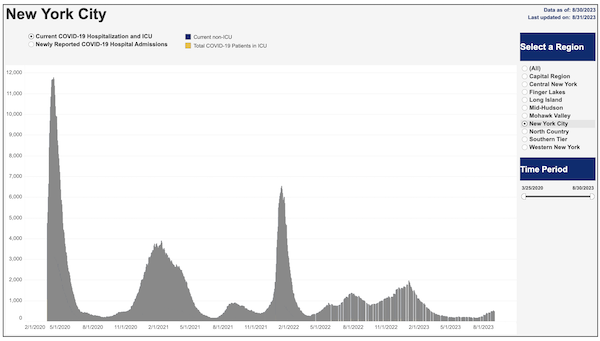 Still getting worse. But how much worse? I hate this metric because the lag makes it deceptive.
NOT UPDATED Here is CDC's map…. "In Past Week," because there's no [family blogging date]: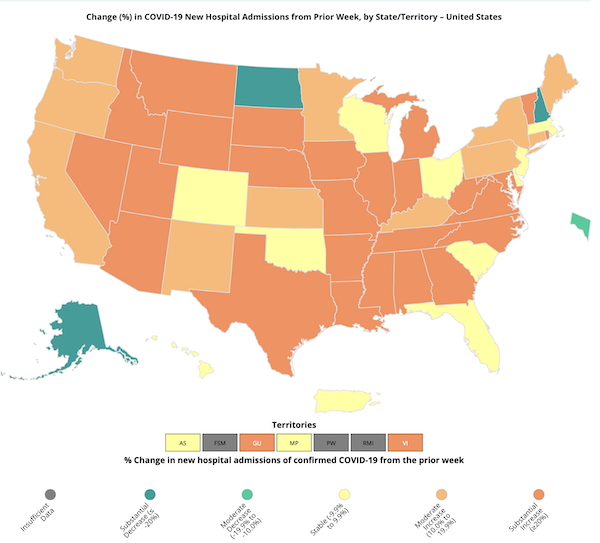 Orange = "substantial increase" (more than 20%). The cadence: "Maps, charts, and data provided by CDC, updates Mondays and Thursdays by 8 p.m. ET." So apparently, on Friday, I have to compare the map here with the one on the CDC site to see if the update has, in fact, been performed. Why are they making me think?
Lambert here: This looks the same to me, so either things are the same, or CDC's promised Thursday update "by 8 p.m. ET" didn't happen (and it might not have; CDC has form). Can't they just time-stamp the [family blogging] page, like normal human beings?
Positivity
NOT UPDATED Walgreens, August 28: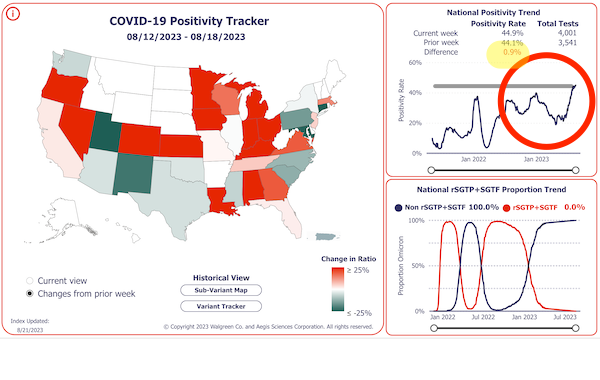 So, Walgreens is back in the game (and how the heck did that debacle happen? We breathlessly await the news coverage). The percentage of positives is the highest ever, though absolute numbers are still small relative to past surges.
NOT UPDATED Cleveland Clinic, August 26: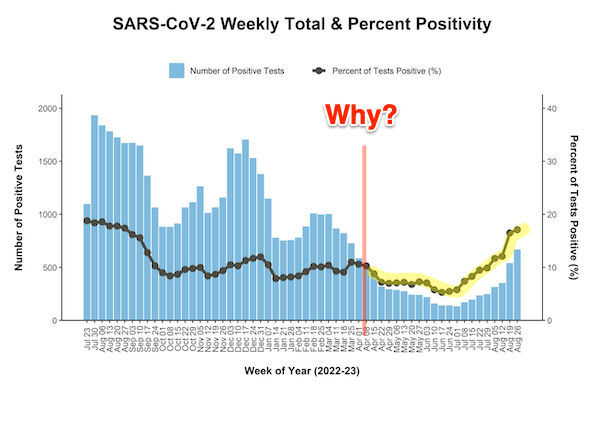 Lambert here: I know this is just Ohio, but the Cleveland Clinic is good*, and we're starved for data, so…. NOTE * Even if hospital infection control is trying to kill patients by eliminating universal masking with N95s.
From CDC, August 14: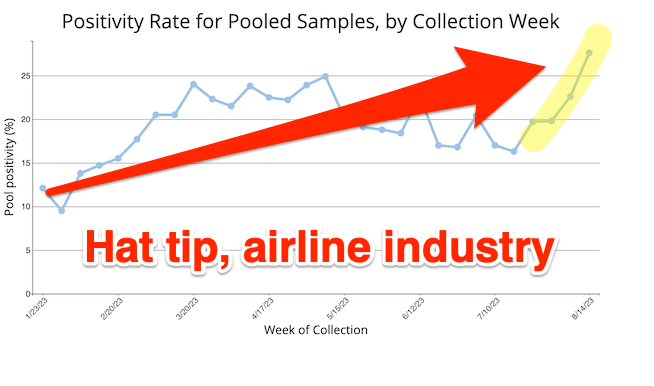 Lambert here: This is the CDC's "Traveler-Based Genomic Surveillance" data, confirming the current surge, only two weeks late. Sure would be useful to know if there were any BA.2.86 in those samples, though! And now we know: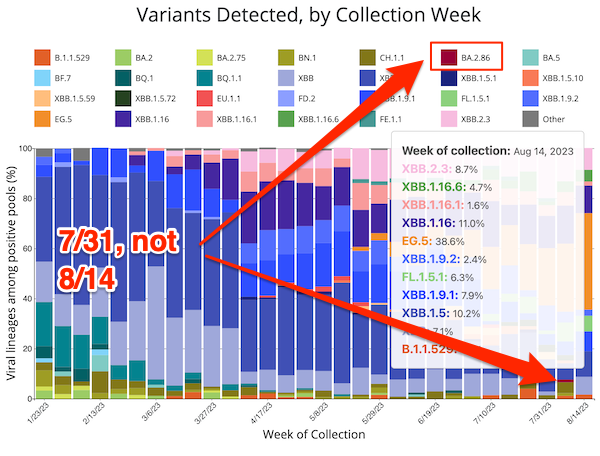 I apologize, CDC. I missed this. Fifty lashes with a wet noodle for lambert.
Deaths
Iowa COVID-19 Tracker, August 30: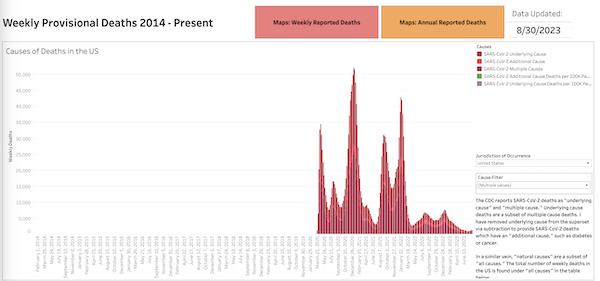 Lambert here: The WHO data is worthless, so I replaced it with the Iowa Covid Data Tracker. Their method: "These data have been sourced, via the API from the CDC: https://data.cdc.gov/NCHS/Conditions-Contributing-to-COVID-19-Deaths-by-Stat/hk9y-quqm. This visualization updates on Wednesday evenings. Data are provisional and are adjusted weekly by the CDC." I can't seem to get a pop-up that shows a total of the three causes (top right). Readers?
Total: 1,173,655 – 1,173,5931,173,081 =  62. 62 * 365 = 22,630 deaths per year, today's YouGenicist™ number for "living with" Covid (quite a bit higher than the minimizers would like, though they can talk themselves into anything.–> If the YouGenicist™ metric keeps chugging along like this, I may just have to decide this is what the powers-that-be consider "mission accomplished" for this particular tranche of death and disease). 
Excess Deaths
The Economist, September 1: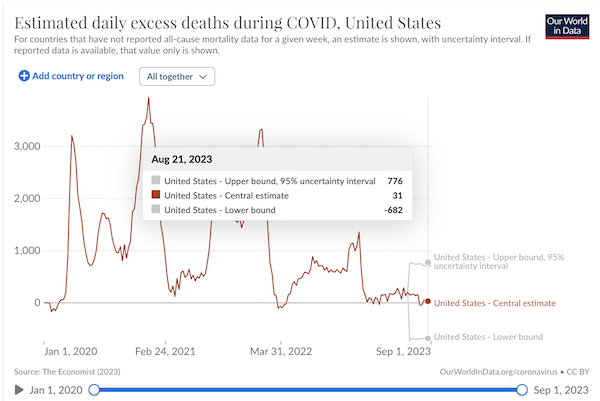 Lambert here:  Back to almost daily. Odd when it is, odd when it stops. Based on a machine-learning model. (The CDC has an excess estimate too, but since it ran forever with a massive typo in the Legend, I figured nobody was really looking at it, so I got rid it. )
Stats Watch
Employment Situation: "United States Unemployment Rate" [Trading Ecomomics]. "The unemployment rate in the US rose to 3.8 percent in August 2023 from 3.5 percent in July, the highest since February 2022 and above market expectations of 3.5 percent. The number of unemployed people increased by 514 thousand to 6.355 million and employment levels rose by 222 thousand to 161.484 million. The so-called U-6 unemployment rate, which also includes people who want to work, but have given up searching and those working part-time because they cannot find full-time employment, went up to 7.1 percent in August, the highest since May 2022, from 6.7 percent in July. The labor force participation rate increased to 62.8 percent, the highest since February 2020, from 62.6 percent."
Manufacturing: "United States ISM Purchasing Managers Index (PMI)" [Trading Economics]. "The ISM Manufacturing PMI climbed to 47.6 in August 2023 from the previous month's 46.4, slightly exceeding the market consensus of 47.0. However, this reading still indicated that economic activity within the manufacturing sector had contracted for the tenth consecutive month. While production levels stabilized, the inflow of new orders experienced a more rapid decline, and the pace of job shedding showed signs of easing.":
* * *
* * *
Today's Fear & Greed Index: 55 Neutral (previous close: 53 Fear) [CNN]. One week ago: 47 (Neutral). (0 is Extreme Fear; 100 is Extreme Greed). Last updated Sep 1 at 2:13 PM ET. C'mon, Mr. Market! One way or the other!
News of the Wired
"Pornhub Wins Free Speech Challenge to New Verification and Warning Laws" [Jonathan Turley, The Hill]. "There is an interesting free speech ruling in Texas in favor of the adult entertainment site, Pornhub. Senior U.S. District Judge David A. Ezra of the U.S. District Court for the Western District of Texas ruled that a Texas law requiring age-verification and warning labels about the alleged dangers of porn contravenes the First Amendment…. I do view this law as containing unconstitutional elements. However, this is likely to be just the start to a long series of challenges and appeals. These laws have been enacted in other states, including Louisiana, Mississippi, Virginia and Utah." • Texas, naturally, since Red States watch more pr0n; the thrill of the forbidden, no doubt.
* * *
Contact information for plants: Readers, feel free to contact me at lambert [UNDERSCORE] strether [DOT] corrente [AT] yahoo [DOT] com, to (a) find out how to send me a check if you are allergic to PayPal and (b) to find out how to send me images of plants. Vegetables are fine! Fungi and coral are deemed to be honorary plants! If you want your handle to appear as a credit, please place it at the start of your mail in parentheses: (thus). Otherwise, I will anonymize by using your initials. See the previous Water Cooler (with plant) here. From FM: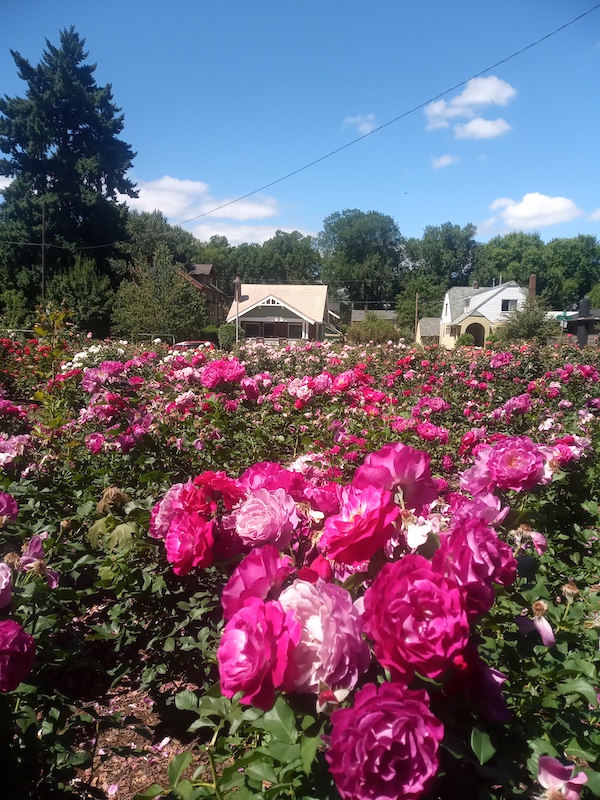 FM writes: "A neighborhood rose garden."
* * *
Readers: Water Cooler is a standalone entity not covered by the annual NC fundraiser. So if you see a link you especially like, or an item you wouldn't see anywhere else, please do not hesitate to express your appreciation in tangible form. Remember, a tip jar is for tipping! Regular positive feedback both makes me feel good and lets me know I'm on the right track with coverage. When I get no donations for five or ten days I get worried. More tangibly, a constant trickle of donations helps me with expenses, and I factor in that trickle when setting fundraising goals:
Here is the screen that will appear, which I have helpfully annotated: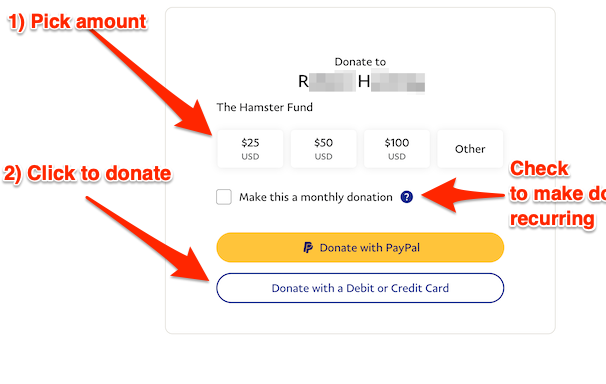 If you hate PayPal, you can email me at lambert [UNDERSCORE] strether [DOT] corrente [AT] yahoo [DOT] com, and I will give you directions on how to send a check. Thank you!