This is Naked Capitalism fundraising week. 131 donors have already invested in our efforts to combat corruption and predatory conduct, particularly in the financial realm. Please join us and participate via our donation page, which shows how to give via check, credit card, debit card, or PayPal. Read about why we're doing this fundraiser, what we've accomplished in the last year,, and our current goal, strengthening our IT infrastructure.
Patient readers, I hope you enjoyed your Labor Day. At present, this Water Cooler is a bit light; Mercury being retrograde, both my computers have been having issues. Having purchased a keyboard for the laptop with nonfunctional "f", "w", and "r" keys, I put the one with the just-borked screen into the shop — forgetting that the current Water Cooler template was on it. So I had to reconstruct a good deal, hopefully forgetting nothing. More soon. –lambert
By Lambert Strether of Corrente.
Bird Song of the Day
Common Chiffchaff (Common), Dorchester–Frome Whitfield, Dorset, England, United Kingdom. I searched on "sweet summer bird" and this is what I got.
* * *
Politics
"So many of the social reactions that strike us as psychological are in fact a rational management of symbolic capital." –Pierre Bourdieu, Classification Struggles
The Constitutional Order
"Judge dismisses 14th Amendment lawsuit against Trump, rules plaintiffs lack standing" [Palm Beach Post]. "In her swift dismissal of the case, Judge Robin Rosenberg, who was appointed to the bench by President Barack Obama, did not determine the 14th Amendment's applicability in Trump's case. Instead, Rosenberg ruled that the plaintiffs, Boynton Beach attorney Lawrence Caplan and two others, lacked "standing" to bring the challenge." • Indeed, the cases bought by individuals are frivolous. Baude and Paulsen argue that it's state-level election officials who can "disqualify" Trump from the ballot, based on his putative involvement in a January 6 insurrection. When one of those officials does that, they'll be challenged in court, and no doubt the case will wend its way to the Supremes (one of the reasons for the assault on Clarence Thomas, no doubt, not that he doesn't richly deserve it).

"Trump reps call push to disqualify him under 14th Amendment 'absurd'" [Axios]. "Trump sent out fund-raising emails Sunday on potential litigation over the 14th Amendment that railed against "traitorous 'Republicans'" who may be looking into potential cases as he stares down four criminal indictments, per NBC News…. [The Trump campaign-allied MAGA Inc. super PAC] pointed to an Obama-appointed Florida judge's dismissal last week of a challenge to Trump's candidacy under the 14th Amendment." • Disingenuous, as we see above.

"States look to see if 14th Amendment can be used to disqualify Trump — but it has risks" [Axios]. "Advocacy group Free Speech For People, sent letters to election officials in Florida, Ohio, Wisconsin, New Hampshire and New Mexico on Wednesday, asking them to use their authority to exclude Trump from the ballots…. Special counsel Jack Smith didn't charge Trump with insurrection or rebellion in the election fraud case. But the provision doesn't indicate a need for a criminal indictment or conviction." But insurrection is a crime. If Smith didn't charge Trump with it, that's prima facie evidence Trump didn't commit it. More: "[Sheralynn] Ifill, who was recently named the inaugural chair of the 14th Amendment Center for Law & Democracy at Howard Law School, told Axios she has "no doubt" that Section 3 of the 14th Amendment can be applied to Trump. 'I am convinced that Section 3 was designed to protect our democracy against precisely the threat that the former President constitutes to our republic,' she said." No doubt. Democrats started framing the riot of January 6 as "insurrection" instantly. Somehow, they confused this:

with this:

"Is Trump blocked from the 2024 ballot? The Constitution could keep him out of the running" [Arizona Republic]. "NBC News did a story recently describing how secretaries of state throughout the country are trying to figure out how to deal with such challenges. Arizona Secretary of State Adrian Fontes figured prominently in that story, saying in part, 'We have to have a final certification of eligible candidates (for the primary ballot) by Dec. 14 for Arizona's presidential preference election. And because this will ultimately end up in court, we are taking this very seriously…. Right now, rulings by the Arizona Supreme Court indicate Trump can't be excluded from the ballot here. But that ruling may not be the final word. Or as Fontes said in an interview with The Gaggle, the politics podcast of The Arizona Republic and azcentral.com, 'Can the Arizona Supreme Court be overturned? If somebody brings a lawsuit? Well, any law can be overturned in a judicial action. Now, I'm not inviting someone to sue me, although it probably will end up happening.'" • Fontes is a Democrat, as it happens.

* * *

"The Sweep and Force of Section Three" [William Baude and Michael Stokes Paulsen, University of Pennsylvania Law Review]. I highly recommend this piece (and the ensuing discussion at NC, starting here). As a former English major and a fan of close reading, I'm not averse to "originalism," of which Baude and Paulsen provide a magisterial example, in the sense that understanding the law as a text must begin with understanding the plain, public meaning of the words used when the text was written. That's how I read Shakespeare, or Joyce, so why not the Constitution? Just as long as understanding doesn't end there! In any case, I'm working through it. One thing I notice is that there do seem to have been rather a lot of rebellions and insurrections, not just the Civil War. To me, this is parallel to one lesson I drew from Mike Duncan's Revolutions podcast (episode 1): There are rather a lot of revolutions, too. Alert reader Pensions Guy summarizes Baude and Paulsen as follows:

The authors go through an exhaustive textual and originalism analysis of Section Three, and their Federalist Society leanings do not deter them from reaching their conclusion that officials in every State who are charged with determining candidate qualifications should conclude that Donald Trump is disqualified from being on ballots because of the oath he took on Inauguration Day 2017 and subsequently violated through his role in the insurrection that took place on January 6, 2021.

Taking "insurrection" as read (I need to do more reading), this has been more of my continuing coverage of Section Three.
2024
Time for the Countdown Clock!

"A Trump-Biden rematch may be on the horizon in 2024, whether voters like it or not" [Associated Press]. "The end of Labor Day weekend would typically mark the start of a furious sprint to the Iowa caucuses as candidates battle for their party's presidential nomination. But as the 2024 campaign comes into greater focus, the usual frenzy is yielding to a sense of inevitability." A vote for — or, rather, a determination of the conventional wisdom — stability in 2024, not volatility. But [checks clock] election day is 427 days away. So, really? In any case, my vote is for volatility. Something's gotta give.

* * *

"Trump's status as an anti-hero is making him unstoppable" [Financial Times]. "Far from working against him, Trump's mugshot became instantly iconic; "next-level", as Elon Musk put it on X, formerly Twitter. Trump himself even took to Musk's platform for the first time since he was banned in January 2021 to share the picture, along with a link to his website where supporters could make donations. His campaign said that it had made more than $9.4mn since the mugshot was released, including $864,000 from selling 24,000 coffee mugs printed with the image (geddit?) and $1.7mn from T-shirts. Many worry that all his legal woes are turning Trump into a 'martyr', but I'm not sure that quite captures it. It would imply, apart from anything else, that Trump is being persecuted for some kind of strongly held beliefs or principles. But he is in possession of neither — apart from the belief in himself. No, Trump is no feeble martyr. He is something altogether more "based" — to borrow the internet slang-word for someone who is respected for paying no regard to political correctness or even basic morality. Trump is the ultimate American anti-hero. An anti-hero, a word normally associated with fictional characters, is someone who plays the central role in a story despite possessing none of the virtues associated with a traditional heroic lead character. In a 2022 paper, a pair of researchers described the anti-hero as 'a bewitching, unrepentant, amoral outsider who breaks old rules and creates new ones while leaving chaos in his wake'. They also argued that Trump's popularity was 'foretold by decades of pop-cultural obsession with, and adulation for, the anti-hero'. One can think of Tony Soprano in The Sopranos, Walter White in Breaking Bad, or Michael Corleone in The Godfather as examples of the huge cultural popularity of the anti-hero in the run-up to Trump." • Or Omar in The Wire? Then again, I think of the poor, Black Atlanta citizens cheering Trump's motorcade as it passed by them heading toward Fulton County Jail. I'm not sure the "anti-hero" trope applies to them. "They're putting him in jail, so he's one of us!", more likely.

"Not Just 'Re-Truths': Trump Reportedly Autographs Printouts Of Flattering Tweets And Op-Eds And Sends Them Back To Authors" [Forbes]. • That makes him smart!

* * *

"Biographer says it wouldn't be 'total shock' if Biden drops out of 2024 race" [Guardian]. "Franklin Foer, whose book The Last Politician: Inside Joe Biden's White House and the Struggle for America's Future is published this week, told NBC's Meet the Press on Sunday that 'it doesn't take Bob Woodward to understand that Joe Biden is old', referring the Watergate reporter who, like Biden, is 80. 'I'm not a gerontologist, and I can't predict how the next couple years will age Joe Biden,' Foer added. Asked if Biden could drop out of his re-election bid, Foer said: 'It would be a surprise to me, but it wouldn't be a total surprise to me.' … In the book, Foer writes that Biden's 'advanced years were a hindrance, depriving him of the energy to cast a robust public presence or the ability to easily conjure a name. … It was striking that he took so few morning meetings or presided over so few public events before 10am. His public persona reflected physical decline and time's dulling of mental faculties that no pill or exercise regime can resist." • "Energy in the executive" isn't necessarily good. I mean, I don't want Biden to wake up at 8:00am, full of p*ss and vinegar, and press the button.

"Can Reverse Coattails Save the Democrats in 2024?" [Robert Kuttner, The American Prospect]. "But barring some kind of health emergency, this is not going to happen. Biden will be the candidate. And so Democrats have no choice but to maximize enthusiasm for Biden while compensating for his weaknesses in other ways." • This, albeit caveated, is a vote for seeing 2024 as stable. I'm not so sure.

"Most Pro-Labor President in History? Joe Biden's Not There Yet" [The Nation]. " Joe Biden is more outspoken than any recent president when it comes to supporting organized labor, and he has a record that attests to his sincerity." Right! Look at the railroad unions! Oh, wait…. More: "By any measure, Biden's labor record at this point is better than that of any recent Democratic or Republican presidents…. If you're looking for a measure of a "most pro-union president," you won't find a better one than a dramatic increase in union membership. FDR nailed it. And Ike did quite well. Biden, by comparison, has not come close. According to the Bureau of Labor Statistics, the overall union membership rate fell from a dismal 10.3 percent, when Biden took office in 2021, to an even more dismal 10.1 percent in 2022…. That does not mean, however, that Biden should give up on claiming the "most-pro-union president" title. Quite the opposite. What he should do is fight for the title. The 2024 election can and should be a referendum on labor rights." • Dream on. Biden can't. The Democrat base hates the working class; see Thomas Frank, Listen, Liberal! That's why Biden's reforms are limited to swapping new regulators into the regulatory state. Not bad, but not nearly good enough.

"Democratic elites struggle to get voters as excited about Biden as they are" [Guardian]. The deck: "When party elites look at President Joe Biden, they see the second coming of Franklin D. Roosevelt." Even Democrat elites aren't that stupid. "A quirk of the 2024 presidential cycle is the chasm that's emerged between the party establishment and rank-and-file voters. For Democrats, more than half don't want to see Biden run again, an April NBC News poll found." • To be fair to Democrat elites, they've had a pretty good track record of getting their base to buy into any number of delusions, including "vax and relax," "it's just like the flu," and that's before we get into domestic or geo-politcs. So maybe they can bridge the chasm. For the next 427 days. Not easy. Dangerous, too. Suppose Biden doesn't just slip a cog, but blows a gasket. Who would burst the bubble? The list of Presidents with real and concealed medical issues isn't short (Wilson, Kennedy, Reagan).

"Joe Biden's age poses a big issue he can't get around" [Los Angeles Times]. "Politically, the basic problem for Biden is that, while Americans don't necessarily know a lot about the finer points of public policy or the arcana of the legislative process, they do know what an oldster, already well-past life expectancy, looks like when age starts to take its toll. The Democrats are betting that even if Americans think Biden is physically unfit for the presidency, he can beat Donald Trump because Trump is characterologically unfit. The bet might pay off, but it strikes me as a wildly irresponsible gamble." • I don't think Democrat elites believe that Biden is FDR. What they know is that Harris isn't even Biden. Buttigeig isn't even Biden. Newsome isn't even Biden. Dark horse Pritzker isn't even Biden. It's as if — reaching deep for the metaphor, here — the Red Sox were going to replace the aging out Carl Yastrzemski, even as a designated hitter, with a player from Pawtucket. Na ga happen. "Events, dear boy, events," but I'm sure every Democrat grandee knows the field well, and and they're not really "betting" on Biden; they think he's the best and only play.

* * *

* * *

* * *

* * *

* * *

ii
Obama Legacy
Great material from Carlos Mucha ("Beowulf"). Sorry about the width and the length, but Twitter really isn't suitable for, well, blogging:

And:

And then came election 2010….
Democrats en Déshabillé
Patient readers, it seems that people are actually reading the back-dated post! But I have not updated it, and there are many updates. So I will have to do that. –lambert

I have moved my standing remarks on the Democrat Party ("the Democrat Party is a rotting corpse that can't bury itself") to a separate, back-dated post, to which I will periodically add material, summarizing the addition here in a "live" Water Cooler. (Hopefully, some Bourdieu.) It turns out that defining the Democrat Party is, in fact, a hard problem. I do think the paragraph that follows is on point all the way back to 2016, if not before:

The Democrat Party is the political expression of the class power of PMC, their base (lucidly explained by Thomas Frank in Listen, Liberal!). ; if the Democrat Party did not exist, the PMC would have to invent it. . ("PMC" modulo "class expatriates," of course.) Second, all the working parts of the Party reinforce each other. Leave aside characterizing the relationships between elements of the Party (ka-ching, but not entirely) those elements comprise a network — a Flex Net? An iron octagon? — of funders, vendors, apparatchiks, electeds, NGOs, and miscellaneous mercenaries, with assets in the press and the intelligence community.

Note, of course, that the class power of the PMC both expresses and is limited by other classes; oligarchs and American gentry (see 'industrial model' of Ferguson, Jorgensen, and Jie) and the working class spring to mind. Suck up, kick down.

* * *
Realignment and Legitimacy
"Identity politics is a game the left can't win" [Fredrik deBoer, Boston Globe]. "Most people want to come together across difference for the good of all, rather than to be divided into smaller and smaller slices based on identity categories they don't control. Over the past several years, American progressives have begun to reinstitute a pernicious form of segregation. Sometimes this segregation is literal, as when they form those "affinity groups" at school or work, where people are separated out into groups of Black or Hispanic or Asian or gay or trans or disabled or other. This segregation (which is the only honest term for it) is meant to make the members of these groups comfortable. But the very concept is inimical to solidarity, the most basic means and end of left politics. Solidarity requires that we see common humanity, that we recognize shared struggle, that we look at the suffering of another and imagine ourselves in their position and are thus moved to work for better for them. However noble the intent of intersectional politics may be, by fixating relentlessly on the need to stress difference, those who practice this are undermining the capacity for the only tool that might relieve those very oppressions they decry: people power, the formation of a mass movement. As the American sociologist and left activist Todd Gitlin once wrote, 'if there is no people, only peoples, there is no left.'" • But every single one of those "smaller and smaller slices" has an NGO backing it, and in many cases, a squillionaire backing the NGO (meaning that the so-called "hierarchy of suffering" is delusional; the real hierarchy is, well, the almighty dollar).

"Is the umbrella term 'Asian American' even accurate anymore?" [NBC News]. • It never was. It's telling that NBC raises the question with an identity category that has relatively little political clout.

"America's Surprising Partisan Divide on Life Expectancy" [Politico]. "The truth of life expectancy in America is that places with comparable profiles — similar advantages and similar problems — have widely different average life outcomes depending on what part of the country they belong to." • With a handy chart. And nine categories is hardly a "partisan divide" (assuming "divide" to be binary):

And from the authors, a handy map:

Many forms of "american gentry," then!

* * *
#COVID19
"I am in earnest — I will not equivocate — I will not excuse — I will not retreat a single inch — AND I WILL BE HEARD." –William Lloyd Garrison
Resources, United States (National): Transmission (CDC); Wastewater (CDC, Biobot; includes many counties; Wastewater Scan, includes drilldown by zip); Variants (CDC; Walgreens); "Iowa COVID-19 Tracker" (in IA, but national data). "Infection Control, Emergency Management, Safety, and General Thoughts" (especially on hospitalization by city).
Lambert here: Readers, thanks for the collective effort. To update any entry, do feel free to contact me at the address given with the plants. Please put "COVID" in the subject line. Thank you!
Resources, United States (Local): AK (dashboard); AL (dashboard); AR (dashboard); AZ (dashboard); CA (dashboard; Marin, dashboard; Stanford, wastewater; Oakland, wastewater); CO (dashboard; wastewater); CT (dashboard); DE (dashboard); FL (wastewater); GA (wastewater); HI (dashboard); IA (wastewater reports); ID (dashboard, Boise; dashboard, wastewater, Central Idaho; wastewater, Coeur d'Alene; dashboard, Spokane County); IL (wastewater); IN (dashboard); KS (dashboard; wastewater, Lawrence); KY (dashboard, Louisville); LA (dashboard); MA (wastewater); MD (dashboard); ME (dashboard); MI (wastewater; wastewater); MN (dashboard); MO (wastewater); MS (dashboard); MT (dashboard); NC (dashboard); ND (dashboard; wastewater); NE (dashboard); NH (wastewater); NJ (dashboard); NM (dashboard); NV (dashboard; wastewater, Southern NV); NY (dashboard); OH (dashboard); OK (dashboard); OR (dashboard); PA (dashboard); RI (dashboard); SC (dashboard); SD (dashboard); TN (dashboard); TX (dashboard); UT (wastewater); VA (dashboard); VT (dashboard); WA (dashboard; dashboard); WI (wastewater); WV (wastewater); WY (wastewater).
Resources, Canada (National): Wastewater (Government of Canada).
Resources, Canada (Provincial): ON (wastewater); QC (les eaux usées); BC, Vancouver (wastewater).
Hat tips to helpful readers: anon (2), Art_DogCT, B24S, CanCyn, ChiGal, Chuck L, Festoonic, FM, FreeMarketApologist (4), Gumbo, hop2it, JB, JEHR, JF, JL Joe, John, JM (10), JustAnotherVolunteer, JW, KatieBird, LL, Michael King, KF, LaRuse, mrsyk, MT, MT_Wild, otisyves, Petal (6), RK (2), RL, RM, Rod, square coats (11), tennesseewaltzer, Utah, Bob White (3).
Stay safe out there!
* * *
Covid is Airborne
And not just Covid:

"Airborne transmission of human-isolated avian H3N8 influenza virus between ferrets" (abstract only) [Cell]. "H3N8 viruses are widespread in chicken flocks; however, the zoonotic features of H3N8 viruses are poorly understood. Here, we demonstrate that H3N8 viruses were able to infect and replicate efficiently in organotypic normal human bronchial epithelial (NHBE) cells and lung epithelial (Calu-3) cells. Human isolates of H3N8 virus were more virulent and caused severe pathology in mice and ferrets, relative to chicken isolates. Importantly, H3N8 virus isolated from a patient with severe pneumonia was transmissible between ferrets through respiratory droplets; it had acquired human-receptor-binding preference and amino acid substitution PB2-E627K necessary for airborne transmission. Human populations, even when vaccinated against human H3N2 virus, appear immunologically naive to emerging mammalian-adapted H3N8 AIVs and could be vulnerable to infection at epidemic or pandemic proportion." • Although…. "Droplets"? What, again?
Variants
"SARS-CoV-2 Eris variant spreads faster and dodges immunity" [News Medical Life Sciences]. "Overall, the study findings showed that EG.5.1 had a similar proliferative ability to XBB.1.5 in naïve wild-type hamsters; however, its transmissibility was somewhat greater. Furthermore, the viral tropism of the EG.5.1 variant differed from the viral tropism of the XBB.1.5 variant following transmission via air since the EG.5.1 variant was found in specimens obtained from the nasal and pulmonary tissues of infected hamsters. EG.5.1 immune evasiveness was modestly but considerably greater than the XBB.1.5 variant and the XBB.1.9.2 variant. Thus, the altered antigenicity and greater transmissibility of the EG.5.1 variant may drive its higher predominance compared to the XBB.1.5 variant among humans."
"Something Awful"
Lambert here: I'm getting the feeling that the "Something Awful" might be a sawtooth pattern — variant after variant — that averages out to a permanently high plateau. Lots of exceptionally nasty sequelae, most likely deriving from immune dysregulation (says this layperson). To which we might add brain damage, including personality changes therefrom.

* * *
* * *
Case Data
From BioBot wastewater data, September 5: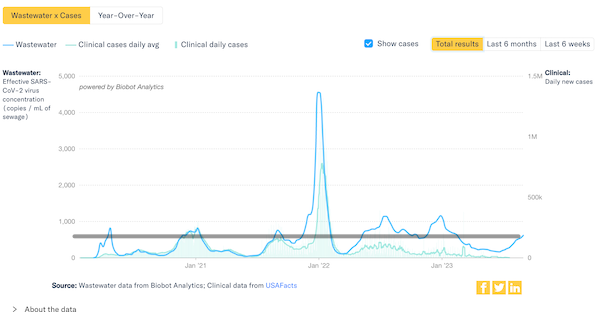 Back to a steady upward climb.
Regional data: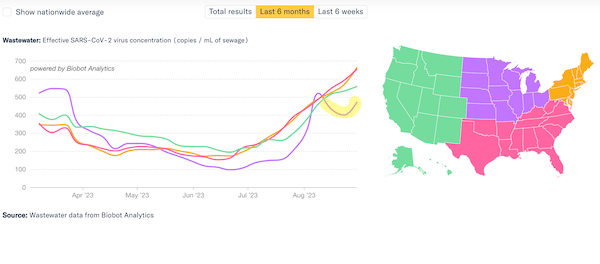 The Midwest now upward as well. I'm not sure what the downward swoop was all about. Interestingly, the upswing begins before July 4, which neither accelerates nor retards it.
Variants
NOT UPDATED From CDC, September 2: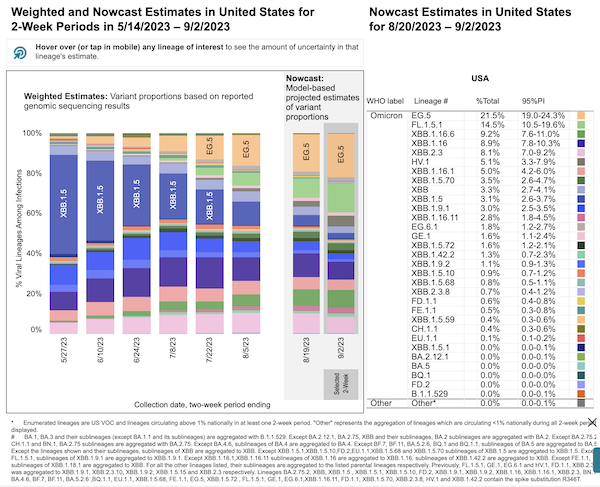 Lambert here: Top of the leaderboard: EG.5 ("Eris"). No BA.2.86 here, not even in the note, but see below at Positivity.
CDC: "As of May 11, genomic surveillance data will be reported biweekly, based on the availability of positive test specimens." "Biweeekly: 1. occurring every two weeks. 2. occurring twice a week; semiweekly." Looks like CDC has chosen sense #1. In essence, they're telling us variants are nothing to worry about. Time will tell.
Covid Emergency Room Visits
NOT UPDATED From CDC NCIRD Surveillance, August 26: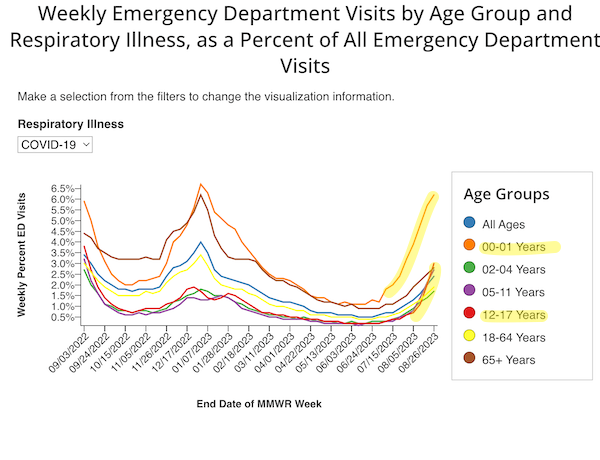 Lambert here: I changed this ER chart to a Covid-only chart broken down by age. Note the highlighting.
NOTE "Charts and data provided by CDC, updates Wednesday by 8am. For the past year, using a rolling 52-week period." So not the entire pandemic, FFS (the implicit message here being that Covid is "just like the flu," which is why the seasonal "rolling 52-week period" is appropriate for bothMR SUBLIMINAL I hate these people so much. Notice also that this chart shows, at least for its time period, that Covid is not seasonal, even though CDC is trying to get us to believe that it is, presumably so they can piggyback on the existing institutional apparatus for injections.
Hospitalization
Bellwether New York City, data as of September 2: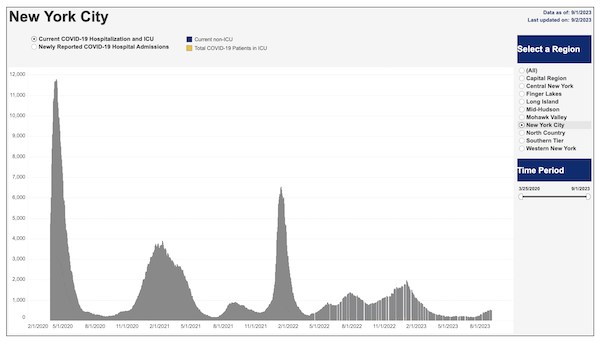 Leveling out? I hate this metric because the lag makes it deceptive.
Here's a different CDC visualization on hospitalization, nationwide, not by state, but with a date, at least: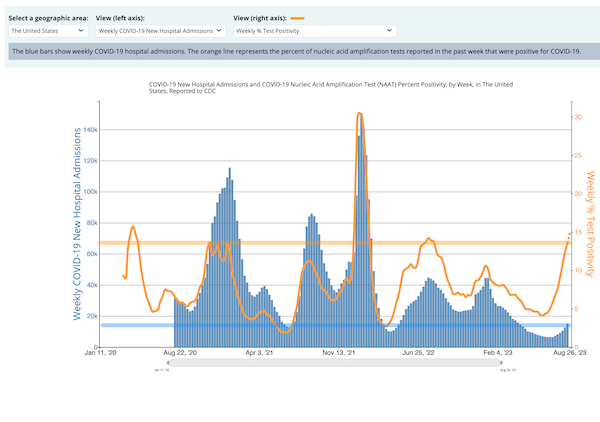 At least now we now that hospitalization tracks positivity, which is nice. Even if we don't know how many cases there are.
Positivity
From Walgreens, September 4: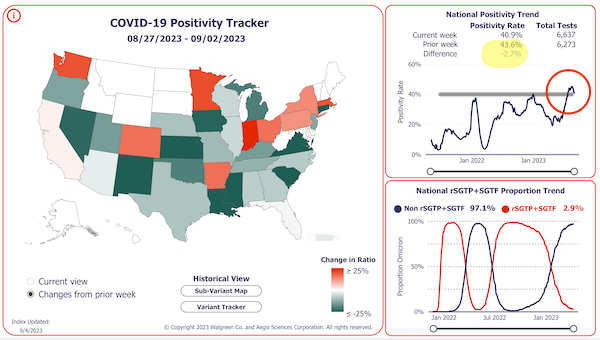 -2.7% Big drop, probably due to Labor Day travel, though the absolute numbers are still very small relative to June 2022, say. Interestingly, these do not correlate with the regional figures for wastewater. (It would be interesting to survey this population generally; these are people who, despite a tsunami of official propaganda and enormous peer pressure, went and got tested anyhow.)
NOT UPDATED From CDC, traveler's data, August 14: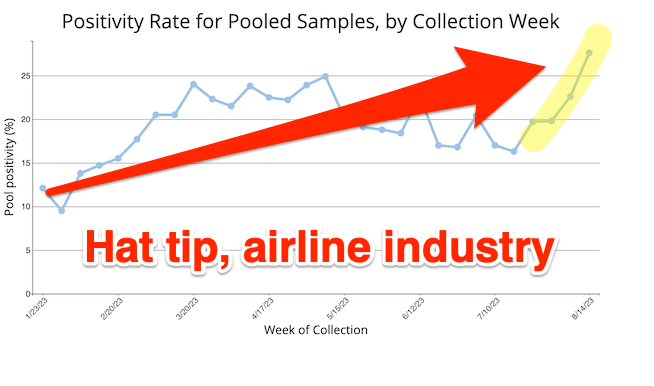 Lambert here: This is the CDC's "Traveler-Based Genomic Surveillance" data. And the variant data: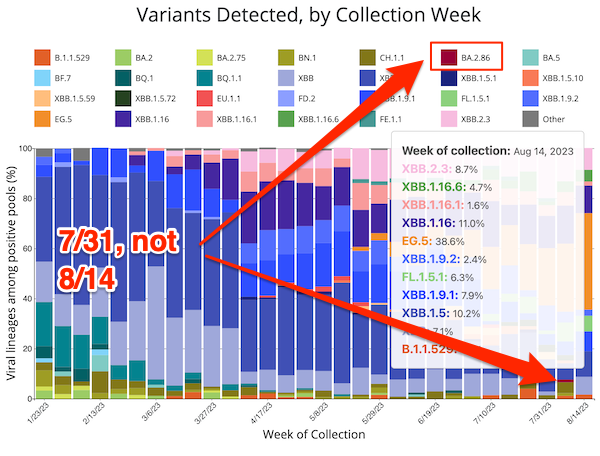 Deaths
Iowa COVID-19 Tracker, August 30: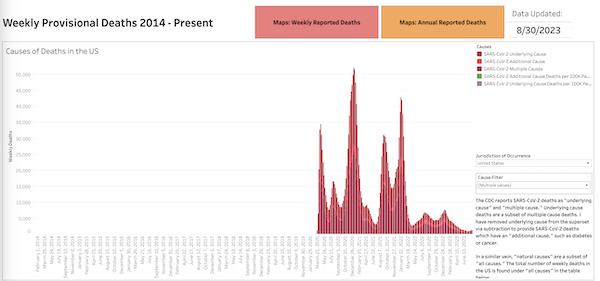 Lambert here: The WHO data is worthless, so I replaced it with the Iowa Covid Data Tracker. Their method: "These data have been sourced, via the API from the CDC: https://data.cdc.gov/NCHS/Conditions-Contributing-to-COVID-19-Deaths-by-Stat/hk9y-quqm. This visualization updates on Wednesday evenings. Data are provisional and are adjusted weekly by the CDC." I can't seem to get a pop-up that shows a total of the three causes (top right). Readers?,,
Total: 1,174,149 – 1,173,655 = 494 (494 * 365 = 180,310 deaths per year, today's YouGenicist™ number for "living with" Covid (quite a bit higher than the minimizers would like, though they can talk themselves into anything. If the YouGenicist™ metric keeps chugging along like this, I may just have to decide this is what the powers-that-be consider "mission accomplished" for this particular tranche of death and disease).
Lambert here: Big because over a weekend.
Excess Deaths
The Economist, September 3: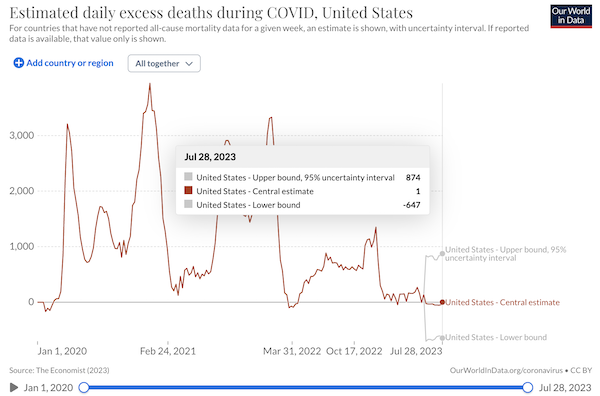 Lambert here: This is now being updated daily. Odd. Based on a machine-learning model. (The CDC has an excess estimate too, but since it ran forever with a massive typo in the Legend, I figured nobody was really looking at it, so I got rid it. )
Stats Watch
Manufacturing: "United States Factory Orders" [Trading Economics]. "New orders for manufactured goods in the US decreased by 2.1% from the previous month to $579.4 million in July of 2023, less than market expectations of a 2.5 percent fall and after four consecutive months of increases. It compared with an upwardly revised 2.3 percent rise in June. Demand for transportation equipment, also down following four consecutive monthly increases, drove the decrease."
Supply Chain: "United States LMI Logistics Managers Index Current" [Trading Economics]. "The Logistics Manager's Index in the United States increased to 51.2 in August 2023, the highest since February, and pointing to the first growth in the logistics sector in four months."
* * *
* * *
Today's Fear & Greed Index: 60 Greed (previous close: 55 Neutral) [CNN]. One week ago: 50 (Neutral). (0 is Extreme Fear; 100 is Extreme Greed). Last updated Sep 5 at 1:51 PM ET. Mr. Market had a good Labor Day?
Rapture Index: Closes unchanged [Rapture Ready]. Record High, October 10, 2016: 189. Current: 185. (Remember that bringing on the Rapture is good.) NOTE on #42 Plagues: "The coronavirus pandemic has maxed out this category." More honest than most!
Guillotine Watch
"Who Are the Names in Jeffrey Epstein's Calendar?" [Wall Street Journal]. "A multipart investigation by The Wall Street Journal has revealed prominent people who met multiple times with Jeffrey Epstein. Epstein had contacts with an array of powerful people long after he was a registered sex offender. He had pleaded guilty in 2008 to soliciting and procuring a minor for prostitution. He was arrested again in 2019 on sex-trafficking charges, and died that year in jail awaiting trial." • Woody Allen ("dozens of dinners"), Ehud Barak ("dozens of times"), Thomas Barrack ("a series of meetings"), Leon Black ("more than 100 meetings"), Leon Botstein ("two dozen meetings"), William Burns ("three meetings"), Sergey Brin, Noam Chomsky ("several meetings"), Vitaly Churkin ("eight meetings"), Joshua Cooper Ramo ("more than a dozen meetings"), Glenn Dubin and Eva Andersson-Dubin, Mary Erdoes ("two trips"), Bill Gates ("one meeting"), Reid Hoffman ("a weekend"), Barnaby Marsh ("two dozen times"), Thomas Pritzker ("several events"), Nicholas Ribis ("several times"), Bill Richardson, Ariane de Rothschild ("more than a dozen"), Terje Rød-Larsen ("dozens of times"), Kathryn Ruemmler ("dozens of meetings"), Lawrence Summers ("more than a dozen"), Peter Thiel ("several"), Mortimer Zuckerman ("more than a dozen times"). • My takeaway is not that Epstein was quite a networker — although he obviously was — but that his obvious predelictions/predations were not that out of band for, or important to, the class he networked within (it's on those grounds that I excuse Chomsky, who I regard as naive, and who is not in the "dozens" category in any case. Unlike, say, Kathryn Ruemmler, White House counsel under President Barack Obama).
News of the Wired
"Reading for Pleasure Helps Kids' Brain Development" [Scientific American]. "[U]ntil sufficient measures are taken to reduce inequality and improve outcomes, our new study, published in Psychological Medicine, shows one low-cost activity that may at least counteract some of the negative effects of poverty on the brain: reading for pleasure… Being wealthy has also been linked with having more grey matter (tissue in the outer layers of the brain) in the frontal and temporal regions (situated just behind the ears) of the brain. And we know that these areas support the development of cognitive skills. The association between wealth and cognition is greatest in the most economically disadvantaged families. Among children from lower income families, small differences in income are associated with relatively large differences in [surface area. Among children from higher income families, similar income increments are associated with smaller differences in surface area." • Hmm.
"Behind the scenes: DPReview moves to a new studio" [DP Preview]. "If you've followed the trajectory of DPReview over the past few months, you know that 2023 has been a wild ride. First, Amazon decided to close the site. Then, we operated in a surreal limbo world for a time, publishing past our announced closure date as though nothing had happened. (Yes, that was weird for us too.) Finally, on June 20th, Amazon announced the site's sale to Gear Patrol. Not only did DPReview find a way to live on, but we couldn't have been more excited to join a company that so closely aligns with our values and mission. So, here we are." • Crapification avoided?!
* * *
Contact information for plants: Readers, feel free to contact me at lambert [UNDERSCORE] strether [DOT] corrente [AT] yahoo [DOT] com, to (a) find out how to send me a check if you are allergic to PayPal and (b) to find out how to send me images of plants. Vegetables are fine! Fungi and coral are deemed to be honorary plants! If you want your handle to appear as a credit, please place it at the start of your mail in parentheses: (thus). Otherwise, I will anonymize by using your initials. See the previous Water Cooler (with plant) here. From Tom: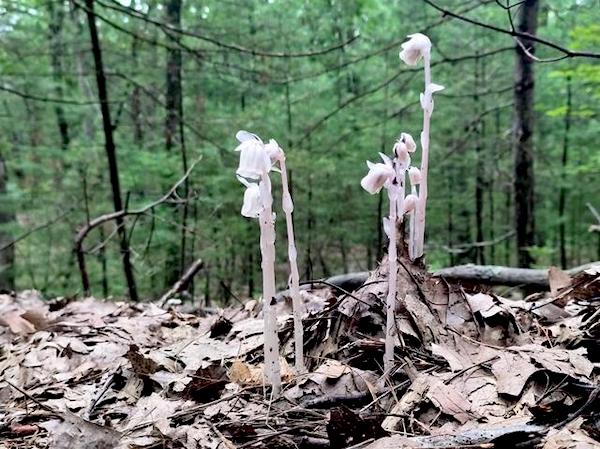 Tom writes: "Here's ghostly thing that appears in the forest seemingly from one day to the next. Very odd looking. I guess it's a plant but it almost looks like weird fungus. Web search by image came up with something that looks like it called monotropastrum humile but Ask Jimbo! (Wikipedia) said that's Asian, not American. Perhaps Monotropa uniflora? Idk. If that's what it is then (according to one Ask Jimbo! page and contradicted on another) it is a myco-heterotrophy which is a plant fungus symbiosis. What do others know about it?