By Lambert Strether of Corrente.
Bird Song of the Day
Brown Pelican (Atlantic), Ria Maya Restaurante, Río Lagartos, Yucatán, Mexico. "Soft, grating calls from pelicans begging for scraps. Lots of splashing as they vied for fish thrown into the water. Calls most often given after one of the birds successfully scooped up the fish. Mostly the same birds as in ML80533521, but next to a boat two houses down from Ria Maya." Most of the Pelican recordings are like this! Lots of splashing!
* * *
Politics
"So many of the social reactions that strike us as psychological are in fact a rational management of symbolic capital." –Pierre Bourdieu, Classification Struggles
The Constitutional Order
"Will First Amendment or the 14th prevail in case over Donald Trump's name on Minnesota's presidential primary ballot?" [MinnPost]. "The 14th Amendment to the U.S. Constitution says no who has engaged in 'insurrection or rebellion' should hold public office." No, that's what it says. Not "person," but "an officer of the United States," the only part of the clause that could possibly — but, arguably, incorrectly — be applied to a President. More: "The First Amendment gives people the right to associate and form political groups that support political candidates…. On Nov. 2 at 9 a.m. in the Minnesota Supreme Court chambers, lawyers for a group trying to bar Donald Trump from appearing on next year's presidential preference primary ballot will attempt to have him labeled an insurrectionist…. Facing off against these petitioners will be lawyers for the Minnesota Republican Party and for the Trump campaign, one as a formal intervener and one as a friend of the court. 'The Petition's many factual inaccuracies, gaps, and distortions come mostly under one overarching theme: Petitioners have no evidence that President Trump intended or supported any violent or unlawful activity seeking to overthrow the government of the United States, either on January 6 or at any other time," the campaign lawyers state in their response (more on that below). They say voters, not courts, should decide whether Trump can be elected again. The state party makes a different argument — that it has a First Amendment right to choose its candidates and to run its own process for selecting delegates to the Republican National Committee. Courts have been very protective of the right to association contained in the First Amendment and should do so in this case, the party's lawyers argue." • If I were a Supreme Court justice, looking for a way to make the whole case go away and "let the people decide" not only what an insurrection is, but what an insurrectionist is, I would find the "officer of the United States" restriction quite compelling.

"Colorado judge paves way for trial on whether 14th Amendment disqualifies Trump from office" [CNN]. "A Colorado judge has rejected another attempt by former President Donald Trump to throw out a lawsuit seeking to block him from the 2024 presidential ballot based on the 14th Amendment's 'insurrectionist ban.' The ruling Wednesday from Colorado District Judge Sarah Wallace clears the way for an unprecedented trial to begin next week, to determine if Trump is disqualified from returning to the White House because of his role in the January 6, 2021, insurrection. This is the fifth unsuccessful bid by Trump to throw out the Colorado case, which is one of several pending suits trying to derail his candidacy based on the 14th Amendment…. In a 24-page ruling, Wallace rejected Trump's argument that questions about his eligibility should be handled by Congress, not courts. She also rejected Trump's argument that the Colorado election officials don't have the power to enforce the so-called 'insurrectionist ban,' which is enshrined in Section 3 of the 14th Amendment. 'The Court holds that states can, and have, applied Section 3 pursuant to state statutes without federal enforcement legislation,' Wallace wrote…. She said the trial will focus on several key questions, including whether the events of January 6 'constituted an insurrection' and whether Trump 'engaged' in insurrection." • Wallace was appointed to the bench by Colorado Governor Jared Polis, a Democrat. Jena Griswold, the Colorado Secretary of State who would "disqualify" Trump from the ballot, is a Democrat. So what we have here is a change in the Constitutional order I've pointed out from the beginning: The distinctive competence of the modern political party is control over the ballot. And here members of one party would strike the name of another party's candidate off the ballot. Merits of the case aside, I can't see that going down well at all.

"Trump files to appear on Colorado presidential ballot" [Colorado Newsline]. "Former President Donald Trump has formally indicated to Colorado election officials that he intends to run for president in the state in 2024. Trump submitted candidate paperwork even as he faces a legal challenge to his eligibility to run in Colorado, and state approval of his candidacy is on hold pending developments in that case. The secretary of state's office received from Trump on Oct. 11 a 'statement of intent' to run in the presidential primary, according to documents Newsline obtained from the secretary's office. The document attests that Trump is at least 35, has lived in the country at least 14 years and is a natural born U.S. citizen. The home address he submitted corresponds to that of the Mar-a-Lago resort in Florida. Also submitted as part of Trump's application to run was a $500 check from his campaign to the secretary of state's office, and official approval of his candidacy from the Colorado Republican Party. No other candidates have yet submitted ballot-access paperwork for the presidential primary in Colorado. Submission of candidate documents to the secretary of state's office, typically a routine step in the ballot-access process, carries unusual significance in Trump's case, since a set of plaintiffs is suing Democratic Secretary of State Jena Griswold in state court in an effort to block him from the ballot next year."

"Arizona secretary of state: No choice but to put Trump on ballot if he qualifies" [AZ Central]. "Secretary of State Adrian Fontes says he must qualify Donald Trump for Arizona's presidential ballot if Trump files an application and can show he has been certified for the ballot in at least two other states. Fontes, who in August said it was an 'open question' whether a provision of the U.S. Constitution could keep Trump off the ballot, said a state law provides another path to ballot status and he is obliged to adhere to it. That law states that instead of Arizona's requirements for presidential candidates to file petition signatures, a candidate can qualify as long as two other states already have certified the candidate for their ballots. At least eight states have filing deadlines ahead of Arizona's Dec. 11 deadline for 2024, according to Ballotpedia. Fontes on Thursday said the law bars him from making an independent decision and instead yokes him to decisions made in other states. 'It handcuffs me to two other states,' said Fontes, a Democrat who took office in January. 'Here's the bottom line … I'm basically a time and date stamp.'"

"How Those Seeking Donald Trump's Disqualification From Running For President Will Plunge the Election Into Chaos and Hand Trump the Presidency" [Verdict]. " The United States Supreme Court will make the ultimate determination whether Section 3 is self-executing, that is, whether a criminal conviction is a precondition to disqualification or whether state officials can make that determination on their own. What if the Supreme Court holds that Section 3 is self-executing, but that it is up to each individual state to determine whether Trump can be on the ballot? What then? …. By leaving it to the states, there are two possible outcomes. If the Supreme Court were to rely on the concurrence in Bush v. Gore, in which Justice Clarence Thomas joined, it is the legislature and not the courts that must decide whether Trump can be on the ballot. Currently, Republicans have control of the legislative and executive branches in 22 states and the Democrats in 17, so it is likely that Trump would be on the ballot in at least 22 states. What happens if the other 17 states decide that he is disqualified and cannot be on the ballot? In 2020, 74 million voters from across the United States voted for Trump. How will tens of millions of voters react if they are denied the opportunity to vote in 17 states? … .f the Supreme Court leaves the decision to the officials in each state who run the elections, usually the Secretary of State, now held by 34 Republicans, the exact same situation could occur. But what if the Supreme Court agrees with the proponents of automatic disqualification and holds that Trump cannot run for President at all. Do you believe that 74 million people will accept that? Forty-one states permit voters to write in their choice for President. What if 88 million Americans vote for Trump as a write-in candidate, and based upon those votes, Trump would win a majority of the electors to the Electoral College?" And: "This issue could have been avoided had the Justice Department's special prosecutor, Jack Smith, charged Trump with insurrection or rebellion or aiding our enemies, which Congress has made a crime. Despite a recommendation by the House of Representatives' Jan. 6 Select Committee, Smith chose not to." • And one can only assume that Smiith did not because he could not. And I'm so old I remember when Bush v. Gore was "good for one time only" ("Our consideration is limited to the present circumstances"). Now it's being cited as a precedent, like a zombie's hand reaching up out of grave-soil.
Our Famously Free Press
2024
Time for the Countdown Clock!

* * *

"Donald Trump Gaining Ground in State No Republican Has Won in 40 Years" [Newsweek]. N = 1225. "Donald Trump has slowly gained ground in the blue state of New York, where the margin between the former president and Democrat Joe Biden has significantly shortened between 2020 and now. According to the latest poll by the Siena Research Institute, part of the Siena College in Loudonville, New York, Trump is lagging behind incumbent Biden by as much as 9 percentage points in his home state—much less than what was reported a month ago, when he still trailed the Democrat by 21 percentage points. The numbers, though still in favor of Biden, show that Trump has been gaining support in New York at the same time as the Democratic president has been losing it. When compared to Biden's victory in the state in 2020, which crushed Trump 61 to 28 percent, the current results speak of the crisis of popularity suffered by the Democratic president."

* * *

"Biden Has a Youth-Vote Problem. His Israel Policy Is Making It Worse." [Slate]. "President Joe Biden has a serious age problem, and it's not that he's 80: It's his dreadful standing with youth voters. If he loses reelection next November—even at this early stage, there are many indications that this is a real possibility—it's likely that his remarkably low marks from voters under 40 will be seen as a major culprit. A recent Quinnipiac poll underscores Biden's disastrous standing with the youth vote. The president's favorability rating has cratered out at an almost-unbelievable 25 percent among registered voters under 35 years old. A few weeks prior, a Washington Post–ABC poll had Trump winning voters under 35 by 20 points. (The Post's story notes that the poll differs from others taken recently, and that it may be an outlier. It's not the only recent presidential poll that's made publishers raise an eyebrow.) Liberal commentators have been quick to dismiss these data points, even as they continue to pile up. It's wise not to overreact to individual polls, especially more than a year from Election Day. And yet, something is clearly awry between Biden and the kids, who are, arguably, the most critical demographic constituency for Democrats. In 2020, 60 percent of 18-to-29-year-old voters, by far the most Democratic-voting group by age, threw in for Joe Biden. It's likely there are many explanations for the slide since then: Biden, hesitant to even grant interviews to the Sunday shows, has done basically zero communications outreach to any outlets or platforms that millennials and zoomers actually consume. Turning student loan payments back on before actually implementing the promised loan debt cancellation—which never would have happened without an archconservative Supreme Court's dubious intervention against his initial proposal, of course—probably didn't help. Now Biden's Israel policy threatens to deepen that divide even further. Again: It's wise not to overreact to polls, but the data is not terribly ambiguous on this."

* * *

"A 2024 frenzy? How RFK Jr. could chip away at Donald Trump and Joe Biden's strategies" [USA Today]. "[T]here are two small states that have many independents and now use ranked choice voting, which might tip their electoral votes to RFK Jr…. Let's break down two states where this system could play a major role. Maine: Biden won Maine by 9 points in 2020, and 3 of its 4 electoral votes, due to its congressional allocation. Only 35% of Maine's voters are independents, but ranked choice voting could change the outcome. Theoretically, if Joe Biden led Kennedy 42%-32% with Trump in third place at 26%, Kennedy could win because Trump voters prefer Kennedy over Biden by a 23-1 margin, according to the poll. In the hypothetical example above, most of Trump's votes would reallocate to Kennedy who could easily top 50% and end up winning at least 3 of the 4 electoral votes. Alaska: Trump won Alaska by 10 points in 2020, but currently a whopping 55% of The Last Frontier's voters are independents, 26% Republicans, and 14% Democrats. Alaska just implemented ranked choice voting, and could see results similar to the above, if Trump led Kennedy 40% percent to 31% with Biden at 29%, Kennedy could prevail with more than 50% of the vote – this time taking away 3 sure Trump electoral votes. Here's an interesting twist: If Biden finished second to Trump with Kennedy third, Kennedy's voters would break to Trump, and he would win Alaska again. But if Kennedy finished second to Trump with Biden third, Biden's voters would push over the top and prevent Trump from winning those electoral votes. You may see Biden 'propping up' Kennedy in Alaska!" • It would certainly be entertaining if the 2024 election were thrown into the House, and the two states from "The Frozen North," east and west, held the balance….

* * *

"After Israel visit, Newsom heads to China for climate talks. But can he avoid global conflicts?" [Los Angeles Times (Buff)]. "Gov. Gavin Newsom comforted a mother whose son was kidnapped by Hamas, and visited a hospital where Israelis were recovering from injuries from the Oct. 7 attacks. He met with top Israeli officials, including Prime Minister Benjamin Netanyahu, and saw videos of beheadings…. The voyage marks a sudden leap into foreign affairs for the Democratic governor who insists he is not angling to run for president…. In China, Newsom aims to keep his visit focused on areas where California and China can cooperate to fight climate change. His itinerary is filled with events meant to promote electric vehicles, offshore wind energy and other clean technologies. He's scheduled to sign five compacts with regional governments, tour manufacturing sites and visit a wetlands preserve. In fostering climate-friendly partnerships with local officials, Newsom hopes to steer clear of a slew of international flashpoints." • Oppo in the making:

NEWS: @CAgovernor @GavinNewsom meets Chinese President Xi inside China's Great Hall of the People.

This video shows Newsom and his delegation walking into the meeting. pic.twitter.com/Wliorhpd9f

— Elex Michaelson (@Elex_Michaelson) October 25, 2023

Israel (almost) puts Newsom in play (I don't know about his donors). But I'm not sure whether a China visit means Newsom is running or not. Could be a millstone, regardless of the contracts he brings home.

"Gov. J.B. Pritzker, never shy about criticizing Republicans, calls for 'common ground' at national conference" [Chicago Tribune]. "Gov. J.B. Pritzker has gained a prime spot on the national progressive Democratic stage, in part through his history of scathing criticism of Republicans, including labeling opponents as 'extremists,' 'racist' or 'xenophobic.' But on Wednesday, at a national political conference of progressives in Washington, the second-term governor with potential presidential aspirations presented a new political style — conciliator. 'I'm just saying leadership in this time means putting in check sometimes your emotions about the attacks that are coming and instead trying to find common ground to work with one another because we have to bring the temperature down in this country and talk to one another, whatever party we belong to or whatever ideology we may have, because we have so much to accomplish,' Pritzker told an audience at the progressive Center for American Progress annual ideas conference." • That must have gone over big, And it's quite a pivot for Pritzker. I wonder if he knows something about Biden's health we don't know.
Republican Funhouse
"America's Apocalyptic Cheerleaders" [The Sword and the Sandwich]. "Evangelical 'love' of Israel is the love of the consumer towards the consumed, a hungry man for bread. Their fantasy is ultimately one of destruction: the annihilation of the Jewish faith through death, save an elect of 144,000 who convert to Christianity — a number derived from the Book of Revelations. It is a necropolitical fantasy, one that views the tribulation with, as a post from Calvary Chapel—the church to whom Rep. Brian Mast, who has appeared in Congress this week in an IDF uniform, belongs, put it—'excitement, anticipation, and glee'; the end of the world is 'the highly anticipated kingdom. The apocalypse demands the agony of all but the elect; to the elect it is ecstasy. It is rapture. The conversion and annihilation of the Jews must be preceded by their return to and absolute control of Israel; therefore the lives of Palestinians are worthless and forfeit from the start, a road-bump in this violent fantasy that was never accounted for in the Revelations map. They are an inconvenience to be disposed of, pawns to be knocked off the board so other pawns can be positioned to set up the moment of Christ's return, the end of history in blood. Palestinians are less than human in this vision; inconveniences at best, instruments of the Antichrist at worst. Either way, their annihilation is necessary. There have been many predictions of the apocalypse and many preludes. In this moment of death and displacement, there is joy for Christian observers from afar, the ecstatic terror of deliverance. What it amounts to is cheering on Armageddon from the cheap seats—and directing funds to ensure it occurs. It's a grotesquerie of geopolitics and religion, and it carries undue weight in American foreign policy, thanks to the merger of the Christian Right and the Republican Party. A game of chess with eternity at stake." • My God. Leave the poor goats alone.

"Calmes: Who is House Speaker Mike Johnson? Matt Gaetz's victory lap says it all" [Los Angeles Times]. "McCarthy in his nine-month reign mostly pandered to the nuts, culture warriors and election deniers in his House Republican majority, ever fearful of the coup that finally came after he twice digressed from the extremist path to actually govern — compromising with the Senate and White House first to avoid a debt default and then a government shutdown. But to the right-wingers, the shape-shifting McCarthy was always a poser. (Again, they weren't wrong.)… Gaetz and Johnson differ big-time in style: Gaetz is in-your-face, Johnson so amiable and nonconfrontational that he is 'friend to many and an enemy to none,' as Rep. Elise Stefanik of New York told the House in nominating Johnson. Hence his unlikely elevation…. But in substance, Johnson is little different from Gaetz and his ilk. Johnson has described his relationship with Jordan, mentor to the far right, as 'like Batman and Robin.' But Johnson's politics are more infused with the conservative religiosity he demonstrated in his remarks accepting the speakership. He told the House of his absent wife, 'She's spent the last couple of weeks on her knees in prayer to the Lord. And, um, she's a little worn out.'… Then there's his behind-the-scenes legal work after the 2020 presidential election to challenge electoral votes in pro-Biden states. The New York Times, after an investigation of Republicans' post-election machinations, called Johnson "the most important architect of the Electoral College objections." He enlisted most of his fellow House Republicans in support of a brief to the Supreme Court, yet the justices declined to take the underlying case."

"'I killed him': How Trump torpedoed Tom Emmer's speaker bid" [Politico]. • That's nice.
Democrats en Déshabillé
Patient readers, it seems that people are actually reading the back-dated post! But I have not updated it, and there are many updates. So I will have to do that. –lambert

I have moved my standing remarks on the Democrat Party ("the Democrat Party is a rotting corpse that can't bury itself") to a separate, back-dated post, to which I will periodically add material, summarizing the addition here in a "live" Water Cooler. (Hopefully, some Bourdieu.) It turns out that defining the Democrat Party is, in fact, a hard problem. I do think the paragraph that follows is on point all the way back to 2016, if not before:

The Democrat Party is the political expression of the class power of PMC, their base (lucidly explained by Thomas Frank in Listen, Liberal!). ; if the Democrat Party did not exist, the PMC would have to invent it. . ("PMC" modulo "class expatriates," of course.) Second, all the working parts of the Party reinforce each other. Leave aside characterizing the relationships between elements of the Party (ka-ching, but not entirely) those elements comprise a network — a Flex Net? An iron octagon? — of funders, vendors, apparatchiks, electeds, NGOs, and miscellaneous mercenaries, with assets in the press and the intelligence community.

Note, of course, that the class power of the PMC both expresses and is limited by other classes; oligarchs and American gentry (see 'industrial model' of Ferguson, Jorgensen, and Jie) and the working class spring to mind. Suck up, kick down.

* * *

"Amy Klobuchar, You Suck" [Matt Taibbi, Racket News]. "Now this person, whose 'humor' persona was surely cooked up in part to soften a rep for throwing things at aides, who scored roughly John Blutarsky's grade-point average with the backing of the national media establishment, who managed less than 6% of Democratic voters in her own state, has the gall to push one of the world's biggest media distributors to disallow voluntary access to 'contributors instead of verified news sources.' Klobuchar wants Jeff Bezos to make sure Amazon's home surveillance robots don't spit out even occasional answers from a wider pool of real human beings, including thousands of independent contributors. The information landscape must be a pure monopoly of 'verified news sources.' This Senator-to-billionaire communiqué isn't illegal because she didn't phrase it as an order or voice the implied threat of regulation, among other things. If Bezos ends up complying, however, I've half a mind to sue. Patience is wearing thin with the relentless determination of government figures — whether U.S. Cyber Command or a Minnesota Senator — to weed out independent media from the digital landscape. It's not enough to have 99% of the informational space? They need all> of it?" • Fun stuff!
Realignment and Legitimacy
Remarkable. Good for the ACLU:

ACLU sides with Trump, argues Jan. 6 case gag order is unconstitutional https://t.co/vQKJsjoJ7u

— The Hill (@thehill) October 26, 2023

Remarkable. Good for FIRE:

FIRE urges Florida public universities *not to comply* with any state order to derecognize campus chapters of Students for Justice in Palestine due to the groups' views or ties to the national org. Silencing students' protected speech violates the First Amendment & is unlawful.

— Alex Morey (@1AMorey) October 26, 2023
#COVID19
"I am in earnest — I will not equivocate — I will not excuse — I will not retreat a single inch — AND I WILL BE HEARD." –William Lloyd Garrison
Resources, United States (National): Transmission (CDC); Wastewater (CDC, Biobot; includes many counties; Wastewater Scan, includes drilldown by zip); Variants (CDC; Walgreens); "Iowa COVID-19 Tracker" (in IA, but national data). "Infection Control, Emergency Management, Safety, and General Thoughts" (especially on hospitalization by city).
Lambert here: Readers, thanks for the collective effort. To update any entry, do feel free to contact me at the address given with the plants. Please put "COVID" in the subject line. Thank you!
Resources, United States (Local): AK (dashboard); AL (dashboard); AR (dashboard); AZ (dashboard); CA (dashboard; Marin, dashboard; Stanford, wastewater; Oakland, wastewater); CO (dashboard; wastewater); CT (dashboard); DE (dashboard); FL (wastewater); GA (wastewater); HI (dashboard); IA (wastewater reports); ID (dashboard, Boise; dashboard, wastewater, Central Idaho; wastewater, Coeur d'Alene; dashboard, Spokane County); IL (wastewater); IN (dashboard); KS (dashboard; wastewater, Lawrence); KY (dashboard, Louisville); LA (dashboard); MA (wastewater); MD (dashboard); ME (dashboard); MI (wastewater; wastewater); MN (dashboard); MO (wastewater); MS (dashboard); MT (dashboard); NC (dashboard); ND (dashboard; wastewater); NE (dashboard); NH (wastewater); NJ (dashboard); NM (dashboard); NV (dashboard; wastewater, Southern NV); NY (dashboard); OH (dashboard); OK (dashboard); OR (dashboard); PA (dashboard); RI (dashboard); SC (dashboard); SD (dashboard); TN (dashboard); TX (dashboard); UT (wastewater); VA (dashboard); VT (dashboard); WA (dashboard; dashboard); WI (wastewater); WV (wastewater); WY (wastewater).
Resources, Canada (National): Wastewater (Government of Canada).
Resources, Canada (Provincial): ON (wastewater); QC (les eaux usées); BC, Vancouver (wastewater).
Hat tips to helpful readers: anon (2), Art_DogCT, B24S, CanCyn, ChiGal, Chuck L, Festoonic, FM, FreeMarketApologist (4), Gumbo, hop2it, JB, JEHR, JF, JL Joe, John, JM (10), JustAnotherVolunteer, JW, KatieBird, LL, Michael King, KF, LaRuse, mrsyk, MT, MT_Wild, otisyves, Petal (6), RK (2), RL, RM, Rod, square coats (11), tennesseewaltzer, Utah, Bob White (3).
Stay safe out there!
* * *
Covid is Airborne
"Something Awful"
Lambert here: I'm getting the feeling that the "Something Awful" might be a sawtooth pattern — variant after variant — that averages out to a permanently high plateau. Lots of exceptionally nasty sequelae, most likely deriving from immune dysregulation (says this layperson). To which we might add brain damage, including personality changes therefrom.

* * *
Elite Maleficence
Hegemonic infection control is rotten to the core:

We are not in good hands if infectious disease medical doctors are SO afraid of one of the main modes of disease transmission (aerosols / airborne) that they don't even want to talk about it…

They control @WHO, @CDCgov, and Public Health everywhere as it relates to this topic https://t.co/VxMNfKyko3

— Prof. Jose-Luis Jimenez (@jljcolorado) October 25, 2023

"Wearing masks to prevent one epidemic may mask another" [Journal of Infection Prevention (!!)]. "Methods: A research-based commentary supported with recent literature review." • Oh, fine. Commentary:

Wearing Masks To Prevent One Epidemic May Mask Another pic.twitter.com/P9Gsih3OEp

— The Vertlartnic (@TheVertlartnic) October 26, 2023

I think the serious way to think about this is that you want your children, especially, to be exposed to "commensal" germs (i.e., you don't want a sterile environment). But infections ones? Not at all. ("I always put a little dollop of sh*t in my children's Frosted Flakes. That way, their immune systems grow up strong!")
* * *
Case Data
NEVER TO BE UPDATED From BioBot wastewater data, October 2: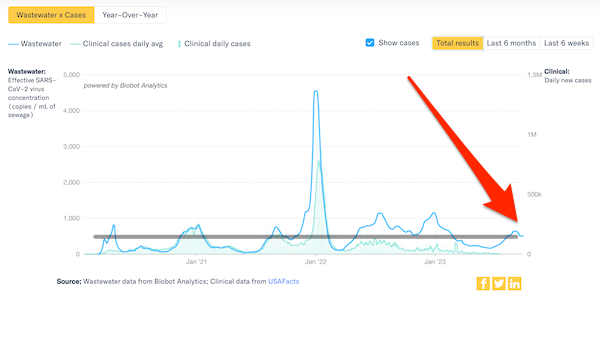 Lambert here: Leveling out to a high plateau wasn't on my Bingo card! Perhaps FL.1.5.1, high in the Northeast, has something going for it that other variants don't have?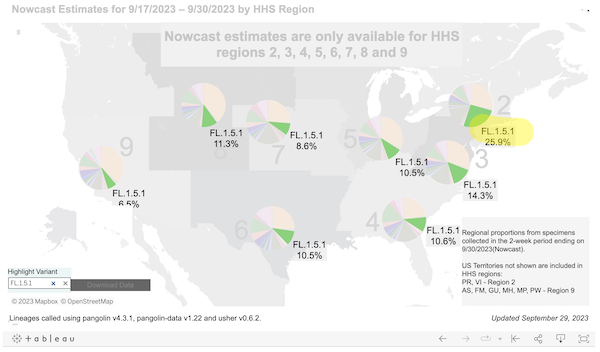 Regional data: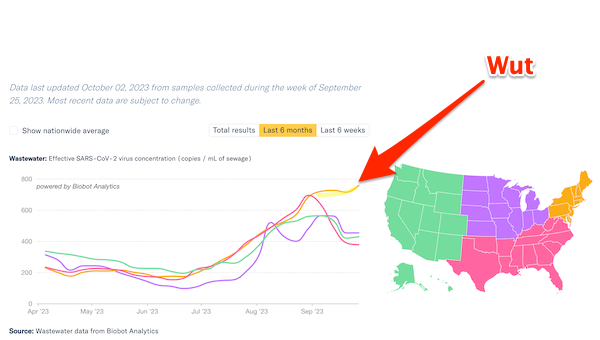 Interestingly, the upswing begins before July 4, which neither accelerates nor retards it.
Variants
NOT UPDATED From CDC, October 14: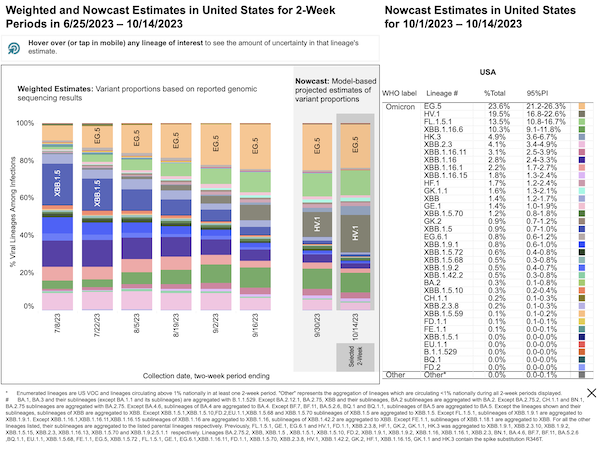 Lambert here: Top of the leaderboard: EG.5 ("Eris"), with HV.1 a strong second, and XBB.1.1.16.6 and FL.1.15.1 trailing. No BA.2.86. Still a Bouillabaisse…
From CDC, September 16: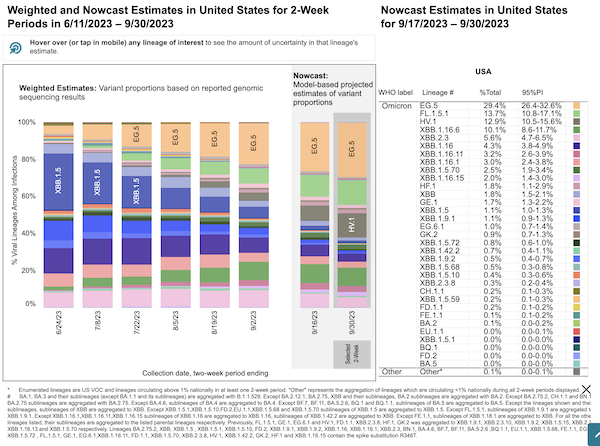 Lambert here: I sure hope the volunteers doing Pangolin, on which this chart depends, don't all move on the green fields and pastures new (or have their access to facilities cut by administrators of ill intent).
CDC: "As of May 11, genomic surveillance data will be reported biweekly, based on the availability of positive test specimens." "Biweeekly: 1. occurring every two weeks. 2. occurring twice a week; semiweekly." Looks like CDC has chosen sense #1. In essence, they're telling us variants are nothing to worry about. Time will tell.
Covid Emergency Room Visits
NOT UPDATED From CDC NCIRD Surveillance, October 21: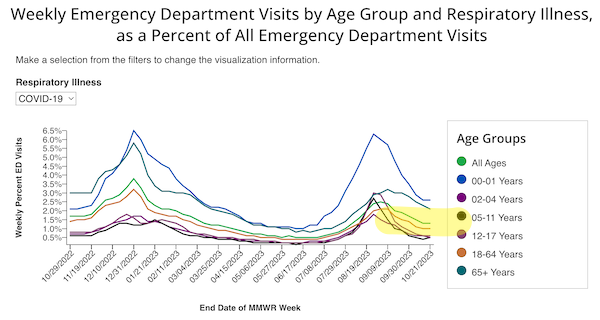 Lambert here: Flattening? Only a week's lag, so this may be our best current nationwide, current indicator until Verily gets its house in order (and working class-centric, since I would doubt the upper crust goes to the ER).
NOTE "Charts and data provided by CDC, updates Wednesday by 8am. For the past year, using a rolling 52-week period." So not the entire pandemic, FFS (the implicit message here being that Covid is "just like the flu," which is why the seasonal "rolling 52-week period" is appropriate for bothMR SUBLIMINAL I hate these people so much. Notice also that this chart shows, at least for its time period, that Covid is not seasonal, even though CDC is trying to get us to believe that it is, presumably so they can piggyback on the existing institutional apparatus for injections.
Hospitalization
Bellwether New York City, data as of October 26: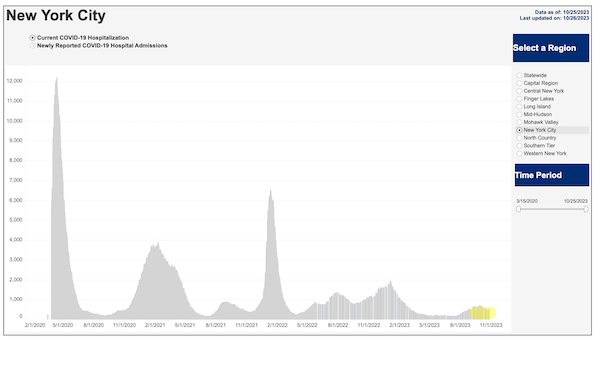 Leveling out. (I hate this metric because the lag makes it deceptive, although the hospital-centric public health establishment loves it, hospitalization and deaths being the only metrics that matter [snort]).
NOT UPDATED Here's a different CDC visualization on hospitalization, nationwide, not by state, but with a date, at least. October 14:
Lambert here: "Maps, charts, and data provided by CDC, updates weekly for the previous MMWR week (Sunday-Saturday) on Thursdays (Deaths, Emergency Department Visits, Test Positivity) and weekly the following Mondays (Hospitalizations) by 8 pm ET†". So where the heck is the update, CDC?
Positivity
NOT UPDATED From Walgreens, October 23: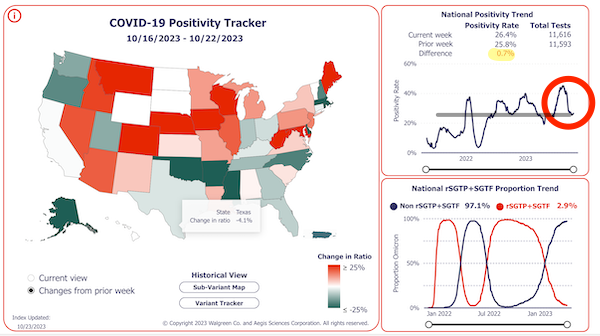 0.7%. Slight increase. (It would be interesting to survey this population generally; these are people who, despite a tsunami of official propaganda and enormous peer pressure, went and got tested anyhow.)
NOT UPDATED From Cleveland Clinic, October 21: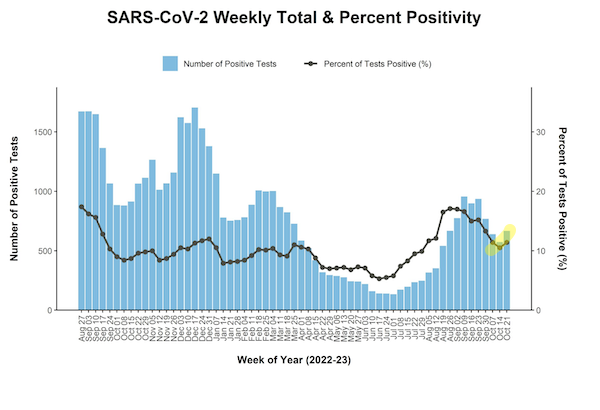 Lambert here: Slight increase. I know this is just Ohio, but the Cleveland Clinic is good*, and we're starved for data, so…. NOTE * Even if hospital infection control is trying to kill patients by eliminating universal masking with N95s.
NOT UPDATED From CDC, traveler's data, October 2: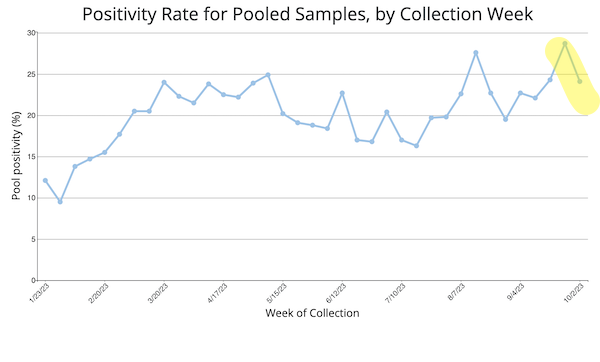 Down, albeit in the rear view mirror. And here are the variants for travelers: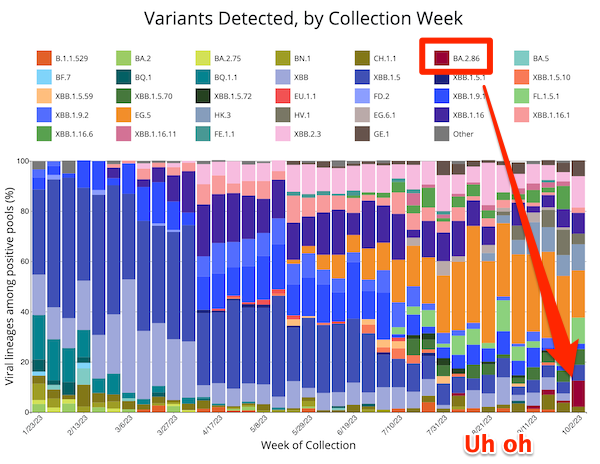 Sudden big BA.2.86 appearance.
Deaths
NOT UPDATED Iowa COVID-19 Tracker, September 27: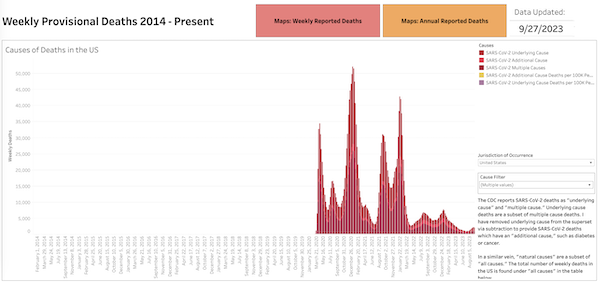 Lambert here: The WHO data is worthless, so I replaced it with the Iowa Covid Data Tracker. Their method: "These data have been sourced, via the API from the CDC: https://data.cdc.gov/NCHS/Conditions-Contributing-to-COVID-19-Deaths-by-Stat/hk9y-quqm. This visualization updates on Wednesday evenings. Data are provisional and are adjusted weekly by the CDC." I can't seem to get a pop-up that shows a total of the three causes (top right). Readers?
Total: 1,180,288 – 1,180,183 = 105 (105 * 365 = 38,325 deaths per year, today's YouGenicist™ number for "living with" Covid (quite a bit higher than the minimizers would like, though they can talk themselves into anything. If the YouGenicist™ metric keeps chugging along like this, I may just have to decide this is what the powers-that-be consider "mission accomplished" for this particular tranche of death and disease). 
Excess Deaths
The Economist, October 26: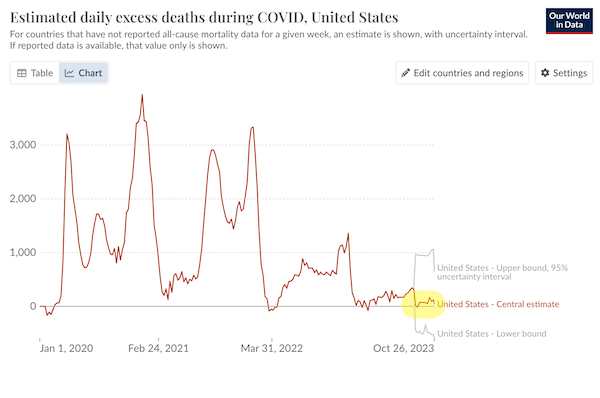 Lambert here: Based on a machine-learning model.
Stats Watch
GDP: "United States GDP Growth Rate" [Trading Economics]. "The US economy expanded an annualized 4.9% in the third quarter of 2023, the most since the last quarter of 2021, above market forecasts of 4.3% and a 2.1% expansion in Q2, the advance estimate showed." • Commentary:
I like that this joke is taking off https://t.co/WEvhiRzFLC

— Ryan Grim (@ryangrim) October 26, 2023
No contradiction between enormous capital concentration and working class immiseration.
Employment Situation: "United States Initial Jobless Claims" [Trading Economics]. "The number of Americans filing for unemployment benefits rose by 10,000 to 210,000 on the week ending October 21st, above market expectations of 208,000. Despite rising above the market's median forecast, the result remained relatively close to the nine-month low from the previous week to preserve evidence that the US labor market is at historically tight levels, aligned with the Federal Reserve's stance that interest rates are likely to be held higher for a longer period."
Manufacturing: "United States Durable Goods Orders" [Trading Economics]. "New orders for manufactured durable goods in the United States surged by 4.7% month-over-month in September 2023, rebounding from a 0.1% contraction in August and significantly surpassing market expectations of a 1.7% rise. This marked the most substantial monthly increase in durable goods orders since July 2020, primarily driven by strong demand for transportation equipment."
Manufacturing: "United States Kansas Fed Manufacturing Index" [Trading Economics]. "The Kansas City Fed's Manufacturing Production index improved to -8 from -13 the previous month, but marking the second consecutive month in negative territory. Durable goods manufacturing saw a more substantial decline compared to nondurable goods, but both sectors contracted at the same rate as the previous month."
* * *
Manufacturing: "Spirit Air Says Pratt Engine Issue to Ground Jets, Hamper Growth" [Bloomberg]. "Spirit Airlines Inc. said manufacturing problems with engines made by Pratt & Whitney will ground an average of 26 of its Airbus SE A320neo aircraft next year, slowing the carrier's growth to the mid-single digits or less." • We used to be able to build airplanes. What the hell happened?
* * *
Today's Fear & Greed Index: 25 Extreme Fear (previous close: 29 Fear) [CNN]. One week ago: 29 (Fear). (0 is Extreme Fear; 100 is Extreme Greed). Last updated Oct 26 at 1:51:26 PM ET.
Games
"Lego's New Dune Set With a Loooooong Baron Harkonnen Minifig" [Kottke.org]. "it's coming out in February and the main build is a 1369-piece model of the Atreides Royal Ornithopter with "fold-out, flappable wings, deployable landing gear and an opening cockpit". Baron Harkooooooooooooonnen. I can't stop! I, uh, may have pre-ordered this the second I saw it."
The Gallery
Take out the representation and you've got Jackson Pollack:
Boulevard of Capucines, 1883 https://t.co/TZyNqYossV pic.twitter.com/afQjdr3GbA

— Claude Monet (@artistmonet) October 26, 2023
The Screening Room
Foreshadowing (1):
In retrospect all of the apologetics for the bombing of Hiroshima after the release of Oppenheimer should have registered as a lot more portentous

— Erik Baker (@erikmbaker) October 25, 2023
The foreshadowed (2):
It's really like that https://t.co/uJZiTG6B0f

— thomas 🛠 IATSE STRIKE! (@t_NYC) October 26, 2023
Yes, I checked the original.
Zeitgeist Watch
Yikes:
IDF soldiers having time to rave on base and make TikToks? This and genocide is what our tax is funding 👍🏽 pic.twitter.com/DSXNaPstsk

— Sameen 🇵🇸 (@littlecherubbb) October 19, 2023
News of the Wired
"Running the "Reflections on Trusting Trust" Compiler" [Russ Cox]. "The backdoor was noticed because the compiler got one byte larger each time it compiled itself. About a decade ago, Ken told me that it was an extra NUL byte added to a string each time, "just a bug." We can see which string constant it must have been (nihstr), but the version we just built does not have that bug—Ken says he didn't save the buggy version. An interesting game would be to try to reconstruct the most plausible diff that reintroduces the bug." • Annotated version of Ken Thompson's C code. Perhaps some reader who knows The Great Runes can comment….
"The World's Writing Systems" [World's Writing Systems]. We're still inventing new writing systems in the 21st century!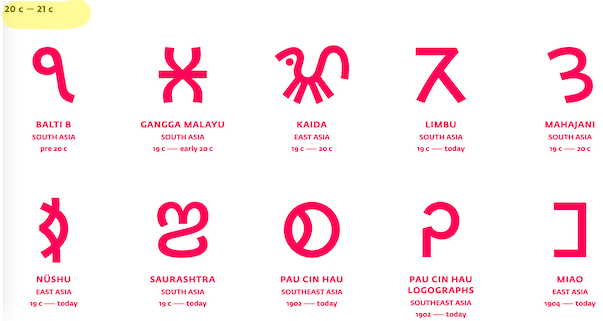 * * *
Contact information for plants: Readers, feel free to contact me at lambert [UNDERSCORE] strether [DOT] corrente [AT] yahoo [DOT] com, to (a) find out how to send me a check if you are allergic to PayPal and (b) to find out how to send me images of plants. Vegetables are fine! Fungi and coral are deemed to be honorary plants! If you want your handle to appear as a credit, please place it at the start of your mail in parentheses: (thus). Otherwise, I will anonymize by using your initials. See the previous Water Cooler (with plant) here. From wol: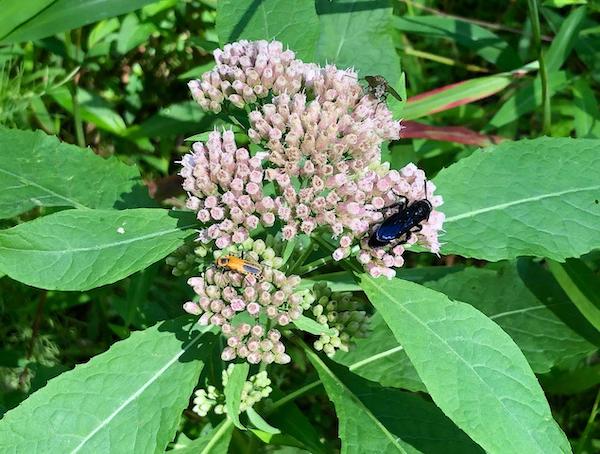 wol writes: "We filled in a failed runoff pond and let it return to nature. A welcome result is swamp fleabane (Pluchea carolinensis?). We are thrilled that deer have been avoiding it, as here it's difficult to find plants for pollinators that deer won't eat. I haven't yet been able to identify the bees or wasps with black and yellow striped abs and cobalt blue wings that crowd the blooms."
* * *
Readers: Water Cooler is a standalone entity not covered by the annual NC fundraiser. So if you see a link you especially like, or an item you wouldn't see anywhere else, please do not hesitate to express your appreciation in tangible form. Remember, a tip jar is for tipping! Regular positive feedback both makes me feel good and lets me know I'm on the right track with coverage. When I get no donations for five or ten days I get worried. More tangibly, a constant trickle of donations helps me with expenses, and I factor in that trickle when setting fundraising goals:
Here is the screen that will appear, which I have helpfully annotated: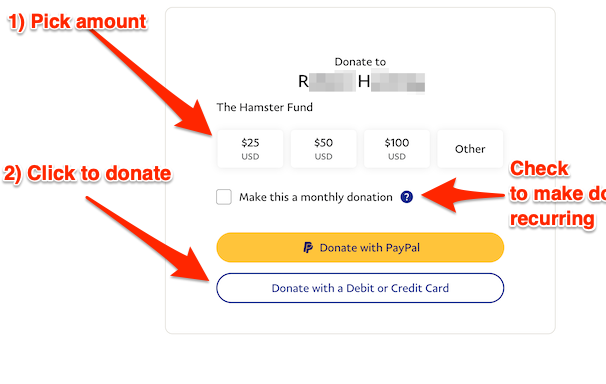 If you hate PayPal, you can email me at lambert [UNDERSCORE] strether [DOT] corrente [AT] yahoo [DOT] com, and I will give you directions on how to send a check. Thank you!