David Roche, who heads Independent Strategy, a London-based investment consultancy, argues today in the Financial Times tha the bull run in commodities is soon to come to an end.
A big factor in the outlook for commodities is whether you believe our credit crisis will lead to inflation or deflation. Bernanke's aggressive rate cuts and the dollar's swift fall made commodities look like a great haven. But with the failure of the Fed's moves to revive lending, the high odds of a deep recession that pulls down emerging economies, and worries about the financial system leading to liquidity hoarding, the prospects for commodities are far from compelling.
Indeed, Monday Paul Krugman worried that we are getting close to a liquidity trap. Michael Shedlock, in "Now Presenting: Deflation!" gives us this chart as evidence: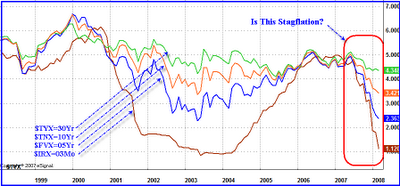 His commentary:
Are short term interest rates at 1.16% and falling indicative of stagflation? Certainly not.

Note: That chart is from yesterday, today short term rates are 0.97%

Stagflation theories die on the vine with the above chart. It really is as simple as that. Interest rates are not supposed to fall in periods of stagflation.. However, short term rates at 1% or even .5% do not prove deflation either.

Nonetheless exceedingly low interest rates are what one would expect in deflation. Japan's Zero Interest Rate Policy (ZIRP) is the model for what to expect.
Note that Roche forecasts a sharp fall for oil and industrial metals, He does not give a target for agricultural commodities.
From the Financial Times:
Commodity prices are hitting new highs almost every day. There seems to be no limit to where prices can go. Well, get ready: the big fall is coming soon.

In the current turmoil, there has been a rush into commodities. The volume of funds escaping risky assets and their derivatives has been enough to cause bubble-like euphoria in commodity prices. With global equity market capitalisation almost 10 times the notional value of commodity derivatives, the rush to commodities by investors has been like squeezing a quart into a pint pot.

The speculative element in commodity markets has grown sharply; non-commercial trades now constitute more than half of all trading, with hedge funds the biggest movers into the market. And in 2007, global equity funds switched away from financials and real estate into commodities in a big way.

But that's about to change. Global growth is declining fast. Recession will ensue and no region or asset class will be immune from its ravages. Contrary to received wisdom, economic decoupling is unlikely.

Early hopes that Europe might withstand the US downturn are foundering. The Federal Reserve is not alone in shaving 0.5 percentage points off its last forecast for 2008 growth. The European Commission has followed suit: it now expects expansion of 1.8 per cent this year.

Most measures of European business and consumer confidence are on the slide. Weakening housing markets will intensify pressure on consumers in the UK, Ireland and Spain, where mortgage approvals and housing starts are down sharply. And European export growth, once immune to the rise in the euro's value, has ground to a halt.

This does not bode well for the globe's two most important economic blocs nor for producers anywhere hoping for sustained strength in global demand. The 700m people in the US and western Europe account for 47 per cent of world gross domestic product and more than half of global private consumption growth. A consumer recession in the US and European Union will require an improbable 3-4 per cent rise in demand elsewhere if it is to be offset.

Chinese demand has been the principal driver of commodity price increases in recent years. During the past five years, China has accounted for 50-100 per cent of the marginal increase in global demand in a wide range of commodities.

Having been a modest consumer of various commodities as little as a decade ago, the country is now the world's biggest net importer of an increasingly long list of metals. Thus its impact on the global supply/demand balance, and on pricing, has been dramatic.

But about half of the commodities that China consumes are really just used for processing into exports. Thus its demand for industrial metals and energy is linked intimately to the global consumption cycle. Indeed, since 2005, net exports have contributed more than two-thirds of China's real GDP growth.

But economic overheating will force the authorities in Beijing to tackle domestic inflation pressures just as the country's main export markets go into a tailspin.

Food prices are rising at an unsustainable 23 per cent year-on-year and even non-food inflation is accelerating. Wage costs are exploding. With inflation at a 12-year high, the People's Bank of China finds itself presiding over a negative real prime lending rate, excessive money supply growth and a trade-weighted exchange rate that is weaker than it was 10 years ago.

Something is going to have to give. To get a grip on inflation, China's monetary policy will have to be tightened further. Growth will be the fall guy. Already export growth is taking a tumble as global demand drops off.

Where does this leave commodities? Along with slowing global growth, we estimate that a 3 per cent point drop in China's growth rate, from 11 per cent to 8 per cent, would remove the ex-ante global supply/demand deficit from energy markets and push most industrial metals, including steel and copper, into significant surplus.

On that basis, we can expect the price for refined oil to fall 30 per cent and industrial metals by 20-30 per cent. The big fall is coming.