As we reported earlier, central banks have been providing emergency liquidity, but it has not coaxed nervous investors off the sidelines. From the Wall Street Journal's MarketBeat:
"There is extreme lack of liquidity in the short-term markets," Kevin Giddis of Morgan Keegan told Dow Jones Newswires, noting he has seen no commercial paper trade so far this morning. "Each moment that the government's bill gets held up, things will remain like this. They need to calm markets."
The interventions we've had to date have, by any standard, been massive, yet have failed to bring lasting relief. The idea that a $700 baillout bill is a "comprehensive solution" seems more than a tad optimistic. From Brad Setser:
In the last two weeks — if I am reading the Federal Reserves' balance sheet data correctly — the Fed has:

Increased "other loans" to the financial system by around $230 billion (from $23.56b to $262.34b);

Increased its "other assets" by about $80b (from $98.67b to $183.89b);

Increased the securities it lends out to dealers by $60b (from $117.3b to $190.5b);

That works out to the provision of something like $370b of credit to the financial system in a two week period. That may be a bit too high: the outstanding stock of repos felll by $40b (from $126b to $ 86b), leaving a $330b net change in these line items. But that is still enormous.

The most that the IMF ever lent out to cash strapped emerging economies in a year?

$30b, in the four quarters through September 1998 (i.e. the peak of the 97-98 crisis).

The most the IMF ever lend out over two years?

$40b, in the eight quarters through June 2003 (this covered crises in Argentina, Brazil, Uruguay and Turkey)

This is a very real crisis. The Fed's balance tells a story of extraordinary stress. I never would have expected to see the Fed lend out these kinds of sums over such a short-period.
Setser also says there is not sign of foreign creditors abandoning US assets, as custodial holdings at the Fed have increased.
FT Alphaville reports that credit default swaps spreads on the US have risen further. I couldn't resist the lead sentence:
The US has been so hurt by the financial turmoil that markets now view its credit worthiness as akin to – or even worse than – that of McDonald's, a shocking fact even if you believe that both are fronted by clowns.

One broker quoted McDonald's CDS at about 26.5 basis points, compared with 30bp for the US, on Friday morning and another desk quoted both about 25bp. The picture has worsened since the news that politicians and public servants in Washington failed to seal a financial bail-out deal on Thursday night. McDonald's closed at 28bp versus 25bp for the US on Thursday, according to Markit.
A slight bit of not-bad news: the TED spread isn't getting worse (click to enlarge).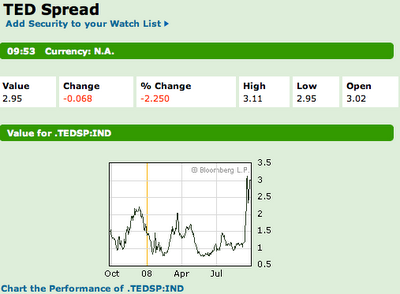 Update 11:00 AM The Financial Times reports banks are lending to each other only on an overnight basis:
Money market traders said that interbank lending for terms longer than a day had come to a near standstill as counterparties feared that they may be lending to a bank that could suddenly become insolvent.