A little late, don't'cha think?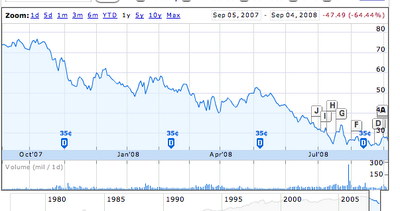 Yes, that is a one year price chart.
One of the best buy indicators on a stock is when analysts are close to unanimity in designating it a sell. Like rating agencies, analysts are loath to downgrade a stock. By the time things are so indisputably dreadful that they can risk annoying management by recommending an exit, pretty much all the bad news is out. But the Goldman analyst William Tarona is among a minority in having a sell recommendation on Merrill. While he thinks there is more downside even from this fallen level, his dim view will need to be more widely shared before aspiring brokerage industry bottom fishers might venture into the pool.
From Bloomberg:
Merrill Lynch & Co., down 51 percent this year in New York trading, was cut to "sell" at Goldman Sachs Group Inc. on concern the firm may post more writedowns tied to credit-related investments.

Goldman added the Wall Street company to its "conviction sell" list, according to a report by analysts including William Tanona. The share-price estimate on the stock was lowered 23 percent to $22, compared with yesterday's closing price of $26.21….

"Merrill currently trades at the highest price-to-book multiple in our large-cap brokerage universe, despite having some of the most significant exposures to troubled assets such as CDOs, mortgages and leveraged loans," said the report, dated yesterday. "With these markets still under pressure, we believe additional write-downs and book value deterioration will continue to plague the stock."

Merrill, the third-largest U.S. securities firm, is rated the equivalent of sell by four of 20 firms, including Goldman, according to recommendations collected by Bloomberg. The same number recommend clients buy the stock while the remaining 12 rate Merrill the equivalent of neutral….

The credit crunch has produced more than $500 billion of credit losses and writedowns at the world's biggest banks and securities firms. Merrill, with $51.8 billion, ranks second after Citigroup Inc.'s $55.1 billion, data compiled by Bloomberg show.

Goldman said "very weak" third-quarter results from investment banks and financial services companies will weigh down brokerages over the next two months.

"Dislocations across many of the financial markets as well as additional deleveraging are resulting in a meaningful slowdown in overall corporate and institutional activity," the Goldman report said.