From 'Nineteen Hundred and Nineteen' (Yeats) Mendicus Moldbug
Coral reefs may start dissolving when atmospheric CO2 doubles PhysOrg
Robot Love Gone Awry Oign
Public Transit Ridership Highest In 52 Years Consumerist
New Fears as Credit Markets Tighten Up Wall Street Journal and Fresh pessimism sweeps over credit sector Financial Times. For once, the Journal beat the FT on a credit markets story, but the FT is more detailed.
Drug Investors Lose Patience New York Times. Proving out the saying of a buddy of mine, "What's the difference between high tech and biotech? How long it takes you to find out you've lost all your money." She also described horses as "dog food futures".
The Great Multiplier Debate, New Keynesian Edition Menzie Chinn, Econbrowser
Credit Cards Are the Next Credit Crunch Meredith Whitney, Wall Street Journal. Whitney warned of this in an FT comment (and I would suspect in her research) late last year; this is updated and amplified. Her estimates also show that even if the TALF works, it will only alleviate the crunch, not offset it (and other reports are showing that TALF uptake is modest).
Tent City Economist's View
Antidote du jour (hat tip reader Counselor AMJ, note his too):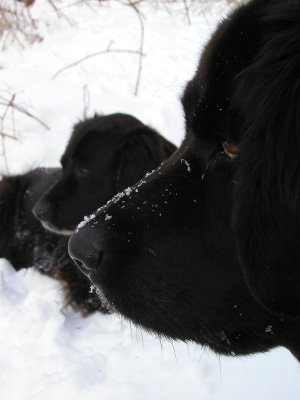 Goofy Newfies cleaning their teeth the natural way: