There are some interesting things one learns in putting together a book. Blogging is a lot like working in watercolors, speed and confidence in execution are key, versus the oil-painting medium of a book. And you learn how many times you wind up scraping the canvas and reworking. I'm up to the sixth revision of one chapter, and I guarantee it isn't the last for that one either.
Another thing is dealing with comments. Input from informed sources is critical. Better to have friendly people tell you where you are full of it when you can do something about it than learn of glaring omissions or errors after it's in print.
But the flip side is that comments also reflect people's personal perspectives, which means you need to watch whether your are rejecting an argument because you think it reflects a reader's idee fixe, or whether, even if that is true, they still have a point.
The object lesson today is a chapter that discusses liquidity and leverage. I will say it's well written, which at this stage is dangerous; I may be unduly taken with the fact that the the sentences, on the whole, are good and it moves forward. That is a far cry short of it necessarily being persuasive to someone how knows the terrain.
I'm getting pushback from one reader, an economist, who is of the view that interest rate policy played a role in the crisis (a role, mind you; it certainly was not the sole factor). His argument is a full employmemt; anything less than full employment, the US has labor slack which means rates should be lower.
I am taken with the view of Richard Alford (Tim Duy and Axel Leijonhufvud, who argue that interest rate policy was too loose since the mid-late 1990s because the Fed didn't allow for the role of imports:
One of the interesting aspects of economic policy in the US is a belief that we exist independent of the rest of the world. In the minds of many policy makers, the US is the focus and the rest of world economy is just a stable background. To open the model up to external factors, market imperfections, and quasi-floating exchange rates would increase the complexity of the model and limit the number of policy prescriptions that could be made, so most US economists pretend that the rest of the world does not exist, is stable, or that the dollar will quickly adjust so as to maintain US external balances. It has only been in the past few years that the trade deficit has moved to a level that is clearly unsustainable….

If you look at the difference between gross domestic purchases and potential output, by US consumers, businesses, and government — all are above potential output. The only time in recent memory when the difference between these two measures started to narrow was in 2001 when we were in a recession. One of the things we need to consider is that that US may need to see consumption drop significantly before we can achieve a sustainable position, for example vis a vis the dollar…

[T]he demand side is fine. Remember, US domestic purchases are still running around 105-106% of potential domestic output. The problem is not the level of demand but rather the composition of demand. Americans are buying too many imported goods and the world is not buying enough of our exports. So we have a growing wedge growing between gross domestic purchases, which is what the Fed really controls, and net aggregate demand, which is defined as gross domestic purchases less the trade deficit. Given the inability or unwillingness of the US to correct the trade imbalance, the Fed has run expansionary monetary policy almost continuously, generating higher levels of domestic purchases so as to keep net aggregate demand near potential output. The Fed did this using low interest rates, which generated asset bubbles, large increases in consumer debt and sharp declines in savings, and also a larger trade deficit. What has been totally missing is any policy aimed correcting the external imbalance. We are relying on the tools of counter-cyclical domestic demand management to address problems caused by a structural external supply shift..
A second bone of contention is the argument that Greenspan kept rates too low too long 2002-2004. The Fed was clearly worried about deflation; recall the famous Helicopter Ben speech of 2002. But this strikes me as a mistake analogy to Japan post-bubble. The Japanese had undergone a real estate bubble of catastrophic proportions (remember the stories how a parcel of land in central Tokyo was worth more than all of California?) Banks would lend 100% against land in central Tokyo, Osaka, and Nagoya. This was a classic case of debt feeding an asset bubble, and the financial system piling on lots of loans that turned out to be bad,
By contrast, margin lending even at the peak of the tech mania was not large relative to total market cap. And unlike real estate loans, when equity values decline, either the borrower puts up more margin or the position is liquidation. The potential for losses is limited. Yes, you could have a crash, and the gap down might lead to losses, but I don't have the impression that losses on broker loans was a major issue in the dot-com bust.
So the big effect on falling stock prices was wealth effect, and that would (did) produce a downturn. Yes, the recession might have been moderate rather than mild in the absence of (overly) aggressive Fed policy, but I don't buy the defenses of the Fed on this one.
One bit that I think gets missed, but is hard to prove, is that we had a big structural change in the 1990s. Workers had nada bargaining power. bargaining power unless you had gambled correctly and developed very narrow skills in high demand. But lose your perch, and next best, if you don't have a buddy who will give you a chief administrative officer job at a private company (hopefully not too small) is Home Depot or "consulting". And if people high in the food chain don't, imagine what it is like at the bottom. The version there was ridiculously overspecified hiring requirements.
This was due to opening of markets, and companies going hog wild (well beyond what was economically defensible) for offshoring and outsourcing. The successful outsourcing was with foreign co's. The research is pretty unambiguous here. But companies continued to outsource and offshore even in the face of mediocre to bad success rates. Why? Wall Street expected it. It was something analysts liked hearing. And if you didn't do it, you were a Luddite. But this was the most visible symptom of an ongoing fixation with cost reduction to boost bottom lines. I heard about this across the board, particularly companies "dis investing" as in cutting spending on stuff necessary to maintain the viability of their business long term, like advertising. And this was when the economy was good. Even though everyone is familiar with short-termism, we've become desensitized to what exactly it means and how it operates.
Big companies were in savage cost cutting mode from at least 1995 through now. I'm not certain I can prove what happened at medium sized companies. Suppliers were clearly squeezed, and one might assume at least ones that competed with public companies would be under pressure to match their cost-cutting efforts to stay competitive.
The proof is in the complete failure in the post 2002 expansion for workers to get ANYTHING. Prior expansions had them getting in the low 60% of GDP gains. They got only 29% this time. Prior low was 55%.
So we had the great sucking sound of jobs going to China, India, Korea, Mexico, you name it, but a fair bit of it was in excess of what was necessary to maintain competitiveness due to companies' obsession with short term profits and cutting costs. Interest rate policy is not a great way to beat that (although we went a long way that way anyhow). Using interest rates v. unemployment as a metric against a fundamental shift like that is going to lead to bad decisions. But there are no economic models that can deal with a change like that in progress (or are there?).
The only job engine in the post 2002 period was small companies, or at least that's conventional wisdom and I've seen some data releases supporting that. I need to do some checking here as to how solid that factoid is and when that pattern took hold, But assuming it is accurate, what are lower rates going to do much for them? Given big co job shedding, and medium co's being squeezed (some as suppliers to Big Cos and subject to more cost pressures due to intense focus on cost reduction) an economy-wide interest rate cut is a VERY inefficient way to get the only type of company predisposed to create jobs to make them. Reductions in borrowing costs don't help them directly; the vast majority have access only to credit cards, which are not too sensitive to short term rate reductions. And other loans to small business are based on prime, again a pretty sticky rate. So in the new world of anorexic companies, you have to stimulate the entire economy to get job creation by small establishments, which by the way are not stable employers.
Now I'd need to look at the right data series to see when the pattern took hold (do either of you know which series breaks out job gain/losses by establishment size//type? There is one that has only three sizes, that's the one I have in mind), but when you start seeing job creation in a period of say 2% or greater GDP growth ONLY in the small establishment cohort, that is when interest rate policy as a way to create employment is likely to have been blunted by structural factors.
Another issue is that I think some culprits in the crisis have been overdone. My current hunch is that the reason for the explosion in debt was the use of leverage on leverage: hedge fund of funds adding another layer of borrowing to often levered hedge funds, credit market investment strategies that used leverage to meet target returns, and vehicles that were highly geared (CDOs in particular, perhaps also CMOs and CLOs).
I'm not sure one commonly-cited culprit, the SEC liberalizing capital requirements for the big five broker dealers in 2004 is as big a deal as many make it out to be. Yes, it most certainly did mean that when things got bad, they were fragile. So in the unwind their leverage played a role as a point of breakdown, But I am not certain their gearing played much of a role in creating the mess. The bigger impact no doubt was their assets were drecky and thus were more sensitive to the repricing that started when credit spreads started to blow out.
This chart shows leverage ratios, and there is no obvious smoking gun (click to enlarge). The issue seems to have been composition of the balance sheet, and (for some banks) off balance sheet commitments.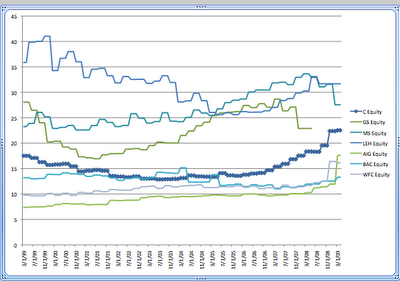 I am also not certain that SIVs played a major role. They were geared 14x. That's higher than a bank would gear, but not hugely so. The unwind was more orderly than many expected. My impression is that the big issue here was that Citi was heavily exposed (they were far and away the biggest SIV player). But the losses on SIVs weren't all that large relative to other culprits. This was a $400 billion product at its peak. Last data I saw was NAVs just below 70%, which means losses of under 3% ish. Even if you got to 5% losses, that's $20 billion on the product. Am I missing something here? Now having said that, Cheyne did liquidate for 44 cents on the dollar, but I didn't see any other reports of that ilk.
Reader comments encouraged, Pointers to relevant data and research particularly appreciated. Feel free to write me at yves@nakedcapitalism.com