Reader John O passed along this Bloomberg chart du jour (click to enlarge) which effectively argues that the consumer has gone down so far she has nowhere to go but up: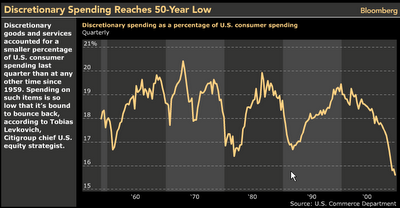 The related article argues:
….these so-called discretionary goods and services accounted for a smaller percentage of consumer outlays last quarter than at any other time since 1959. The proportion dropped about 0.3 percentage point, the sixth decline in seven quarters, to 15.6 percent.

The chart is similar to one created by Steven Wieting, Citigroup's managing director of economic and market analysis, that Levkovich cited yesterday in a report. Both were based on spending figures compiled by the Commerce Department.

Consumer behavior is likely to revert to "the 'Old' Normal" — spending more closely tied to income, rather than borrowing — that prevailed during the 1950s through the 1970s, Levkovich wrote. "Some reasonable bounce is to be expected" in discretionary spending as that occurs, the report said.

"The frivolous consumer will not turn into the frugal," he wrote, adding that pent-up demand will lead to production and employment gains.

Houses, cars and other durable goods, or items made to last more than three years, are the biggest category of discretionary spending as defined by Citigroup. The firm also included outlays on games, sports supplies, flowers, newspapers and magazines, hotel rooms, recreation and non-U.S. travel.

The "old normal" reference contrasts with the "new normal" that Pacific Investment Management Co., or Pimco, foresees. The firm expects relatively slow economic growth for the next three to five years as households and businesses retrench.
If one wanted to be a devil's advocate, it isn't hard. Comparing this downturn to past post war busts seems questionable. Those recessions, save our current bust, were the result of imbalances in the real economy. Inventory swings explain more than 100% of the change in GDP. By contrast, this one is the result of a 20 year debt party in the US, with the manic phase starting in 1999. This is a different sort of beast, and expecting old patterns to reassert themselves quickly is a bit of a stretch.