On the one hand, debating the merits of the Volcker Rule may seem a tad academic, given the rousing opposition it is encountering from Congress (and you have to love the world of politics: the biggest obstacle is, basically, "We sorta have a deal, you can't retrade it!" Funny how banks and AIG get to redo their deals on quick notice, but the poor chump public? Not a chance). But it is worth pursuing nevertheless for two reasons. First, reform talk is not going to go away because the phony reforms are insufficient to prevent future train wrecks. So this line of thinking may well be revisited. Second, and more important, this discussion will hopefully help clarify the objections I raised recently, and probably did not articulate clearly enough for all readers.
My major focus of concern was Volcker's pronouncement that he saw public funds backstopping commercial banks, but not investment banks. He therefore recommended that commercial banks be prohibited from engaging in proprietary trading (which he chose to define more broadly than private equity fund and prop desks, and to include speculation on customer dealing desks, which he was confident could be defined, although he offered no specific metrics). The problem is that he depicted this sort of trading as "part of the natural realm of investment banks". He does not want investment banks to be backstopped, and thinks that (and restricting commercial banks' trading activities) will solve the problem. He does admit that there is a wee bit of a problem with "systemically significant non-banks" but he seems not to grasp the essence of the problem: that the reason these firms are "systemically significant" is that they both crucial to the operation of the global debt markets (making them essential to commerce worldwide) and enmeshed via financial mechanisms (repos) and risk transfer devices (particularly credit default swaps) which means if any one of these key players goes down, it risks bringing the entire system down.
i on the ball patriot used an electrical metaphor:
Picture this – a smooth running parallel circuit of vanilla greed banks …

Imagine it is as if the preexisting structure was set up as a nice little circuit of vanilla greed banks, all happily wired in parallel, with wire mains of sufficient capacity to supply funds from the big battery of the taxpayer to the individual banks. To keep the circuit running smoothly, the treasury, the fed, and the congress, acted in concert as a regulator, and controlled the flow of funds from the taxpayer battery to the individual banks in this parallel circuit of banks. It was a relatively efficient circuit.

Now picture this – a not so smooth rewired combination series parallel circuit …

The wealthy ruling elite (fill in your own villain here), through an array of various deceptive means, hijacked the government and took control of the fed, the treasury, and the congress, and had the existing simple fairly well regulated parallel circuit described above drastically rewired.

Through their machinations they created a new combination series parallel circuit with twenty or so much bigger banks wired in series, with high capacity wires, right off the tax payer charged battery. This series string of big banks now fed the simple smoothly running parallel circuit of smaller banks. They also increased the wire size of the mains of that parallel section of the circuit, but not the feeder wires to the individual smaller banks in that parallel circuit, to insure that the big banks would always have maximum flow of funds.

The effect of this new circuit was twofold;

1. If any of the big banks failed the whole circuit went dead (too big to fail), but smaller banks could fail and the funds from the tax payer battery would keep flowing to the big guys and the other smaller banks.

2. The big banks, by acting in concert, could now, in the aggregate, control the entire circuit to;

a. Allow a free flow pass through of funds to create cheap credit and a huge global bubble — which they certainly did.

b. Pop the bubble by creating grossly over leveraged counterfeit derivative products that would effectively rattle, shake, and instill trillions of dollars of mistrust in the new system circuit, and at the same time have the effect of; frightening consumers into a savings mode and further depressing the popped bubble economy, and, also make the smaller banks unwilling to lend for lack of good investments in the now fully depressed environment (green shoot bullshit aside).

c. Allow them, the big banks, to further drain the taxpayer charged battery by engaging in greater unregulated speculative schemes so as to create a rinse and repeat condition until the tax payer battery goes completely dead.
Yves here. I differ with him that popping the bubble was part of a plan; I see it as simply an inevitable outcome of too many people making short term decisions and not caring that the long term was unlikely to work out well. But you get result (c) independent of how (b) came about.
But a clearer explanation of why Volcker's proposal comes short via a very clear and clever presentation by Raj Date of the Cambridge Winter Center for Financial Institutions Policy, via Mike Konczai at New Deal 2.0 (hat tip Ed Harrison).
The key bit is that the Volcker Rule omits the very activities at the heart of the crisis (a complaint yours truly and others have made) and the paper shows through some very clear visuals where those gaps are. Date's overview:
On January 21, the Obama Administration proposed two sets of new measures to contain systemic risk: limits on financial firms' size (as a fraction of market liabilities); and the so-called "Volcker Rule", which would bar bank and financial holding companies from putatively high-risk activities like private equity investing, managing hedge funds, and proprietary trading.

• A real solution to a non-problem. Firms that combine elements of the commercial banking, broker-dealer, and proprietary trading business models can pose systemic hazards. But the Volcker Rule focuses on the least problematic of those hybridized activities. For sound market-based reasons, commercial banks are simply not involved in significant levels of private equity or hedge fund-like investing.

• A non-solution to a real problem. By contrast, broker-dealers (or investment banks) are quite frequently engaged in trading and investing for their own account — both as a necessary consequence of their market-making function, but also as a means to capture incremental value. Because investment banks (appropriately) fund themselves substantially in short-term and overnight markets, allowing them to take on volatile and illiquid assets is systemically dangerous. Indeed, it was the proliferation of such "shadow banking" that was perhaps the single biggest driver of the credit bubble and ensuing crisis and government response. But the Volcker Rule, as currently defined, does not apply to most investment banks. Indeed, if the largest investment banks (Goldman Sachs and Morgan Stanley) were to give up their bank holding company status, the Volcker Rule would leave even them untouched.
He illustrates the problem first by showing how various types of players operate: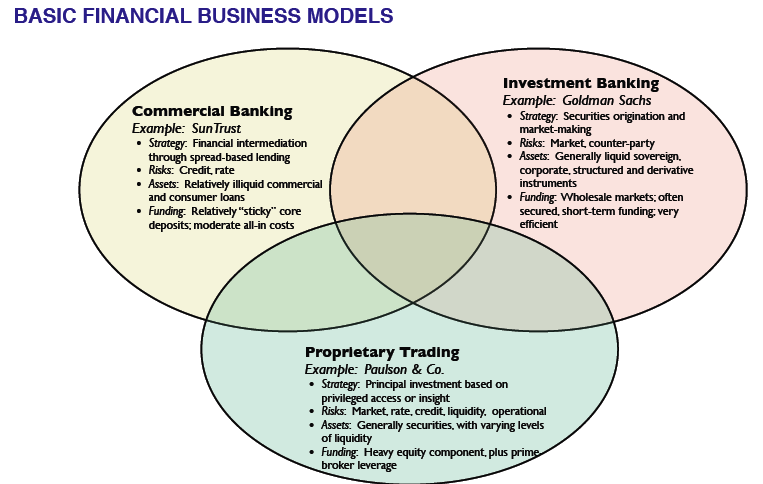 He then shows why this is not such a hot idea:
Many of the credit bubble's excesses can be traced to the "shadow banking" sector, which is essentially the intersection between commercial banking and investment banking business models: shadow banks take illiquid credit and interest rate risk (like commercial banks), but fund themselves principally through the wholesale markets (like investment banks). Because of long-recognized regulatory loopholes, shadow banks were also frequently able to operate with significantly lower capital requirements than commercial bank competitors. With both capital and funding advantages in hand, shadow banks grew to some 60% of the U.S. credit system.
Now that might not be so bad…except per the red sections below, there were mismatches between the liquidity of the funding (which could disappear quickly) versus the assets, which were not terribly liquid. But it was those very same illiquid assets that were moved into bank like structures (conduits and SIVs in particular, but you also have the same problem with any securitized assets sitting on the balance sheets of trading operations):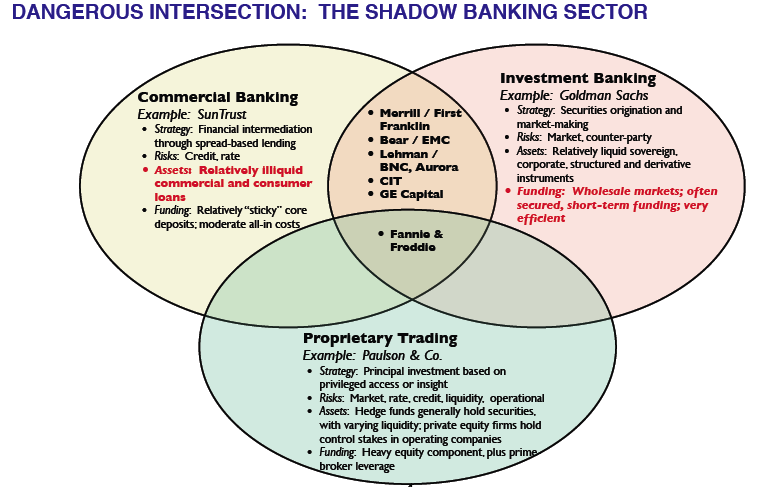 And the Volcker Rule is not attacking the real problems: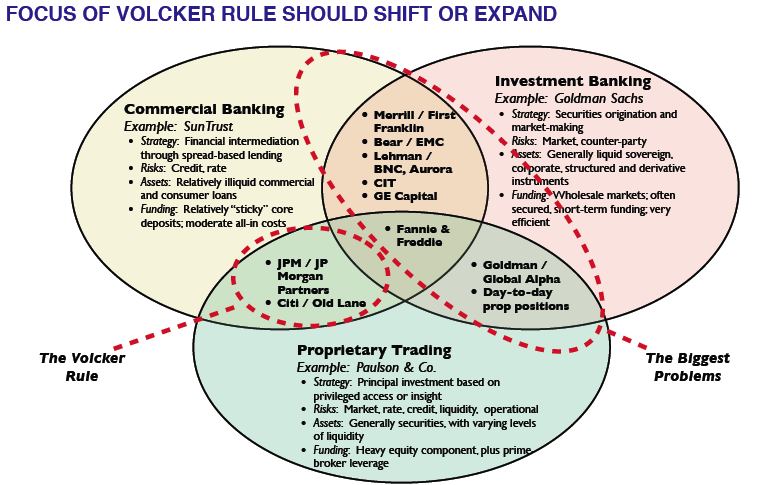 The presentation also has a nice discussion of how to define and measure proprietary trading on page 7.