The banks giveth and the banks taketh away, big time.
This chart from a Wall Street Journal article on credit card interest rates says a great deal: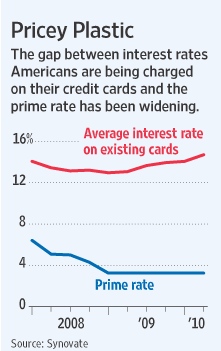 Even though banks are getting all kinds of bennies from the Fed and regulators, such as a nice steep yield curve and lots of regulatory forbearance (econ-speak for extend and pretend), they are still out to extract a pound of flesh from the retail borrower. Since that has been a core element of their business model for the last decade, it is probably not so surprising that they are loath to give that practice up.
Now some will argue, correctly, that consumers need to delever. But guess what? They are paring debt levels, including credit cards. The number of open accounts has fallen by over 20% since the peak, as has the balance outstanding (over 6%). And not all of this has been voluntary. Banks have been shutting accounts and cutting credit lines.
But (drumroll) increasing interest rates, particularly when the banks are getting very sizeable subsidies, means that more of the money consumers pay to credit card companies goes to interest, less to reducing principal (of course, the banks will maintain that they are merely recouping lost income from penalties, since new credit card rules have curbed abusive practices).
A more serious issue is that not all consumer debt is consumer debt. Credit cards have long been an important source of funding for small businesses. Generally speaking, banks will lend only to relatively large, established "small" businesses, or against assets. For instance, Amar Bhide, in his landmark book on new venture, found that the biggest sources of funding for new enterprises were savings, friends and family, and credit cards. Small business owners often use credit cards to contend with temporary cash flow shortfalls or seasonal borrowing needs. And I've known some who have maxed out their credit cards to save their companies.
And in our modern, lend by FICO template world, the cutbacks in credit and increases in prices are often arbitrary. Early in the downturn, for instance, I had readers complaining to me that they had their credit lines cut even though they had an unblemished record and over 700 FICO scores simply because they lived in one of the epicenters of the housing meltdown. Some of those readers included small business owners whose businesses were not local or in real estate, but the curtailment in credit would make them collateral damage.
Yet another example of what Michael Thomas described back in 1998, after the Long Term Capital Management affair:
The thirteen-digit ($1,250,000,000,000) number that's being tossed around – the chin-scratching classes like to speak of "systemic risk" – is designed to convince us little people that there is a crisis at hand and therefore, if we somehow end up paying for it, it's for our own good. In other words, to save the king's castle, it is necessary to destroy the people's village
From the Wall Street Journal:
New credit-card rules that took effect Sunday limit banks' ability to charge penalty fees. They come on top of rule changes earlier this year restricting issuers' ability to adjust rates on the fly. Issuers responded by pushing card rates to their highest level in nine years.

In the second quarter, the average interest rate on existing cards reached 14.7%, up from 13.1% a year earlier, according to research firm Synovate, a unit of Aegis Group PLC. That was the highest level since 2001.

Those figures look especially stark when measuring the gap between the prime rate—the benchmark against which card rates are set—and average credit-card rates. The current difference of 11.45 percentage points is the largest in at least 22 years, Synovate estimates.

By comparison, the spread between 10-year Treasurys and a standard 30-year fixed-rate mortgage is just 1.93 percentage points, near historical averages, according to mortgage-data provider HSH Associates.