Reader Scott provides yet another example of the disconnect between the cautiously optimistic stock market and those on the economic front lines. A Wells Fargo/Gallup survey of 604 small business owners conducted in early July showed a plunge in already negative readings to new lows. This gloomy outlook matters because small businesses were the biggest source in job creation in the last upturn and are expected again to be the main source of hiring.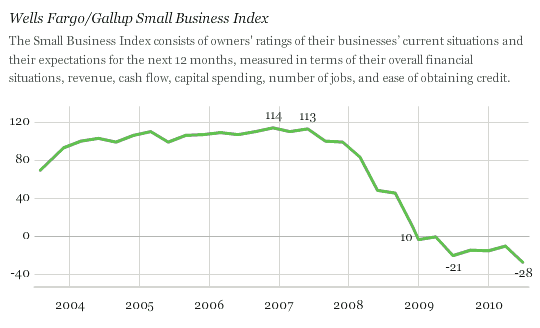 Even worse, small business owners expect things to get worse. The main reason for the decline in the index was the decay in the Future Expectations subindex, which is the first time business owners as a whole have been negative about their companies' prospects for the upcoming year: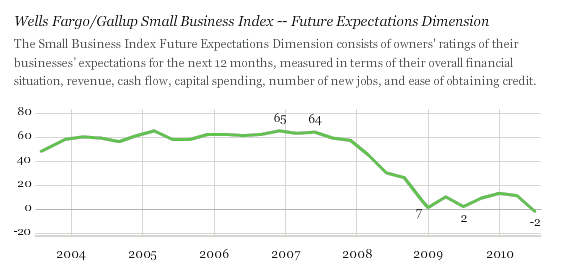 42% of respondents anticipate it will be "somewhat" or "very difficult" to borrow, and 22% forecast their financial condition a year out as "somewhat" or "very bad."
Gallup noted:
The Wells Fargo/Gallup Small Business Index seems to be something of a precursor of future economy activity. It peaked at the end of 2006; matched that peak once more in June 2007; consistently declined thereafter as the recession deepened, before bottoming out in mid-2009; and finally, improved modestly until its July 2010 decline.