By Marshall Auerback, a portfolio strategist and Roosevelt Institute fellow

There are plenty of legitimate reasons to criticize Barack Obama's dismal stewardship of the US economy, and God knows I've voiced quite a few of them, but it does not follow that every criticism made of his economic policies is therefore legitimate.
There is quite the misleading sleight of hand in a Megan McArdle post yesterday, " A Visual History of U.S. Government Deficits". She starts by invoking her readers to set up a straw man argument:
A number of my readers are claiming that the only reason Obama is running such a big deficit is that revenue has collapsed. I don't see that in the data:

These figures are in constant dollars, so they're unaffected by inflation/deflation, or the collapse in GDP; they're simply an assessment of the absolute increase in spending compared to taxes. As you can see, there's a huge increase under Obama–that huge upslope is the change between 2008 and 2009 spending levels…

Of course, you can argue that this spending was necessary, and at least in some cases, I agree. But I don't think that you can argue that the deficit is mostly just a result of collapsing tax revenues. That dotted green line I've drawn represents the growth rate of revenue in the final year before the financial crisis; had revenue continued growing at that rate (a not-too-shabby 4%), Obama would still be running a huge deficit.
This "revenues have collapsed" as the sole and therefore supposedly bogus rationale for the growth in deficits is a distortion, pure and simple. While it is clear revenues fell sharply, if you read any serious account of this financial crisis (including from economists who take umbrage at large deficits relative to GDP, such as Carmen Reinhart and Kenneth Rogoff, to the Bank of England, and the IMF), they all contend that the overwhelming reason for the fiscal deficits blowing out was direct budgetary effects of the crisis, with bailouts and stimulus program playing comparatively small role (save perhaps in China, which suffered fewer direct effects of the crisis and implemented a very large spending program).
So how do we square that with the McArdle chart? Because most of that increase in spending that she blames on Obama was not discretionary.

Despite all the conservative uproar against Obama's "wild spending", the largest portion of the increase in the deficit has come from automatic stabilizers and not from discretionary spending. This is easily observable in the graph below which shows the rate of growth of tax revenues (automatic), government consumption expenditures (somewhat discretionary) and transfer payments (again automatic) relative to the same quarter of the previous year: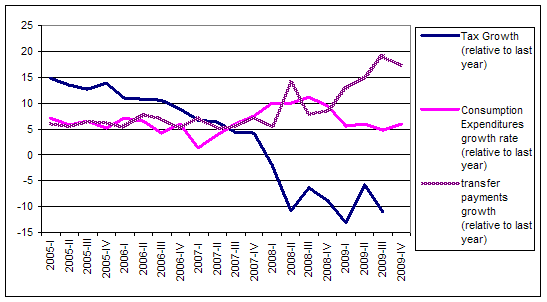 In 2005 tax revenues were humming, with a growth rate of 15% per year—far above GDP growth–hence, reducing nongovernment sector income—and above growth of government spending, which was just above 5%. As shown in the figure above, such fiscal tightening invariably results in a downturn. When it came, the budget deficits increased, mostly automatically. While government consumption expenditures remained relatively stable over the downturn (after a short spike in 2007-2008), the rate of growth of tax revenues dropped sharply from a 5 % growth rate to a 10 % negative growth rate over just three quarters (from Q 4 of 2007 to Q 2 of 2008), reaching another low of -15% in Q1 of 2009. Transfer payments, as expected, have been growing at an average rate of 10% since 2007. Decreasing taxes coupled with increased transfer payments have automatically pushed the budget into a larger deficit, notwithstanding the flat consumption expenditures. These automatic stabilizers and not the bailouts or much-belated and smaller-than-needed stimulus are the reason why the economy hasn't been in a freefall a la the Great Depression. As the economy slowed down, the budget automatically went into a deficit putting a floor on aggregate demand.
As estimated by the New York Times, even if we were to eliminate welfare payments, Medicaid, Medicare, military spending, earmarks, social security payments, and all programs except for entitlements, and in addition stopped the stimulus injections, shut down the education department, got rid of a number of other things and doubled corporate taxes on top of all of this, the budget deficit would still be over 400 billion. This further demonstrates the non-discretionary nature of the budget deficit. And of course this doesn't take into consideration how much more tax revenues would fall and transfer payments would rise if these cuts were to be undertaken. With the current automatic stabilizers in place, the budget cannot be balanced, and attempts to do so will only cause damage to the real economy as incomes and employment fall.
But this set of facts is much less attractive, apparently, than simple Obama bashing.