By John Bougearel, author of Riding the Storm Out and Director of Financial and Equity Research for Structural Logic
A decade ago, the Bureau of Labor Statistics predicted that the U.S. economy would create nearly 22 million net jobs in the 2000s.
These government forecasts for 2010 were particularly off. When the job market peaked in 2008 on the eve of the financial crisis, the manufacturing sector had already shed 5 million workers since the decade began, with more layoffs to come in the Great Recession. The forecasters said that the economy would create 22 million jobs over the next 10 years. At the decade's economic peak, though, that number stood at only 7 million. Job growth in the 2000s was the lowest of any decade ever recorded by the federal government, stretching back to the 1940s.
Faith in Government Sanguine Projections are Badly Misplaced
Obama said with the benefit of his stimulus measures, the US economy would create three million jobs in 2010. The actual number of jobs created in 2011 was 1.12 million (before final benchmark revisions). Now, the CBO is projecting 2.5 million jobs will be created annually from 2011 to 2015. From the CBO: "As the recovery continues, the economy will add roughly 2.5 million jobs per year over the 2011–2016 period."
That is more than 200,000 jobs being created per month every month for the next 5 yrs. Moody's economists actually estimate 270,000 jobs will be created per month on average in 2011. Yet peak annual job growth ranged from 154,000 to 178,000 during the housing boom era circa 2004-2006.
But there can and will be no housing boom in the US over the next five years that will possibly match the housing boom of the previous decade. Just the excess supply of homes alone will take to 2013 to absorb, according to JPM. With no housing related jobs to create at least until 2013, there is simply no way the US can create 2.5 million or 200,000+ jobs per month on average in 2011-2012.
Faith in the US gov't's ability to create 2.5 million jobs for the next 5 yrs (one of the several silly and preposterous CBO projections) is sorely misplaced. The CBO has sugarplums dancing in their heads. Their 2011-2016 forecast for the US jobs market is disingenuous, misleading poppycock. Optimists making bets in the stock market based on a huge recovery in the jobs market spurring consumer demand had better think twice (and check The Hackett Group research below).
The CBO bases their projection of 2.5 million annual job creation on a bygone era which we kissed goodbye when the "Great Moderation," got underway in the 1980s. The Great Moderation (along with automation) led to a decrease in business cycle volatility. This had the unintended negative consequences of leading to a decrease in job creation. V-spikes in job growth no longer accompany economic recoveries in the US. The jobs were and are being "disappeared" to automation and foreign companies
Exporting jobs overseas was sold to Americans as the path to cheaper goods and disinflationary trends in the US economy. Unfortunately, research has shown that the savings accrued to consumers from the cost of goods sold from overseas are negligible. Outsourcing jobs and companies overseas benefits corporate America, but the benefits have not passed through to Main Street. Main Street, once again is William Graham Sumner's Forgotten Man. To cite a case in point over the past decade:
A recent paper by researchers at the Asian Development Bank Institute concluded that the iPhone, one of the United States' top innovations of the past decade, actually contributes nearly $2 billion to our trade deficit because it is almost entirely produced and assembled in Asia. The paper also raises a conundrum for lawmakers and business leaders alike: If Apple moved its assembly line to the United States and created domestic jobs but didn't raise the cost of the iPhone, the company would still turn a 50 percent profit on every one it sold.
Substantial changes in free trade agreements and the tax codes since the 1980s have incentivized companies to export jobs overseas. And the outsourcing trend is still alive and well. Howard Rosen, a labor economist at the Peterson Institute observed "US companies are investing in plants and equipment, just not in our borders…They are privatizing the gains of globalization." US companies are "returning the spoils of globalization and technology" to new projects overseas. Another more recent case in point:
Recently, [mid 2009] ATI [an Indiana company} made $30 million worth of investments to buy, convert, and modernize a shuttered factory in economically ravaged Michigan so the company could provide more [wind-turbine] parts to GE as the green economy expands with federal stimulus funding. But a Chinese firm underbid ATI, and the factory faced having to lay off 302 union workers and shutter the plant. In an aggressive bid to keep the factory open, ATI offered to match the price of the Chinese producers. GE once again said they would prefer to buy from China. The ATI plant is now closed, the jobs gone.
GE's Jeffery Immelt was sitting on Obama's Economic Recovery Advisory Board led by Paul Volcker at the time. This course of action alone appears at face value to contradict the purpose of the Economic Recovery Advisory Board had set out to accomplish in 2009. Immelt's GE received $16 billion in bailout funds from US taxpayers, like those 302 workers at the ATI plant whose jobs Immelt had just outsourced to China. The Economic Recovery Advisory Board should have enacted policies and legislation that would have not only prevented that from happening, but also made it illegal. At the least, the gov't should have blocked GE from accepting a bid from China when a competitive bid in the USA was on the table.
On another level, though, just why would GE be so badly motivated to outsource those jobs to China when ATI had matched the China bid in the first place? At face value, GE's management should have taken the lowest bidder for this job. That would have been ATI in Indiana. But Immelt is a "nut on China." His decision to outsource to China was entirely reflexive of his on policies. Quoting Immelt from Dec 6 2002:
When I am talking to GE managers, I talk China, China, China, China, China. [Five Chinas] You need to be there. You need to change the way people talk about it and how they get there. I am a nut on China. Outsourcing from China is going to grow to 5 billion. We are building a tech center in China. Every discussion today has to center on China.
Is GE's Jeffery Immelt's partnering with and pandering to China's interests all that? Or is it that there are such powerful tax incentives for outsourcing that Immelt would proclaim himself to be "a nut on China?" Would reforming free trade agreements and corporate tax structures disincentivize outsourcing and help repatriate jobs back home? I don't know the answers, but the task to do just that fell to Jeffery Immelt after Obama appointed Immelt to head up Obama's new Council on Jobs and Competitiveness earlier this month. One of Immelt's first proclamations as Obama's new "Jobs Czar" was:
A sound and competitive tax system and a partnership between business and government on education and innovation in areas where America can lead, such as clean energy, are essential to sustainable growth….As one of America's largest exporters, GE remains committed to producing more products in the United States, which is our home and largest market.
Blah, blah, blah. What a bunch of crap and half-truths. It will be intriguing to see what Immelt proposes and disposes as he takes on his new role as Obama's "Jobs Czar" after shipping out those "competitive and innovative" clean energy wind-turbine jobs to China in 2009. Marcy Wheeler is not far off the mark when she says Immelt's actions "make him the poster child for everything wrong with the US economy right now."
Recent trends in outsourcing are expected to persist no matter what Immelt and Obama propose and dispose. According to The Hackett Group: "On top of 2.8 million jobs lost from 2000 to 2010 in finance, IT, HR and procurement, The Hackett Group projects that another 1.0 million will disappear by 2014 in North America and Europe. By 2014 nearly half of the back office jobs that existed in 2000 will have disappeared or moved overseas. According to the Hackett report and IMF data, the job loss rate due to offshore outsourcing has accelerated since troughing in 2004. Hackett said:
"Our experience in the trenches of strategic transformation in finance, IT, HR and procurement is entirely consistent with the picture of a jobless recovery painted in this research…. There's no end in sight for the jobless recovery in business functions, such as IT and corporate finance, in large part due to the accelerated movement of work to India and other offshore locations… Realistically, we have to discover ways to create jobs in other industries and in other ways," said Michel Janssen, chief research officer at Hackett.
General and Adminstrative Job Losses 2000-2014 in US and Europe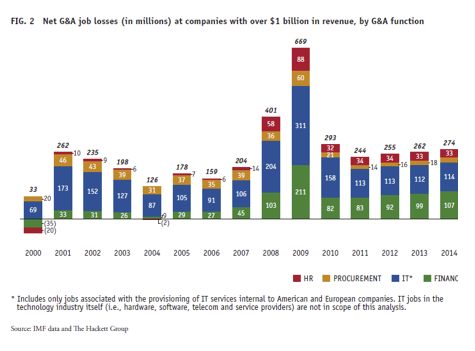 The forward-looking realities of the US jobs market are not as encouraging as the CBO, BLS, and Obama administration would like us to believe. Some Democrats in Congress are showing some recognition of the structural unemployment problems in the US job market. But so far, they haven't got beyond writing letters to the US Treasury Secretary.
In a March 2010 letter sent to Treasury Secretary Timothy Geithner, Sens. Chuck Schumer (D-NY), Sherrod Brown (D-OH), Bob Casey (D-PA) and John Tester (D-MT) said that taxpayer dollars designed to boost the struggling American economy should not be used to create jobs overseas.
"Companies located in New York, Pennsylvania, and elsewhere across the United States are fully capable of manufacturing the range of clean-energy components, and U.S. wind farms and other clean-energy projects financed with stimulus money should be buying American-built parts," the letter reads.

The report estimates stimulus funding for wind projects have created roughly 6,000 manufacturing jobs overseas and just hundreds in America. At a press conference, the Senators pointed to a specific wind farm project in West Texas that is seeking an award of $450 million in stimulus funds for a $1.5 billion project. According to Schumer, the Texas project would create around 3,000 Chinese jobs and just 300 American jobs…. The goal of the stimulus is to strengthen the American Economy, and that means creating jobs here in the U.S. not in China," he said.

The letter comes on the heels of a report by the Investigative Reporting Workshop and ABC News, which found that $8 out of every $10 spent on wind energy projects through the stimulus package went to a foreign company. Total recovery funds spent on wind energy projects total nearly $2 billion.
So, to our new jobs czar Jeffery Immelt: Jeff, I wish you the very best in your efforts to create 2.5 million jobs for the next 5 yrs. My advice is that you keep your day job, because when Obama fails to create those 5 million jobs by the November 2012 election, Obama and his new Council on Jobs and Competitiveness will be toast.
And Jeff, if you should find that your role as Obama's "Job Czar" conflicts with GE's existing practices, trends in automation, and outsourcing US jobs to China, may I further suggest you either resign from GE or that you resign from Obama's new Council on Jobs and Competitiveness.
Obama's new Council on Jobs and Competitiveness should be framing policy around the question: If not for the American worker, then who?
American policies must take steps to stop the bleeding of jobs overseas, Obama's new Council on Jobs and Competitiveness should be enacting policies and proposing legislation that repatriates US jobs and disincentivizes further outsourcing of US jobs. These policies would of course be hugely unpopular with Corporate America, but that is the crossroads where we now stand.