On the one hand, it's a badge of honor of sorts to see the most powerful political lobby, the Chamber of Commerce, have its operatives moving from the "ignore you" to the "fight you" stage of engagement. The flip side is that the tactics that they are willing to consider don't reflect at all well on their commitment to principles like the rule of law or decency.
ThinkProgress today broke the story of the dirty works being considered. Readers may be aware of a massive leak of e-mails of the security firm HB Gary Federal which made the mistake of trying to hack the computers of Anonymous, the group that has taken to punishing organizations that cut off donations to Wikileaks.
Anonymous obtained and leaked the internal messages and rubbed HB Gary's face in it a bit too.
The e-mail dump exposed some dirty laundry, namely that of a disinformation campaign that HB Gary plus two other "security" firms Palantir, and Berico Technologies (which together called themselves Team Themis had started to map out for a law firm the Chamber of Commerce works actively with, Hunton & Williams. From ThinkProgress:
According to one document prepared by Team Themis, the campaign included an entrapment project. The proposal called for first creating a "false document, perhaps highlighting periodical financial information," to give to a progressive group opposing the Chamber, and then to subsequently expose the document as a fake to undermine the credibility of the Chamber's opponents. In addition, the group proposed creating a "fake insider persona" to "generate communications" with Change to Win. View a screenshot below:

The security firms hoped to obtain $200,000 for initial background research, then charge up to $2 million for a larger disinformation campaign against progressives. We don't know if the proposal was accepted after Phase 1 was completed.
To be clear, as Marcy Wheeler points out, Team Themis group had been asked to do Phase 1 on spec. So there was clearly an interest in this sort of work.
A second element of this campaign was to discredit prominent figures, which was the same approach that HB Gary pitched to Bank of America regarding Glenn Greenwald, which HB Gary deemed to be a target by virtue of his pieces sympathetic to Julian Assange and Bradley Manning. This is now in the terrain of private detectives looking to find "compromising" information. Again from ThinkProgress:
One of the targets was Mike Gehrke, a former staffer with Change to Win. Among the information circulated about Gehrke was the specific "Jewish church" he attended and a link to pictures of his wife and two children…
This tactic of targeting opponents' personal lives and family was not simply a random event. Rather, it was a concerted and deliberate effort to use anything possible to smear the Chamber's political opponents. To dramatize his firm's intimidation tactics, Barr sent an email to Hunton & Williams attorney John Woods that contained personal details about fellow Hunton attorney Richard Wyatt, who was representing the Chamber. The email was intended to show Woods and Wyatt how "vulnerable" they are: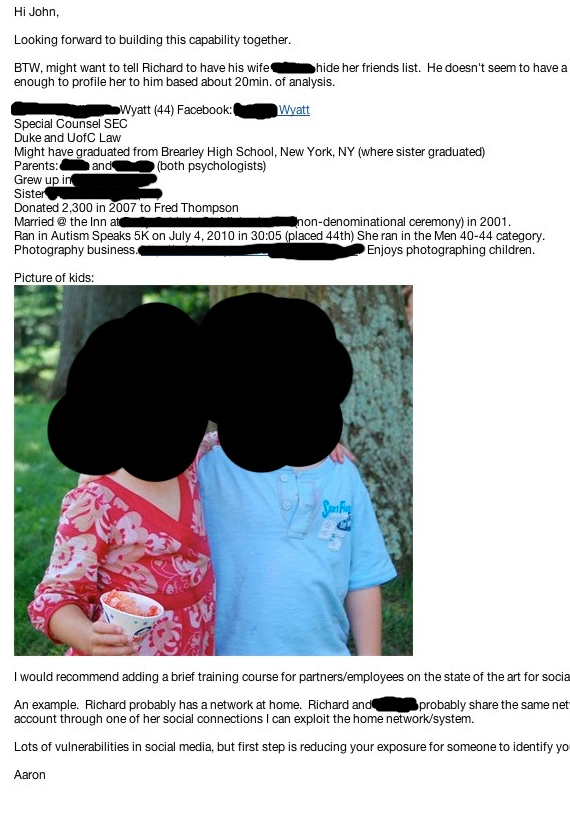 The Chamber of Commerce issued a pious and legalistic denial:
We're incredulous that anyone would attempt to associate such activities with the Chamber as we've seen today from the Center for American Progress. The security firm referenced by ThinkProgress was not hired by the Chamber or by anyone else on the Chamber's behalf. We have never seen the document in question nor has it ever been discussed with us.
Duh, the firms were not yet "hired" because no money had changed hands. And note the denial is limited to a specific document and discussions around it. The idea that Hunton & Williams would spend a lot of cycles on an effort that its client would not be interested in entertaining seems quite a stretch. As Marcy Wheeler tells us:
Note, first of all, that they're not denying hiring Hunton & Williams, the law firm/lobbyist which they hired last year to sue the Yes Men. They're not even denying that they retain Hunton & Williams right now….

They didn't hire HBGary and they didn't read the particular document TP linked to.

But that is far short of denying that they've been discussing such a plot with HBGary and/or Hunton & Williams.
Now this is getting into the coercion territory (and I use this word quite deliberately, since libertarians insist that only the state has the power to coerce). HB Gary sought to discredit Glenn Greenwald to the point where he would worry about "professional preservation," meaning being able to get paid white collar work. But the snooping and the children's photos point to leveling more basic threats to physical security. Now we have no idea of how low Team Themis would go, but if you don't think this sort of thing goes on, I suggest you wake up and smell the coffee. I know antiforeclosure lawyers who have gotten the "somebody is going to get hurt if you don't back down" and "we know where your children are" threats. One had his neighbor alert him to the fact that a black SUV with six men parked behind his house and the men had broken in. The police intercepted them, and nothing appeared to have been removed, but one wonders what the intent was (recall the bugging scene from The Lives of Others).
Since HB Gary also works for the Department of Justice, the odds of it being busted for hacking into home computers is zero. But it also seems naive to think that many of the people they are targeting will back down so easily. True, the act of breaking into someone's computer, the knowledge of that degree of surveillance, is for the vast majority of people, worse than any dirt one might find. And people who decide to take a stand against the current power structure are by nature somewhat outside it, and in many cases not hostage to the sort of bourgeois conformism that seems to be the logic underlying this sort of thing.
As much as this is creepy and reflects badly on the prospective perps, it also shows how a climate of economic insecurity and class stratification has lowered the bar for effective coercion. HG Bary wouldn't default to these sort of strategies if they weren't normally effective. But something is seriously amiss in the body politic if people who are merely on the anti corporate side of the debate can expect to be subjected to surveillance, character/professional reputation assassination, and perhaps even threats to their safety.