By Daniel Pennell, a systems expert who has testified before the Virginia House of Representatives on MERS
I wonder if solar flares or something in the ether is prompting officials under attack to have unusually open conversations with people in the opposition. We've just had Governor Walker speak to "David Koch", and I had a mini version of the same experience with MERS' general counsel, except in my case, I was the recipient of the phone call. But the underlying assumptions of MERS and the Wisconsin executive were similar, in that each is confident of support from powerful allies.
Given that I am a vocal MERS critic, though testimony I have given, opinion pieces I have written and the work on legislation I have done over the last year decrying the legal standing and operational sloppiness of MERS, I was more than a little taken aback to get a call from Richard Anderson of the MERS legal team yesterday. Our conversation cast some light on the thinking and culture of MERS as it fights for its life against a barrage of legal challenges.
Mr. Anderson was in fact calling in response to an email I had sent to MERS last week (see below) asking how MERS intended to manage its response to the Agard case in N.Y. where judge Grossman clearly said (or in Mr. Anderson's words "opined from the bench") that MERS did not have the legal standing to assign mortgages.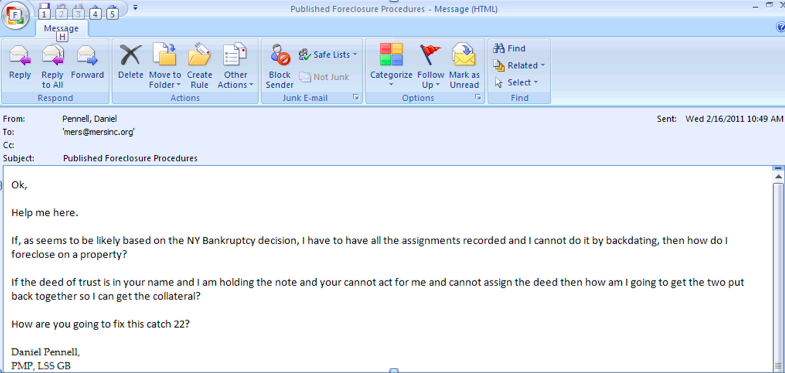 Our conversation covered three areas of interest to those of us who have followed the foreclosure crisis and MERS saga, the effect of the Agard case, the MERS announced changes to their membership agreements and the ongoing OCC investigation.
As regards the Agard case in N.Y, Mr. Anderson first pointed out that MERS has 300 plus cases that support its legal position. He then went on to tell me that Judge Grossman did not understand or chose to ignore the laws of N.Y. and that his comments regarding MERS were nothing more than his "opining from the bench" and therefore had no legal relevance and because it was nothing more than an "opining" that there was nothing for MERS to appeal.
When I pointed out that the MERS announced changes to its membership agreements that followed so quickly on the heels of the Agard decision seemed to align almost exactly with the comments made by Judge Grossman, Mr. Anderson said that it was just a "coincidence of timing" and that the changes were just intended to avoid any potential legal issues and to improve and secure the MERS business process. It's interesting in light of Mr. Anderson's remarks that a Naked Capitalism reader reported yesterday that banks have been settling cases where MERS is at risk of getting an unfavorable judgment. As he wrote:
That's not unexpected behavior–better to cave with small dollars than to lose plus have adverse law become embedded in the case law for an entire federal district. That makes it appear to non-specialists that the jurisprudence in favor of lenders/MERS is static.
I then asked Mr. Anderson about the OCC investigation. I pointed out that the reports I had read, including those in the Wall Street Journal, said that the OCC was nearly complete with its investigation of the servicers and that although MERS was originally part of that investigation, it appeared that the investigation into MERS was being parsed out and put on a separate and ongoing track.
Mr. Anderson said that he could not comment on the OCC investigation or actions but then went on to say that no administration would allow, nor would it allow a judge's ruling, to threaten the legal standing of a MERS member to take a home. He pointed out that MERS has some relationship with 60% of the mortgages in the country worth in the trillions of dollars. In other words, in his opinion, regardless of the law or the findings of the OCC, MERS is too important because of the dollars associated with its operation to be allowed to be found to be acting illegally.
In short, this man, who from his position as legal counsel for the party under investigation has inside knowledge of the OCC investigation, is confident that the government will do all it can in its power, regardless of the evidence, to assure that MERS and its members are allowed to proceed as they wish because of the potential financial costs.
I found a few things about this phone encounter interesting.
First, one would think that a member of the MERS legal team would think to check their membership lists before responding to such sensitive questions. That however would assume that they actually know who all their members and member contacts and given what we know of the MERS system that might be giving them too much credit.
Second, I was struck by the, not quite contemptuous, disregard of the opinion of Judge Grossman. Mr. Anderson's use of the word "opining" and his tone implied to me his general dismissal of the judge and his opinion.
Third, the willingness of Mr. Anderson to so readily express his opinion, an opinion that must be at least partially based on inside knowledge, that the OCC and the administration would do all it could to protect the standing of MERS members.
These three things tell us something of the MERS culture and what they are thinking internally. Although the words, descriptions and tone were those of Mr. Anderson communicating with what he must have assumed was a MERS member, one has to suppose that his thoughts and attitude, if so blatantly displayed must reflect the thinking and attitude of the larger organization. And that thinking was clear: that MERS is too big to fail, and hence will never have to worry about having to account for its sloppiness and misconduct.
But is this confidence well founded? As much as MERS believes it has bank regulators firmly in its camp, its reach into courtrooms all over America is quite another matter. I'd like to think that one reason Anderson was so keen to dismiss the judge's decision in Agare is that he, and increasingly other judges, do not accept that financial services industry players are above the law. From his ruling:
The Court recognizes that an adverse ruling regarding MERS's authority to assign mortgages or act on behalf of its member/lenders could have a significant impact on MERS and upon the lenders which do business with MERS throughout the United States….This Court does not accept the argument that because MERS may be involved with 50% of all residential mortgages in the country, that is reason enough for this Court to turn a blind eye to the fact that this process does not comply with the law.