It's becoming increasingly clear that morality applies only to little people, especially the sort that are cannon fodder for our mortgage industrial complex.
The Florida attorney general, Pam Bondi, joined three other Republican attorneys general in arguing against the principal reductions called for in the so-called mortgage settlement on the basis of "moral hazard". Their argument? That it would reward those who "simply choose not to pay their mortgage".
Boy, am I naive. The term "strategic default" appeared out of nowhere and had a pre-packaged sound about it.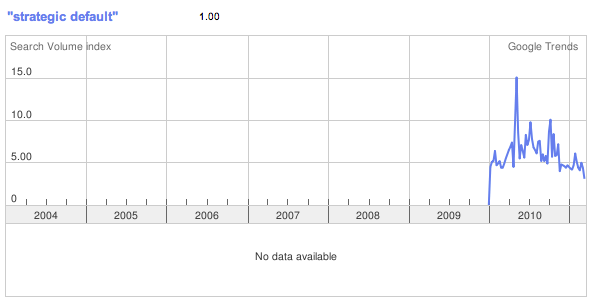 And my DC sources were very clear that right wing think tank dollars were being thrown at it. But there has never been any evidence to support the idea that strategic defaults are happening at anything other than trivial levels (the logical candidates is a second home), and all the "academic" studies arguing for it happening at meaningful levels are very shoddy to complete BS. Some have argued, for instance, that people who suddenly default after a history of being current on all their bills must be strategic defaulters. Without further detailed investigation of that group, this conclusion is unfounded.
What may well be happening is a behavioral shift that does not fit the profile attributed to "strategic default" (someone who can afford to pay but chooses not to). For instance, it's every bit as plausible that people in their group were paying their bills but had a very thin margin of safety, and Something Bad happened: hours cut back, job loss, diagnosis of very serious illness not covered by insurance. They might continue paying normally for a short time under more prospective or actual financial stress while looking into their options, recognize that they are not going to make it, and determine that their under-water house is the most sensible thing to sacrifice. In other words, I find it more logical (and more consistent with what I hear from bankruptcy attorneys and people I know under financial stress) that these are anticipatory defaults, not elective defaults. If so, these are people who would have, absent a big change in fortune, missed some payments and gotten ground up in the servicer bogus fee/payment misapplication machine.
There are big disincentives to defaulting: giving up a house you had invested in, literally and emotionally, disruption to children, damage to one's credit record which now also seriously impairs employability now that credit checks have become an important job screen. So the "strategic" part isn't, I suspect, that they are financially comfortable and just chose to stick it to the banks/investors and jettisoned a losing investment. It is more plausible that many if not most/virtually all are financially stressed AND are being more rational. Why struggle to keep an underwater investment if it is going to drain your finances and possibly/probably push you into bankruptcy to try to keep it? It costs money to move; if you think it's inevitable, better to do it before you are totally broke.
But selling the public on the preferred interpretation of strategic default (the tipoff is the complete absence of meaningful investigations, which would include extensive case study examination) now serves as an excuse to oppose principal mods. Was this the intent all along?
Now contrast Bondi joining in with other pious moralizers about suspected borrower bad behavior with her conduct when presented with actual bad behavior by a foreclosure mill. Via 4closurefraud, hat tip Lisa Epstein:
Today Florida Attorney General Pam Bondi announced a first-of-its-kind settlement against attorney Marshall C. Watson and his law firm, one of the largest foreclosure firms in Florida, for alleged improprieties in the prosecution of foreclosure cases throughout Florida.

This settlement, which calls for a $2 million payment and imposition of certain requirements to conduct business, is the first stemming from numerous investigations into Florida foreclosure law firms.
$2 million is at most what Watson makes in two weeks, more likely one week. In Alabama, the pickings for big foreclosure firms are much lower than in Florida. Not only is the default rate worse (Alabama didn't bubble up anywhere close to the degree that Florida did) but Alabama is a non-judicial foreclosure state, while Florida is a judicial foreclosure state, so the fees per foreclose are greater in Florida because more legal work is involved.
One of the big foreclosure mills in Alabama, Sirote & Permutt, makes $4 million a month on foreclosures. It's pretty unlikely that one of the largest players in Florida would be pulling in less.
So in one corner, a wealthy and likely politically connected law firm gets off easy despite widespread reports of abuses in Florida (see 4clousurefraud, Fraud Digest, foreclosurehamlet.org for more sordid details) while little guys are presumed guilty and denied a remedy that lenders actually prefer because they come out ahead too. Even among the capitalist class, the banks and their minions are asserting their right to be first at the food trough.