Republicans cut short Obama impersonator BBC
Learn Sarver Heart Center's Continuous Chest Compression CPR University of Arizona School of Medicine (hat tip reader Ken K). This public service announcement is important, please watch.
If more women were elected, would political sex scandals disappear? Syracuse (hat tip reader bob). I'm not big on this sort of article, but I liked the straightforward thesis (which does not depend on the annoying assumption of greater virtue among women): powerful women don't attract interest from the opposite sex they way powerful men do.
Electrical Fire Knocks Out Spent Fuel Cooling Pool at Nebraska Nuclear Plant Planetsave (hat tip reader May S)
Airspace over flooded Nebraska nuclear plant closed by FAA Mark Cripsin Miller
US orders news blackout over crippled Nebraska Nuclear Plant: report The Nation (Pakistan, hat tip reader May S)
Why Germany must exit the euro Edmund Conway, Telegraph (hat tip reader Thomas B)
Please respect FT.com's ts&cs and copyright policy which allow you to: share links; copy content for personal use; & redistribute limited extracts. Email ftsales.support@ft.com to buy additional rights or use this link to reference the article –
PFI projects switched to tax havens, report claims Financial Times (hat tip reader Tim C). "PFI" is the UK term of art for infrastructure deals.
It's official: Ascot just ain't posh no more Independent (hat tip Buzz Potamkin)
Justices Have Been Forced To Resign For Doing What Clarence Thomas Has Done ThinkProgress
Catholic diocese challenges award to abused altar boy McClatchy (hat tip Buzz Potamkin)
Al Jazeera at Home on a Former PBS Outlet New York Times. If this keeps up, the right may come to regret its defunding of PBS.
How to End the War on Terror Karen Greenberg, TomDispatch
Companies Push for Tax Break on Foreign Cash New York Times
The Regulator Down the Hall Wall Street Journal
Home equity loan losses pile up for Bank of America Charlotte Observer (hat tip Buzz Potamkin)
The Case of The Disappearing Docket Entry re: Alleged Original Note & Mortgage Foreclosure Hamlet
The Emperor Has No Clothes, But Still He Rules: Three Critiques of Neoclassical Economics Michael Yates (hat tip reader Crocodile Chuck)
Three words: Predator Drones. Domestically. Lambert Strether. Today's must read
Antidote du jour (hat tip reader Lance N):
The cat mother, Tito. The kitten, Paco. And the baby squirrel, Firulais. They became family last year, when Rubén Darío Gaviria, who lives in Colombia, found the squirrel under a tree, limping and unable to climb up. The squirrel instinctively cuddled with him, hiding from the cold weather, at 6 a.m.

As Rubén got home, he introduced the little squirrel to mom Tito, who was not so pleased to see the newcomer. A quick reprimand of "Bad Tito! He's family now," followed. The mom got the message and immediately welcomed the squirrel into her bed with Paco, the baby kitten. The squirrel, then named Firulais, bonded with his new mother when she started nursing him back to health.

The unusual family plays together daily. At night, Firulais ventures into the woods, where he dug a hole. He's free to go whenever he wants, says Rubén, but he doesn't seem to be very interested in giving up the comforts of his new home. He always comes back to sleep all curled up with Tito and Paco.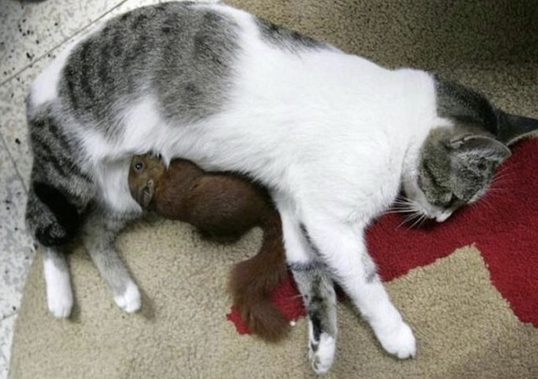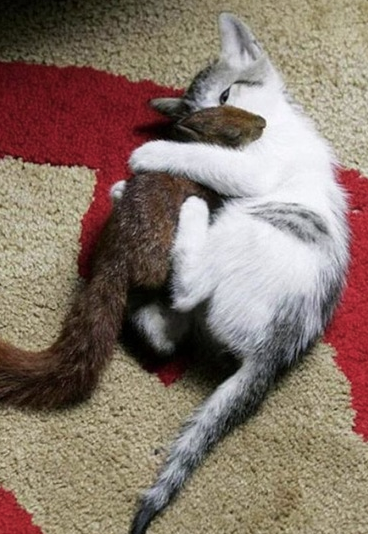 See more pictures at The Daily Tail.