By Philip Pilkington. Journalist, writer, economic anti-moralist and aficionado of political theatre
'Tis not due yet; I would be loath to pay him before
his day. What need I be so forward with him that
calls not on me? – Falstaff, 'Henry VII'
The Anxieties of Government and Debt
Apart from debt, there is perhaps one other economic phenomenon that generates exceptionally large amounts of emotive nonsense both on the internet and in real life – and that is government. So it's quite unsurprising that when government debt is the discussion of the day, passions flare, accusations are hurled and the coming apocalypse is invoked.
It would be interesting to undertake a psychological study of modern man's aversion to government and to debt. If I were to guess I would say that many people tend to associate government with authority and debt with obligation. Authority and obligation – surely in our era of selfish hedonism no other potential restraints are so terrifying to so many. These phenomena intrude rudely on one of our most cherished contemporary ideological myths: individualism. More specifically, that outlandish individualism conjured up by marketing men to flog their wares and crystallised in novels and narratives written by lonely and isolated individuals like Ayn Rand. It is, of course, a fantasy individualism; one that few truly adhere to in their day-to-day lives – but it is, like the religions of days gone by, an important determinate in the messages people choose to accept and those they choose to reject.
To put the questions of individualism and of liberty aside though, from an economic point-of-view debt is inevitable. It always has been. Even in the most primitive economies debt is absolutely necessary for activity to expand beyond simple barter. In our advanced state-capitalist economies, even the idea that debt could be done away with altogether is beyond absurd.
The only real question that we can ask is: who should hold the debt? Should government hold the debt, or should the private-sector?
Consider the nonsense that has sprung up around the Eurozone crisis. Whenever the Eurocrisis comes up in discussion some smart-alec always chimes in claiming that at its roots are the nefarious public sector workers of the Eurozone periphery; profligate scum who have had access to the teat of government for too long. "Those lousy moochers don't do anything," your petit-bourgeois friend will say. "They just slack off, engorging themselves as government debt amasses skyward."
Such a narrative is quite incredible – an almost perfect sleight of hand. After all, haven't a number of countries just experienced a massive economic contraction due to private sector debt meltdowns? And aren't some of these countries in the Eurozone? If this is the case how on earth can public sector workers be to blame for… well… everything?
Sectoral Balances – A Primer
Before we take a closer look at this – for there is an irony embedded in this narrative that is truly fantastic – we need to first understand how debt is incurred by various institutions in society. This is called the 'Sectoral Financial Balances of Aggregate Demand' model and I know of no clearer demonstration the article 'Sectoral Financial Balances of Aggregate Demand – Revised' by Scott Fullwiler over at New Economics Perspectives.
I must apologise to Scott in advance for the thorough butchery I am about to subject his argument to. I do this only so that it will be easier to follow my argument in what follows.
What I will now present is the most simplified and boiled down version of Mr. Fullwiler's arguments I can present. I strongly suggest that readers interested in the real mechanics of the argument refer to the original article as linked to above.
The basic argument of the sectoral balances approach is that there are three distinct sectors which make up a modern economy: the government sector; the private sector and the external sector.
First we have the government sector. The government sector is made up of all those institutions that are funded by government spending (e.g. the civil service, social welfare etc.). The government sector is unique insofar as it is the only sector that can issue 'new money' on demand. This, of course, is because the government sector has control over what passes for legal currency. In the old days we might have said that the government has control over the printing press – today it would be more apt to say that the government has control over the central bank computer system.
Then we have the external sector. The external sector is made up of all the goods that flow across national borders. The external sector then is made up of imports and exports. The external sector can either be in a deficit or a surplus. If there are more exports flowing out of the country than there are imports flowing in, the external sector is referred to as being in 'surplus' (if the opposite is the case, it is referred to as being in 'deficit'). The aggregate of these flows is referred to as a country's 'current account'. We usually hear about 'trade surpluses' and 'trade deficits' in the media (more often the latter as it makes for a better story). These are the same thing.
Finally we have the private sector. The private sector is made up of all those institutions that are not directly controlled and funded by the government (e.g. businesses, households etc.). This sector relies on the other sectors for new cash inflows as it cannot issue new currency and so must accrue it through transactions with the other two sectors. It can also, as we will see, borrow in order to spend money.
Now the basic premise behind the sectoral balances approach is that surpluses and deficits across the sectors of a single national economy must all net to zero. This is quite nicely illustrated in the following chart from Fullwiler's piece, which tracks the private and public sectors in the US for around half a century.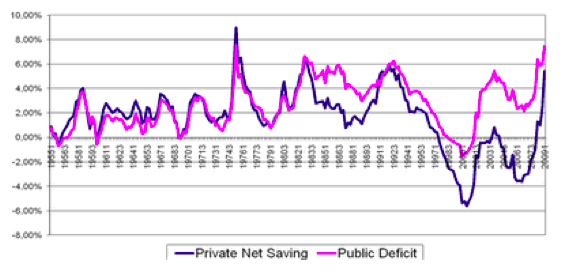 Note that up until around 1980 private sector saving – that is, private sector surpluses – were essentially 'cancelled out' by government spending – that is, public sector deficits. This began to diverge because the current account – that is, the trade balance – began to fall into deficit in the Reagan era, which generally resulted in higher public sector deficits and larger amounts of private debt.
The key point here is that when the private sector decided to save, all else being equal, the government had to offset this by running deficits. To put this another way – and in keeping with our previous discussion – when the private sector was less interested in taking on debt, the government had to step in and do so instead.
Similarly, when the public sector wished to run a budget surplus – as they did in the Clinton years – the private sector had to take on an awful lot more debt in order for GDP to continue growing.
(As an aside, it should be noted that it's not just the MMTers that are emphasising the importance of the sectoral balances approach. A blogger over at the Financial Times voted a similar graph the most important of the year in 2010 – scroll down in the comments section and you'll see Martin Wolf agree. The author however, who otherwise gets it right, doesn't seem to understand how the US government funds its deficits).
Anyway, back to our presentation. Fullwiler provides an excellent graph showing that the level of debt by each sector was a necessary consequence of the US 'New Economy' expansion that took place during the 1990s. I've altered the graph significantly and greatly oversimplified the dynamics in order to make my point as clearly as possible. Once again, for those who wish to understand the true dynamics of this, read the original article.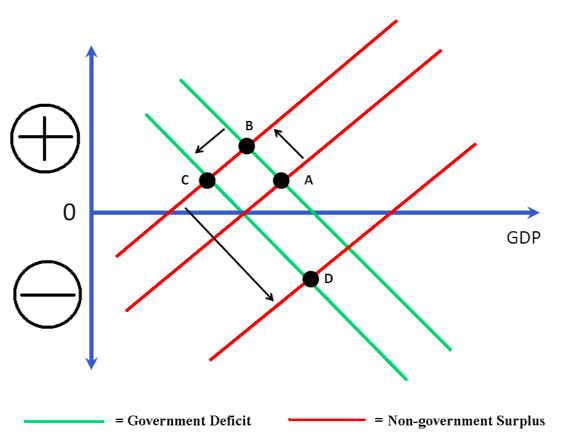 So, rewind back to the mid-90s. Think 'Friends', Windows 95 and Britpop. We start at point (A). As we can see from the diagram, there is a government deficit together with a non-government surplus. The non-government sector – that is, the private sector and the external sector – is saving. For this to be possible the government must spend. So in order for the non-government sector to save, the government have to ratchet up their debt-load.
The economy moves to point (B) when the Asian crisis hits in 1997. The weakened Asian economies led to a lowered US trade balance which could have – were nothing else to counteract it – led to a decrease in overall GDP growth. On the graph we see this represented by point (B) being further down the blue 'GDP arrow' than point (A).
At around the same time as the Asian crisis was working itself out, the Clinton administration decided that government spending should be cut. This move brought the economy to point (C) which is even further down the blue 'GDP arrow' than point (B). By weakening the total amount of spending within the economy, this should have produced a drag on overall GDP growth.
But instead the non-government moved into deficit – which is what we see at point (D). Point (D), as we can see, is even further up the 'GDP arrow' than point (A), where we started. This indicates that GDP was growing at a fairly rapid pace.
Why did this happen? Simple – because the private sector was willing to pile on debt. This was the 90s, after all; the era of private sector leverage. And leverage it did. Of course, we now know the long-term effect of such a move: stock bubble, housing bubble – crash.
So, what's the point to all this? Well, unless a country is producing significant amounts of exports and importing little (i.e. unless a country is running a large trade surplus), in order for the government to run surpluses, the private sector must go into debt.
If, on the other hand, policymakers want to ensure that the private sector doesn't leverage itself up to the gills – and create the asset bubbles that generally follow such leveraging – then, all else being equal, the government must run a deficit.
And so we come back to the key point: debt is necessary. It's simply a case of who is going to hold it.
Commentators then simply can't have it both ways. Given that a country is not usually running a massive trade surplus, if commentators don't like private debt and its fallout, they must support government deficits. If, on the other hand, they are strongly averse to government deficits – as so many are at the moment – then they must be implicitly advocating a highly leveraged private sector. If they like neither of these and still continue to comment, then they're cranks – plain and simple – and should be politely ignored and perhaps, if they continue to wail, given a soother.
Debt Island
Now that we've established all of that, let's turn our attention to Ireland – purr Oyer-land.
So, yeah, as we were saying at the beginning, it's an internet/dinner table commonplace that the Eurozone's woes are all caused by vile public sector workers taking on too much nasty debt.
"That," your angry interlocutor will tell you as he kicks a prole, "is why the government debts are so high in the PIIGS countries." That is also why the crisis can be solved by kicking as many proles as possible – after all, it's their fault we're in this mess and even if a good prole-kicking doesn't solve the crisis, it's almost certainly in order.
The problem with this argument is simple: it's not true – not even remotely. Some of the periphery countries, like Greece, did indeed load up on public debt. But others, like Ireland, did no such thing.
The Irish government actually ran surpluses for most of the 'good years' of economic growth, as the following chart shows.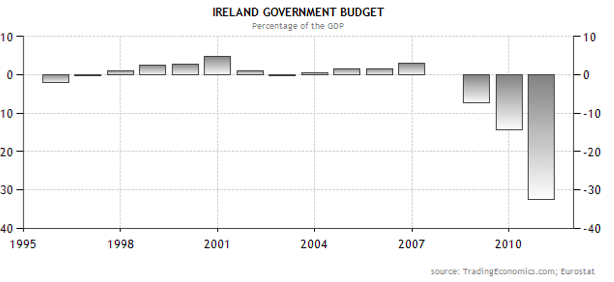 As we can see, it was only around 2008 when the government began running in the red. Why? Well, everyone knows the story – even if they forget it when it's convenient. The banks melted down due to overextending their leverage and got taken onto the government balance sheets. This was exacerbated by a sharp recession and a rise in unemployment which forced the government to run larger deficits (i.e. to pick up the tab for unemployment claims and the like – 'automatic stabalisers' to speak economese).
The key point here is that because the Irish government ran surpluses while the economy grew at a fairly substantial rate, this caused the private sector to become highly leveraged. (We won't go into the Irish current account, which has been up and down. In recent years it has swayed toward consumption rather than production; deficits rather than surpluses – hence requiring even greater private sector borrowing).
Just like the US in the 90s, keeping the budget balanced meant that the private sector had to take on an inordinate level of debt. We now know that Ireland has the highest level of private sector debt in Europe. So it's not really hugely surprising that the whole thing melted down.
So, where's that beautiful irony I spoke of earlier? Right here: Much of the debt ended up on the government balance sheets anyway!
The very attempt to ensure that the government was austere during the boom years led to a private debt load that proved so great that the government eventually had to step in and take it on. The government and the international agencies were so concerned about running budget surpluses that they didn't think for a moment that the amassing private sector debt would largely fall on the government's shoulders. But fall it did.
This should raise serious questions about the other Eurozone countries; I mean of course those whose main problem today is government debt pure and simple. If they hadn't taken on this government debt but had wished to grow at a decent pace would the private sector have simply stepped in to fill the gap? And, more importantly, would much of this private debt have been taken onto the government balance sheet anyway?
The reality is that the Ireland could not have experienced high levels of growth and low rates of unemployment had it not been for the private sector taking on huge amounts of debt. Because the government was unwilling to take on debt at the time, the private sector had to do so. The end result was – from an accounting point-of-view – much the same; the government ended up with a load of debt on its books.
The only alternative to these two models would have been a miraculously large trade surplus. Lacking some sort of wizard who could magic this wonder-economy out of thin air, the only other option would have been a low growth economy; and this would have been inconceivable during the boom years.
Anxieties Overcome
And so, we're back to where we started: the necessity of debt. Debt is absolutely necessary for a modern economy to grow and function. It's simply a question of where this debt should come from. Personally, I favour government debt – as long as it's issued by a central bank and not subject to the whims of the bond vigilantes, as is the case with the Eurozone countries today. Government debt is cheaper, more sustainable (there shouldn't be a risk of default as long as a central bank is willing to facilitate it indefinitely) and less volatile.
My preferences aside, the key point is that there is simply no avoiding debt accumulation in a modern economy. Those who moan about debt indeterminably – and they are legion – need to be called out on this until the point is driven home to the majority: there is no getting around debt.
If folks complain about government debt they need to be asked if they favour private sector debt – and all the implications that may arise there from; warts, bubbles and all. If they don't like private debt either they need to be asked if they favour economic stagnation plain and simple.
These are two simple and straightforward questions. But if policymakers were asked them every time they made a statement regarding government spending, what a difference they might make.