By Philip Pilkington, a journalist and writer living in Dublin, Ireland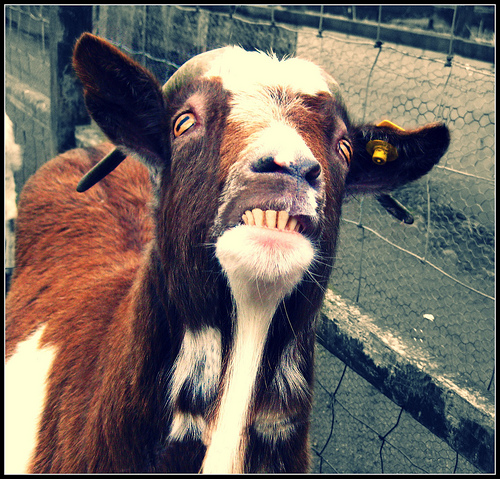 Learn to say the same thing
What defeats people is a double confession
One time they will confess one thing
And the next they will confess something else
Talk to them, they will say:
Learn to say the same thing
Let us hold fast to saying the same thing"
– Cat Power, 'Say'
In Ireland we used to measure our economic performance based on GDP (GNP actually, but we won't go into that). Pretty standard fare for any advanced economy, really. Not so anymore. These days we measure our economic performance based on the government's ability to extract tax revenue out of the general populace to pay for extortionate loans to our EU masters.
The Exchequer – that is, the Irish government body responsible for collecting taxes – released its monthly report today. Already there has been boasting in the media that we are 'on target' and this weekend I expect to be inundated with more self-deluded bragging from inept government officials and incompetent media commentators.
The truth – a scary word in modern-day Ireland – is that this latest news is less to be celebrated than to be feared. That the Exchequer met its targets is hazardous to the Irish economy and will prove self-defeating in the medium-to-long run.
Automatic Destabalisers
When the government extracts money out of the economy in the form of tax revenues this causes a contraction in economic activity by approximately the same amount – all else being equal. As the economy contracts and unemployment increases, tax revenues fall and transfer payments (social welfare etc.) increase. Hence, if the idea is to decrease the budget deficit (spending less tax revenues) in order to pay down usurperous debt, the process is clearly self-defeating as the deficit will probably increase in the medium-to-long term. These effects are known to economists as 'automatic stabalisers'. In this case we might refer to them as 'automatic destabailisers' as even though transfer payments and decreased tax revenues will bolster GDP/GNP thus helping to maintain real living standards for Irish people, they will certainly destabalise insane government plans for deficit reduction.
Indeed, the Irish economy already seems to be headed in precisely the direction that the Irish government's policy I geared toward. At the same time as we celebrate our extortion revenue collecting abilities, total manufacturing output slid for the third month in a row. This reflects significant weakness in domestic markets which, of course, will be further compounded by siphoning-off money in the form of taxation. And although export orders have risen, this is clearly against the general European trend and is likely to fall again in the coming months as the European markets weaken further.
Unsurprisingly, it was also recently reported that the unemployment rate had climbed from 14.3% to 14.4% month-on-month from July to August – a not insignificant increase. With less people spending their pay checks, the Irish economy is going to tip even further due to a lack of spending power. This lack of spending power will be again worsened by the announcement, made today by the Minister for Enterprise and Jobs [sic], that he will promote wage-undercutting by employers. Once again, at the risk of sounding like a broken record, all of this will be further exacerbated by collecting taxes.
We turn to the tax revenues themselves only to be further disturbed by their composition.
Vampire Squid in a Giant Novelty Leprechaun Hat
Yes, as officially announced today, the Irish government met their crazy revenue targets. And no, this is most certainly not a good thing. In fact, the figures lead one to believe that we are likely to see serious revenue shortfalls within a year or two due to these obscene government policies.
In order to understand why the taxation issue is an economic bomb waiting to go off we should look at revenue trends over the course of 2011 (if you don't feel like wading through numbers and their implications, important as they are, I suggest skipping this section rather than clicking the 'X' tab on your browser – that way you can find out how Ireland can actually solve the bloody crisis).
The two most important components of Irish tax revenue are: (a) Income Taxes that take money out of working peoples' pockets before they go and spend it and (b) VAT taxes that are taken out of consumers' pockets when they try to spend it. What follows is a very rough and ready argument that contains some truth but more importantly allows the reader to clearly understand what is happening with Irish tax revenues – and what is likely going to happen in the coming years.
The following table – constructed by myself (hence the shoddy production values) – shows year-on-year monthly trends for both VAT and Income Tax receipts. If income taxes are a '+' in January, for example, that much more have been collected in 2011 than were collected in 2010 and so on.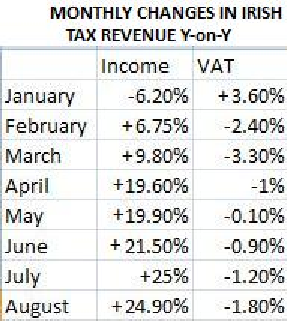 The trends are pretty clear. The government are raking in Income Tax but they're falling short on VAT. It should also be noted that since last year they have raised their targets on both. So, for some reason they're having an easy time pulling in more Income Tax and having a hard time pulling in more VAT.
The reason for this is that VAT taxes are dependent on consumer spending – and this is falling. Income Taxes on the other hand are largely dependent on, well, income. Now, here's the kicker: when you increase Income Taxes, all else being equal, you should dampen consumer spending – because consumers spend out of income. Hence, if enough revenue is raised through Income Taxes this will negatively affect consumer spending and so will eat into VAT collection. This cannot be tracked directly in the data but it is the only logically consistent explanation – and we do, in fact, see this pattern broadly turning up in the data.
But wait, there's more! When more taxes are sucked out of peoples' income and they stop consuming as much, businesses don't sell as much stuff; again, this will be reflected in the VAT receipts. And there's something else to be brought into play here: if businesses don't sell as much stuff the people working for those businesses will either be laid-off or they will have to take a pay-cut. If and when this occurs it will reduce consumer spending even more. Hence, less VAT – and so on and so on…
Do you see the dynamic taking shape here? When an economy is operating far below potential – as Ireland's undoubtedly is – sucking out money by taxing people causes a negative spiral of ever-lower consumption and ever-increasing unemployment (or lower-wages).
Now, here's where it gets really interesting. We have seen the two main taxes in Ireland come from – you got it – consumption and incomes. So, if consumption and incomes fall so will taxes.
And that is why we will probably see a decline in tax revenues in the near future. Whether this will be a year down the line or two is anyone's guess. But while we're waiting we can be sure that the Irish people will have plenty to think about as their economy gets ever more wretched. And if you're Irish and you're thinking about this wretchedness spare a thought for the idiotic Irish government. After all, it was them that sucked income out of the economy and then claimed that they're 'for jobs and growth' or whatever disingenuous mush they're trying to flog these days.
Solutions to the Crisis for the Deaf and Dumb
That this mess occurred is not so surprising, really. These pro-cyclical doomsday mechanisms were built into the Eurozone system from the outset. Eurozone nations foolishly reneged control over the right to issue their own currency and in doing so signed themselves over to a disorganised body of bureaucrats in Frankfurt.
Now there's only two ways out of this mess for Ireland without ditching the Euro and defaulting its debt; both of which were first proposed by Warren Mosler.
The first requires that the European authorities and the ECB stop bickering like children, get their act together and make fiscal transfers to the distressed sovereigns – Ireland included. And not simply transfers that will allow for the alleviation of the current crushing debt burdens, but also transfers that will promote growth and expansion in these economies. Will this happen? Two words: 'fat' 'chance'.
The other option is for the Irish government to issue 'Mosler bonds'. This plan could easily be implemented by Ireland or any other Eurozone country and should also prove politically realistic within the current Eurozone structures.
Here's how it works: the Irish government would issue new bonds to pay off the existing bonds as they mature. These new bonds would include a clause that states that, should the Irish sovereign default – and only in the case of said sovereign default – the bonds can be used to extinguish Irish tax liabilities. This would provide investors with an absolute guarantee as to the value of the bonds and this in turn will drive down interest rates significantly, making the Irish national debt affordable. It would also give the Irish government the breathing space necessary to stop extracting taxes from their beleaguered citizenry and start focusing on job creation through fiscal stimulus. (More detail here – the plan is laid out for Greece but would work identically for Ireland)
As stated a moment ago, this plan is perfectly viable. The Irish government can initiate it themselves without having to appeal to a foreign entity. But also, the European authorities would likely see it as an ideal solution as it would mean that the weight of the Irish debt problem was taken off their shoulders. Voters in the core countries would similarly approve as they would see it as Ireland 'paying its own way' rather than relying on them for backing.
Why won't the Irish adopt such a sensible proposal? While anything to be said on this is indeed speculative, I think I am probably the most qualified person to do the speculating. I spent a number of weeks pitching the idea to various Irish media outlets and popular economic commentators. The response was tepid and confused. People either ignored me, didn't understand the plan or pretended to understand the plan and then stopped corresponding with me so that I wouldn't figure out that they didn't understand the plan.
Moving on, I asked a friend of mine who is more 'plugged into' the politicos than I am to run it by them. The response was even worse. To say that they didn't understand the proposal would be a vast understatement. They didn't even listen. They just kept parroting what they'd read in the press about the need for deficit reduction. This wasn't a case of talking to a brick wall; brick walls don't parrot one-liners that they read in the newspaper. No, this was more like having an internet argument with a troll; they just repeated clichéd gobble-dee-gook ad nauseum until their unfortunate interlocutor had to surrender or risk suffering a hernia.
Ireland's key problem is not so much its debt as the fact that its collective imagination has become stagnant and rotten. Mired in the depths of what may turn into a depression Irish politicians, together with their commentariat, have stopped thinking. They've come to believe their own soundbites: that raising tax revenue is progress and that deficit reduction is priority number one.
It's not banks that will bring down the Irish economy. Nor is it the Europeans. It is the stale, crusty excuse for a ruling-class that inhabits the hallways of power. These creatures, upon entering into this brave new world post-2008, have shown that they passed their 'sell-by date' years ago. The Irish establishment now just rants and raves like a bunch of bipolar farm animals, shifting from elation to desperation every day or two as circumstances change and their internally contradictory strategies self-destruct. In their hopelessness they have gone mad… mad as goats.