As I mentioned in a Labor Day post, I grew up in an America where manufacturing was still the backbone of the economy. I may be more aware of that than most in my age group by virtue of spending much of my childhood in small towns where the local paper mill was the biggest employer. Similarly, when I went to business school, many of my classmates had worked for major manufacturing firms, and the ones who had been in finance (for the most part, two year credit officer programs at major banks) weren't seen as having better backgrounds than their classmates.
While as other economies developed, the US share of global production was bound to decline, I'm disturbed by the assumption that labor costs are the sole determinant of success. My contacts is that it is an article of faith in Washington is that the US can be competitive only in finance (and presumably in commodities businesses like agriculture). This story line is terribly convenient, since it gives diseased, greedy, and incompetent American managers and policymakers a free pass.
The reason that the attitudes of policymakers matter is that, contrary to popular belief, we do not live in a mythical world of "free trade" but one of managed trade. Other advanced economies have either a formal or informal trade/economic strategy and seem to do better with it than we do? Australia, for instance, has had one of the best growth stories in the new millennium, and that was true even before it got an extra boost from the commodities boom. It also has a more clearly articulated competitive priorities than the US does. For instance, Australia's Commonwealth Scientific and Industrial Research Organisation funds applied research in ten areas, such as Climate Adaptation, Energy, Preventative Health, and Sustainable Agriculture. It's hard to say definitively how much of a difference these efforts make, but I'd hazard that they are meaningful. Australia's position in global wine production has been won on its wine technology, where it is a world leader, and not its terrior.
Another example comes today in a story in the New York Times by Louis Uchitelle "Is Manufacturing Falling Off the Radar?" I have to say, it's late to be asking this question. The story is framed around the Veneer Corporation, a company that makes industrial machinery. Verneer would prefer to manufacture in the US, but its owners have had to move some of their production to China. The reason? Not cheaper labor, but government subsidies (and formal or informal local content requirements):
Vermeer earns nearly one-third of its annual revenue from exports — counting on the United States government for trade agreements, favorable currency arrangements and even white-knuckle diplomacy to make exports happen. In China, that wasn't enough. For several years, it had been running into competition from Chinese manufacturers of horizontal drills, supported by their government in the form of free land, tax breaks, cheap credit and other subsidies. With its share of the market falling precipitously, Vermeer in 2008 opened a plant in Beijing, taking a Chinese partner and drawing help for the venture from the Chinese…

A tipping point may already have been reached. Manufacturing's contribution to gross domestic product — roughly equivalent to national income — has declined to just 11.7 percent last year from as much as 28 percent in the 1950s…

It isn't that fewer autos or plastics or steel products or electronics are coming out of American factories… But other sectors of the economy have grown faster in recent decades, and that dynamic has reduced manufacturing's share.

In particular, the finance, insurance and real estate sectors — driven especially by investment banking and home sales — rose from less than 12 percent of G.D.P. in the mid-1950s to more than 20 percent before the onset of the financial crisis, and even now remain nearly that high. In China, in sharp contrast, manufacturing's share of national output is more than 25 percent. While the United States has a far larger economy — $14 trillion in G.D.P. versus China's $6 trillion — it has less factory production…

One reason may be that the nation's political leaders don't see manufacturing as a problem. Put another way, they don't necessarily regard making an engine, a computer or even a pair of scissors as having as much value as investment banking or retailing or a useful Web site.

"You have a culture within the elites of both political parties that says manufacturing does not matter, and industrial policy will do more harm than good," says Ronil Hira, an assistant professor of public policy at the Rochester Institute of Technology.
Why do those at the top of the food chain not like manufacturing? Let us count the reasons. It's physical. Plants are located where land is cheap. That usually means in the boonies. Powerful people do not hang out in the boonies. Production facilities are noisy, and often dirty and dangerous (my father knew people who were killed or had limbs ripped off in paper mills). Most of the employees are blue collar workers, while to get in the door at McKinsey, you had to be smart and well educated (even the secretarial jobs required high caliber types).
Some readers may react viscerally to the idea of having what amounts to industrial policy. Wake up and smell the coffee, we have it now, by default. As we have discussed, the financial services industry is so heavily subsidized as to not be credibly called private enterprise, save for its governance and compensation structures. Arms merchants benefit not only from government funded research and development, but also from the very long product lives assured by government contracts. Look at the subsidies big Pharma enjoys (and consider: the NIH is the biggest but far from the only source of government R&D dollars. The other big players are National Science Foundation, the National Aeronautics and Space Administration, the Environmental Protection Agency, the Veterans Administration, and other units in the Departments of Energy, Commerce, Defense, and Health and Human Services). While the chart is a tad dated, the basic picture has not changed since then: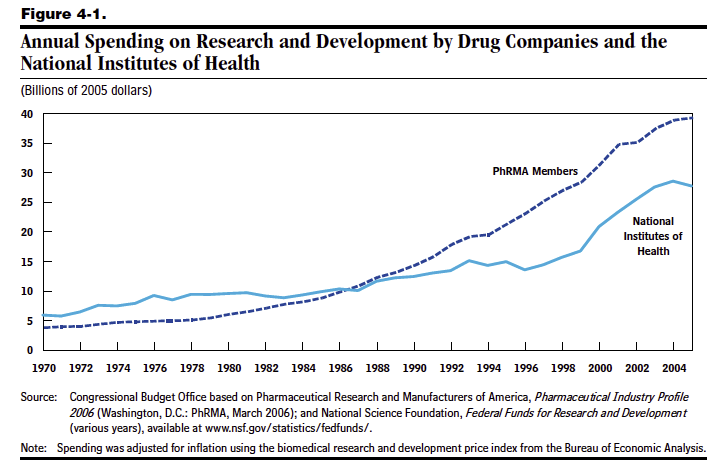 The US has hesitated to push back within the WTO framework. It filed cases against China in certain areas (such as tires) only to have China file tit for tat cases against the US (such as poultry). There was a careful effort to keep the dollar amounts at issue in rough correspondence. The Department of Commerce at first seemed interested in, then declined to file cases against Chinese and Indonesian coated paper manufacturers (the particulars were different in each country, but the program was the same: large scale subsidies). Before Commerce made its decision, some source speculated that Obama would turn his back on the unions who were backing this suit rather than ruffle Wen Jiabao, who he was due to see at an upcoming G20 meeting.
There are no easy solutions to over 20 years of abandoning manufacturing to pursue a "knowledge economy" when there was no reason to treat this as an either/or decision. But misdiagnosis, via blaming the foot soldiers for the failings of the generals, is certain to keep the US from coming up with better courses of action.