By Philip Pilkington, a writer and journalist based in Dublin, Ireland. You can follow him on Twitter at @pilkingtonphil
We know accurately only when we know little, with knowledge doubt increases.
– Goethe
There is a great deal of truth contained in Goethe's old refrain. The fewer facts we possess the more certainty we are likely to have. But as facts proliferate, so too does doubt.
Economic statistics are notorious in this regard – as anyone who has peeked into the measurements used can attest. Official statistics are daily quoted and thrown about as if they were absolute truth. But in reality they are usually the calculations of fallible groups of individuals working with difficult and often vague measurements.
The recent debacle on the Argentine inflation figures bears the mark of this problem. It all seems to have kicked off with an Economist article published back in February that called into question the figures on inflation that the Argentine government publishes.
The article itself contains heavy bias. This is not at all unusual. Since the Argentine default in 2001 much of the international investment community has shunned the country and subjected it to constant scrutiny. But up until now the attacks have been largely bluster. Now, however, The Economist writers have stumbled upon something that could do real damage to Argentina, even in the eyes of her friends and allies.
The Economist alleges that the Argentine government has been massively understating their inflation figures. INDEC, the official statistical body, puts the figure at 9.7% – the figure widely accepted by official international institutions. However, according to the Economist, independent estimates run from anywhere between 24% and 30%. Elsewhere I have seen estimates all the way up to 35%.
The following graph, using data from State Street, a financial services firm, is typical of the sort of unofficial inflation figures being put forward by critics of the Argentine government: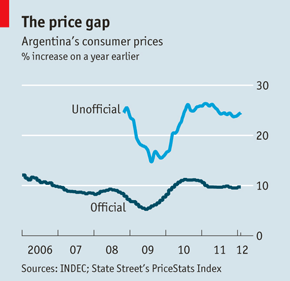 Sources: In the Name of the Father
According to the Economist State Street gets its figures from an organisation called Price Stats. Price Stats is founded on the research work of two economists; Alberto Cavallo, an Argentinean, and Roberto Rigobon, a Venezuelan – two expatriates from countries under intense scrutiny by the international business community for their respective 'leftward turns'.
Cavallo and Rigobon set up the Billion Prices Project at MIT . BusinessWeek summarises how the system works :
Each day, software developed by Cavallo scours the websites of roughly 300 online retailers and records the prices of some 5 million goods sold on the Web.
From what I can see the data from this system for the US roughly tracks official CPI figures. However, when it comes to the Argentine data, as can be seen in the graph above, the divergence from the official data is enormous. So enormous that Cavallo has set up a website called Truth in Argentine Statistics.
Cavllo's own background is interesting in this regard. BusinessWeek reports that:
Cavallo is a second-generation economist. His father, Domingo Cavallo, headed Argentina's Finance Ministry during the 1990s, and helped engineer the policies that cured the country of hyperinflation.
Actually Domingo Cavallo's career is a bit more complex than that. As most people are now aware the policies that BusinessWeek claim 'cured' Argentina of hyperinflation turned out to be completely disastrous. Basically, they consisted of maintaining an unsustainable fixed peso-dollar exchange rate of 1:1 parity between 1991 and 2001. The pressure put on the economy in these years ultimately led to complete social breakdown, riots in the streets, the fall of the government of President Fernando de la Rúa and, ultimately, default.
The Argentine experiment in these years is largely seen in Latin America as being a poignant example of the failure of dogmatic and inflexible neoliberal policies on that continent during the era of Washington Consensus domination.
In 2002 Domingo Cavallo was arrested on charges of illegal weapons sales that he was alleged to have participated in under the Menem administration in the early 1990s. The charges were dropped due to insufficient evidence, but Cavallo insisted that they were "politically inspired" . That article also notes, pointedly enough, that:
After the collapse of the Argentine economy in early December, Cavallo resigned and was quickly blamed for the crisis. He was especially unpopular for issuing an order, still in effect, that virtually froze bank deposits, which now have lost more than 70 percent of their value because of the devaluation of the Argentine peso.
Motivations: Who Watches the Watchers?
I would be loath to accuse Cavallo the Younger – son of neoliberal inflation hawk Domingo Cavallo – of accumulating contrarian statistics on Argentine inflation simply because he had an axe to grind. Indeed, from what I can see of his academic work it appears to be up to scratch. Generally, journalists would not even point out these connections in public as it would be enough to consider them in private and weigh them up prior to publication.
However Cavallo's background shows, at the very least, that even so-called 'independent' observers of data have their political backgrounds and their ideological heritage. If we are to question the motivations of a government in reporting inflation statistics we have every right to question the motivations of it critics too – not to mention the motivations of those media outlets that give them space to air their views, together with their editorial policies.
Indeed, consider for a moment that the US government is not without its critics in these matters either. The website ShadowStats regularly publishes 'alternative' measures of US data – including inflation, which they put far higher than the official CPI estimate. But ShadowStats are largely seen as fringe in the US. The Economist seems to have mentioned ShadowStats in passing in yet another article praising Cavallo's work.
But why the divergence? Why isn't the Economist publishing articles regularly on the supposed misreporting of the CPI and unemployment that ShadowStats insist is taking place in the US – surely this would be a pretty big scoop? Why are they instead so keen to promote the work of Cavallo? Is it because ShadowStats' work calls into question US statistics, which the Economist prefers would remain free from doubt; while Cavallo's work attacks a government that has drifted from the Washington Consensus?
These questions certainly need to be raised. The Economist seems to think that ShadowStats is worth mentioning in the introduction to a piece on Cavallo's work and yet, as far as I can tell, they have never run an article blatantly accusing the US government of fudging their stats – which is precisely what ShadowStats are telling us (wrongly, in my opinion).
Nor are they willing to remove the US CPI data from their databank – as they have with Argentine data – even though they seem willing to cite ShadowStats in one of their articles. Nor do they seem, to the best of my knowledge, inclined to remove official Chinese statistics from their databank – even though these have come under serious scrutiny from investors and economists alike.
But they are more than happy to run what seems to me a somewhat sensational article on the Argentine government – featuring, no less, a charming picture of Argentine President Cristina Kirchner as a witch.
Perhaps the Economist dropped the official Argentine numbers because, unlike in the case of China, they had an alternative in the work of Cavallo. Perhaps they ignore ShadowStats because they simply think that they're wrong. Fine. That would make sense. But if this were the case did they really need to make such a song and dance about the Argentine numbers? Was it really necessary to go after an economy that has largely recovered from the catastrophic neoliberal plague with which so many economies in the West are now suffering? To put it quite bluntly: might this not be a case of ideology plain and simple – any excuse to go after an economy that has thrown off the pox-infested rug of neoliberalism?
Indeed, I don't think that this inflation numbers issue should be seen outside of a broader frame. The conflict between the new democrats in Argentina – represented by the Kirchner government – and the old technocrats – represented by the Economist and Cavallo – is what is really at issue here. And it is this that we will see ring out every time Argentina is in the business news in the coming years.
The phrase "who watches the watchers?" should, without question, be applied to media outlets just as much as it is applied to governments.
Speculations on the Argentine Economy
I do not pretend to know if the Argentine government is misreporting their inflation data – a trusted source informs me that they are. Nor do I know for sure if the US government is misreporting theirs – although I strongly suspect that they are not. Again, we're back to Goethe: as facts increase, so too does doubt.
But while we should not simply accept Argentine statistics uncritically, nor should we make a mountain out of a molehill. As the US economist Dean Baker wrote in a private email exchange:
I think Argentina does have some real issues with its economy and I'm sure it's output numbers are not entirely kosher, but I don't believe that more accurate numbers would hugely change the story. You have sharp drops in unemployment that are consistent with the growth picture. Also Kirchner is hugely popular. She could not have made the whole country believe that things were good if they weren't.
This, I think, is the key point. Although it may well be true that the Argentine government is massaging their data, many in the media appear to be making far too much out of it – and not just over at the Economist. For example Tim Worstall over at Forbes claims that if we take these figures into account the Argentine economy is not growing at all:
If Argentinean real GDP figures have been adjusted using the official inflation figures then they are grossly overstating the economic growth. In fact, it's entirely possible with the higher private estimations that there is no economic growth at all in Argentina. Even that the economy is shrinking.
This is a completely hysterical reaction – and one, I think, largely generated by the Economist's coverage of the issue. It is a reaction that seems to be spreading like a virus around the internet and among investors. An Argentine economist gave me a private estimate that, even if The Economist figures were used, the growth rate would likely be about half that officially stated. That would still make Argentina one of the fastest growing economies in the region.
This rings true as the Kirchner government appears to be extremely popular. In October 2011 Cristina Kirchner swept to power with a vote of 54.1% – 37.3% over her second rival. That makes Kirchner significantly more popular than she was four years previously when she received 45.3% of the vote – 22% over her nearest rival.
Now, if Kirchner has simply been hiding a zero-growth economy under cooked inflation statistics are we really to believe that she remains so popular among voters? Personally, I don't find that story remotely credible. I also think that if the government are indeed massaging the data and still managing to get elected in a landslide they are doing something right.
The critics will call this success 'populism'; but that term is loaded as, in common parlance, it means 'left-wingers pandering to the masses'. (I could just as easily refer to the Irish Fianna Fail government's pre-crisis policies as 'populist' – and I would be correct – but you would rarely have heard such a thing from their neoliberal champions; nor would it explain Fianna Fail's success in those years). No, 'populism' cannot explain Kirchner's popularity because, being a simple pejorative, it does not really amount to an analysis.
In fact, 'populism' is even more toxic than simply being a crude trope deployed by neoliberals against the Latin American emergence; it is a word that crystallises the dangerous distrust that many a technocratic neoliberal foster toward democratic republicanism. We are on far safer and more ethically sound ground if we assume that, rather than duping the masses, the Kirchner government is actually doing something right. Certainly if we compare it to the neoliberal technocrats that ruled in the 1990s our doubts will soon evaporate.
In the next piece in this series I will examine the economist Jamie Galbraith's recent work on wealth inequality and finance to see what really happened in Argentina after the default. It would appear that what really occurred there was a classic 'euthanization of the rentier class'. And it is likely this that has the international financial community so angry. The financial elite turned on Argentina when they instituted much needed and effective reforms that put a brake on the financial sector, just as happened with the Roosevelt administration during the 1930s when they undertook similar policies. Once again this is the conflict between technocrats and democrats – between an Andrew Mellon and a Franklin Delano Roosevelt.
But this is an argument for another day. For now, I would simply ask the reader to be acutely aware that no statistic in this world is truly neutral – and, be they civil servants or private individuals, state news-channels or privately run magazines, every statistician and media outlet have their motivations and their ideologies.