In an perverse case of synchronicity, one headline last night touted regulatory efforts to address systemic risk as another highlighted bank efforts to increase it. And the ongoing efforts of banks to expand risk creation is no accident. As Andrew Haldane of the Bank of England has pointed out, the payoffs to bank employees are like an option: they have capped downside (annual paydays and no clawbacks) and considerable upside. The way to increase the value of an option is to increase volatility. And the financial services industry has and continues to be in the position of generating endogenous risk via leverage, complexity, and opacity.
One part of the telling juxtaposition was a Reuters article on how the Fed and the Office of the Comptroller of the Currency directed major banks to develop "recovery plans" to stave off collapse:
They told banks to consider drastic efforts to prevent failure in times of distress, including selling off businesses, finding other funding sources if regular borrowing markets shut them out, and reducing risk. The plans must be feasible to execute within three to six months, and banks were to "make no assumption of extraordinary support from the public sector," according to the documents.
Frankly, this reads like a regulatory CYA exercise. Unless one bank suffers a major self inflicted wound, major financial players tend to run off the cliff tout ensemble. That means that there won't be much of a market for business units, except at very crappy prices that won't raise enough capital (most if not all of the logical buyers will by trying to shed risk and maybe businesses, and PE funds were battening down the hatches during the crisis as well, since acquisition finance dried up). Similarly, alternate funding sources are also scarce. Sovereign wealth funds were virtually the only game in town and they got leery after their early-in-the-crisis investments in bank paper promptly lost value. And "shedding risk" means "dumping dreck on complacent counterparties and clients." The banks did a great job of that last time around and it still was not enough to save their hides. Moreover, even three months is far too leisurely a timetable. MF Global went down in mere days.
More obviously troubling was a Bloomberg story on how major financial firms are going to undermine the effectiveness of clearinghouses by engaging in "collateral transformation":
Starting next year, new rules designed to prevent another meltdown will force traders to post U.S. Treasury bonds or other top-rated holdings to guarantee more of their bets. The change takes effect as the $10.8 trillion market for Treasuries is already stretched thin by banks rebuilding balance sheets and investors seeking safety, leaving fewer bonds available to backstop the $648 trillion derivatives market.

The solution: At least seven banks plan to let customers swap lower-rated securities that don't meet standards in return for a loan of Treasuries or similar holdings that do qualify, a process dubbed "collateral transformation." That's raising concerns among investors, bank executives and academics that measures intended to avert risk are hiding it instead.
Understand what is happening here: clearinghouses are one of the major elements of Dodd Frank to reduce counterparty risks. But the banks are proposing to vitiate that via this "collateral transformation" which will simply create new, large volume counterparty exposures to deal with fictive clearinghouse risk reduction program. And get a load of this:
U.S. regulators implementing the rules haven't said how the collateral demands for derivatives trades will be met. Nor have they run their own analyses of risks that might be created by the banks' bond-lending programs, people with knowledge of the matter said. Steve Adamske, a spokesman for the U.S. Commodity Futures Trading Commission, and Barbara Hagenbaugh at the Federal Reserve declined to comment
Translation: the regulators are aware of the banks' plans to finesse the clearinghouse requirements, and they neither intend to put a kebosh on it (which could easily be done by taking the position that any collateral transformation to meet clearinghouse requirements was an integrated part of the clearinghouse posting and could not be done separately on bank balance sheets) nor understand the impact of their flatfootedness.
This massive fail results from the refusal to deal with the derivatives problem head on. For some peculiar reason, economists and regulators have bought the idea that financial "innovation" is always and ever good and should therefore be given free rein. Even though the crisis would seem to have proven decisively otherwise, no one seems willing to question the value to anyone other than banksters of the continuing growth of over-the-counter derivatives markets. And the ever rising "need" for more collateral is the direct result of the explosive growth of the derivatives market. This chart from ECONNED is somewhat dated but gives you an idea: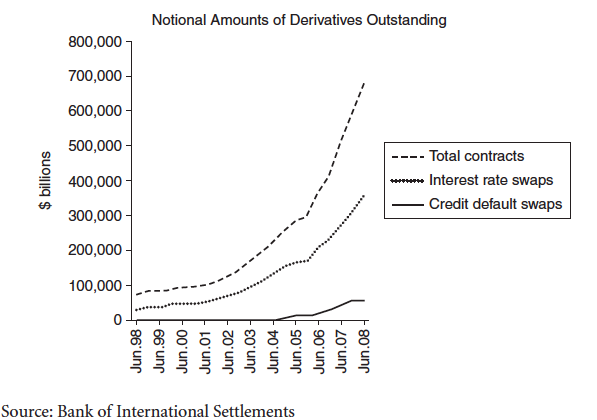 Mind you, we aren't opposed to plain vanilla products like simple interest rate swaps. Even though those lead to large notional amounts, the actual financial exposures, and hence collateral requirements, are comparatively small. By contrast, as we've argued, the social value of the credit default swaps market is questionable, and the case for limiting it severely is strong (see ECONNED for details). Similarly, bespoke OTC derivative are used almost entirely for either gaming accounting or regulatory arbitrage. Restricting their use would be beneficial, not simply in terms of lowering systemic risk but also in curbing rule-skirting.
It seems that Richard Bookstaber's observation can't be repeated enough: in tightly coupled systems, the only way to reduce risk is to reduce interconnectedness. Otherwise, measures to reduce risk actually wind up increasing it. And that looks to be precisely what the introduction of clearinghouses will achieve.