By Houses and Holes, cross-posted at MacroBusiness.
September was a better month for global manufacturing, though hardly rosy. The J.P.Morgan global PMI rose from 48.1 to 48.9:
The downturn in the global manufacturing sector continued in September, following further contractions in both output and new orders. The JPMorgan Global Manufacturing PMI™ – a composite index produced by JPMorgan and Markit in association with ISM and IFPSM – posted 48.9, up slightly from August's 38-month low of 48.1, but below the neutral 50.0 mark for the fourth month running. The average reading for the global manufacturing PMI through Q3 2012 as a whole is 48.5, below Q2′s 50.4 and the weakest outcome since Q2 2009.

Production and new orders each declined for the fourth successive month in September, although rates of contraction eased for both variables. New export orders also fell and for the fifth straight month. The outlook for production in the coming months also remained muted. Although the cyclically-sensitive new orders to inventory ratio ticked higher, it stayed at a broadly neutral level.
The bright spot overnight was the US ISM,which bounced nicely into expansion in defiance of recent dour industrial reports:
"The PMI™ registered 51.5 percent, an increase of 1.9 percentage points from August's reading of 49.6 percent, indicating a return to expansion after contracting for three consecutive months. The New Orders Index registered 52.3 percent, an increase of 5.2 percentage points from August, indicating growth in new orders after three consecutive months of contraction. The Production Index registered 49.5 percent, an increase of 2.3 percentage points and indicating contraction in production for the second time since May 2009. The Employment Index increased by 3.1 percentage points, registering 54.7 percent. The Prices Index increased 4 percentage points from its August reading to 58 percent. Comments from the panel reflect a mix of optimism over new orders beginning to pick up, and continued concern over soft global business conditions and an unsettled political environment."
A good report. Europe also improved but only insofar as it got worse at a reduced pace:
At 46.1 in September, the headline sasonally adjusted Markit Final Eurozone Manufacturing PMI® posted below the neutral 50.0 mark for the fourteenth successive month. Although the PMI rose to a six-month peak – up from 45.1 in August and above the earlier flash estimate of 46.0 – its average over Q3 2012 as a whole was only 45.1. This was below the prior quarter's 45.4 and the weakest outcome since Q2 2009.
In Asia, China's two PMIs showed stabilisation, with new orders for both turning upwards: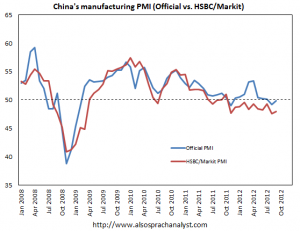 The same was apparent in Japan where the headline result remained a subdued 48 but the deterioration halted. Vietnam also improved. On the other hand, Taiwan fell faster across all measures. South Korea but it is out today. It was turning up last month and one might expect this to continue as China improves.
So, what to make of it all? Honestly, not much.  Jobs are being lost around the world. Monetary easing all over will help and this bounce and may get global manufacturing  into positive territory for a bit. There may be a mini-inventory cycle in here too as a bit of demand hits falling supplies.
But the drivers of the slowdown are intact. European austerity is entrenched. The feedback loop with Asia is not yet broken. After the US, China is looking most likely to bounce but it'll largely suck in commodities not goods as it stimulates investment not consumption, which is already hitting input costs everywhere. One might get excited by the prospect of a repeat of late 2010 when QE2 and the late stage Chinese boom drove a final global bounce. But this looks to me more like a rerun of late 2011 and any bounce is likely to be fleeting.
At the same time, the downside appears limited for now and there's no point getting overly bearish. It's the global zombie, slouching along.
Someone find a shotgun!