All you need to know to get confirmation that Lender Processing Services got a great gift is to look at what its stock did on the day of the announcement of its $127 million settlement with 46 chump state attorneys general, on a day when the market was down generally: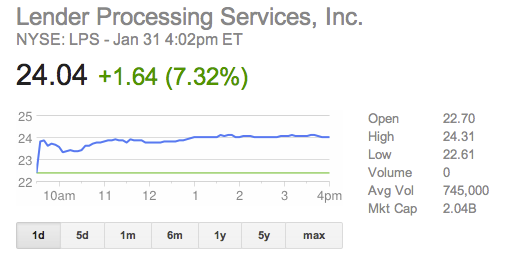 New York's attorney general Eric Schneiderman had the temerity to tout the settlement:
"Lender Processing Services, Inc., LPS Default Solutions and DocX cut corners in order to maximize their profits," said New York Attorney General Schneiderman. "My office will pursue any company that generates false or robo-signed documents that are used to foreclose on New York homeowners."

The proposed consent judgment resolves allegations that the Jacksonville-based company "robo-signed" documents and engaged in other improper conduct related to mortgage loan default servicing. LPS Default Solutions and DocX primarily provide technological support to banks and mortgage loan servicers.

Among other things, the settlement prohibits signature by unauthorized persons or those without first-hand knowledge of the facts attested to in filed documents, enhances oversight of the default services provided, and requires review of all third-party fees to ensure that the fees have been earned and are reasonable and accurate. The settlement also:

· Prohibits LPS (including DOCX) from engaging in the practice of "surrogate signing" of documents;

· Ensures that LPS has proper authority to sign documents on behalf of a servicer, if in fact it is signing documents;

· Requires LPS to accurately identify the authority that the signer has to execute the document and where that signer is employed;

· Prohibits LPS from notarizing documents outside the presence of a notary and ensures that notarizations will comply with applicable laws;

· Prohibits LPS from improperly interfering with the attorney-client relationship between attorneys and services;

· Prohibits LPS from incentivizing or promoting attorney speed or volume to the detriment of accuracy;

· Requires LPS to ensure that foreclosure and bankruptcy counsel or trustees can communicate directly with the servicer;

· Requires LPS to have enhanced oversight and review of processes over third parties it manages, including those entities that perform property preservation services;

· Prohibits LPS from imposing unreasonable mark-ups or other fees on third party providers' default or foreclosure-related services;

· Requires LPS to establish and maintain a toll-free phone number for consumers concerning document execution and property preservation services (including winterization, inspection, preservation, and maintenance); and

· Requires LPS to modify mortgage documents that require remediation when LPS has legal authority to do so and when reasonably necessary to assist a consumer or when required by state or local laws.
In the settlement, LPS stipulated to important facts uncovered in the investigation, including the practice by DocX of so-called "surrogate signing," the signing of documents by an unauthorized person in the name of another and notarizing those documents as if they had been signed by the proper person.

Once the judgment is entered by the courts, LPS will undertake a review of documents executed during the period of January 1, 2008 to December 31, 2010 to determine what documents, if any, need to be re-executed or corrected. If LPS is authorized to make the corrections, it will do so and will make periodic reports of the status of its review and/or modification of documents. Consumers may also call the LPS toll-free number and request review and correction of any documents executed by LPS at any time.
As we recounted at length on this blog, the issues with LPS go well beyond robosigning. "Robosigning" was a convenient label to divert attention from the fact that the party that was attempting to foreclose didn't merely have improperly executed documents, which is what this lame settlement would lead you to believe. It was that it was often the improper party, raising a host of issues (borrower exposure to liability from the proper party, which has occasionally turned out to be a real issue, clouded title). I happened to speak to a reporter on the mortgage beat one of the major New York papers, and that individual was sputtering about the settlement.
Worse, notice how this settlement institutionalized the undermining of procedures that go back to the 1677 Statute of Frauds. LPS is permitted to sign documents on behalf of a servicer if it is authorized to do so. But a bedrock concept of the law has been that evidence submitted in court (an an affidavit stands in lieu of testimony) is based on personal knowledge. LPS does not know the integrity of the underlying servicer systems (and our Bank of America series confirms our suspicion that they often suck). Is it going to be, as before, that servicers file affidavits attesting as to the amount the borrower owes? We might as well throw our judicial system down the toilet if so.
The one small bit of solace is that New York state's court system has put in a much tougher certification requirement regarding evidence submitted in foreclosures, so that might explain why Schneiderman can be so cavalier. But also notice there is no mention of monitoring or enforcement in the settlement, and all these promises to do better mean squat without them. We plan to look at the agreement when filed, but we aren't optimistic that it will have any teeth.
I can't fathom how the Administration and its allies think that these efforts to put band aids over gangrene are going to restore confidence in the housing market. Anyone buying a house with a mortgage in America is putting themselves at risk of being abused by their servicer and suffering severe financial harm. I suppose the American love affair with housing will prove to be yet another exercise in hope over experience.