In March 2007, Fed chairman Ben Bernanke said that he thought the impact of losses on subprime mortgages was likely to be contained. It took five months for events to start proving him wrong. August 2007 marked the onset of the first acute phase of the global financial crisis, when the asset backed commercial paper market seized up.
Last week, in a press conference, Bernanke indicated that he thought the likelihood of the crisis in Cyprus having larger ramifications was limited, and avoided using the "c" word. But the message was similar to that of March 2007. So now that Cyprus has agreed to resolve its problem banks on its own, the island nation has secured a short-term sovereign cash fix. As MacroBusiness described it:
The restructure is enough for the IMF to agree to release a 10 billion euro bailout, which will do nothing whatsoever to address Cypriot public debt sustainability or the economy (other than hurt both).
And there also is a rather visible inconsistency between the Eurocrats' insistence that Cyprus was too small to make any difference and the stock and currency market response to the news of a deal.
So are we likely to see the sort of delay between the assessment and the onset of trouble, as we did in 2007, or is Cyprus a nothingburger, as the Troika and many investors contend? I welcome reader input, but I'd say the odds of knock-on effects are greater than the cheery official assessments would lead you to believe.
As we've indicated before, the threat is that bank runs start in other periphery countries, based on a recognition that their bank is at risk plus a concern that they will be made to take losses, as large depositors were in Cyprus. We never thought the odds of a "hot" run, as in people lining up at banks to withdraw money, was all that high, and it's been reduced even further by the fact that depositors under €100,000 were spared. However, we think the slow-motion departure of depositors from periphery banks is likely to resume. It was arrested by the introduction last September of the OMT, which was peculiar since the OMT was merely a clever PR exercise that simply repackaged existing ECB powers. But the ham-handed ambush of the Cypriot president Anastasiades and the initial rejection by Parliament of the ultimatum elevated international interest in the negotiations. Commentators generally disapproved of the plan to whack all depositors, particularly small ones. Even though they are likely to be less critical of the final plan, which haircuts only big depositors at the two biggest banks, the imposition of capital controls has produced, if anything, an even more negative reaction. Here is the Prodigal Greek's summary of the major provisions of the legislation (hat tip David P):
Restrictions in daily withdrawals
Ban on premature termination of time savings deposits
Compulsory renewal of all time savings deposits upon maturity
Conversion of current accounts to time deposits
Ban or restrictions on non cash transactions
Restrictions on use of debit, credit or prepaid debit cards
Ban or restriction on cashing in checks
Restrictions on domestic interbank transfers or transfers within the same bank
Restrictions on the interactions/transactions of the public with credit institutions
Restrictions on movements of capital, payments, transfers
Any other measure which the Finance Minister or the Governor of Cyprus Central Bank see necessary for reasons of public order and safety
It isn't hard to see why an business owner or a wealthy individual in the periphery countries who hasn't moved his money out of banks in his country might think twice. Before, the worry was that some country might exit the Eurozone, and if that happened to be your country, your deposits would be redenominated in New Currency which would plunge in value relative to the euro, leave you poorer. While that risk may continue to be seen as de minimus, we now have two new reasons to wonder about the wisdom of standing pat with home-grown banks.
[At this point, Yves's Internet connection failed. Lambert wrote up a fair bit of the balance based on guidance over the phone, then she was able to amplify some of the points when Verizon fixed its outage]
First, confiscating bank deposits is now on the table in any future crisis. That's toothpaste that's not going back in the tube. Commerzbank chief economist Jörg Krämer has already suggested (Google translates) "a one-time property tax levy" for Italy and "a tax rate of 15 percent on financial assets." And adding fuel to the fire, the Leader of the UK Independence Party has urged expats in the periphery countries, in particular the 750,000 British in Spain to "Get your money out of there while you've still got a chance."
Second, capital controls in Cyprus mean that there are now two Euros in effect: The Euro that you can use only in Cyprus, and the Euro you can use elsewhere in the so-called "monetary union." So from the perspective of people in Cyprus, the results are in some ways worst that a breakup: rather than having depreciated dough, you have dough that has been impounded, particularly in terms of using it outside Cyprus.
In each case, why wouldn't every business owner or wealthy Euro-holder in the periphery go into "First, they came for the Cypriots" mode, take economist Krämer at his word, and move their money to where they had some reason to believe it was safe?
Third, these concerns may be amplified by how rapidly and visibly the Cypriot economy craters. The "rapidly" is due to the fact, as discussed in greater detail in the post from Cyprus.com below, that the Cyprus economy will suffer a one-two punch: the loss of a big chunk of wealth, plus the disappearance of much of the financial services sector, which was 45% of GDP. The author estimates a 20% to 30% fall in output in two years; that could turn out to be conservative, given that the tender ministrations of the Troika will only make a bad situation worse. This is almost certain to be a more rapid and severe decay than in Latvia or Ireland.
But the "visibly" is just as important. The financial media has taken perilous little interest in the human suffering in Greece, Ireland, and Latvia (that should actually be no surprise given who their advertisers are). Oh, you'll read the stories about how many medications aren't being imported in Greece, sheets are being re-used in hospitals, suicides have skyrocketed, and trash collection is erratic at best, but these articles are few and far between. The dire conditions and the depopulation of Ireland and Latvia get even less press.
By contrast, the revolt by Cyprus' parliament and the fraught negotiations have given this bailout negotiation far more profile than its predecessors. There is almost certain to be a fair amount of media coverage of the immediate impact of the bank restructurings and the capital controls. And we are also likely to get the BBC effect, which is ongoing coverage by the English press of conditions in Cyprus due to the number of expats living there (Richard Smith tells me that it was popular among RAF retirees, since their modest pensions and savings would not allow them to buy adequate housing in the pumped-up English market). That will probably produce some echo coverage in other English language press and possibly on the Continent. So the odd favor having ongoing media depictions of Cyprus' distress, which in turn would increase anxiety levels in periphery countries.
And now to an assessment of what the pact means for Cyprus itself.
* * *
By Cyprus.com. Cross posted with permission
The Cyprus (Self) Bailout – Time To Dig Deep
The Plan
Watching the Eurogroup conference call, the agreed plan appears to be:
1. Laiki is resolved via good bank / bad bank, with uninsured depositors (4.2B) most likely losing everything (along with shareholders and bond holders).
2. Bank of Cyprus will have a bail-in of uninsured depositors, with them losing between 30-40% most likely. Shareholders and bond holders will be wiped out.
3. Troika will lend 10B to the Cyprus government, solely for fiscal purposes and based on a memorandum to be determined. None of the troika funds will be used for the bank bailout.
4. Insured depositors will be protected (sub 100K euros).
5. The 9B of ELA at Laiki will be transferred to Bank of Cyprus. This is the single most bizarre and unfair part of the agreement. It has not been discussed why the Bank of Cyprus creditors should be paying for the ELA of Laiki and no reporter pressed with a follow-up question.
6. Note that for the most part the bailout is NOT hitting the Russian depositors that hard but will hit local Cyprus depositors hard. Russian depositors were not largely at Bank of Cyprus.
Some Learnings
1. At the end of the day, the appropriate rule of law approach held for the most part. This is a variation of our Scenario B.
Shareholders, bondholders and shareholders of the banks with the problems are the ones facing the consequences. Depositors at other banks (that are solvent) are not touched. This is what should happen under normal rule of law.
Given that the EU is *not* actually giving any money for this restructuring, Cyprus could have done this bank restructuring themselves anyway without this drama and reputational destruction re: its financial services industry.
The glaring exception to this is the transfer of the ELA transfer from Laiki to Bank of Cyprus which I simply cannot rationalize. Greece should be taking some of this pain given that a large part of this ELA was to finance losses in Laiki's Greek branches. In any case, I am not sure *why* Bank of Cyprus creditors should be expected to take responsibility for Laiki's official creditors, except for the fact that the official creditors don't want to take losses.
(I suppose it is theoretically possible that Laiki has enough good assets to cover all the insured depositors and the ELA and will transfer a neutral Good Bank to Bank of Cyprus. However, that seems…optimistic..)
2. Given that the fiscal situation in Cyprus was not too bad even as recently as 2008 (the government ran a surplus!), one could have imagined if the prior government had been more serious about fiscal consolidation (and resolved the banks), the amount of the fiscal bailout could have been reduced to a level manageable in public markets.
3. Putting #1 and #2 above, if Cyprus had bitten the bullet itself and inflicted (severe) pain on itself, this all could have been avoided. In other words, Cyprus assumed, not unreasonably, that the pain might be spread out via the troika over several years. In practice, what happened is that it had to absorb all its pain anyway, but with the extra dose of public humiliation.
4. It is not a pretty sight being a small EU country and coming to the EU for help. Malta, Luxembourg and Latvia, take note…
5. It is also fair to say that Spanish, Portuguese and Italian uninsured depositors at weak banks should consider themselves duly warned…
6. Also: As if it was not clear before, it is perfectly clear now that the EU has no real institutional processes for this topics and basically makes things up as it goes along, based on what 4-5 people in a room decide at 3am. It is quite unbecoming for a serious Western super-power.
Implications
1. This will have an immediate negative effect on the local real economy through two mechanisms: (a) loss of savings of consumers hitting consumption and (b) partial or full loss of operating accounts of local businesses, some of which will never recover. The small and medium businesses in Cyprus will face a wave of bankruptcies unfortunately.
2. Additionally, the financial services sector (45% of the economy) will take a severe blow.
There is a mild positive in this approach in that, basically, Cyprus took all the pain itself and other foreign banks operating on the island (aka Russian Commercial Bank) have been spared.
Given this, there might be some ability to retain a few more customers under this approach rather than the across the board levies initially proposed.
3. Net net, we should expect a drop in GDP over the next 2 years in the 20-30% range. This will inevitably lead to significant social and business disruptions and hardship and greater need for fiscal consolidation (as certainly tax revenue will shrink and automatic stabilizers will increase). Government employees, take note…
4. Overall, this will be a very severe recession / depression.
How to Grow Now
So, what does Cyprus do now? It still has a highly educated workforce and would need to find something to do (quickly!) with it to avoid major brain drain and permanent diminution of its prospects.
1. Find a way to eliminate the capital controls as quickly as possible. Not much else is going to happen with capital controls in place.
2. Preserve as much of the financial services business as possible. This solution does at least allow a window for that to happen.
3. Push more aggressively on tourism related improvements – in particular, casinos should prove interesting given its geographic location (no country really ever replaced the hole left when Beirut lost that role in the 1970s)
4. Promote higher education. We have links to the University of Nicosia so are biased, but Cyprus has a surprisingly advanced private university system. With a few small tweaks to legislation to support it, it could be a significant growth driver.
5. Professional services outsourcing. The workforce is highly skilled, but still probably 50% less expensive than London and Western Europe.
6. Oil & gas: Important and meaningful, but as we saw with this week's renewal of the Israeli-Turkish alliance, this is not going to be a walk in the park. We will need some serious coverage from a serious power if this will be extractable.
7. [longer-term] Start building software/tech capabilities. It is a good fit for a small, highly educated nation, though Cyprus has no pre-existing capabilities here, per se.
None of the above will be easy, but Cyprus did perform miracles economically after the Turkish invasion in 1974. This is the chance to aim for an Act 2 in this regard. And, cliched as it is, its greatest asset is its people.
It is time to dig deep and start again…
Update 6:00 AM: I have been operating on the assumption, as has our fairly well informed correspondent above and pretty much all of the financial media, that the deal negotiated in the early AM in Brussels was set because it relied on the bailout provisions already passed by the Cypriot parliament and did not require additional approvals. And of course, one of the biggest tricks in deal land is to act like something is done even if the remaining "technical" details aren't technical but are actually substantive and could be used to stymie consummation of the transaction.
However, Richard Smith has found a tweet that suggests otherwise: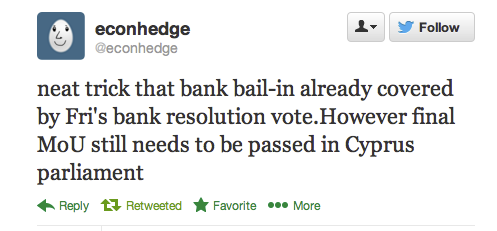 If this source is right, it's still possible for the Parliament to reject the deal. Consistent with that being possible, I noticed how the recent rounds of messaging about the pact considerably downplayed how bad the hits to Cypriot borrower would be (as in it seemed to be more in sales mode than I would have expected). The early estimates (not official, just based on a look at the balance sheet and knowledge of what was on it) was that the Laiki depositors >€100,000 would be very lucky to get anything back, and the Bank of Cyprus losses for the over €100,000 depositors had been 22% to 25%, and that may not include the ELA transfer, which would presumably increase the losses considerably.
Admittedly, at this point, the inertial course would be to approve the agreement. However, the influential Archbishop of Cyprus advocated leaving the Eurozone over the weekend. That plus a show of outrage from the population could undo what seems to be a settled deal. And that would have more immediate, unexpected ramifications.