By Leith van Onselen, Chief Economist of Macro Investor, Australia's independent investment newsletter covering trades, stocks, property and yield. You can follow him on Twitter at @leithvo. Cross posted from MacroBusiness
Westpac Institutional Bank yesterday released a sobering note (below) on the ongoing income squeeze taking place in the US.
In spite of the current cyclical economic recovery, the recent fall in the US unemployment rate has been driven almost entirely by lower labour force participation (see next chart).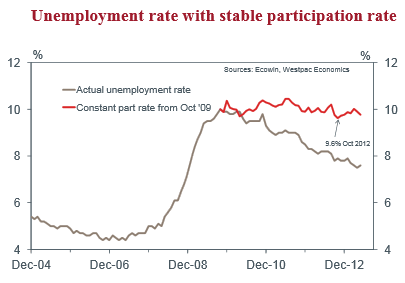 In fact, the overall number of jobs is still 2.5 million below its peak, the employment-to-population ratio has also barely moved off its lows, and aggregate hours worked is yet to recover lost ground (see next chart).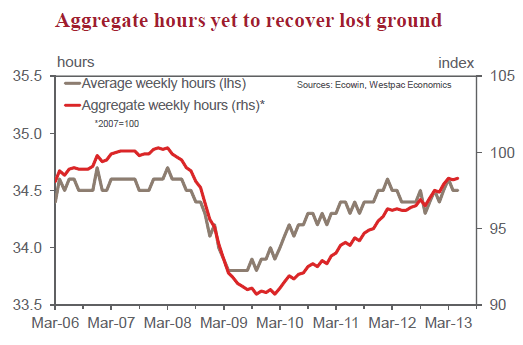 To make matters worse, real average hourly wages are still 0.5% lower than their June 2009 level, with real weekly wages (inflation-adjusted take-home pay) having grown by only 1.3% over the past four years (see next chart).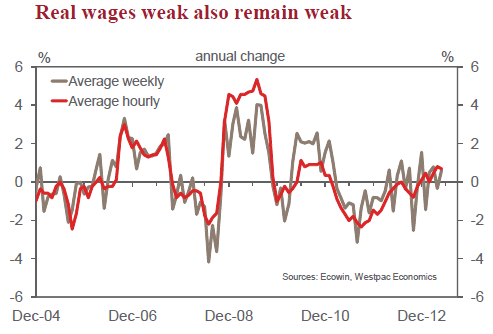 And while households have benefited from lower interest rates, this boost to discretionary incomes has been offset by rising health care and gasoline costs, meaning that real discretionary incomes have not grown since 2006 (see next chart).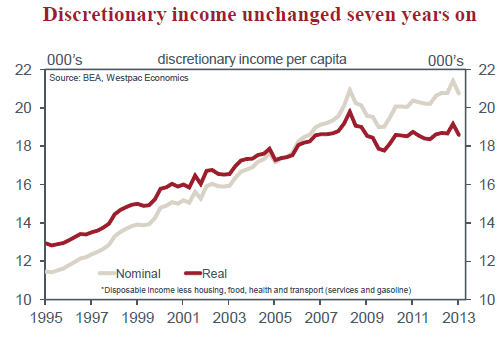 This all leaves Westpac to conclude:
It is little wonder then that consumption growth has failed to accelerate in a significant and sustainable fashion. Not only do households continue to be weighed down by large historic debt burdens, they are having their purchasing power eaten away by price rises for life's ssentials.

It is all well and good for asset price gains to bolster confidence, but real improvements in spending power are necessary to see broad-based, persistent spending growth. This is not the case at the current juncture; and, in the absence of a positive exogenous shock, seems unlikely for the foreseeable future.
Full report below.
US – Desperately Seeking Income (Westpac 26 June 2013)