Lambert here: My own blog, Corrente, is holding its summer fundraiser. 27 31 45 donors have already contributed to keeping the Corrente servers humming, and to getting lambert a new set of progressive trifocals, so he can keep reading and writing, among other necessities of life, like building materials, electricity, an Internet connection, water, and a woodchuck-free environment (they destroy foundations. That is bad). Here's what Corrente is all about, and a history of some of the campaigns we've done, going back to 2003. The PayPal and WePay buttons are in the right hand sidebar. Like NC, Corrente is not part of any political tribe or faction. That makes us unusually dependent on contributions from individual readers. Your help is appreciated, and thanks to Yves ("Donate to Lambert's Fundraiser…Now!") for giving me the opportunity to ask for it.
* * *
By Lambert Strether of Corrente.
The Institute for New Economic Thinking reposts this video from "Head to Head: Al Jazeera's new forum of ideas — a gladiatorial contest* tackling big issues," held this time at the Oxford Union. For your morning coffee instead of NPR!
Basically, what we have here are representatives of various British ruling class factions — the great and the good — all confessing, each in their own way, their utter bafflement on how to rebalance the regulatory system to disfavor big banks. I transcribed this passage starting at 8:48:
MEHDI HASAN: You mentioned the thinking that has led to some of these intellectual mistakes; we talked about the role of regulators, but as you say it wasn't limited to this group or government, there were international institutions, like the International Monetary Fund which was hailing all this financial innovation [ADAIR: It was, it was]; there were the credit ratings agencies, which were giving AAA ratings to some of these toxic assets; but none of these guys — put punishment to one side, justice — in terms of actually getting rid of them from the scene, they're all still hanging around the scene, these economists who got it wrong, the IMF, the ratings agencies… How can you move forward when you've got all the people who caused the crash still in influential global positions?

LORD ADAIR TURNER: When you get mistakes made, sometimes there are people who've made mistakes who have the technical skills of economists who are capable of seeing what's gone wrong. I don't think you can say we've got to completely get rid of the entire set of people who've been involved in that process. But it's very, very important that we learn from those mistakes and we understand what a deep set of mistakes were made. And along with the Great Depression of the early 1930s, this is the biggest setback, other than global wars, this is the biggest peacetime setback to the growth of prosperity that's occurred.
"Mistakes were made." Mistakes were made?! WTF?!?! Of course, one loses patience after awhile.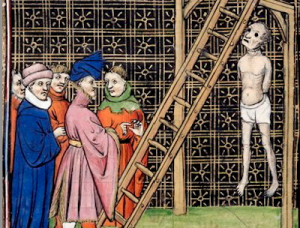 Pour encourager les autres, what?
NOTE * As a former policy debater, this really tickles my fancy.