'Atomic' blast after oil train derails, forcing evacuation of Canadian town Associated Press
Brazilian referee beheaded by spectators after he fatally stabs player Guardian
Hikikomori: Why are so many Japanese men refusing to leave their rooms? BBC (furzy mouse)
Those gut germs may shape your life from birth NBC
How to Destroy a Community New Inquiry (Lambert)
Lockdown Marco Arment (Lambert). On why Google killed Google Reader.
'Master key' to Android phones found BBC
China suspends PMI detail MacroBusiness
Pope Francis Shakes Up Church Establishment ABC
Mohamed ElBaradei's appointment as Egypt's interim PM thrown into doubt Guardian
Cracks Emerge as Egyptians Seek Premier New York Times
Rope-a-dope: The strategy of Egypt's puppet masters Aljazeera. Lambert: "More nuanced than the headline."
Passions of the Meritocracy: General David Petraeus and his wandering PhD Baffler (mookie)
Big Brother is Watching You Watch:
City Unions: Wall Street Looted Oakland Darwin BondGraham, East Bay Express (mookie)
Kevyn Orr to load bankers in a bus, show them Detroit's worst neighborhoods Detroit Free Press (1 SK)
New York fast food worker: 'I think I deserve to eat lunch' Daily Kos (Carol B)
Bank of America Boosts U.S. 10-Year Yield Forecast to 3% on Jobs Bloomberg
MBS Clobbered and Treasury Yields Soar Following Purportedly Good Job Numbers Michael Shedlock (furzy mouse)
Las Vegas Suburb Accused of Plotting to Seize 5,000 Homes with Eminent Domain to Flip Them for a Profit Alternet
U.S. swaps regulator calls vote on cross-border rule Reuters. We'll see how much of a "compromise" this is. George Bailey of Occupy the SEC is hopeful that the phased in approach referenced is the one advocated by CFTC Commissioner Bart Chilton.
Antidote du jour (furzy mouse):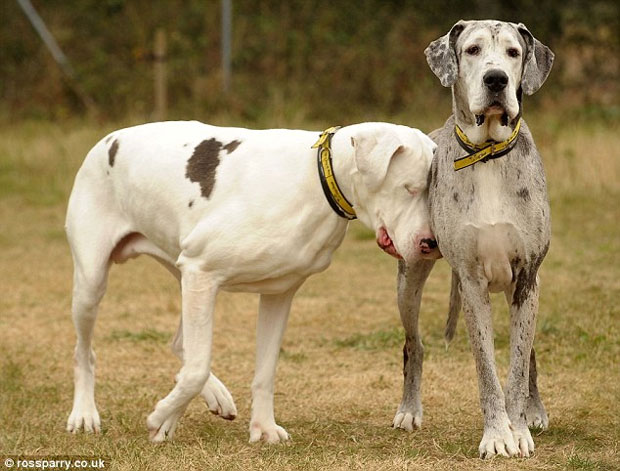 Lily is a Great Dane that has been blind since a bizarre medical condition required that she have both eyes removed. For the last 5 years, Madison , another Great Dane, has been her sight. The two are, of course, inseparable.