By Lambert Strether of Corrente.
WTF? NASDAQ flatlines. Oopsie: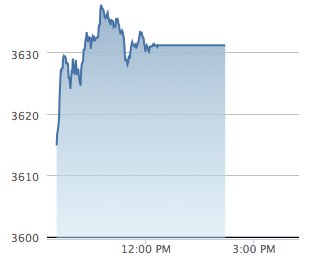 FT, 1:09PM Trading halted on all Nasdaq-listed stocks:
Trading in stocks listed on the Nasdaq including Apple, Google and Facebook were halted just after midday in New York as the second-largest US stock exchange by volume experienced technical issues, causing chaos and confusion among traders and market participants.

Equity and options exchanges run by NYSE Euronext, Bats Global Markets and CBOE also halted trading in Nasdaq-listed securities following Nasdaq's notice that it was experiencing issues with "quote submission to the UTP SIP", the system that governs the collection, processing and distribution of specific market data.
WSJ, 1:22PM: Nasdaq Market Halts Trading:
Exchange officials scrambled to resume trading and to figure out what had happened. The issue stemmed from a data feed that provides market data for Nasdaq-listed securities, exchanges said in notices sent to traders.

Regulators said they were communicating with market players but offered no details. "We are monitoring the situation and in are close contact with the exchanges," said SEC spokesman John Nester.
AP, 1:40 PM Trading halted in Nasdaq-issued securities due to a technical issue:
Nasdaq said it wouldn't be cancelling any open orders, but that customers could cancel orders if they wanted to.

Nasdaq sent out an update at 1 p.m. saying trading would reopen "at a time to be determined."

The Nasdaq composite index was frozen at 3,631.17 as of 1:20 p.m. ET, up 31.38 for the day. The index is up 20 per cent so far this year.
Reuters, 1:50PM: Nasdaq halts all trading after technical problem:
All traffic through Nasdaq stopped at 12:14 p.m. EDT, the exchange said on its website, citing a problem distributing stock price quotes. The exchange, which lists about 3,200 companies, said it expects to resume trading later on Thursday.

Meanwhile, the New York Stock Exchange's parent, NYSE Euronext, has ceased all trading in Nasdaq-listed shares at the request of Nasdaq.
Bloomberg, 1:54PM: Nasdaq Halts Trading in Stocks, Options Amid 'Issue':
The disruption, just two days after options markets were roiled by mistaken trades sent by Goldman Sachs Group Inc., is the latest in a series of computer malfunctions that have raised questions about the reliability of electronic markets. Nasdaq faced criticism last year when it mishandled the public debut of Facebook, causing hundreds of millions of dollars in losses for its member firms.
This is devolutionary, third-world stuff. I mean, do these guys need more money to maintain their systems?
So, WTF?
Readers?
NOTE Hat tip reader Joe.
UPDATE
BREAKING: Nasdaq Intending To Reopen Trading In Tape C Securities At 2:45pm ET

— CNBC (@CNBC) August 22, 2013
UPDATE Nasdaq to resume trading at 3:25 after more than two-hour shutdown.
UPDATE Trading resumes of Nasdaq-listed stocks:
After an afternoon marked by chaos and confusion among traders and investors, Nasdaq appeared to successfully reopen trading in roughly 2,500 US companies worth about $5.4tn at 3.25pm local time. …

The breakdown sparked immediate concerns about the plumbing which underpins the US market. It came just days after Goldman Sachs suffered a high-profile trading glitch involving its computerised trading systems.

US markets have been criticised for their high degree of fragmentation, where trading firms swap shares at millisecond speeds across 13 equity exchanges and almost 50 alternative trading platforms.