By Lambert Strether of Corrente.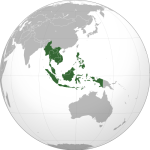 ASEAN (Association of Southeast Asian Nations), says WikiPedia, would rank as the eighth largest economy in the world if it were a single entity. It includes ten countries: Brunei, Cambodia, Indonesia, Laos, Malaysia, Myanmar (once Burma), the Philippines, Singapore, Thailand, and Vietnam. This week, we'll travel down the Mekong from Myanmar through Laos and Cambodia to Vietnam; next week, we'll visit the remaining countries.
If there are any "Asia hands" in the commentariat, I'm sure they'll place this survey somewhere on a scale between superficial and ignorant. But one must start somewhere! Just "reading the papers," common factors include conflict over water, whether because of drought, inadequate supply, or dams, and conflict over land use, expressed as conflict within an often faulty land title system (hmm; sounds familiar). We also see massive migrations from the country to the city, comparable in scale (and with some suggestive cultural parallels) to the Black migration from the South to the industrial cities of the North in this country.
Interestingly, the structure of the state in these four countries varies dramatically: In Myanmar, we have a transition from a particularly thuggish and insular military dictatorship to some form of democracy; in Cambodia, we have a Constitutional monarchy, but following on the genocidal Khmer Rouge; and in Laos and Vietnam, we have one-party states (putatively Communist), the latter having beaten the United States in war, dispatched the Khmer Rouge from Cambodia, and now having taken delivery of a Russian (and not Chinese) submarine.
We also have drastically different media environments in each country: Myanmar, unlike Cambodia, Laos, and Vietnam, is getting a lot of coverage in the mainstream media here, I can only assume because of vast opportunities for resource extraction suddenly made available. Vietnam and Laos show all the signs of a state-controlled media (oodles of happy talk, colorful national costumes), and Cambodia seems reasonably open, interestingly enough. Because I haven't mastered the media environment, and read only English, I don't have access to coverage the protests, strikes, and other self-organized activities that I've aggregated from other parts of the world, if indeed it exists! However, I think in some cases such can be inferred, in conflicts over land and water, for example. (Although I do see some stories on environmental issues, I don't see resistance on the Chinese scale). Readers will correct me!
Myanmar
Controversial Myanmar Marriage Proposal Gains Two Million Signatures Radio Free Asia 2013-07-17
Nationalist Buddhist monks in Myanmar have collected 2 million signatures in support of a proposed law restricting interfaith marriage, a prominent anti-Islamic monk who is leading the campaign said Wednesday.

The monk, Wirathu, who heads Myanmar's anti-Islamic "969" movement, said the signatures would be used to back a proposal to parliament aimed at curbing marriages between Buddhists and Muslims in the wake of sectarian violence in the country.

Under the proposed "national race protection law," Buddhist women wishing to marry non-Buddhist men must first receive permission from their parents and local government officials.  Non-Buddhist men wishing to marry Buddhist women must first convert to the faith.
Burma's Nationalist Monk Wirathu Mediates Land Dispute in Mandalay The Irrawaddy, 2013-08-05
Nationalist monk Wirathu is mediating a land dispute in Mandalay Division, where he is based, Burma News International (BNI) reports. Wirathu, who has risen to prominence for leading the 969 movement, is mediating a dispute between the Mandalay City Development Committee and a landowner who has been asked six times to move from his family's land plot, BNI reported Saturday. "We need to show humanity," the monk told the news network, expressing concern for the family in Mahaaungmyay Township.
Myanmar has yet to build genuine democratic nation – Suu Kyi  Eleven, 2013-08-09
Suu Kyi, leader of the National League for Democracy and Lower House MP, said the 1988 student uprising spread over the entire nation and Mandalay was among the places where the citizens actively participated in the nationwide movement.

In her speech delivered at Yangon's commemorative ceremony, Suu Kyi said that Myanmar had failed to successfully implement rule of law, an internal peace process and constitutional amendments since the government embarked on a series of reforms in 2011.

The lifeline of a constitution required the public trust and confidence, without which the constitution would become lifeless, the opposition leader added.

She also called for reconciliation efforts between the people and the military. The people on their part should serve the interests of the nation taking lessons from the 1988 uprising and holding no grudge.
Myanmar Faces Difficult Balance in Financial Overhaul  LA Times Online WSJ, 2013-08-10
Myanmar has come a long way in revamping its financial system since the military gave up formal power two and a half years ago. The country's new civilian leaders made its central bank independent last month and ushered in several other changes meant to smooth the way for more foreign investment. And over the past two weeks, the government has allowed foreign-exchange trading between local banks, according to state media, and appointed a new management team for the central bank.

But weighty questions remain as to how far the new government will go in forging a Western-style financial system. One issue is when authorities will allow foreign banks to set up in the country. …

[T]here is still ambiguity on some crucial details, which will be fleshed out by mid-October, including whether the bank will continue printing money to finance the government's debt, Mr. Turnell noted.

That could prove the biggest test in building a secure financial system. The text of the law that created the new central bank in July seems to preclude the central bank from buying the government's newly issued debt. But it doesn't specify a timeline for phasing out the purchases, and wouldn't rule out the central bank buying the debt indirectly.

The appointment of Columbia University-educated Khin Saw Oo and Set Aung—the government's go-to person for tricky reforms—as two of the new deputy governors could help assuage investors' concerns.

Ms. Khin Saw Oo, formerly an anti-money-laundering executive at the bank, told The Wall Street Journal in June that the institution would gradually reduce the proportion of the government's deficit that it directly finances to zero from around 40% currently.
Lambert here: And what's wrong, per se, with "printing money"? I thought this was a news story, not the editorial page!
Thailand arrests and charges key human trafficking suspect from Myanmar Washington Post, 2013-08-10
Thai authorities have arrested and charged a suspected human trafficker who allegedly sold hundreds of migrants from Myanmar into slavery to work in Thailand's fishing industry, police said Saturday.

Ko Myo, a 42-year-old Myanmar national, was captured in a raid by police and justice officials on Aug. 1 in Thailand's southern province of Surat Thani and faces human trafficking charges, said Police Maj. Gen. Chavalit Sawangpuech.
India to link with Myanmar port to boost ASEAN connectivity NY Daily News, 2013-08-11
In its push for greater connectivity with ASEAN countries, India is focussing its attention on a deep-sea port in southern Myanmar that would provide a much shorter sea route to the economically vibrant Southeast Asian region and help boost trade.

The Dawei deep sea port and special economic zone is slated to give a huge boost to connectivity and trade in the Southeast Asian region when it is commissioned in a few years. The $8-billion project is being developed jointly by Myanmar and Thailand.
Deputy Minister denies agricultural loans for "rich" farmers Eleven 2013-08-13
MP Aung Thein Linn said that since the government provides loans only for a maximum of 10 acres of farmland, farmers who own over 10 acres of land have to separate their lands under different names to apply for the loans, resulting in unnecessary costs and possible disputes over land ownership in the future. … Some MPs denied that farmers who own over 10 acres of land were 'wealthy people'. They pointed out that many farmers who own over 10 acres of lands have been mortgaging their lands at high-interest rates as they can only receive 100,000 kyats for ten acres of land. Some even had to sell their buffaloes and cows to pay for agricultural expenses during the bad years in farming. … At present, farmers are suffering heavy losses from bad weather as severe drought hit central Myanmar while heavy rainfalls drown crops in other areas.
Laos
Progress on Don Sahong Dam Sets Off a Time Bomb for Mekong Fish 2013-07-16
Laos appears to be signing backdoor deals that financially prevent the project from being delayed.  While there was a lot of speculation as to which neighboring country would purchase the Don Sahong Dam's power, a June 14th Daily Report by BCEL-KT Securities Company Limited stated that the Don Sahong Dam will be one of the first dams in Laos to supply its electricity to the Electricite du Laos for domestic consumption. A power purchase agreement appears to have already been signed. This agreement likely binds the Lao government and Mega First [a Malaysian dam company] to a strict timeline regardless of what happens during any MRC [Mekong River Commission] consultations.
Vientiane Water Supply Plagued by Budget Shortages Radio Free Asia, 2013-07-23
The Vientiane Water Supply Enterprise (VWSE) says it can only deliver two thirds of the water needed by the expanding city, which is plagued by dry seasons that take a toll on supply. … The paper reported late last year that the Lao government is aiming for 80 percent of Vientiane residents to have access to clean water by 2015.
Laos residents lose capital land battle Asia Times, 2013-08-02
Authorities in Laos have issued an order informing hold-out residents of an area in the capital slated for a massive urban development project that they are not to sell their land as it now belongs to the site's developers from China. The planned US$1.6 billion project under construction in Vientiane's That Luang marsh area has been hailed as a showpiece commercial center in the fast-growing capital, but residents say they were offered compensation less than one-tenth of market value for their land. …  Much of Laos's economic growth has come from land concessions for natural resources – including timber, agricultural products, minerals, and energy – but some worry that it comes at a cost for those who lose their land.
As dams loom, Mekong fishermen fear for their future Malay Mail, 2013-08-04
The hydroelectric project at Xayaburi, led by Thai group CH Karnchang, has sharply divided four Mekong nations — Laos, Vietnam, Cambodia and Thailand — who formed the MRC, an intergovernmental group.

Communist Laos, one the world's most under-developed nations, believes the planned 1,285 megawatt dam — which will cost US$3.5 billion (RM10.5 billion) according to state media — will help it become "the battery of Southeast Asia".

Thailand has agreed to buy most of the electricity generated by the project, but Cambodia and Vietnam fear the dam could seriously affect fish migration and sediment flows, hitting their farming and fishing industries.

Despite the concerns, construction on the main part of the dam began in November with Laos predicting completion by the end of 2019.
Cambodia
NEC Sets Date to Issue Official Election Results The Cambodia Daily, 2013-08-08
King Norodom Sihamoni called Wednesday for a peaceful solution to disputes following the election.

"The results of the election will be officially announced between the 14th of August and September 8th by the National Election Committee," King Sihamoni said in a statement.

"For the great benefit of the country and our people, and to maintain peace and national stability, I would like to call for both parties, that the people voted for, with the seats in the fifth mandate of the National Assembly, please continue to discuss and seek a peaceful solution for disputes or remaining problems," the King said.
Fear of Unrest After Armored Vehicles Mobilized  The Cambodia Daily, 2013-08-10
On Thursday, Royal Cambodian Armed Forces (RCAF) Brigadier General Phen Sothy denied there was a connection between the deployment of the armored vehicles from the Thai-Cambodian border and the contested outcome of the July 28 national election, insisting that the APCs were mobilized because they are in need of repairs.

Still, photographs posted on Facebook also claimed to show APCs traveling along National Road 6 on Thursday in Batheay district, Kompong Cham prov­ince. A video posted on the website on Friday also purported to show large military trucks bearing razor-wire barricades heading toward Phnom Penh and other military convoys with their loads covered.
Cambodia's ruling party has no plan for coalition gov't with opposition party: spokesman Xinhua, 2013-08-10
The ruling Cambodian People's Party (CPP) has no plan to establish a new coalition government with the opposition Cambodia National Rescue Party (CNRP) after the general election on July 28, CPP's spokesman and Information Minister Khieu Kanharith said Saturday.

"Up to now, we don't have any plan to form a coalition government with the opposition party," Khieu Kanharith told reporters.

The initial unofficial results showed that the CPP of long- serving Prime Minister Hun Sen won 68 of the 123 parliamentary seats, with the CNRP of recently-pardoned leader Sam Rainsy taking the remaining 55 seats.
Cambodia's election trouble leads to poll investigation Northwest Asian Weekly, 2013-08-10
The two rival parties claiming victory in Cambodia's general election reached an agreement on August 3 with the state National Election Committee to investigate polling irregularities, a move that could pave the way to ending the country's political deadlock.

However, in the latest example of how both parties have been maneuvering for advantage since the July 28 election, the opposition Cambodia National Rescue Party said later in the day that it was not ready to attend a planned session to organize the investigating committee.

In an emailed statement, the CNRP repeated its desire for representatives from the United Nations and civil society to be members of the committee, rather than just observers, as the NEC said would be the case. The NEC, which is widely seen as biased in favor of the ruling Cambodian People's Party — or at least unwilling to challenge it — would also be part of the investigating body.
Cambodia opposition leader renews threat to call mass protests against poll results Xinhua, 2013-08-11
Sam Rainsy, president of the opposition Cambodia National Rescue Party (CNRP), once again threatened to call mass protests against the results of the July 28 national election if an independent committee still could not be formed to look into poll irregularities.

"I will return to Cambodia very soon. We will hold massive demonstrations to demand for the change of the current leaders if a joint poll probe technical group is still controversial and cannot find justice for the people," he wrote on his Facebook page on Sunday from Massachusetts, the United States where he was attending his daughter's wedding.

Initial results showed that the ruling Cambodian People's Party (CPP) of long-serving Prime Minister Hun Sen won 68 of the 123 parliamentary seats, with the CNRP taking the remaining 55 seats.
King to leave for Beijing Phnomh Penh Post, 2013-08-12
King Norodom Sihamoni – accompanied by the Queen Mother – is set to take off for China today, for a regularly scheduled doctor's visit which typically entails two to three weeks away from the country, an aide said.

Stressing that the trip had nothing to do with politics, Sisowath Thomico, former personal secretary of the late King Father Norodom Sihanouk and Queen Mother Norodom Monineath, said the visit had been scheduled ahead of time.
Poll anger simmers in Kandal Phnomh Penh Post, 2013-08-12
In the end, this hotly contested province swung for the first time. The CPP garnered only 40 per cent of the vote to the CNRP's 56 per cent, and won just five of 11 seats, based on preliminary NEC figures.

[A]s Huy Phan, 48, put it: "During the campaign period, 700 sarongs were handed out in this village [by the CPP]; but when it was time to vote, they only got 300 votes."

Now, I don't leave my house at night. I'm scared about my security," said Yin Out, from nearby Peak Khmer village.

"[The deputy village chief] yells from the road, he yells into my house, he gets very aggressive…. Every day, he attacks me. He says: why did you take my sarongs, why did you take my money and not vote for us?"

Adhoc has received a number of complaints along the same lines, head of monitoring Ny Chakrya said.

"Normally, the threats happen before the election – this election is very different from the previous election. The threat happens more after election day…. Local authorities are angry with the people [for not voting CPP]."
Vietnam
Russia to begin delivery of submarines to Vietnam in November Thanh Nien News, 2013-08-02
Russian shipbuilder Admiralty Shipyards will hand over the first of six submarines to Vietnam in November, Russian news agency RIA Novosti has reported.

Vietnam ordered the submarines in 2009, with the contract, which also includes training for Vietnamese crews in Russia, said to be worth US$2 billion.

he underwater vessel belongs to the Varshavyanka class, an improvement on the Kilo which is described by the US Navy as "black holes in the ocean" because they are "nearly undetectable when submerged."

The Varshavyanka class has more advanced stealth technology  and an extended combat range, the RIA Novosti report said.

Armed with 533-millimeter torpedoes, mines, and cruise missiles, the submarine is mainly intended for anti-shipping and anti-submarine missions in relatively shallow waters.
Jailed Vietnam blogger ends hunger strike after 5 weeks Reuters, 2013-08-03
A Vietnamese dissident jailed for criticising the country's rulers has ended a hunger strike after five weeks when judicial authorities agreed to accept his complaint about poor treatment, his son said on Saturday.

Nguyen Van Hai, better known as Dieu Cay, resumed eating on July 27 after the Supreme People's Procuracy, the prosecutor's office, agreed to look into his claim of abusive treatment.

Hai, 61, refused food and water for 35 days in what was his second hunger strike over the prison's failure to forward his petitions. He was jailed for 12 years for "anti-state propaganda" last September.

Communist Vietnam has taken a tough line on dissent, with arrests and convictions on the rise in the past three years. Bloggers are increasingly targeted as the number of web users soars to a third of the one-party state's 90 million population.
Vietnam report slow credit growth in first-half 2013 Thanh Nien News, 2013-08-08
Credit growth at Vietnam's four major state-owned banks has slowed over the last six months. … Vietnam recorded 4.9 percent economic growth in the first half, compared to 4.93 percent last year, putting it on track for its slowest annual expansion in 14 years. As banks are struggling to lend, at least 120,000 businesses have closed since 2011, according to official data.

The VCBS report said the slow credit growth can "partly explain" the reductions of the country's Purchasing Managers' Index (PMI) as money has not flown to manufacturing but consumption.

The index was 48.5 in July, still at the sub-50 level, signaling a third successive monthly contraction in the sector, according to HSBC.
Co-founder among 8 facing charges in Vietnam's biggest private bank scandal Thanh Nien News, 2013-08-09
Investigators with the Ministry of Public Security have pressed charges against eight former leaders of the Asia Commercial Bank (ACB), one of Vietnam's major banks, for several wrongdoings.

The Supreme People's Procuracy, Vietnam's highest prosecutors' office, will consider ratifying the charges.

Nguyen Duc Kien, 49, a co-founder of ACB, and five former executives, will face charges of "deliberately violating state regulations resulting in serious consequences." …

They are accused of causing losses of over VND1.4 trillion (US$66.26 million).

Investigators have also sought to charge Kien, who was listed as one of Vietnam's 100 richest men in 2010, with fraud, illegal business activities and tax evasion.
Lambert here: So the Vietnamese are doing better than we are on this whole "rule of law" thing, at least for banksters.
Inspected properties disappoint officials Vietnam News, 2013-08-12
Along with implementation of solutions to support the real estate market, Ha Noi's Department of Construction has recently completed the inspection of 15 urban area projects currently under construction. … Almost all of the investors blamed the stagnation on the depression in the real estate market, citing problems and difficulties related to site clearance.  …. the downturn in the real estate market also makes it more difficult to raise capital.

While not denying some responsibility for the delays, investors suggested that the city authorities should focus on settling the existing shortcomings, especially site clearance.

The city should have a mechanism to remove obstacles blocking compensation for the support and resettlement of residents, they said.

Investors also need specific guidance on determining the project's land use fees and rents by using land valuations based on market prices.