You've likely run across the media blitz on Robert Reich's documentary, Inequality for All, with not just the usual left-leaning suspects like Bill Moyers, the Nation, and Democracy Now touting the picture, but even more staid venues like US News & World Report and ABC News (via George Stephanopoulos' blog) taking note.
Now it may seem churlish to take on a prominent former government official making a star turn to publicize one of the most pressing social and political problems in America, namely, our ever widening levels of inequality. After all, the more light on this problem the better, right?
While Reich does a good job of making the normally dry statistics of inequality accessible and relating them to the experiences of ordinary Americans, it's not sufficient for someone of Reich's experience to talk up a problem. Raising the visibility of social and economic issues, particularly for someone like Reich, is presumably a means for building consensus around new initiatives and programs.
And this is why it's critical to understand where Reich comes from and what he is actually proposing. He's positioning himself as the economic's profession's answer to Marcus Welby, a seemingly benign, well meaning policy doctor who tells you what's wrong with you and what you need to fix you up. But even though Reich might be good at describing symptoms, he's not only selling the equivalent of patent medicine as the remedy but he's even getting commissions from some of the snake-oil manufacturers.
In terms of policy proposals for addressing inequality, Reich serves up overlapping but a broadly consistent menu. Let's look at two recent examples. One is from a June post on his blog. This is a rough summary of his main ideas:
Enable America to become more competitive in a global labor market:

Develop a national economic strategy

Increase jobs and wages by raising worker productivity

Improve public education, start schooling earlier, subsidize higher education (make them accountable for results but not by using standardized tests)

Unionize low wage service workers

Require companies to give workers stock and a say in corporate decisions, invest in their lowest wage workers, and spend Federal R&D funding in the US

End tax deductions for executive comp in excess of 100x the pay of the lowest-paid worker or contractor

Stop casino banking
For Labor Day, this is his list:
A living wage (which he implies is $10.40 an hour)

An Earned Income Tax Credit for low wage workers

Free child care

Good schools

Universal health insurance

Let labor organize
Now we have to point out that there is a wee problem with Reich's list, which is that the tacit assumption is rising income disparity is primarily the result of American workers being insufficiently productive by world standards. This chart shows what has really happened: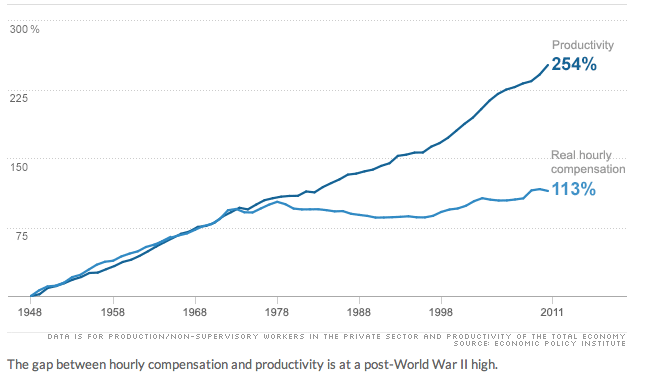 The big culprit is that companies no longer share the benefits of productivity gains with workers. Why has that come to pass? One big factor is indeed the decline of unions. Reagan breaking the air traffic controllers union was a signal that the Federal government supported union-busting, a reversal of the last three decades of policy. But while supporting unions for low-wage service workers and boosting the minimum wage is a long overdue step in the right direction, it serves more to place a floor under the worst-paid jobs than to restore the fallen standard of workers. The fact is that the Carter-Reagan policies also ushered in an era of using fear of inflation to tolerate higher ongoing levels of unemployment. Too many people chasing too few jobs gives companies the upper hand.
Now you can say that Reich does acknowledge that problem; for instance, he speaks of how companies don't see their fate as linked to that of worker, and he derides their rampant short-termism. But his policy remedies tell you what problems he's trying to fix, as opposed to give lip service to. His proposals are simply way too milquetoast to address the huge power imbalance between workers and corporations. If you are going to talk pie in the sky ideas like child care for all and free or close to free college education, something like Randy Wray's job guarantee is much more on target.
But more important, did you notice what is missing from Reich's list? Trade policy. Reich is explicit that he believes that Americans can't fight the march of more globalization. From his June post:
Economic determinists — fatalists, really — assume that globalization and technological change must now condemn a large portion of the American workforce to under-unemployment and stagnant wages, while rewarding those with the best eductions and connections with ever higher wages and wealth. And therefore that the only way to get good jobs back and avoid widening inequality is to withdraw from the global economy and become neo-Luddites, destroying the new labor-saving technologies.

That's dead wrong. Economic isolationism and neo-Ludditism would reduce everyone's living standards.
Notice the false dichotomy. You are either for closed markets or for "free trade". But as William Greider has pointed out, we don't live in a system of free trade. We live in a system of managed trade. And contra Reich's cheery assertion that we simply have to accept these inevitable forces, the fact is that our trade partners have negotiated deals with an eye to preserving trade surpluses and helping protect their workers. The US has come to assume the role of consumer for the rest of the world. Our trade partners are perfectly happy with the result, since our trade deficits are tantamount to exporting US demand to support jobs overseas.
Reich has maintained the opposite. He didn't just support Nafta in 1993. He specifically claimed it would produce more jobs. And even though the level of long-term unemployment was then at record highs, Reich opposed extending unemployment insurance but instead called for training, which is another face of the Clinton Administration posture of treating social safety nets as handouts that needed to be curtailed. In fact, the record shows that government training programs don't help the recipients get jobs. Employers, particularly in a weak labor market, seek workers who have performed pretty much the same role in similar businesses in the recent past.
And while it is true that education in America is slipping by international standards (and it was never that hot to begin with, when I was a teenager, everyone knew European secondary school education was on a par with most US college education), the pet fad of the policy classes, that we have a STEM (science, technology, engineering, and math) crisis is simply not supported by a look at where jobs are and what STEM graduates wind up doing (see this IEEE article for a one-stop debunking).
Now even though Reich in some of his interviews has tried to suggest that he wasn't 100% on board with Nafta, in fact, he's not only continued to support more globalization, he's also tried to shield the outsourcing industry from opprobrium. Consider the start of this 2012 post, The Problem Isn't Outsourcing. It's that the Prosperity of Big Business Has Become Disconnected from the Well-Being of Most Americans:
President Obama is slamming Mitt Romney for heading companies that were "pioneers in outsourcing U.S. jobs," while Romney is accusing Obama of being "the real outsourcer-in-chief."

These are the dog days of summer and the silly season of presidential campaigns. But can we get real, please?

The American economy has moved way beyond outsourcing abroad or even "in-sourcing." Most big companies headquartered in America don't send jobs overseas and don't bring jobs here from abroad.
Huh? My brother is in the outsourcing business and I can tell you this is hogwash. Entire industries have been not just outsourced, but entirely offshored. And executives in some of them have told me the economics weren't compelling but they went ahead because they knew Wall Street would give their stocks a pop. The furniture industry is one. Mid range shoe manufacture is another (that was a casualty of a failed restructuring at Interco, which owned a number of moderately priced brands). And to pretend this is a trend of the past is illusory. More and more white-collar work is going abroad. A few years ago, the big new wave was sending low level big firm legal work overseas. That threatens to do to much of the law profession what has already happened in the computer industry: make it hard to find entry level jobs where you can learn your trade. Alan Blinder in 2007 estimated that a full 29% of US jobs were offshorable. This sadly is a trend that still has a way to run.
So why did Reich take that position? Was it simply election year Democratic party tribalism? It's likely more is at work.
Reich has been a speaker at major offshoring industry events. In 2008, Reich was a keynote speaker at the International Association of Outsourcing Professionals World Summit:
Outsourcing Insights-January 2008
Reich was a keynote speaker at a different outsourcing organization's, the World BPO/ITO's 2012 conference. Now sometimes individuals can participate in dubious-looking conferences and maintain their integrity because they have been invited to serve as an official irritant. But that doesn't appear to be the role Reich was serving at either confab. And while I'm not up on what former Cabinet secretaries get paid to deliver keynote addresses, I doubt that it's shabby.
And there's an even bigger reason Reich's position is an intellectual sham. Nafta put in place a framework that weakens national regulation and makes it harder for governments to support target industries. Those subsidies can be challenged as violations of trade rules. Reich of all people should know full well that the sort of "national strategy" he advocated last year as part of his wish list for labor can't be implemented in the muscular manner he suggests with WTO rules in place.
And forget about reining in casino finance. We've discussed Nafta in passing when talking about the pending Trans-Pacific Partnership and US-EU trade pacts. It's critical to understand that they build on and extend principles promulgated in Nafta. We quoted trade watchdog Public Citizen in a May post:
The draft text of the Trans-Pacific Partnership (TPP), a NAFTA-style FTA under negotiation between the United States and 10 Pacific Rim countries, contains the same limits on financial regulation as the WTO, and more. In addition, these rules would be privately enforceable by foreign financial firms that could "sue" the U.S. government in foreign tribunals, which would be empowered to order payment of unlimted sums of U.S. taxpayer money if they saw our laws as undermining such firms' "expected profits." Also, even as the International Monetary Fund has officially shifted from opposition to qualified endorsement of capital controls, which are used to avoid destabilizing floods of speculative money into and out of countries, the TPP would ban the use of these important regulatory tools. Despite years of pressure from former House Financial Services Committee Chair Rep. Barney Frank to permit capital controls, the Obama administration is the strongest promoter of this ban in the TPP.
See another section of a Public Citizen discussion:
So-called "trade" agreements – both existing and proposed – limit the domestic-policy options lawmakers can pursue in areas that are not trade related. The WTO enforces 17 different agreements, only a handful of which relate to tariffs and quotas – the traditional terrain of "trade policy." Others limit subsidies governments can provide to green industries, forbid domestic economic stimulus funds from being directed to domestic workers and firms, set parameters for how our health-care system is managed, and even constrain how our federal and state governments can expend our tax dollars in government procurement. (The North American Free Trade Agreement and similar pacts contain analogous provisions, and also empower foreign investors to sue governments directly for violating certain rules.)
In other words, Reich is performing a monstrous sleight of hand. He tells rapt audiences that he's all for just about everything on labor's wish list. But then he shakes an adult finger and says, "Yes, but you must work hard and have good skills to compete with those diligent Germans and Chinese." He then proposes subsidies and training and a grand national strategy to build up target industries, while failing to tell his following that the very trade rules he's touting as inevitable and even helpful make the pro-labor program he pretends to back impossible.
I hope journalists will ask Reich if he supports the TPP and the US-Europe trade deal. Reich could redeem his record and show he is fully on board for reversing the fallen position of the American middle class by taking a principled stand against these pacts. And if not, we'll know he's just a better, more sympathetic salesman of neoliberalism by dangling a bright, shiny toy in front of downtrodden workers to divert their attention from the multinational-enriching, regulation-gutting legislation that Obama is keen to implement.