By David Llewellyn-Smith, founding publisher and former editor-in-chief of The Diplomat magazine, now the Asia Pacific's leading geo-politics website. Cross posted from http://www.macrobusiness.com.au/2013/09/will-the-fed-ever-taper/">MacroBusiness
You know something is going wrong when the heads of the largest fund manager in the world and the largest bond management firm simultanously scream "bubble". From Bill Gross last night:
All risk asset prices artificially high. When won't they be? When they don't produce growth in real economy. Is 2% GDP enough?
And Larry Fink, CEO of Blackrock, from Bloomberg:

"It's imperative that the Fed begins to taper…We've seen real bubble-like markets again. We've had a huge increase in the equity market. We've seen corporate-debt spreads narrow dramatically…We have issues of an overzealous market again."
Yep. Here, there and everywhere. Here's a neat enough take on what's driving it all, from PFP Wealth Management:
In the 1960s and 1970s, mid-western American states fell victim to scores of wildfires. Constant interventions by the US Forest Service appeared to have little positive impact – if anything, the problems seemed to worsen. Over time, foresters came to appreciate that fires were a normal and healthy element of the forest ecosystem. By continually suppressing small fires, they were unwittingly creating the conditions for larger and less containable wildfires in the future. Naturally occurring fires are necessary to remove old forest cover, underbrush and debris. If they are suppressed, the inevitable conflagration to come has a far greater store of latent fuel at its disposal.

The analogy, of course, is with the financial markets under central banking maestros like Alan Greenspan, Ben Bernanke and now "our own" Mark Carney. During the regime of 'the Greenspan put', numerous small fires in the market – including the failure of Long Term Capital Management, the dotcom bust, and a property market correction – were doused with plane loads (helicopter loads ?) of easy money. Even then, equity market investors have endured two bear markets over the past decade or so that have seen market valuations halve. Perhaps the mainstream policy response to any hint of likely economic hardship should not simply be to slash interest rates, in the same way that the best response to recalcitrant children should not simply be to smother them with sweets.

There is a glaring hole at the centre of modern economies. It is called central banking. We accept (or should do) that the modern economic world is highly complex, with practically infinite interactions between countries, governments, exchange rates, interest rates, stock markets, corporations, households, entrepreneurs, and consumers. In most areas we also accept that free markets are perfectly capable of driving Adam Smith's "invisible hand" to ensure that enlightened self-interest benefits the many as opposed to the few. But that one institution – the central bank – is even capable of mastering such complexity and fine-tuning the workings of a highly complex economy through the brute mechanism of dictating the price of money is barely discussed. Of course central banks have now gone far beyond their original mandate of tweaking interest rates; in the words of Jim Grant,

"At the heart of the Fed's regime is the subordination of freely discovered prices to policy goals."
And is it going to stop? The US data overnight was lousy with consumer confidence missing consensus by a wide margin and wiping out 2013 gains: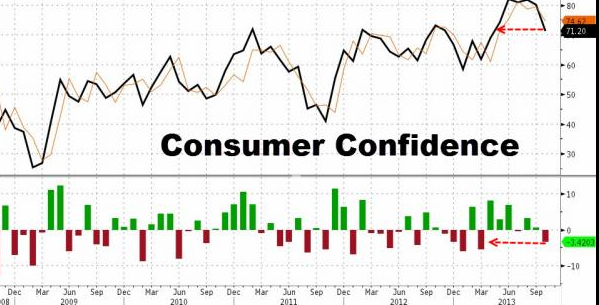 Retail sales were also out and were lousy: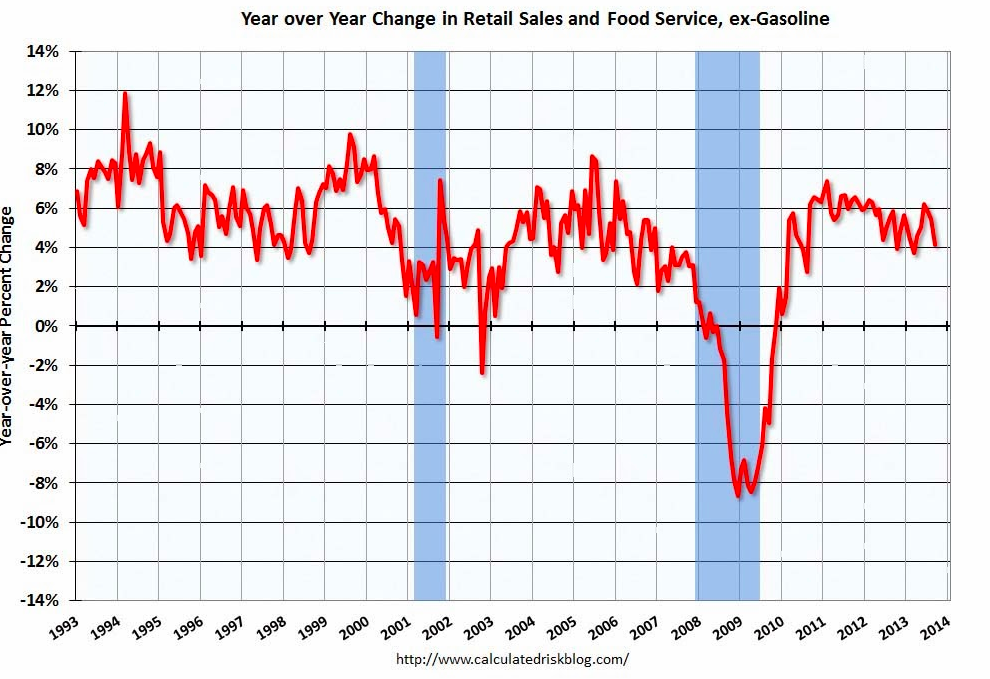 The U.S. Census Bureau announced today that advance estimates of U.S. retail and food services sales for September, adjusted for seasonal variation and holiday and trading-day differences, but not for price changes, were $425.9 billion, a decrease of 0.1 percent from the previous month, but 3.2 percent above September 2012. … The July to August 2013 percent change was unrevised from +0.2 percent.
Nothing unexpected given the shutdown but excuse enough to push stocks to new record highs on the magically vanishing taper. As I wrote earlier this week, we're into a new era in which asset inflation transpires without the accompanying economic benefits. It's a trap for central banks, including Australia's.
Will they pull out of the trap? The following exchange between ersatz Nobel economist Eugene Fama and CNBC's Rick Santelli offers a hilarious a guide:
The delay to tapering has triggered a blow off phase in post-GFC global markets. Enjoy it but don't believe it, stay nimble, and make sure you're in cash in time.