By Richard Smith
I do hope you noticed the first comma in the headline. I'll get around to the FBI raid in a minute (OK, there was only one).
Haymarket Publishing was founded by Michael Heseltine in 1957, and somehow managed to grow fast and safely, and fund his political ambitions, which were considerable. Heseltine was a prominent figure in the governments of Margaret Thatcher and John Major.
Heseltine was quite a left wing Tory. In today's terms, that would put him some way to the left of Obama, I suppose. In 1990 he stood for the leadership of the Conservative Party against Margaret Thatcher. He was unsuccessful, but, coupled with the fabled savaging by a dead sheep, his leadership challenge led to Mrs Thatcher's resignation. Nowadays Lord Heseltine sits in the House of Lords, and was, until quite recently, still paying a fair amount of attention to Haymarket; his son Rupert is now chairman. Haymarket, meanwhile, has got quite big:
It has publications in the consumer, business, professional and customer sectors, both print and online. It also operates exhibitions allied to its own publications, and on behalf of organisations such as the BBC. The company has expanded outside the UK in recent years.
One of the magazines in its stable is "What Car", which bills itself as Britain's biggest and best car buyer's guide. I am no more an aficionado of car buyer's guides than I am of men's fashion magazines, but I think "What Car" is telling the truth about that.
I am not so convinced that this is 100% on the level, however:
CARBON NEUTRAL INVESTMENTS – LEADERS IN THE VOLUNTARY CARBON OFFSET MARKET

London, 20 September 2011 – The innovative group that pioneered carbon off-setting across high-octane sectors under banner AGT Investments has re-branded, becoming Carbon Neutral Investments (CNI) – reflecting the company's focus on the carbon market and its own corporate policy of carbon neutrality across global operations.

CNI maintains its position as one of the world's leading, and fastest growing, provider in the voluntary carbon offset market, and specialises in the sourcing, purchase and selling of Voluntary Emissions Reductions carbon credits (VERs), supporting carbon-offsetting projects around the world. In partnership with one of the largest wholesalers of voluntary carbon credits, CNI focuses on addressing and delivering companies' environmental obligations by offering thorough 'cradle to grave' environmental audits by the most respected consultants in the sector.

The company's highest profile clients come from the world of high-octane sport, including several motorsport concerns, power boat racing – including British innovators Linley-Swan Racing, high performance vehicle manufacturers and aviation companies. This year CNI has concluded several 'firsts' in the sector, supplying the credits for Hope Racing – making it the world's first carbon neutral Le Mans race team.

Also the company sponsored 2011's What Car? Green Awards on the eve of London's first ever eco-car motor show – EvoVelocity – held at Battersea Power Station. CNI's off-set of the What Car? awards covered both the ceremony and all guests', participants' and sponsors' journeys to and from the function – making this year's awards truly green for the very first time.

CNI's partners bring over 50 years' market expertise in the carbon offset, emissions trading and clean technology sectors, and operate out of a London headquarters supplying partners across Europe and the Middle East.

CNI Co-chairman, Thomas Knifton, commented: "We support a small number of carbon-offsetting projects around the world, which allows us to focus on our very exacting criteria and get to know the organisations intimately. For example, this year's What Car? event supported a 25.3 mega watt electricity-generation project in China, meeting power demand that was originally supplied by East China Power Grid plants. The project significantly reduces the emission of harmful gases, provides improved local infrastructure across three districts (Tonglu, Jiande and Guangde), and creates much needed localised employment."

James Brown, Co-Chairman, added: "Carbon offsetting is increasingly becoming essential across industry, and particularly in manufacturing. In supporting brands like What Car? we can demonstrate to the British economy's biggest industry how easy and cost effective this can be with international experts like CNI in your corner. This is true in any sector, which is why, in the new CNI structure, we have created specialist sector divisions."

Carbon Neutral Racing, Carbon Neutral Aviation, Carbon Neutral Marine and Carbon Neutral Automotive make up CNI's corporate structure, which collectively have access to over six million VER credits globally. Fully FSA regulated, members of the London Stock Exchange, and with operations in niche sectors of the market, e.g. the Alternative Investments Market (AIM), CNI is leading the way in addressing and delivering business' corporate social responsibility needs around the world.
At the bottom of the page, one finds the hapless then-president of GM Europe, Nick Reilly, sandwiched between the clean cut Thomas Knifton (left) and the shaven headed James Brown (right).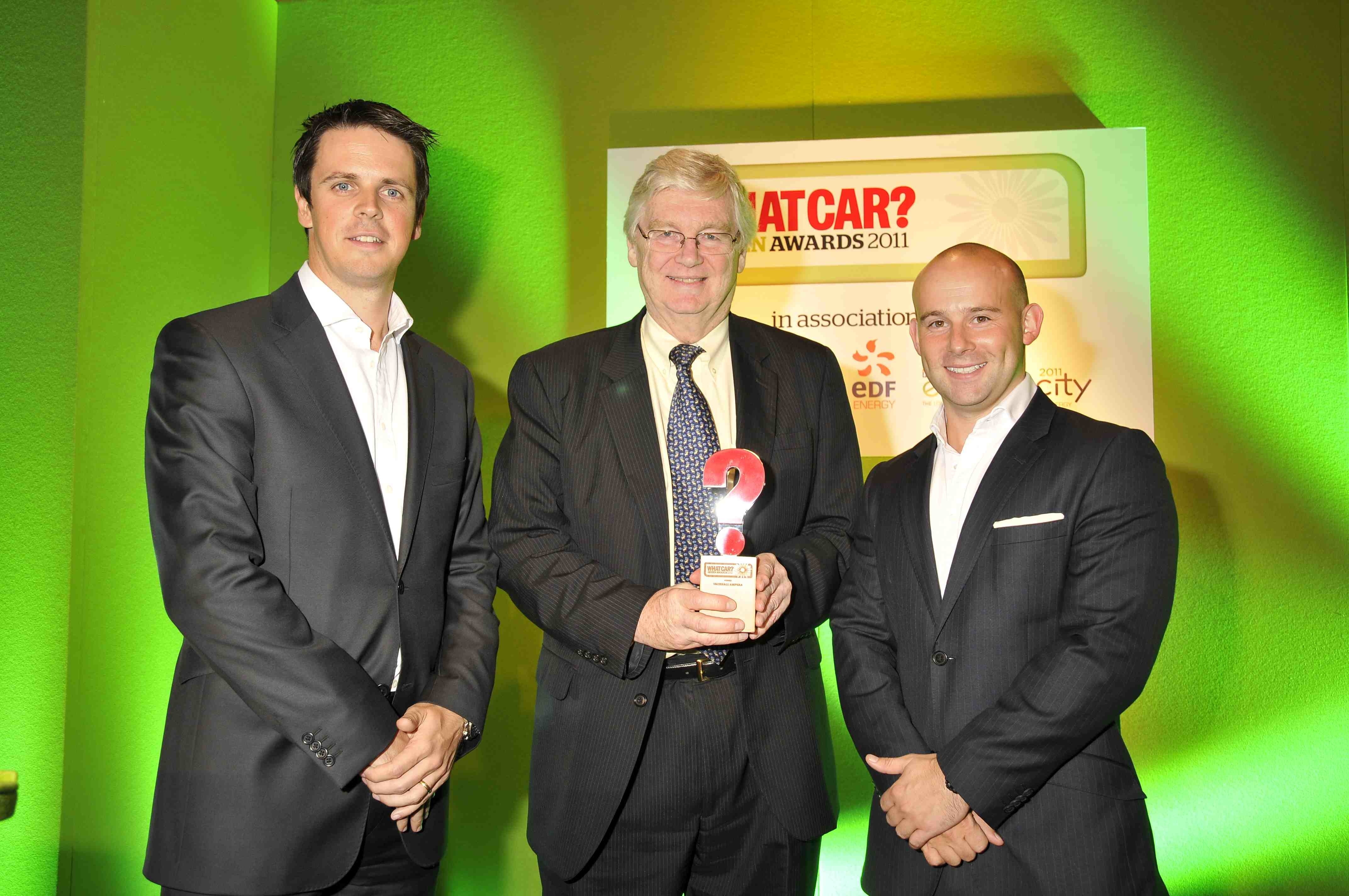 Why hapless? Well, partly because of this (you have seen it before and you will see it again):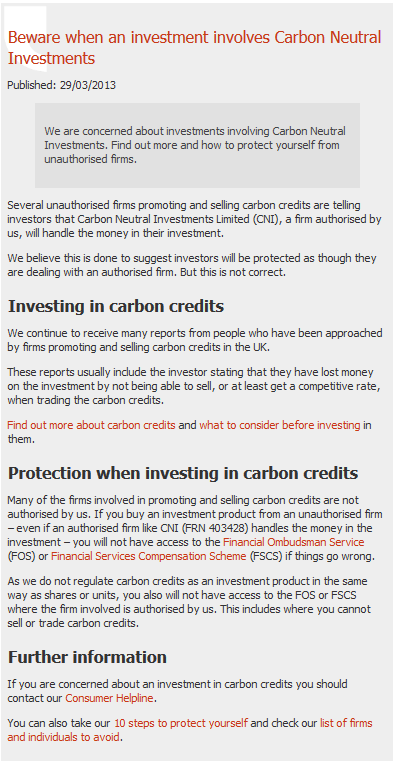 …but partly, also, because of a Wayback Machine capture of www.cn-investments.com from 29th October 2011, a month after that photo. Meet the Partners, it says. Let's make a start on that:
CNI's 3 principle partners (Thomas Knifton, James Brown and Paul Seakens) bring 50 years market experience to the company. Having founded the company in 2004 CNI has gone from Strength to Strength
We shall skate over the spelling, capitalisation, grammar and punctuation, which isn't going from Strength to Strength, and which might have caught the attention of someone at "What Car", had anyone been looking. Let's get to the meat. Brown meat, first: the shaven-headed James.
James Brown

After completing a BA Hons Degree in Business studies from the University of Plymouth and a Diploma in Particle Physics from Oxford University, James started his career founding a printing and promotions company. This was later sold to fund the formation of multiple web based and high-street retail outlets. Following this James won the highly coveted entrepreneur of the year award sponsored by heart radio and Urban Splash, prompting expansion into other sectors.

Moving into the financial sector James worked in the city trading as an advisory stock broker increasing his sector knowledge and Gaining member status to the Chartered Institute of Securities and Investments (MCSI). James' entry into the carbon market came alongside Thomas Knifton and Paul Seakens, founding Carbon Neutral Investments, keen to capitalise on the rapidly expanding market.
With his background in Business Studies, James has somehow gained a "Diploma in Particle Physics from Oxford University". Well, as enquiries to a polite but baffled Oxford University Student Records Office revealed, that isn't true. Not so much because Brown's not on their records (we never got that far); more because there is simply no such thing as a Diploma in Particle Physics from Oxford University. The University's SRO even referred me to the Department of Physics for final confirmation.
So much for Mr Brown. It did look fake, to be to be honest, but there's no harm in checking: an idea that evidently didn't occur to his fellow directors, nor to "What Car", for that matter.
Mind you, I can understand why Thomas Knifton might shy away from scrutinising anyone else's career. His own is quite spectacular, and nothing like the version at cn-investments.com, which said this:
Thomas Knifton

Tom started his career over 10 years ago as a stockbroker and in 2001 launched his own brokerage catering for discreet high net worth clients and corporate advisory work.Tom's entry to the carbon market was trading EUAs and CERs culminating in launching Carbon Neutral Investments with James Brown and Paul Seakens to capitalise on what we feel is the fastest growing market, bringing a sense of control and stability into an unregulated field.Tom is a keen rugby player and an avid sailor. He can often be found on the Old Classics at Cowes or the fast paced racing yachts on the East Coast.
Let's haul out the official, FSA version of his city career and see what matches. I have sorted it into start date order, which seems to have been a challenge too far for the FSA's web site developers:
So Beaufort Securities would be the firm Knifton founded in 2001, then?
Nope: that's been around since 1992, according to the FSA. In fact I think I remember it: if my memory isn't paying tricks, and I suppose I should check, it used to be called Hoodless Brennan. But of course, "a brokerage catering for discreet high net worth clients and corporate advisory work" would be regulated by someone, somewhere. Maybe, at the same time as serving his 18 month apprenticeship at Beaufort, Knifton was running some offshore brokerage. I think it's more likely that he just made this bit up though. It's a pity he doesn't mention its name. But then, strikingly, none of the firms in the FSA's Knifton records appear in his career summary at cn-investments.com, at all. Let's see if we can work out why.
Knifton only lasted a month at Sky Capital, which finally blew up spectacularly in 2009:
Up to 400 retail investors in the UK are alleged to have been conned out of more than $110 million (£68 million) in the giant "boiler-room" investment fraud that saw a host of arrests in New York, it emerged today.

The FBI yesterday arrested the founders and senior directors of AIM-listed Sky Capital Holdings on charges that they ran a $140 million investment fraud for eight years.

Federal investigators swooped on the six men after a three-year probe into allegations of investment fraud and share price manipulation on the London Stock Exchange.
So there is the promised FBI raid. Once can hardly blame Knifton for his brief sojourn at this dump; just coincidence.
Or it would be, except that his next stop, three months this time, was at Wills Stockbrokers. That looks careless:
The City watchdog, the Financial Services Authority (FSA), considered Wills & Co, the stockbroker that failed this year, as a 'low impact' firm not requiring monitoring three years before its collapse.

In response to a freedom of information request from Citywire the FSA has disclosed that although Wills & Co was fined £49,000 in 2007 for failing to outline the risks attached to penny shares it was selling, the regulator had rated the company as being in a low risk category not requiring specific assessment.

The regulator's supervision of the stockbroking sector eventually led it to restart investigations into Wills & Co in 2009 and the broker formally went into default in July this year, with claims from clients now passed to the Financial Services Compensation Scheme.

The fact that Wills & Co was deemed a 'low impact' firm meant that even after its £49,000 fine in 2007, the company was able to carry on with its aggressive sales practices.

However, by February 2010 – some three years later – the FSA's baseline and thematic supervision of the wider sector led to a supervisory visit, during which it found that the same failings identified in 2007 persisted.
Knifton's next brief stay was at TAM Asset Management, about which I can find nothing to say, except that if Knifton liked it, I don't.
And then Knifton got into his stride: we are into the Falcon Securities/Montague Pitman years, 2007-2011. Here's how that went:
In January 2010, the Financial Services Authority issued a Final Notice to a company called Falcon Securities about the way its subsidiary Montague Pitman Stockbrokers dealt with clients. The Financial Services Authority said that it would have fined Falcon Securities £240,000 except for the fact that the company went into administration.

The Knifton family's fingerprints were all over this boiler room operation. Falcon Securities was a subsidiary of Alltrue Investments, whose chairman was Leo Knifton, Thomas Knifton's father. Montague Pitman was founded by Richard Beese, David White and Thomas Knifton.

(Richard Beese and David White are also directors of a company called Bwcarbon Ltd, which shared the same address as MH Carbon, until MH Carbon changed its registered address. MH Carbon appears to be another boiler room carbon credit operation.)

At the time of the launch, Alltrue Investments owned 57.9% of Montague Pitman. Leo Knifton said,

Montague Pitman are a private-client stockbroker in the heart of the City, providing dynamic investment solutions across a range of financial products in today's fast moving markets. They provide Private Investors with real time professional advice covering all major UK indices, including the FTSE 100, All Share, AIM and PLUS Markets as well as on PEPs, ISAs and CFDs.

But the FSA's Final Notice makes clear that the "professional advice" provided by Montague Pitman sales team was in fact a high pressure sales pitch:

In 18 of the 38 transactions reviewed by the FSA, the adviser gave the client the impression that there was a need to move quickly to purchase shares, including suggesting that the firm had a limited allocation of shares which were already selling fast and could be sold out by the end of the day. Although it is possible that that they could have been sold out, analysis actually showed MPS continued to recommend the shares to other clients for several days after the recommendation.

An article in the Financial Times about Falcon Securities ran under the headline, "The little bucket shop of horrors".
Well, we are closing in on 2,500 words. I'll leave Paul Seakens' career highlights, such as they are, for another time, if that's OK.
To sum up: two blokes, with two fake career resumés, an £80 million investment fraud (and an FBI raid as a side order), two boiler rooms shut down by the FSA. and a current scam warning from the FCA.
Great partner choice, "What Car" people! Great supervision, FCA!
Here are "What Car" and Haymarket, still proudly displayed on CNI's web site, like grinning skulls in some predator's trophy display. You can click to make the picture bigger and admire the other mugs, who will be the subject of a couple of round-up posts: there are just too many of them. Influence, a PR agency of some kind, near as I can make out, seems like the veteran partner among them; good job, Influence!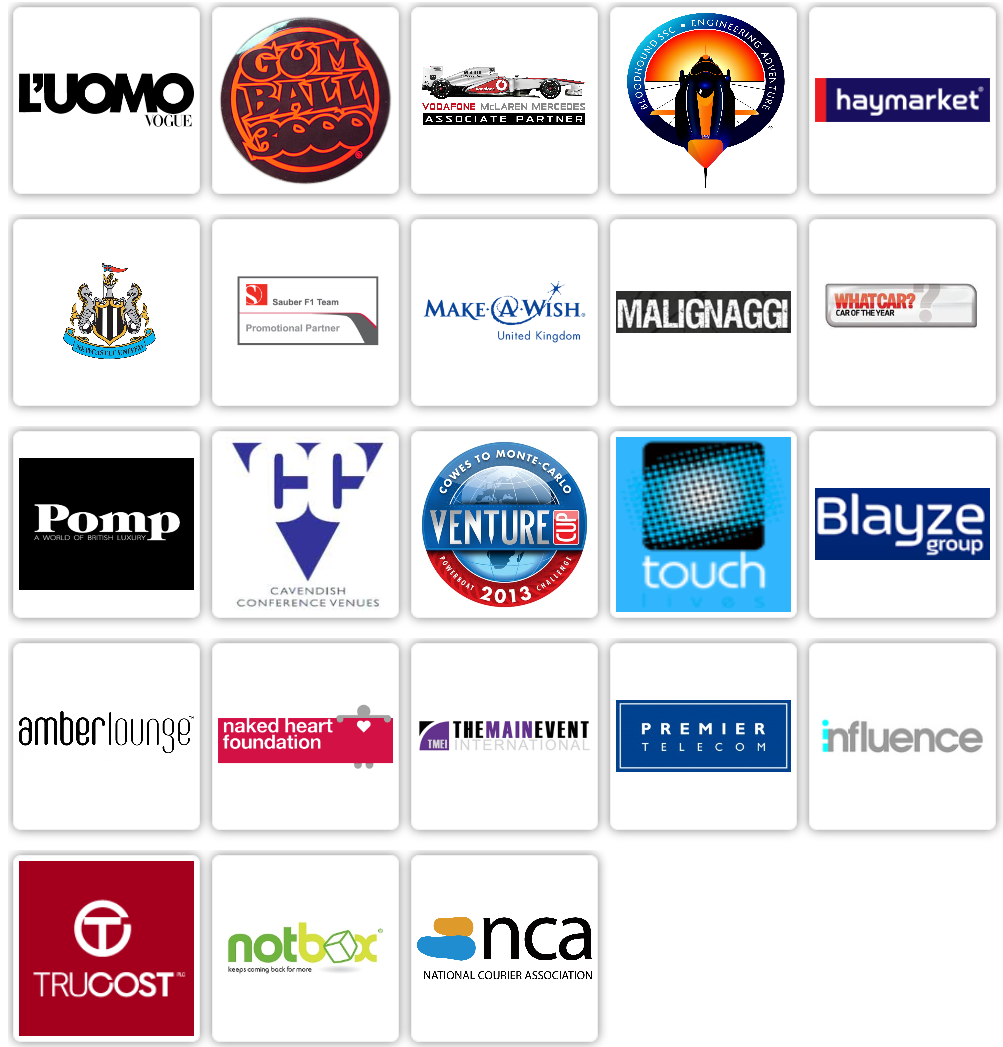 I wonder what Lord Heseltine would make of this; particularly, of the folk who inked the deal with CNI; and of the FCA's current uncomfortable posture: issuing warnings about a firm that it continues to authorise.
It occurs to me that I could simply ask his lordship, or at least, his PA. Lord Heseltine might want to compare notes with Michael Bloomberg and Sauber F1, too.