The series so far:
How Novice Eco-Warrior Michael Bloomberg Ended up Looking as if he Endorses Carbon Credit Scams
The Glam and The Scam: Sauber Formula 1 Team and its Partner, Carbon Neutral Investments, Limited
FBI Raids, Lord Heseltine's Haymarket Media Group, Financial Regulator "Crackdowns", "What Car" Magazine…and Carbon Neutral Investments Limited
The Careless Organizers of Gumball 3000 are Hooked Up with Boiler Room Scam "Servicers" Carbon Neutral Investments
Carbon Neutral Investments' Trail of Disaster: How Carbon Credit Con Artists use Google Adwords to Work the Recovery Scam
McLaren F1 & Jenson Button One Minute, Boiler Room Scams the Next: the Remarkable Double Life of Carbon Neutral Investments, Limited
Why is Google Censoring Search Results to Nix Warnings Just Like Ones Issued by a UK Regulator?
By Richard Smith
Right at the top of Carbon Neutral Investments' April 2013 client list, we find Advanced Global Trading. Over at the AGT web site, it becomes pretty obvious that they have a thing going with the Lotus Formula 1 team: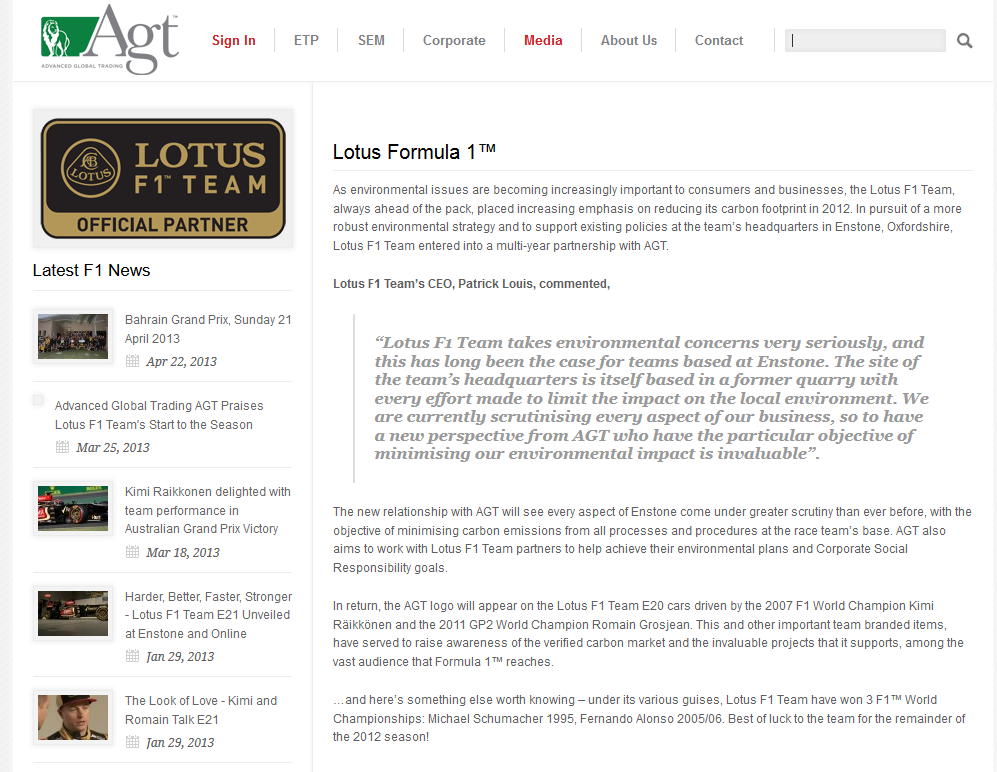 And indeed, it is so. In April 2012 Lotus announced a deal with AGT:
Through commitment from existing partner Trina Solar and through a new relationship with Emissions Spot Trading organization Advanced Global Trading (AGT), Lotus F1 Team is targeting significant carbon emission reduction and carbon neutral status in 2012.

The new relationship with AGT will see every aspect of Enstone come under greater scrutiny than ever before, with the objective of minimising carbon emissions from all processes and procedures at the race team's base. AGT will also work with Lotus F1 Team partners to help achieve their environmental plans and their Corporate Social Responsibility goals.
…

Patrick Louis, Chief Executive Officer, Lotus F1 Team:
"Lotus F1 Team takes environmental concerns very seriously, and this has long been the case for teams based at Enstone. The site of the team headquarters is itself based in a former quarry with every effort made to limit the impact on the local environment. We are currently scrutinising every aspect of our business, so to have a new perspective from AGT who have the particular objective of minimising our environmental impact is invaluable. Trina Solar have assisted us through their solar power technology for a number of years and we are proud to be part of their commitment to Plant-for-the-Planet Children's Initiative."

About Advanced Global Trading (AGT):
AGT is one of the world's most dynamic and fast-growing Emissions Spot Trading organisations within the voluntary Carbon Credit market. AGT's passionate team of emissions professionals specialises in the sourcing and trading of Verified Emissions Reduction Carbon Credits (VERs) in the dynamic over-the-counter (OTC) green market. Nominated for Best Sustainable Investment at the 2011 International Green Awards, AGT's specialist commitment to both historically-lucrative Carbon Credit trading for individuals and also encouraging companies to retire Carbon Credits as part of their CSR programmes, has helped it quickly become a global industry-leader, employing over 140 traders in the UAE, UK, Switzerland, USA, South Africa and Spain.

For further information, please visit AGT's website:
http://www.advancedglobaltrading.com
The deal, whatever it was, led to AGT's appearance on Lotus's Official Team Partner page, for that is what Lotus call sponsors, these days. Has AGT been paying Lotus sponsorship fees, for a bit of reflected glamour? That's one possibility.
Whatever: look again at the "latest news" (left column) in that website screenshot, taken in the last few days: since April, AGT seem to have completely lost interest in  the Lotus Formula 1 team, having reported their doings in some detail up until then. In fact, Lotus have been up to plenty since April: a string of podium positions has left them 4th in the constructors' championship, between McLaren and Ferrari. But none of that seems to rate a mention from AGT. It looks as if the lights are on at AGT, but nobody's at home.
A series of posts from redd-monitor give us an idea as to why that might be. On 9th May, redd-monitor asks "Advanced Global Trading: Another boiler room scam? Or a Ponzi scheme? Or both?":
Advanced Global Trading sells voluntary carbon credits to members of the public as an investment. The company's brokers cold call people and attempt to persuade them to invest. "For a minimum investment of $25K you too can invest in Carbon and make a difference," the company states on its website.

…

The company's director is Charles Stephenson. In an interview in September 2011, Stephenson explained why he likes to invest in carbon credits:

"The potential to make money in this commodity is huge and I practise what I preach. It's a commodity that never goes down and the market is set to double or even quadruple. It's also an added bonus that I know investing in carbon credits goes some way to help the environment along the way."

Later in the interview Stephenson said, "I'm currently looking at buying a new Ferrari that I've had my eye on for a while."

…

What price do AGT's brokers charge for their voluntary carbon credits? In January 2013, Pete Barnes commented on REDD-monitor that "Advanced Global Trading are charging US$14.97 per credit." In March 2013, Julius Cobbett, a South African journalist, reported that AGT offered him voluntary carbon credits at US$15.47 per ton.

These prices are pretty high. Ecosystem Marketplace and Bloomberg New Energy Finance reported in their State of the Voluntary Carbon Markets 2012 that the average price for VERs in 2011 was US$6.2/tCO2e, up from US$6/tCO2e in 2010. The range of prices was "from less than $.1/tCO2e to over $100/tCO2e in 2011″. Cobbett points out that AGT doesn't usually let clients choose the specific projects that their VERs come from (meaning that clients don't know beforehand whether AGT is selling VERs from large projects in China or India that are worth very little).

But unlike many companies that sell voluntary carbon credits as investments, AGT also offers a way of selling them, via its "Trading Platform". Using this, AGT's clients can see AGT's current price and can buy and sell voluntary carbon credits 24 hours a day.
…
How can AGT offer this service? Simple. The carbon price on AGT's Trading Platform is not based on the price that other companies sell VERs. It is based on the price that AGT's brokers can sell VERs to new customers. And that price keeps going up, as shown by this graph in an AGT publication dated November 2012 (page 58):

Let's ignore the fact that there are no units on the Y axis, the price. That doesn't really matter, as long as the price keeps increasing. As long as AGT brokers can sell VERs at ever increasing prices to new clients, AGT stays in business. As long as all their clients don't want to sell their VERs at the same time.
Note, by the way, the alleged large purchase of carbon credits by Lotus F1.
With sublime timing, on the 14th May, the UK's financial regulator, FCA, open a flank attack. They issue an investor warning about Rare Earth Metals (aka Strategic Earth Metals or SEMs), which they categorize as an investment scam:
An increasing number of people are being approached by firms promoting investments in rare earth metals and related schemes.

Rare earth metals are chemical elements used in the manufacture of products like computers, mobile phones, batteries, satellites and wind turbines. They may also be called 'rare earth elements'.

Despite being called 'rare', these metals are some of the most abundant resources – their name comes from the difficulty in extracting them from the earth.

Why we are concerned

We are yet to see any convincing evidence that there is a viable market for retail investors to make money from investments in rare earth metals.

Manufacturing companies that use the metals almost always buy them in very large quantities, making it highly unlikely they will deal with small independent retail consumers.

It has been reported to us that callers promoting investments in rare earth metals are using dubious, high-pressure sales tactics and targeting vulnerable consumers.

We believe the firms promoting investments in rare earth metals have previously been involved in selling other high risk and unregulated products such as carbon credits, fine wines, land without planning permission and overseas land and crops.

There is a strong possibility of fraud with each of these products, including rare earth metals, because they are unregulated and it is difficult to confirm that the product or scheme exists, especially when it is said to be based abroad. It seems unscrupulous brokers attempt to take advantage of this uncertainty to get people to invest.
It happens that AGT is based outside the UK, sells carbon credits, and pushes SEMs, too. In other words, this FCA warning fits AGT's modus operandi to a 'T'. It is unreasonable to call it a coincidence.
Oblivious to this new calumny, AGT fire back rather feebly at redd-monitor on 21st May:
Yesterday, Ian Hainey, AGT's Public Relations Director wrote to REDD-Monitor. Unfortunately he provided no information to explain AGT's ever more valuable carbon credits. He doesn't object to the article, apart from the headline and the final paragraph.
and on 27th May, positively sulkily.
We therefore do not intend to give any credence to your blog's postings, statements and/or opinions and see no utility for our clients or stakeholders in corresponding with you again.
On the 31st May, AGT's lawyers make a defamation complaint, covered at this NC post to Google, about redd-monitor's May AGT blog posts and comments on those posts. Google.co.uk makes sure any search results that include redd-monitor's May AGT posts don't show any of the content; all the other Googles leave their search results uncensored. That demonstrates, perhaps, the low esteem in which English libel law is rightly held, around the world, and certainly, the futility of the complaint.
On 4th June, the Dubai Ministry of Economic Development decides not to renew AGT's trading license (just click "OK" to get past any Google Maps API message that might appear, the Dubai Med has a minor website bug).
Then we have the inevitable denouement on the 28th June:
A group of clients have filed formal complaints about a local company that sells carbon credits as a green investment.

Advanced Global Trading (AGT) claims that its investors can make 30 per cent returns by buying and selling carbon credits. But AGT clients say they have been unable to liquidate their investments for months, and market experts say the assets AGT sold have little to no resale value.

At least five investors have filed complaints with Dubai Public Prosecution and the Dubai Department of Economic Development (Ded).
…
"Now we are waiting for the prosecutor to say his word," said "Ahmed", an AGT client who spent US$100,000 (Dh367,320) on credits.
We're still waiting: it takes time. I expect there will be many more than 5 complainants, in the end. While the prosecutors mull it, let's try to get some idea of the possible damage. If we take AGT CEO Charles Stephenson's word for it, here's the average client balance, mid 2012:
"We have numerous clients who have reduced or sold their gold positions to increase their carbon position in large quantities, given the average opening balance across our clients is $36,000 with an average balance overall of around $150,000 and a significant number of our clients trade up to $5 million," Stephenson added.
According to Stephenson, the clients numbered around 1,000 by the end of May 2013, when the wheels had started to come off AGT. So that's 1,000 clients times $150,000 balance.
Since Stephenson is in hype mode here, one can't just accept his word uncritically; except that if it's hype, this figure is improbably low: how on earth do you fund offices in Dubai, 50 staff, the boss's Ferrari, lavish marketing junkets and worldwide expansion plans, from the dealing spreads, fees and commission (1.5%) on a mere $150Mill? Even for short term show, that only works if you are grabbing a huge chunk of the client's principal, somehow. The National, a local newspaper, has an idea about how that might work:
The average price for the type of credit AGT sells was about $4 in 2012, the most recent data available.

AGT clients pay about $15 per credit.
But AGT aren't keen to confirm a dealing spread of that magnitude:
Mr Bayati would not answer questions about pricing, saying it was proprietary information. As a broker, the company provides an online trading platform and connects buyers and sellers, earning 1.5 per cent in commission.

No client has ever lost money, according to Mr Stephenson.

"Our process is you buy on our platform and you sell on our platform," he said. "The price on our platform hasn't gone down."
Righty-ho. So I think Stephenson is telling the truth about the balances and the number of clients. Maybe we can pencil in that $150Mn as the purchase cost of investor assets now apparently locked up in the non-trading AGT, but, one hopes, safely recorded on some register, somewhere. Mind you, a year's worth of vigorous selling, extracting fresh commitments from existing clients, may have inflated the figure even more.
Meanwhile, back in Glamland, Lotus Formula 1 team seem to be having an acute spot of bother with their funding, to judge by last Sunday's explosion from their mostly very very laid back, but occasionally snarly, no 1 driver, Kimi Raikonnen, the 2007 F1 World Champion:
An angry Kimi Raikkonen has confirmed he had to be talked out of refusing to drive at this week's Abu Dhabi GP in protest at being "paid zero euro the whole year".

Raikkonen announced in September that he will leave the team at the end of the current campaign to return to Ferrari. Since then, his relationship with the Enstone outfit appears to have deteriorated rapidly, culminating in a sweary radio spat with trackside director Alan Permane at last week's Indian GP and the Finn's absence from the Abu Dhabi paddock on Thursday.

It has now emerged that Raikkonen was prepared to skip this week's event having grown exasperated with the team's failure to pay his wages – and will miss the final races if "an understanding" on the belated payment of his wages is not respected.
Now, it's not unheard of for an established F1 driver to ply his trade for nothing; they can afford it, for a while. It's done on the understanding that when the funding gap is filled, the driver gets some back pay. And that seems to be the deal here, except that it's broken down.
F1 teams aren't in the business of deliberately making promises they can't keep, either, so something's gone wrong: Lotus isn't getting all the cash it was expecting, or hoping for; that has been quite a problem recently. So, Lotus F1 are scrabbling around for more funding.
Evidently there's another sponsor that is in the process of disappointing Lotus F1: Advanced Global Trading. If AGT has folded its tents and departed into the night (all indicators point that way), there'll be yet another sponsor to find; not a happy reflection, but part of life in Formula 1. More to the point, payments from AGT to Lotus, if there were any, would be a redirection of the imprudently invested life savings of several hundred naive and reckless small retail investors; whatever you make of their investing acumen, that's not a happy reflection either.
Alternatively, if the money flows in the other direction in that deal,  AGT may have sold millions of dollars worth of overpriced carbon credits to the strapped-for-cash Lotus, and managed to get the AGT logo displayed on some very expensive, credibility-enhancing real estate: Lotus F1's cars.

Nice work.
Either way, it's  no wonder the Lotus press office haven't yet replied to Redd-monitor's pointed questions about their relationship with AGT, sent on the 12th August.
All very embarrassing…and there's something here for Sauber and McLaren, to think about, too. They both have deals with AGT's ex-partner, Carbon Neutral Investments.