Pete Seeger, Songwriter and Champion of Folk Music, Dies at 94 New York Times
This student-designed portable home may be the most beautiful tiny house we've seen Grist
New Ambassador Caroline Kennedy Shocks the Japanese with Her Strong Criticism of Japan's Cruel Dolphin Slaughters. What Comes Next? Alternet (Carol B)
Vatican dove release was like tossing out sausages with wings, experts say Washington Post
A Vast Toll Away From Nazi Death Camps New York Times
Wehrmacht had 'policy of starvation' in Leningrad DW
Genetic Weapon Against Insects Raises Hope and Fear in Farming New York Times
CEO OF BITCOIN EXCHANGE ARRESTED Business Insider. Your truly said repeatedly that Bitcoin = prosecution futures.
TransCanada Pipeline Explodes Leaving 4,000 Canadians without Natural Gas OilPrice
Thailand Endgame Council on Foreign Relations
Euro Jobless Record Not Whole Story as Italians Give Up Bloomberg
Black Money In France "At The Center Of Life For Politicians" Testosterone Pit (Chuck L)
Ukraine 'to scrap anti-protest law' BBC
Big Brother is Watching You Watch
U.S. Reaches Deal With Tech Firms on Data Requests Wall Street Journal

Spy Agencies Probe Angry Birds and Other Apps for Personal Data ProPublica (Deontos)
WSJ/NBC Poll Finds Americans Anxious Over Future, Obama's Performance Wall Street Journal
Kleiner: I regret using the word Kristallnacht Bloomberg. Effort to remove foot from mouth.
Martin Health System, Florida: Our EHRs were out for two days, but patient care has not been compromised, sayeth Pinocchio Health Care Renewal
Why do bank IT systems keep failing? Guardian
This is nuts. When's the crash? FT Alphaville
Apple bruised as iPhone sales disappoint Financial Times
Rough Patch for Uber Service's Challenge to Taxis New York Times
For Narcos and Jamie Dimon, Crime Does Pay: Dimon Gets 77 Percent Raise to $20 Million Truthout
Insurers Push Back Against Stricter Regulation Wall Street Journal
Diagrams & Dollars: Modern Money Illustrated You Tube
Teen employment and minimum wages Angry Bear
ROSENBERG: There Are More Signs Of Wage Inflation Becoming A Reality Business Insider. Lordie, look at how anti-worker bias has become institutionalized. Rising wages are now "wage inflation".
Income Inequality in the U.S. Means Princes Don't Go After Cinderellas New York Times
Will the 2nd Great Machine Age be a frightening jobless dystopia? Ambrose Evans-Pritchard, Telegraph
Scenes from the bleak Midwest: Haunting photographs capture the 'deep scars of industrialism' across working class America Daily Mail (Lambert)
Antidote du jour. From Furzy mouse's e-mail:
After spending a lot of time alone in the same room of the owner's house, they grew fond of each other. The crow is almost always on the dog's back, the dog even barks when people try to touch his pal. The owner built a custom harness for more comfortable rides.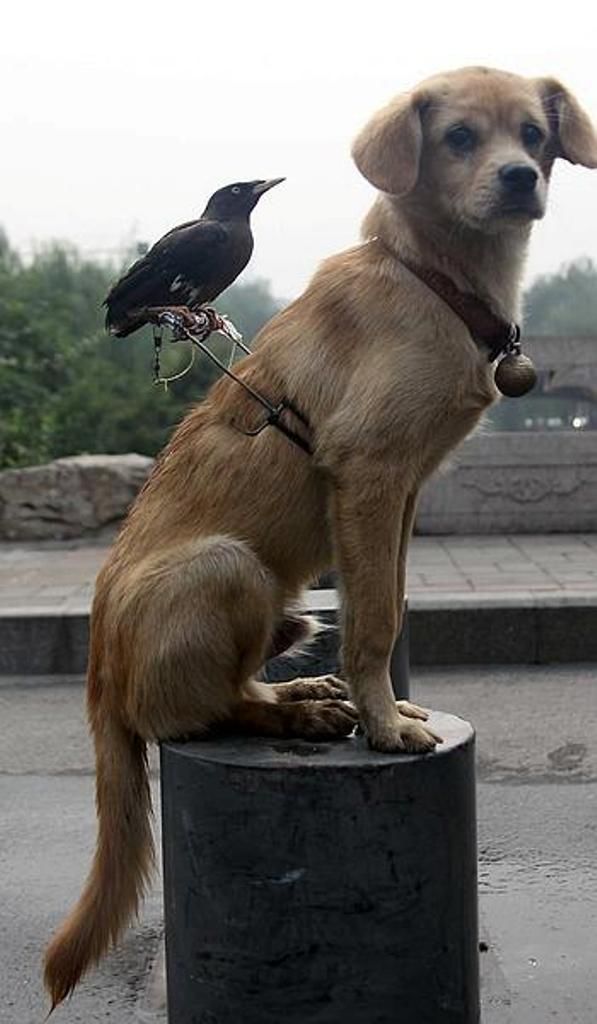 And a bonus:
From the page at YouTube where this was posted:
On July 26, 1956, the House of Representatives voted 373 to 9 to cite Pete Seeger and seven others (including playwright Arthur Miller) for contempt, as they failed to cooperate with House Un-American Activities Committee (HUAC) in their attempts to investigate alleged subversives and communists. Pete Seeger testified before the HUAC in 1955.
In one of Pete's darkest moments, when his personal freedom, his career, and his safety were in jeopardy, a flash of inspiration ignited this song. The song was stirred by a passage from Mikhail Sholokhov's novel "And Quie Flows the Don". Around the world the song traveled and in 1962 at a UNICEF concert in Germany, Marlene Dietrich, Academy Award-nominated German-born American actress, first performed the song in French, as "Qui peut dire ou vont les fleurs?" Shortly after she sang it in German. The song's impact in Germany just after WWII was shattering. It's universal message, "let there be peace in the world" did not get lost in its translation. To the contrary, the combination of the language, the setting, and the great lyrics has had a profound effect on people all around the world. May it have the same effect today and bring renewed awareness to all that hear it.