Grey wolf appears in Iowa for first time in 89 years – and is shot dead Guardian (Dr. Kevin) :-(
Deep-sea 'graveyard' discovered BBC
Clock ticking on Google's driverless cars Financial Times and When Driverless Cars Break the Law New York Times. I hate the idea (how could anyone who has enemies ever be interested in this?) but I can see one natural market: people over 80 who want to live independently but are worried about driving, particularly on freeways.
EU court backs 'right to be forgotten': Google must amend results on request Guardian
Doubts Raised About Off-Label Use of Subsys, a Strong Painkiller New York Times
Doctors' Survey Calls Out Overtreatment, but Is It Credible? Patient Safety Blog
Glaxo's Ex-China Chief Accused of Ordering Staff to Commit Bribery Wall Street Journal. Yowza.
China reverts to credit as property slump threatens to drag down economy Ambrose Evans-Pritchard, Telegraph
This time Chinese property will bust MacroBusiness
China's Alternate Reality of Slipping Growth Wall Street Journal
How accepting is Japan of international investors buying into public infrastructure? Nikkei. Translation: private equity black ships go home.
What is the likelihood of a military coup in Thailand? Asian Correspondent
UPDATE 1-German investor morale plunges to lowest since Jan 2013 Reuters (Ilargi)
Grief, Sadness and Shock as Hundreds Perish in Turkish Coal Mine Tragedy ABC
Ukraine
Big Brother is Watching You Watch
Snowden Document Implies NSA May Be Putting Israel's Security Ahead of America's George Washington

Global Survey Shows Citizens Around World Fear Their Own Governments Would Torture Them
Kevin Gosztola Firedoglake
Your Must-Do Assignment for 2014: Read This Chart and Pass It On Truthout (RR)
SCHOOLED: Cory Booker, Chris Christie, and Mark Zuckerberg had a plan to reform Newark's schools. They got an education New Yorker
Cops To Kids: You're Never Too Young To Be Handcuffed TechDirt
Fannie, Freddie's regulator won't cut loan limits MarketWatch. This is bizarre, since it comes the day after New York Times and Financial Times editorials calling for Fannie and Freddie to be wound down. Those editorials had the smell of Administration string-pulling to get Johnson-Crapo, a really terrible bill that would put the mortgage guarantee pretty much in Wall Street hands, out of the Senate Finance committee, where it is now stalled. So has Watt gone off script?
Don't Restore Fannie Mae and Freddie Mac, Says Their Former Regulator Wall Street Journal.
These Are The 10 Most Stressed Out Cities In America Movoto (Bob V)
Bulls trample on quality of mortgage deals Financial Times
Foreclosures May Raise Neighbors' Blood Pressure Drugs.com (Lisa E)
The High Frequency Trading Lawsuit That Has Wall Street Running Scared Pam Martens
Geithner Pants on Fire
Timothy Geithner: Department of "WTF?!?!": Friday Focus: May 9, 2014 Brad DeLong Equitablog

Charges of Lies Swirl Around Tim Geithner's New Book, "Stress Test" Pam Martens

Glenn Hubbard: Geithner Blocked Mortgage Refinancing Brad DeLong Equitablog. When DeLong backs Hubbard, you know it's bad.
Class Warfare
The Origins of Inequity CounterPunch (theadr)

Postcard from the End of America: Manhattan Dissident Voice (RR)
Antidote du jour (Amolife):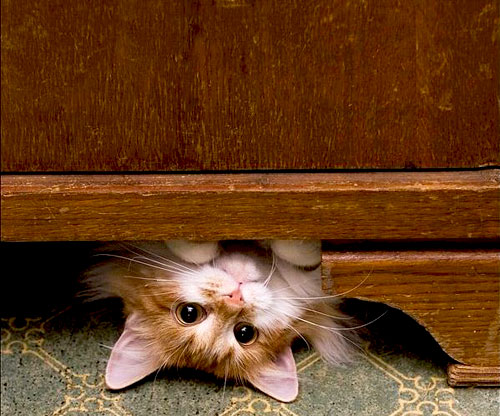 See yesterday's Links and Antidote du Jour here.