By Philip Pilkington, a writer and research assistant at Kingston University in London. You can follow him on Twitter @pilkingtonphil. Originally published at Fixing the Economists
Well, a team at the FT under Chris Giles has claimed to have discovered serious errors in the data spreadsheets underlying Thomas Piketty's work. A few housekeeping issues before I proceed.
First of all, I do not have the time needed to go through the spreadsheets to confirm Giles' findings; I am not being paid by the FT to do so (offers to do so will be seriously considered however!). I am taking Giles' data at its word. This is because Giles' does not strike me as a hit piece at all. I think that him and his team have genuinely found what they claim to find.
Secondly, I pointed out that Piketty's use of data was suspect after reading just a few hundred pages of the book. I was less so referring to the data used than in the manner in which it was used. Something that often gets lost in these debates about the accuracy of data is that data means effectively nothing unless you are careful in the manner you interpret it. Reading Piketty's book I found numerous highly contentious interpretations of the data. That said, I can appreciate that we will all have our own interpretations and that the first step is to all agree on the data we are using.
The first thing to note is that Giles is dealing with the data on wealth inequality and not income inequality. The former is, and Piketty stressed this both in his book and in his response to the FT, far more uncertain than the latter. The ability to get data on wealth inequality is thwarted by any number of facts; from the reluctance of the rich to talk about their wealth holdings, to the fact that much wealth is held in a 'dark zone' overseas outside of the reach of statistical agencies.
That said, some of the errors that Giles uncovers are pretty embarrassing. Take, for example, the issue of averaging in Europe. Giles writes,
Prof. Piketty constructs time-series of wealth inequality relative for three European countries: France, Sweden and the UK. He then combines them to obtain a single European estimate. To do so, he uses a simple average. This decision (shown in the screen grab below) is questionable, as it gives every Swedish person roughly seven times the weight of every French or British person. Using an average weighted by population appears more sensible.
I don't know why on earth you would use a simple average in this regard. This does not strike me as being a simple 'fat finger' error. Piketty must have thought about what he was doing. He must have said to himself, "oh, I'll just do a standard average of these very different countries". That seems to me a very silly thing to do indeed.
That said, the reconstructions that Giles puts forward seem to me completely out of whack. Here is the chart that he provides for wealth inequality in the UK. The blue lines are Piketty's estimates, the red lines are Giles'.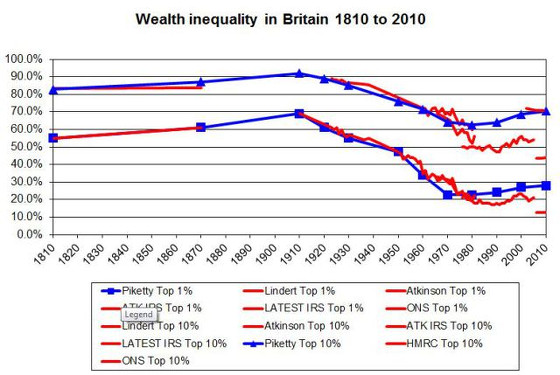 From Giles' reconstruction you would conclude that wealth inequality has not risen in the UK all that much since 1980. I have seen a lot of data related to this and I simply cannot believe this. It also does not really pass the 'smell test' — i.e. it does not really confirm with what we actually see day-to-day.
Consider the following graph from the BIS showing the evolution of the financial sectors in various countries from 1985-2006.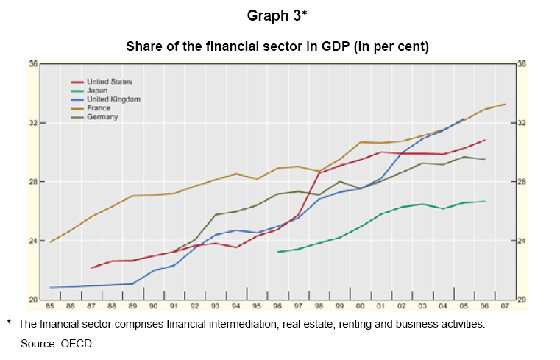 Since 1985 the size of the financial sector in the UK has increased by over 50% relative to GDP. It seems difficult to account for this rise of finance without assuming that there is far more idle wealth to be managed relative to GDP than there was in 1985. Since idle wealth disproportionately sits with the wealthy (otherwise they wouldn't be called 'the wealthy', duh!) then we can only assume that wealth inequality has increased.
There are many, many ways of making this same argument in a roundabout way. All of the figures I have seen support the idea that wealth inequality has risen substantially in the UK. In fairness to Giles, he does admit this when he writes,
There is one important caveat. None of the source data at the basis of Piketty's work is completely reliable. So while this post is clear about what is wrong with Piketty's charts, it is much less certain about the truth.
Perhaps Piketty has mucked up some of the figures. But his is not the only study dealing with this issue. In that sense, I don't think that this is a Reinhart and Rogoff moment that discredits the underlying thesis of Piketty's book. Rather I think that it is just another lesson in data analysis for us all. Lies, lies and damned statistics, as they say.