Praying Mantises Can Catch And Eat Hummingbirds IFLScience. Lambert warns that this is an anti-antidote.
Natural gas to gasoline for $1/gallon SFGate (Tom H)
Ebola crisis: This is why '75%' of victims are women Times of India (Tim F)
Prabowo goes home empty-handed after a dramatic day in Indonesia Asian Correspondent
Europe Fears Banks Lack Cash Cushion New York Times
Shale gas in Argentina: Dead-cow bounce Economist
Frustrated Judge Scolds Argentina but Does Not Hold It in Contempt New York Times
Argentina and Elliott – was it really a bond play? FT Alphaville. Michael C and yours truly are surprised to see the writer treat this as a new phenomenon. But it is a good, detailed treatment nevertheless.
Ukraine
Kiev in U-turn over claim that 'Russian tanks, artillery and 1,200 fighters' had been deployed in Eastern Ukraine as evidence fails to materialise Daily Mail

As Ukraine Presses Military Offensive, The Facts Are Fuzzy NPR

Ukraine Suffers Heavy Losses in Counterattack by Pro-Russia Rebels Wall Street Journal
Iraq
Islamic State: British fighters make up a quarter of foreign jihadists Independent (Nikki)

The Insane Terrorist Group We Armed and Supported Now "Poses Greater Threat" Against Us "Than 9/11″ George Washington
Imperial Collapse Watch
America in Decay Foreign Affairs (Richard A)

A temporary turn of 180 degrees by the neocon hawks failed evolution
Big Brother is Watching You Watch
Staying safe on public Wi-Fi CNET (furzy mouse)

Hulk: Eliciting Malicious Behavior in Browser Extensions USENIX

Many Chrome browser extensions do sneaky things InfoWorld. More proof that Google avoidance is always a good idea.
Obamacare
Obamacare acting as drag on employment and lifting prices, survey suggests MarketWatch

White House Going With 'Security By Obscurity' As Excuse For Refusing To Release Healthcare.gov Security Details Techdirt (MJL)
Microsoft Leaves ALEC: Horsetrading & The Price to Pay anotherquestion, Firedoglake (Rick V)
New Bill Would Ban Fracking Waste in New York City EcoWatch
U.S. Probe Examines GM Lawyers Wall Street Journal
Ferguson
Video of Kajieme Powell's Killing Differs from Police Description of Incident Vanity Fair (Swedish Lex)

St. Louis Police Killed Kajieme Powell Because They Were Following Insane Rules New Republic (Swedish Lex)

The Killing of Kajieme Powell and How It Divides Americans Atlantic. If you've ever taken real self defense courses (and hint, effective self defense courses aren't defensive, they teach you you need to inflict major trauma on the other person first), you find out that a knife is actually one of the least threatening weapons an assailant can use against you, plus most assailants don't use them in the manner that will reliably do major damage (using them to puncture as opposed to slash). Bludgeons and of course guns are much more dangerous. So look at the video again and consider whether the response was warranted, say, if Powell was carrying a short metal pipe.

Ferguson PD Confirms Officer Wilson Shot at Brown as He Ran Away Daily Kos

Why Do Police In Suburban St. Louis Have More Powerful Weapons Than Marines In Afghanistan? Techdirt (MJL)
"Government's Arsenal to Destroy Revolutionaries": Political Imprisonment Persists TruthOut
LA Police Officer Threatens, "If You Don't Want to Get Hurt, Don't Challenge Me," in LA Times Op-Ed TruthOut
Militarized cops' scary new toys: The ugly next frontier in "crowd control" Salon (Nikki)
Fed
What Does the Fed Have to do with Social Security? Plenty Dean Baker, CounterPunch (Nikki)

Central Bankers Wrestle With Easy Money Wall Street Journal

Developing Nations Anxiously Watch Fed at Jackson Hole Foreign Policy
No need for banks in an era of intellectual capital Financial Times (David L). Be sure to read the comments.
Bank of America Adds a Mortgage Settlement to Its Collection Matt Levine, Bloomberg. Interesting in that Levine does an very valuable service in tallying up the settlements, but rather than do the usual "ooh, look at all that money! How unfair" instead treats the result as normalizing settlements, which he contends is not a hot idea. This is why, as we've said repeatedly, real investigations are necessary so you know the extent of bad conduct and can devise the right sort of punishment. Not know ing the scope of what happened is almost guaranteed to lead to a piecemeal approach.
Some homeowners could get hit with a whopping tax bill if they accept help through Bank of America's settlement  Washington Post
The Agent-Based Method Rajiv Sethi
Home and Jobs Data Suggests Momentum Reuters
Why inflation remains best way to avoid stagnation Financial Times (David L)
Polanyi's Paradox and the Shape of Employment Growth Business Insider (David L)
Class Warfare
Antidote du jour (Lance N):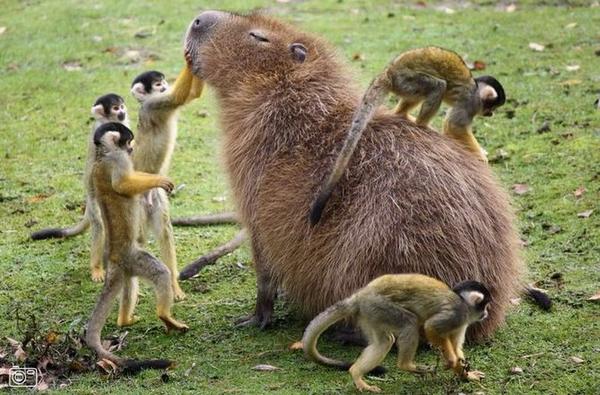 See yesterday's Links and Antidote du Jour here.