Passing On The Smart Set (Bob H)
Ebola Worst-Case Scenario Has More Than 500,000 Cases Bloomberg
Bitcoin slumps amid Apple Pay competition, Alibaba IPO buzz, and lingering regulatory doubts Pando
More Problems Found at Leaky New Mexico Nuclear Waste Dump Gawker
US Power Plants World's Worst Polluters: Report Outlook (JB)
Deep Inside the Wild World of China's Fracking Boom Mother Jones (frosty zoom)
Goldman admits cultivating ties with Libya fund Financial Times. Of course, the confession comes late on a Friday.
A new attempt to "domesticate" the Left in Greece failed evolution
U.S. court tosses Argentina, Citigroup appeal in bond case Reuters
Scotland
Ukraine
Ukraine deal with pro-Russian rebels at Minsk talks

Ukraine: What Putin Has Won New York Review of Books. Notice the personalization.

Exxon Halts Oil Drilling in Waters of Russia New York Times
Syria/ISIS
Richard Clarke's Hair Is On Fire Again Bloomberg (ka)

CIA Anti-Syria Program Finances Wahhabi Headchoppers Moon of Alabama (Chuck L)

FBI: Bombing ISIS Will Only STRENGHTEN Them George Washington
Big Brother is Watching You Watch
License plate scanner networks capture movements Associated Press (David L)

Text-Inspectors London Review of Books. On Greenwald's new book on Snowden.
Noam Chomsky: Why Americans Know So Much About Sports But So Little About World Affairs Alternet (RR)
Water's edge: the crisis of rising sea levels Reuters
Californian town runs out of water Financial Times
How the People's Climate March Became a Corporate PR Campaign Counterpunch. :-(
Household Net Worth Has Rebounded Floyd Norris, New York Times
How Insurers Are Finding Ways to Shift Costs to the Sick New York Times. From midweek. Note we took note of this issue weeks ago, but good to see in-depth reporting.
It wasn't QE that caused a collateral scarcity this summer Izabella Kaminska, FT Alphaville
Hedge funds: California calls time Financial Times. More hand-wriging over CalPERS' exit.
Academic Fraud and the Ponzi Scheme of "Higher Learning" Counterpunch. Jamie Galbraith anticipated some important related developments in his book The Predator State. While college (at least once upon a time) produced graduates with general skills, advanced degrees produce graduates with much more highly specialized skills. Their employment options are narrower and their economic fall is generally further if they can't find work that uses those skills (which has been happening to law school grads). Yet as the credentialing of college became more common, more people saw getting a graduate degree as a way to further differentiate themselves. From a societal standpoint, even before you factor in the ridiculous escalation of education costs, producing this many highly specialized graduates is a questionable investment.
Class Warfare
Of Flying Cars and the Declining Rate of Profit David Graeber, The Baffler. Today's must read.
Antidote du jour. A blue lobster from my vacation. It lives at the Coast Guard aquarium in Boothbay Harbor. They had two at the aquarium but this one was better lit: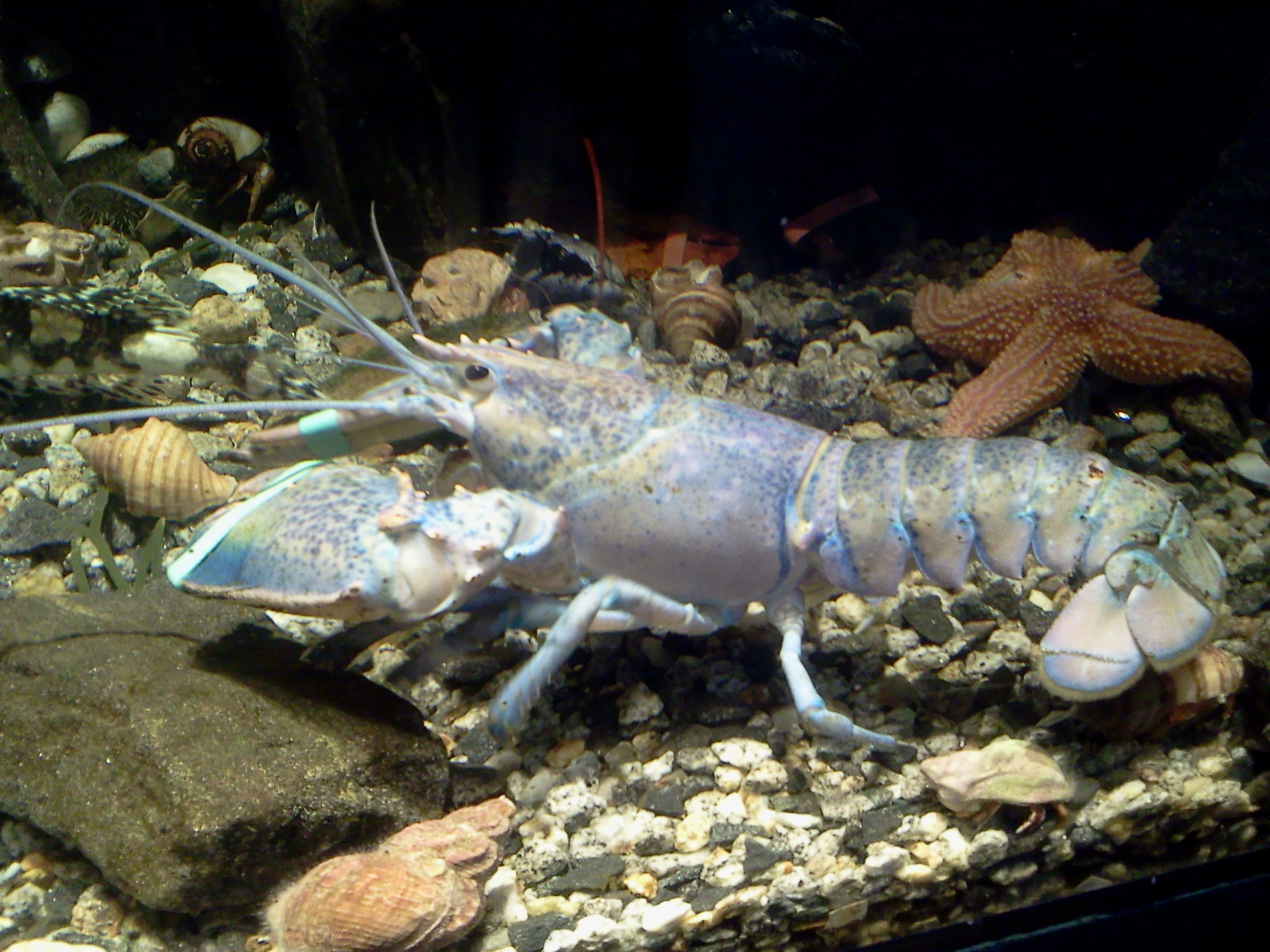 One of our many nice sunsets: